12 Ways to Center your Life around Lauren
I am often asked by My slaves how they can best devote themselves to Me. So this blog is about Centering your life around ME!
First an announcement!
I am going on vacation from Saturday, May 7th to Saturday, May 14th. I will be back on Sunday the 15th for My usual schedule. I *might* be around the evening of Friday, May 13th, but no promises. I'm renting a little beach house and just relaxing for the week, I need a getaway!
Back to the topic on hand
Centering your Life around Lauren
Of course, paying Me is always the best answer, but there are many things you can do to ensure that I am the center of your life! What works for one to keep your mind on Me, might not work for others.
Here are some suggestions for things you can try. The goal is to help you think about Me. Choose the ones that work for you.
Put your favorite photo of Me as the wallpaper on your phone and/or computer.
Dedicate a special file on your computer to All Things Lauren, put all your photos, clips, audios, links to My wishlist, and blog on it so it's in one central computer shrine for Lauren
Begin every day listening to one of My audios or watching a clip. Make a note of any mantras that resonate with you. Those will be important
Make an edging ritual. Begin with your favorite photos while you stroke. Then pay. Favorite clip. Pay. Say one of your favorite mantras five times. Pay again. You are only stroking to Me, right?
Make sure you are signed up for blog notifications and paymail club
Not part of My official Tribe? Work towards earning that
Apply for another credit card just for Me. Or get an increase on an existing credit card. Or take out a loan, perhaps to consolidate credit card debt and free them up for Me again. Create more money for Lauren. It's your role.
Come to terms with the knowledge that the best sex is paysex. Paysex is an orgasm while paying Me. Nothing is better than that, and you should desire nothing else.
When you purchase pay-to-views and Goody bags, leave breathtakingly erotic 5-star feedback. Remember that this feedback helps attract more pigs into My traps. Do your part.
Whenever you touch your cock, say to yourself. "This pigstick belongs to Lauren" or some other little mantra that reminds you that you may only get pleasure when you are pleasing Me
Connect little worship mantras with everyday tasks. Before you brush your teeth, say three times "this pig belongs to Mistress Lauren" On the way to work, chant or think three times "i work for Lauren, it's Her paycheck, not Mine" Just 2-3 daily rituals connected to your daily activities, will help keep you focused on Me.
It is valuable to set aside a special day for worshiping and spoiling Me from time to time. Dedicate several hundred or thousands of dollars, buy some celebratory drink, block out a chunk of time for Me and prepare to pay! This kind of centering pays off with mind-blowing orgasms.
You might think of other ways to honor Me, your service to Me. It goes without saying that central tenant of being My paypig is: PAY LAUREN. That's what makes you aroused and makes you addicted and makes you return to Me again and again!
If you have a great idea for centering your life on Lauren, comment on this post. I do moderate posts, so give Me time to approve it. (esp if you comment when I am on vacation!)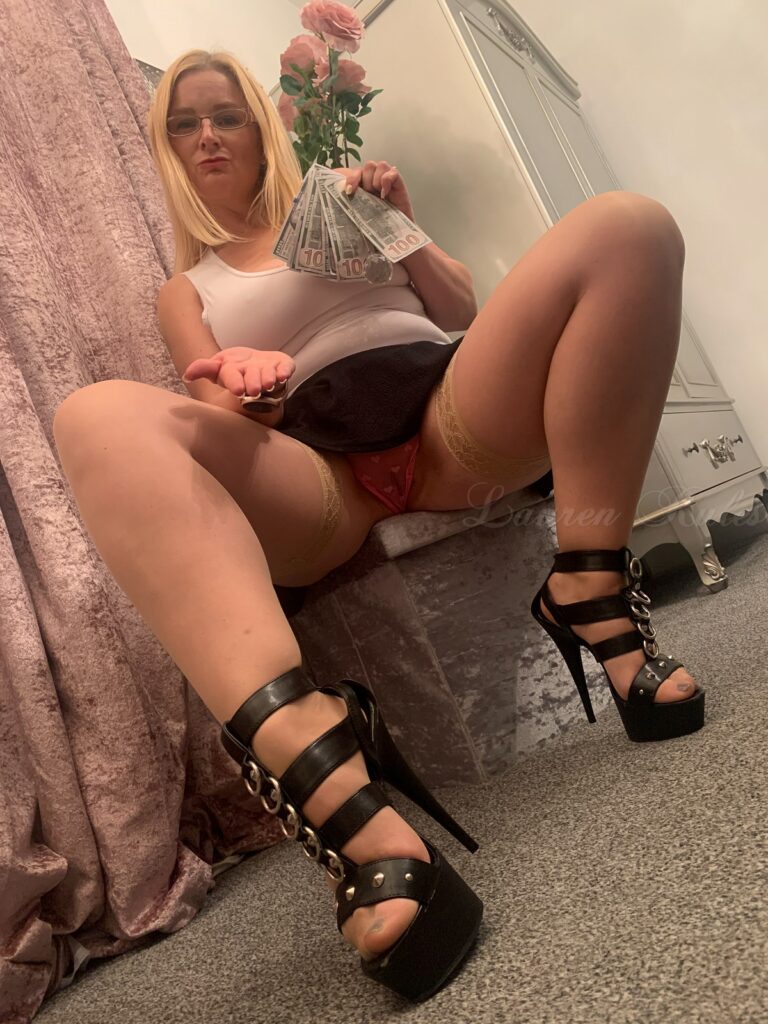 I know you will please Me, won't you?
I have some new Pay to Views to explore! You guys have been going nuts on them! Well done!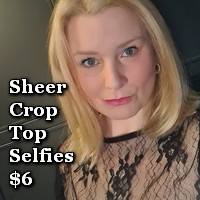 And before I close out, it's time for the Fuckover Report!
The Fuckover Report!
Ultra Legendary Paypig Alert!
This is a strange one to report. Anonymous spent $5185 dollars in a desperate session. I was asked not to blog about this session, and although it is a really amazing and entertaining story, I will not share it here. I couldn't totally help Myself, and I actually didn't promise to NOT blog about it. (The account was deleted and I couldn't answer the email) But it won't be possible to identify this slave from this, and so anonymous, this is the best I will do for you.
Legendary Paypig Alert! My good girl buffy is accepting her fate as My bankrupt paysissy. I was really messing with her mind by sending her audios that dissolved all resistance. She didn't really have a chance. She is getting close to $240K lifetime spending and will soon hit 1/4 million on Me. What a good slave!
Legendary Paypig Alert! Just squeaking in with a Legendary Alert was helpless dennis, who has completely lost control paying My hypnotic body. he spent $2002 making Me sooo happy! Excellent!
Extreme Paypig Alert! My excellent slave Dr x stopped by several times, as I drove him into a tizzy. He loves spoiling Me in $$ and gifts. He spent $971 on Niteflirt and $909 for gifts for a total of $1880. Soooo nice
Extreme Paypig Alert! My very good boy j the junkie fell into a deeper phase of My brainwashing, he's unable to break away. I like it that way. He spent $1045 since the last blog!
Huge Paypig Alert! Just missing another Extreme Alert is boomer, whose addicted ways continue, this time to the amount of $938. I think he's doomed.
My nylon slave continues his steady worship, this time for $135
New Slave and Huge Paypig Alert! A guy I'm gonna call glue found out that I am addictive, not believing Me. It's an old story. He's not going anywhere-glue is sticking around, and he spent $601 dollars finding out!
Paypig Alert! My oink loser sissy spent $340 on his march to climb his lifetime spending amount! Nice 🙂
My addicted pigbait can't stay away either. I think I'm going to break him soon. He spent $250
Paypig Alert! My paybitch, special k, was around one evening and lost control! He spent $480, just missing a huge alert! I really enjoyed stripping his cash from him.
My exposure sissy and I had fun and he spent $156 on our exposure games.
Huge Paypig Alert! PIG broke up with his girlfriend not long ago, and he has been a throbbing mess for Me to cashrape lately. Despite his best efforts, I extracted $625 from him. I enjoy taking advantage of losers when they are at their most vulnerable.
My boi wayne spent $128 on Me instead of his wife. He should have spent more!
Paypig Alert! My irish dope saved up for a nice session with his Mistress, spending $335. What a good boy!
Long-time client lowlife is finally getting a blog mention! He spent $268 dollars. Nice! He used to spent a lot years ago before I did a fuckover report. It's nice to have him back paying Me, as is proper.
New Slave! I get a lot of curious submissives chat with Me, and many many of them end up spending more than they thought possible. This guy, who I am calling "gatto" is one of them. Good boy gatto, spent $290, and came soooo close to a paypig alert! (Need $300 for that). Next time, gatto.
My assbitch stopped by to spent $150. I approve of this.
Paypig Alert! My good girl bambi visited My magical pink cabin in the sky and spent $402. Nice!
My spawn has been a very good boy and spent $230, and spawn, I want to tell you that I know you spent a lot today, but most of it was off the "cut-off" for this blog entry. (I run the numbers in a little computer program). Most of today's spending will be credited to the next entry.
Paypig Alert! My boyscout showed up for a major spoiling time, this time dropping $425 for My laugh and witty repotoire
My quiet gentleman continued to get mesmerized by My selfies, spending $213. Nice!
Paypig Alert! Stopping by to spend $155 was helpless dave. I love sinking My claws into his wallet
Spending even more money was skepticat. This sissy spent $102. Let's see how many mentions this one gets in a row! (skepticat, you have to keep track of that)
Paypig Alert! Going wild with click and pay was My very good boy lex. It's always a pleasure to see him in My mentions. He spent $415. A real gent. Well done!
I always enjoy cash raping this loser when he appears!
Huge Paypig Alert! Stopping by for a peek, tPay ended up in a fuckover! I'm very good at that, I made him spend $602. I love inflicting financial pain on him!
Back spending again was bloom, with delightful click, and pay to the tune of $233. Well done bloom, just in time for spring! That seems fitting 🙂
Paypig Alert! My good click and pay slave, button did it again. Clicked and paid his way to making Me $332 richer. This is correct behavior!
It was sooo nice to see grunter paying Me again, I missed him and I missed taking his cash. He spent $256 since the last blog, keep that up, grunter!
My good boy, Lauren's footlicker spent $127 on Niteflirt and $24 on Amazon for a total of $151. Nice!
I was VERY happy to hear from My good sissy j, after her move across the country, she was busy settling in. I look forward to lots of fun with her. She spent $111
sissy prim is trying to avoid spending, but I managed to take $126 of her cash, and look forward to taking more
Also, spending on Me was humble john. He really tries to stop. He always fails. He spent $244. I would like to see a red letter alert next time john!
I love reminding Myself of all the pig spending when I do the fuckover report. It makes Me wonder who will be on the next one. Who will be Legendary? Who will be Extreme? Who will disappoint? (Not you I hope)
I look forward to your spending!