A very short story, a work of FinDomme fiction
A work of short fiction by Lauren Rules
Evan Makes a Choice
It started a month ago, when he discovered Lauren Rules. It was the blog that hooked him.
He couldn't even remember how he found it, but it was curiosity that made him read it. His disbelief that this Financial Domination Fetish was that real, that common. And what kind of a man would just pay a bunch of money to some Woman he never meet online? He discovered it one morning as he was idly browsing the web to have a quick jack off session before he went to work. This helped keep his mind on business.
He read a little that morning, and closed the web tab when he had to leave for work. He was surprised that he kept thinking about it all day. What was it about this fetish and this woman that made men do this? Why? He was surprised to find himself logging back onto her blog again when he got home.
He was even more surprised to find his cock was rock hard. Some words she had written slammed into his mind.
"my cock gets rock hard when I pay Mistress Lauren"
He clicked on one of the pay per view buttons on Her blog.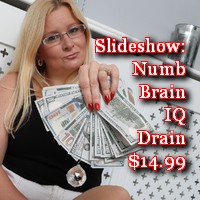 It brought him to the Niteflirt site, a phone sex site she apparently used to de-monetize her victims. He wasn't going to do that. He closed the link, but couldn't stop reading. And he had never been so aroused in his life!
He really wanted to see what she was about. Curious.
No, he closed her page and opened his favorite porn site. His cock wilted. Dammit.
Back to her blog. His cock begin to stiffen again. He made a decision.
He signed up for the page, and bought the Numb Brain slideshow and watched it. His cock swelled happily.
It was the worst decision.
It was the best decision.
The End. Or rather, the Beginning of the End
News!
I've added more Pay to Views to My refurbished Pay to view store! I'm now in the process of adding more recent ones so I can next refurbish My Niteflirt listings. Check it out!
]
More Pay To views
Now you should just enjoy some photos before reading the Fuckover report!
The Fuckover Report!
Paypig Alert! Going nuts over My pay per views again was boomer, who tried and failed (again) to quit Me. He spent $307
I was very happy to welcome back My good boy tom who contacted Dr Lauren for therapy! He spent $150 trying to see if I could cure him. I think only Medical Bankruptcy will save him.
Paypig Alert! PIG as usual, appeared to spend and spend, this time around for $452
Helpless dennis called Me one evening for extreme fuckover, and he just couldn't help cumming before we accomplished that! Sometimes I am too sexy for My own greed. He did spend $250, so it could have been worse!
Huge Paypig Alert! My longterm slave sissy marla was back after a break and I attacked over two sessions, managing to separate this sissy from $575. Excellent!
Loser pigbait keeps coming back and then hiding again. He spent $108 this time. He is overdue for extreme fuckover
Huge Paypig Alert! My titpay ATM kept finding more and more money to spend on his Goddess. He spent $760. Good bot machine!
My assbitch is back! I was very happy to see him. He tried to stop his addiction and learned it's hopeless. He spent $152, but I think that's the start of some delicious extreme spending!
Huge Paypig Alert! Triple pig was back for even more spending! I love how addicted he's become so fast. He spent another $568 and is well over $2k lifetime already!
jason the junkie is mesmerized by My hypnopussy. He spent $190 since the last report, but as I am writing about him, he's just started sending Me more tributes. Those will go on the next report!
Huge Paypig Alert! My irish dope materialized for really big spending for him, some of the most. He can't keep up with the really big boys but he saves and extends his credit so he can have occasional big sessions. This past time period he spent $860!
pignic managed a spending mention, coming in at $119. Random tributes help him here!
Huge Paypig Alert! I have renamed My elegant foot lover to boyscout, for reasons known to him. He went crazy sending Me tributes as of late, sending Me $774. My sexy voice foot lover deserves accolades!
My good boy dirtbag was busy, spending $174 exploring the pay to view store!
My good boy, Lauren's footlicker spent $97 on Niteflirt and $21 on Amazon. He knows that I am the ONLY WOMAN he will ever love. He's addicted.
Huge Paypig Alert! My good girl buffy, as usually, couldn't stay away. Her tiny sissy clitty is limp forever she is completely obedient to her Queen. (Me!) She spent $631
My good boy peeper spend exactly $100 to get his mention. Mission accomplished!
New Slave! A new slave earned a blog mention. I enjoyed seeing him click and pay! He spent $187 and I look forward to extracting lots more from him! I'm calling him "seagull"
My gimp loser was back with some exciting click and pay! He spent $249 dollars on it and I'm laughing at his gimpy weakness!
Huge Paypig Alert! I was so happy to see Dr X come around! He spent $709 on NIteflirt, and $125 on Amazon, just missing an Extreme alert! (Next time!). He's one of My favorites to exploit, and he knows he will be Mine forever.
Huge Paypig Alert! Back again after his extreme fuckover was iPay. Sending Me another $589!
I'm missing an Extreme Paypig Alert this time around.
Imagine YOUR blog name after that heading. It can be yours!