Another paypig spirals toward Financial Destruction!
I have a new Extreme Paypig that I mentioned in the last blog post.
This blog post is entirely about him.  "noddy" as I have dubbed My prey has completely fallen into an addictive click and pay haze over the last 5-6 weeks.  His spending during that time has totaled over $8,000 dollars!  THIS is the kind of addictive pay behavior that brings Me great joy!
This hapless loser needs to pay large amounts to Me, and it happened quickly.  I know reading entries about other paypigs (Like wallet rape toy, wallet cunt and bankruptcy boy j) has made him desire to pay Me huge amounts himself!
Many nights ago,I egged him on in an expensive pay to view session and this was the result! (click for better views)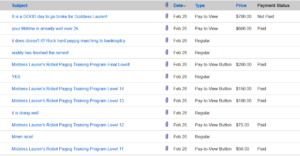 But noddy needed more!  He was back again, clicking and paying after reading about a session I did with wallet cunt. The result?  Another huge session of click and pay.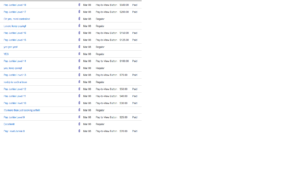 He called Me near the end of the session, and I send him a $999 pay to view (the highest we can send on Niteflirt). He didn't pay it at the time, but I knew he wouldn't stop thinking about it, and I was right.
So on Sunday, I got this email from him
Hello Mistress Lauren after reading old blog posts of Dr X and wallet cunt i know my fate is sealed! So to celebrate my birthday set up a $50 a minute call on one of your listings. i have loaded  $1500 in my account to cover a 10 min call and a $999 cash rape
noddy's birthday fuckover (click for a better view)

He talked for 11 minutes at $50 a minute, so that session cost him $1549!   In 11 minutes!  Just imagine I made that rate for 40 hours a week, over a year, I would earn $140.82 cents a minute, which extrapolates out to $8,449.10 cents an hour, $337,964 a week and $17.57 MILLION dollars a year.
What a desperate loser huh?  I bet his cock was so unbelievably hard as he sent Me insane amounts of money.  He's gonna be a gutter-dwelling homeless maggot at this rate!
So I know that few (if any) of you can pay Me over $17 million dollars a year, but imagine doing YOUR tiny part in making that happen!
THIS is so fun!  I can't wait to see what the future has in store for fuckovers for noddy and the rest of you pigs!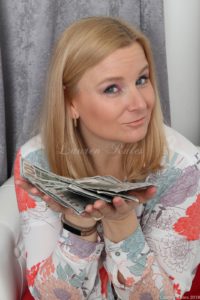 Now, time for the spending report
BIGGEST AMOUNT EVER IN SPENDING REPORT!  Ultra Extreme Paypig Alert!  Top Billing goes to noddy, in the LARGEST AMOUNT I've had in a spending report since I've done spending reports! Now I did have wallet cunt best this in the time before I instituted the spending report but it's been awhile ! (wallet rape toy and Dr x may also have matched this in a two week period)
This pathetic stroke loser spent $7,764 fucking dollars. It takes My breath away to write it. And even as I'm doing the spending report, he is spending more.  (He spent another $115, which will appear in next report)
It almost seems not worth doing the rest of the spending report,  but I know lots of you losers are stroking and wanting to see your pathetic offerings here. And of course, you should keep paying as best you can!
My good boy who loves stolen moments spent $190 as we continued to plot cash rape against his wife!
New to the blog! 
Is a slave I'm called PB.  PB called and clicked his way to spending $190.  YUM
My boy wayne was back and spent $111 since I posted last.  He's getting really close to the lifetime 2K level of spending!
Huge Paypig Alert! 
  PIG continued his spending ways on his march to 100K lifetime. He dropped another $507 since last post.
Back for more click and pay and spending was peeper!  He discovered chat was fun too!
Paypig Alert! 
My Tennessee Loser, paybitch terry, was back for more of My magic cashfucking. He spent $392 in his worship of Me!
Stopping by for more chat and tributes was "trainee" he spent $120. YUM
New Slave!  
I'm gonna call him "curious jason" He spent $120 on Me one evening then deactivated his account when he realized I was dangerous!  Let's see if he sees this and returns
I had another enjoyable but too short session with My elegant foot lover for $120
Huge Paypig Alert!
  Irish dope was back and spending at such a delicious amount, probably going into his expense money for the month.  So eager to please and be fucked over!  He spent $416
My slave dirtbag clicked and paid his way through $122 worth of pay to views. Mmmm
Paypig Alert! 
My good girl marja sissy went on vacation and we had lots of chances to play dress-up and put her in chastity! Yum!  She spent $299.  Mmmmm
Recently new slave storm, was back and spent another $131, mostly in 2 pay to views (one for $50 and one for $75)  That makes Me happy!
Paypig Alert!
  Completely entranced by My panty photos, helpless dave chatted and tributed his way to $269 of spending!
Dr X added to his impressive lifetime total by spending $216 on Niteflirt and another $51 on Amazon
Paypig Alert! 
My good boy sleepy chatted and tributed his way out of $289. I always enjoy this piggy!
My good boy surprised was back, and spent $248 in erotic pay to view sessions with Me!
Huge Paypig Alert! 
My slave titpay atm again succumbed to mindless obedience when I demanded he pay My tits!  He spent $460!
My trancepig was back with a new name, spending $191
And lastly, My #1 spender of All Time, fagmuffin, kept slipping away from her girlfriend to send Me tributes. She spent $123. This is much smaller than usual because her girlfriend keeps her on a short leash. But I predict that relationship will end. I plan it too. fagmuffin's
lifetime spending
with Me is
$185,416
.  Nope, not a typo, in slightly less than nine years.
So you see. I am a destroyer of men. I turn them into paypigs, into losers, sometimes into sissies who can't get a hard cock. All useless except for paying ME.