Back from vacation and wallet rape for the iFool
Wow, its been too long since I've blogged!  I was gone for part of March, on a hiking trip in Utah.   I had planned to update My blog and answer emails, but the resort I was staying at was blocking both sites, I guess the resort was owned by some Mormons who didn't think porn should be viewed on their Wi-Fi.  Oops.  If only they knew how I got the money to pay them!   No matter, I got a good break from the computer, enjoyed the delicious outdoor air and got plenty of exercise.  And days went by without Me even glancing at the computer, it was a well needed respite.
Since I have come back, I've been busy with all you boys and sissies who were missing Me.   Of note was a nice Friday night rape of the iFool.  (His first name begins with "i" and I know he keeps refreshing My blog to look for this)  The funny thing is that he is sooo angry at spending over $900 on Me Friday, that he thinks I'm the most evil Woman that ever lived.   I might be, but just between you and Me, I actually enjoy his rants at how I've destroyed him.  It appeals to My inner sadist.   I'm tempted to put the iFool's real name and his girlfriends name and email up here, just to thumb My nose at him, but the loser would probably cream his panties over it.  So iFool,, I'm waiting to hear from you again.  I think you need another 1K lesson and both you and I know that the hard on it gives you is unlike anything else!
So in other news, I've released a few new PTVs…be sure you see them!
This is a killer photo set from a recent shoot, I LOVE these pantyhose…(more available in My private collection–as always–just ask)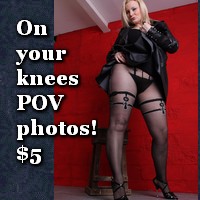 Before I went on vacation I released this killer series….it begins with a slideshow, with one of My audios FILLED with subliminal suggestions to take control of you.  The first slideshow is only $8, that's a bargain for you. (or is it?)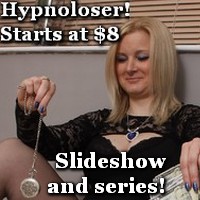 And for the foot lovers among you, a nice little photo set.   And be aware, I have an extremely large collection of foot photos….stilettos, mules, barefeet, stocking feet, pantyhose, …be afraid but be  brave and ask!