Category —
feet and pantyhose
It's very easy to train a submissive beta male when you find out what his weaknesses are.
You use that weakness against him.
Weak for My ass. I ply him with ass photos (for a price of course), descriptions of how I will use My ass to break down his defenses, and then start to train him to pay the ass….
Then I use My ass and his love for it to reinforce the kind of behavior I approve of (Clicking and paying for example!)
Soon when his cock throbs, he will find that he seeks Me out, because I understand how to use his weaknesses, to get him aroused.  But more importantly, that arousal will make him spend and spend on Me!
And I usually discover, or create (sometimes purposely, sometimes accidently) other little fetishes I can leverage. Each trigger becomes like a mooring line, hooking the subject more securely in My service.  He needs, that need grows, and I become the most effective avenue to satisfy his growing need.  Very often I am the ONLY avenue.
I am often asked by one of My addicted subjects how they may break free of My ownership of them. I have studied and experiemented how to harness my skills and powers (and having a Dominant Female personality *is* a power!) to enslave men. I am very good at it, as hundreds can attest to.  I have not given any energy into learning how to help men get past their addiction to Me.
Perhaps someday, many years from now, when I am retiring on all the riches I have maniuplated from you all, I will give that some energy, and devise a cure, which I will of course sell to the desperate slave. A final slap in the wallet!
And of course, I have thought about writing a book on how to DO Financial Domination for the aspiring FinDomme. The prevailing myth is that she sits on her lazy ass while men pay her, which sadly enough is pretty far from the truth. There is an art to this, and also a need for bread and butter income in between the cash rapes of the big whales.  It would be a cruel book to unleash on mankind, but a gift to women who are confident and ruthless enough to use the techniques.  So that is why I would write both books. A double cash out so to speak.  But that's still many good years away, I'm not done using all of you yet!
Now, a couple new pay to views for you to throw your cash at!
This fetish assessment tool, helps Me get the goods on you, so that I can train you oh so effectively!
Maximize your submissive experience with Mistress Lauren!
and this is a delicious photo set for the summer I did. Bare feet lovers will lose their mind, but you all with love it!
Featured PTVsAnd
and this is a revamp of an old pay to view, it's not oriented to FinDomme, but it is a controlling jack off instruction series.  Now I can do JOI with a FinDomme bent, and Chat is a great place to try that (right titpig?)  Chat Me up on Niteflirt and I will show you how. Better load up that account first though.
Maximize youand r submissive experience with Mistress Lauren!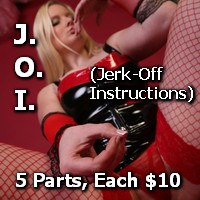 oh and of course I want you to have a gallery again. This will make the pantyhose guys drool. And if you have a pantyhose fetish, you should know I have THOUSANDS of pantyhose photos of Me in My private collection, and adding more regularly, just ask!

And now it is time for the spending report! It's a good one!
Huge Paypig Alert!  I'm going to begin with an amazing spend by paybitchterry! I've got this guy wrapped around My finger, and he's just spending it all on Me!  Since last blog?  $1502. Beat that bitches!
My exposure sissy and I had fun, well, exposing her, and the sissy paid Me $238 for the priviledge since the last report!
New Slave AND Huge Paypig Alert!  I love that combination, a new slave who just mindless spends! Yum! New to Me is "dirtbag" who got caught in click and pay, and with really just a little encouragement from Me, spent $720 since I last blogged. I hope he gets LOTS of blog mentions in the future!
and nylonslave was back losing his mind over My pantyhose, this time spending $249. I've got more photos you haven't seen slave!
Huge Paypig Alert!  Oinkloser was back briefly before deleting his account, but not before I took him for over $900 in just a few days. Hey OinkLoser, you have to reactivate your account again, we gotta get you to 10K of spending!
My slave addict, micro was about, and he spent $167 since last update. I think it would have been more, but the dude and I have time zones that don't match up very well!
Paypig Alert!  Also continuing his downhill slide is Gimp Loser, who is spending everything he has on Me because he doens't have long to live. Stark, Brutal, Cruel. It's not like he needs it, he may as well give it to Me! He spent $353 since last blog entry.
And My good boy who loves stolen moments managed a couple nice phone calls for $137
Huge Paypig Alert!  and even after years serving Me, PIG's addiction is getting worse! He never used to be a paypig, but I used My techniques on him, and now he is trapped, like a machine.  He spent $815 since the last update!
Newbie feathered pig was back, this time clicking and paying for $104 and barely getitng another mention
PayPig Alert!  My elegant foot lover completely spoiled Me the past couple weeks with $406 worth just making Me smile. I love it!
Slave more please was back drooling over My leggings and paying!  He spent $130, and there is MORE to buy, hit Me up more please!
Huge Paypig Alert! and My tit-crazed slave, titpig ATM went nuts again, this time paying $538! He discovered the dangers of JOI games in chat. And loved it, can't wait to do it again!
sissy j has been suffering under her tiny cock control control, and this time she spent $128.  She's learning self control though!
HUGE Paypig Alert!  Taxpig was back paying his taxes, and there were heft fines levied (By Me of course!)  The biggest penalty was a $500 pay to view!  His total payments to Me since last revew amounted to $1177!  WOW! I like being the tax collector!
And My slave peeper has been hanging around again, this time spending $194.  It was in little bits and pieces, and
HUGE Paypig Alert!   This has sure been a week for huge paypigs!  Another one coming over to the dark side was knickers, who was new not very long ago, but he got caught up in the dangerous robot paypig series, and he sepnt $1248
Yes, THIS series here, try it!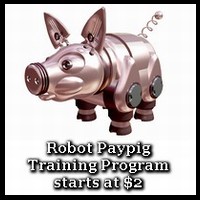 Paypig Alert!  Irish dope has discovered the dangers of chat, and now I'm taking EVER more from him.  $316 since last report!  As I am writing this, he is spending more that isn't even included in this!
And I ripped off humble sub for another $155.  Actually he ripped himself off just buy clicking and paying! Too funny!
Paypig Alert! Wallet Rape Toy has gone bankrupt for Me, but he's still spending This time period it was $362. Still sacrificing even in bankruptcy!
My slave surprised might be surprised he spent another $208, but I am not at all surprised. I get into a beta man's head after all!
Paypig Alert!  Dr X outdid himself with about $280 dollars of Amazon purchases I really needed!  I love having a slave I can call on when I need stuff!
HUGE paypig Alert!  Despite being on vacation and not at the computer AND having a nosy so called girlfriend trying to keep her away from Me, princess gigi sent Me $783 since last report!  And her usless little clitty is still dormant. It's going back in panties full time soon, and it is alreayd back on estrogen, like it should be!
and drone walter was back, spending 162 on pay to views!  It added up to more than I thought it would!
Huge paypig Alert! Slave helpful one lost himself in My pay to views this week. He spend $805, and he just can't stop. I LOVE it!
and a loser that previously served Me is back. I had previously named him shopping slave, but I realize I have duplicate blog names! So I'm going to call him, weak4greed.  He spent $335 on Me this week. Delicious!
Now, this was a long and profitable spending report. The reason it took so long to blog was because of all these users I was using!  You too can  get a mention here on My blog. Just pay!
It was completely relaxing to be out and about without being tied to the computer. As much as I enjoy targeting all you helpless and hapless paypiggies, I do love the freedom being successful gives Me.
I was able to do a hot and huge pay to view session with Dr X!
Tremendous HUGE Paypig ALERT!
One evening I was relaxing in My hotel room after a fun day and noticed an email from him.  I sent him a response, and a small pay to view, and then it escalated!
Before I knew it, he had spent over $4270 in PTV mails, and another $800 in gifts from My wishlist (which were waiting for Me when I got home!) From My wishlist, he got Me a new media stand for the new ROKU television a different client recently got Me, a couple items for My home gym, pounds and pounds of coffee to feed My addiction, a Mophie juice pack for My phone and several gift cards for Amazon, Whole Foods and Hotels.com.
That meant I spent the rest of the vacation completely care free.  Thanks Dr X!
Now for the rest of the spending report!
My nylon slave spent $210 on a phone call and photos of My reinforced toes.
My foot freak managed $108 on a lightning fast raise the rate session, that I desired to go on longer!
Huge Paypig ALERT!  PIG spent a total of $690, before and after My vacation. His addiction is rising to new levels. It's going to get worse!
My virgin sissy spent $200, but she is going to LOVE the new photos too!
New to My service and blog was fruity, who is learning how addictive and dangerous I am.  He spent $167 so far on his Lauren lessons!
spending 267 was helpless dave.  Helpless for My teases…it loosens his wallet, and his mind is like putty for Me to manipulate!
and leg tranced spent $188 as I made him surrender to My legs, and obey My legs and pay My legs.  Mmmm
and paycub spent nearly $300 on click and pay while I was on vacation!  mmmmm.  That's what I'm talking about!
and wallet rape toy spent $107.  Hey, I'm stll looking for My big session with you, and to find out what your big secret you hinted at was!
So after a nice break, I am back and ready to pick you and your wallets to pieces…
Be afraid!
Lauren
I am not strictly a hypnotist.  I don't have any special training other then what I have gleaned from speaking with certified hypnotist friends and reading.  I am a natural, I know instinctively how to lull men into a false sense of complacency and make their cock throb on command.
I actually *can* do hypnotic sessions, but I find them a bit draining and less profitable then just fucking your mind up so much you just buy PTV after PTV.  Hypnosis is but a tool for Me. I insert it into everything I do, every email, every PTV, every phone conversation. It is covert. It is overt. It is subliminal, and it is right out there for you to view. It works.
Many men have doubted, and many of these men now have huge credit card debt.  I warn all of you.
I am dangerous.
I am not playing around.
I am easy to talk with but that is part of what makes Me deliciously addictive
I will make your cock throb like nothing else in your life.
I am extreme.
you will be Mine….another addicted junkie for Lauren
This week's spending report:
Sporadic paypig, "rare whale" was by last night to drop Me off $665 in spending, mostly on My goody bags. He's one of those that I use hypnotic techniques on…
Here is one of the Mantras I used on him
"I surrender to Lauren and her hypnotic crystal"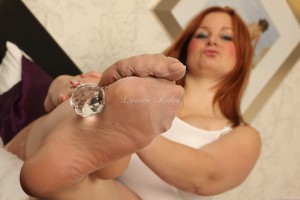 My hypnotic surrender crystal makes
seasoned paypigs like rare
whale surrender.  You have
no fucking chance!
Another slave of Mine, nylon lover, become mesmerized by My reinforced pantyhose (as in the above photo), and I completely took a ride through My junkies credit card accounts to the tune of $752.
My armpit loser was tranced through imagery of hypnotic armpit fragrance making him surrender.  $200 was Mine.
A very polite sissy new to Me I'm going to call curtsey on here spent nearly $200 as well. Very good girl. I LOVE addicting sissies, I find them so easy to manipulate with a combination of kindness and humiliation. Very profitable.
Speaking of manipulated sissies, princess gigi shoved another nearly $1100 at Me this week, while I spent the week teasing her about finally being allowed to cum.  She stayed chaste and soft the better part of two whole months. And this week I kept commanding her to rub her little sissy parts and be hard, and finally after an agonizing week, I allowed her a release. Dear gigi. Next time it will be longer than two months!
paybitch terry spent another $235 after an unsuccessful attempt to stay away. I laugh every time I see a weak little slave try to make a run for it…I'm like a cat with a mouse, only amused at your weak efforts!
My robot paypig eunuch clicked and paid $235 without even any encouragement on My part. I didn't even realize how much he mindlessly spent until I added it up. Delicious!
And I lured cumstain back in for another $525 dollars. The losertard has a weakness for latex and black strap ons. I exploit that….
My young slave no nonsense guy threw $135 he didn't have at Me.  Good boy.
After her brutal cash rape last week, marla STILL couldn't stay away, but this week was an anemic $233 in comparison.
and Last and least is my wallet rapetoy, who spent $427 on Niteflirt on his owner, and surprised Me with nearly $800 worth of spending on My Amazon wishlist, including a new Fitbit Charge wristband, a cute new Rebecca Minkoff purse, new running shoes for My girlfriend who runs with Me, coffee (of course), a new knife for My boyfriend, and a bunch of new garden tools.
I don't know why more of you Losers don't buy stuff on My wishlist, you don't all have to spend big bucks….also I LOVE Amazon gift cards (send to Laurenamazon at gmail), I use it for stuff like household items too boring to put on My wishlist, and sometimes you need to order something where time is of the essence.

Oh this was such a fun fun week with My clients, and I want to tell you about some of the highlights.
Princess gigi officially became a faggot.   Most of you know that I have mindfucked and hypnotized her into complete chastity to the point of impotence. That tiny little used-to-be-a-cock that is now a numb pussy that doesn't get hard anymore. Unless I command it, and voila! That does work, so the damn little thing isn't broken. While undergoing her faggot and cocksuck training, gigi threw another $2047 at Me 🙂
It's very powerful to control someone to that extent, and when they pay Me for it, it's even better!
Another fun session (and the biggest since My last update) was with a slave I'm calling pavement here on the blog.  Good ole pavement called Me with a handy little device called an elastrator. Those of you not in the know, that's a little elastic device they use to castrate animals. Really!   He placed a band right around his balls just before he called, and a quick check of Google showed that he might be ok with it on for 12 hours.  On the other hand, many men become eunuchs and doing irreversible damage to their balls in just an hour.
So I make pavement tribute Me, and we talk on the phone for TWO hours….then he tributes again and again, hundreds of dollars and finally starts begging for permission to take the band off.  Finally after two hours and $1594 spent, I give him the permission, and truth be known, I don't know if he is still whole down there or if the damn thing shriveled off and fell off.
I actually hope is is NOT castrated.  Yet.  I want to play with that again..talk about edge play!  So pavement, I'm waiting for your testicle report!
Then we have secret thief. Oh we have discussed arousing financial domination scenarios that go welllll beyond the pale!   Thief is going through a divorce, and his soon to be ex-wife's so called best friend… was hitting on him, and he told her that he would only sleep with her for $300.  I guess this turned the whore on, so she actually paid him $300 to sleep with her.  But thief is a good boy, and he sent ME the $300, and also wrote this little letter to Me, he calls it:
The Ten Commandments of Lauren
1. What Lauren wants is right. What Lauren forbids is wrong. 2. Lying FOR Lauren is right. Lying TO Lauren is wrong. 3. Putting Lauren first is right. Putting anyone else first is wrong. 4. Obedience to Lauren is right. Resisting Lauren is wrong. 5. Stealing for Lauren is right. Withholding from Lauren is wrong. 6. Damaging others for Lauren is right. Protecting others from Lauren is wrong. 7. Sacrificing for Lauren is right. Hoarding from Lauren is wrong. 8. Telling Lauren everything is right. Keeping secrets from Lauren is wrong. 9. Stroking for Lauren is right. Sex without Lauren's permission is wrong. 10. Being one with Lauren is right. Independent thought is wrong.
I think thief is getting the idea, don't you?
And a new slave, a sissy that I named sissy prissy came by this week, I'll tell you, this sassy girl knows her proper place, and she would look sooo sweet in a french maid outfit, cleaning My house and sucking off all the men that drop by!   prissy spent nearly $700 this week getting to know ME 🙂 (and she found out how naturally superior I am to girls like her)
Another slave who keeps deleting his Niteflirt account and creating new ones to talk to Me was back again for $242…english piggy!
And slave brian deleted his account AGAIN. And came back AGAIN….to $542.  I laugh everytime I email him and the system tells Me that his account has been deactivated.  It lasted two days this time.
ANOTHER slave who just deleted his account was cumstain..after spending another $182. I know he will read this though, and cumstain. I have the new photos you have been craving….guess you better reactivate your account now.
bobbyfool got inspired by My last blog post and sent Me $85 worth of tributes.  Good boy!
and marla….the unemployed little sissy I have spent another $412 dollars, cooing on the phone with Me as I described her life sucking cock and being My money slave.
paybitch terry continues with his click and pay surrender to Me, this week for $492.
and yes no loser was back with small tributes adding up to $86. I never turn down even small tributes. (of course I LOVE the big ones better!)
My quiet gentleman surrendered for $93 this week. He's been serving Me for years, but its usually smaller amounts 🙂
a new name on My spending list I'm gonna call dirty boy. He clicked and paid for $185. 🙂 Welcome dirty boy!
Another slave, new to My blog is gggboy. Life time I notice he has spent over $600, and this week was $142. Previously it was always smaller amounts. I LIKE this trend gggboy!
Another fun story this week was another new slave I dub rainwalker. The reason is, he called My cock control line, but when he ran out of $$ I wouldn't let him cum.  I said..nope, you must add more and then we will talk about it.  He mails Me…but Mistress..I have to go to the store to get another prepaid card, and I'll have to walk there and it's pouring!
I was like…tough, you won't melt. If you want to cum, you will.  So the good boy walked in the pouring rain and got a bigger prepaid card then he told Me…..I guess he really wanted to cum.
My good boy elegant foot slave spent $231.
My long time sissy slave lily, that served Me so hard about 3 years ago, that she is still trying to fix her finances, got all excited by My cash rape trance series and spent $85 she could have used for credit card debt on Me instead.
Another long time slave, nylon slave, got excited by My reinforced toe pantyhose photos and spent $306.
And last and least was a slave…I call ze bimbo, who spent another $800 on Me mostly counting polka dots on the panties in My photos and paying Me per polka dot 🙂  If that isn't LOSER behavior, I don't know what is!
I have four new goody bags!  I had a frustration with a Niteflirt glitch that pulled down almost all My goody bags over the weekend…but they are all working again and to make it up to you all, I put several of them on sale! Check out My Goody bag page
2014 has been epic for Me in paypig spending, and there have been a lot of Paypig Milestones that I would like to report. Lots of extreme paypigs!
1. Firstly, princess gigi is now #2 on on My all-time spender list, bumping Dr X down to #3. In all honesty, if I added in Amazon spending, Dr X would still be #2, (maybe even #1), but for Niteflirt spending, My sissy princess has taken over the #2 spot–My sissy has been obsessed with photos of My nylon feet and of My strap on. And tributes Me again and again just to please Me.
2. My walletrape toy, who has only been with Me for about 5 months has now spent over $52,000 on Me, in the form of huge PTVs and tributes…..No one has ever fallen this hard and fast for Me.
3.  Two junkies have recently hit the 10K mark in spending on Me!  Kudos to "no nonsense guy" and My ass loving cucky 🙂
4.  My sissy marla has recently passed the 36K mark. mmmmm
5.  Soon another piggy will hit the 50K mark and I can't wait to publish his name!
6.  My "quiet gentleman" passed the 8K mark very recently
7. My friend joe, who is always trying to quit Me, passed 5K in spending on his current member name.  It's probably closer to 8K because he used to have a different member account he deleted. Joe, you wont ever be able to quit.  🙂
8. And My good boy "g" (I made a recording for you this week!), just passed the 5K level of spending.
9. My "polish atm" also hit the 5k level.  I've got My eye on you and you won't get away!
10. kane, with a love of My feet mixed with My hypnotic crystal has also passed the 5K mark and he has made it his mission to move up My all time spender list. (Currently at #33)
11. Mmm clayton recently hit the 3K mark.  Give it up Clayton
12. Just reaching the 2K mark is armpit lover! Sniff loser sniff!  I see button has reached it too,  but he's been quiet lately.  I'm watching button.
13. when I'm asleep, a fairly new slave I think of as eric the addict clicks and pays. He's spent more than $1500 now.
On Notice, guys you better get going
1. wallet cunt. Do you want to remain #1?  Message Me.. I know we've sessioned some but you are overdue for a MAJOR fuckover
2. Dr. X.  YOu need to take back 2nd place…..*laughs*
3.  FOUR slaves are close to the 15K mark on spending.  Let's get going, to "egghead", My "Canadian pantyhose guy", "click and pay magnet" and "shoesniff Loser"
ANd the rest of you who vicariously live through My top spenders buy something now from My goody bags JUST because you are turned on.. or better yet, ask Me for some personalized goodies and I will make you climb the list *laughs*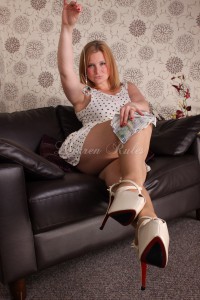 Now that the new web pages are up (although still being tweaked),  My plans are to post a little more regularly.
I'm excited that the new pages are up, explaining a bit more about the kinds of ways I can control and fuck you over, whether it be through Financial Domination, Hypnosis, Cuckoldry, Feminization, Addiction Training or any other dangerous and delicious methods that you may be vulnerable to.
I plan to highlight any changes or additions to My web pages here in My blog and want it to be more dynamic. The new pages are a lot easier to change then the old ones, and I'm getting pretty good at this web stuff (Be very afraid)
I have a couple pantyhose/feet Pay To Views new this past week, remember you don't need to be a pantyhose or foot addict to enjoy them, just being a Lauren junkie is sufficient reason to buy them.
One slave that I"m going to call "nylon junkie" got blown away last night by My erotic words and photos of My perfect legs and feet that I selected to make him weak.  He got very weak.  Nearly $630 of weak actually.   Early on, he begged Me for a blog entry and I said.  Mister, you have to EARN a fucking blog entry.  So he did.
He ended it with a little phone call to beg for permission to cum.  Since he had done so well, I allowed it.  Denying a slave permission to cum is sometimes more powerful, but an occasional reward can be a useful training tool as well.  If you get to cum, it's a training tool. If you are denied, it's a training tool–both modes can be potent devices in making you even more addicted to Me.
Now for a heads up.  My birthday is coming up in less than a month, on November 9th.  I will be making My list in the next few days.
I am going to make it so that buying Me a present is going to give you a needy throbbing cock.
More on that soon.
As usual, I have been busy with a myriad of projects and of course with My slaves.  I'm still working on My new web pages….I haven't had as much time to work on it as I thought I would, but progress *is* being made. I want it to be awesome when I release it, and refuse to compromise on this.
I will be here all week long, until Saturday, when I am going on vacation for a week, camping and hiking in the Finger Lake Region of New York, and a few days in a luxury hotel overlooking Niagara Falls. (Somehow I have missed going there before)
So get your Lauren fix in the next three days, or you will have to wait a whole week.
That's what the slave I will call "t-Pay" did.    t-Pay has served Me before to the tune of several thousand dollars.  And then do you know what he did? (silly creature)  He deleted his Niteflirt account, thinking that he could escape Me.   It wasn't long before he paid down his credit cards and this time I am fucking him over even more brutally.  In the last 5 days, he has spent a few dollars short of $6000 trying to please Me.   And truth is, I am pleased by $6000.  And I want more, and more and he's trying to figure out how to hide it from his wife.  I , of course, don't give a fuck about that–in fact, I suggested to him that he procure her credit cards and spend more on Me……and I think he's going to do that (YUM)   Non-consensual wallet rape.  Of course, I don't hold out much hope for his marriage if he does that, but who gives a fuck?
Last week t-pay lost control on THIS series:  (which I followed up with a little one-on-one wallet fucking.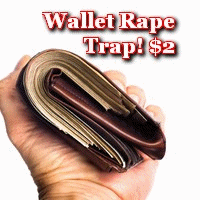 And this week, it was My newer captioned Humiliation series that did him in. Try it if you haven't yet
Also, I want to write about a long term slave, Gigi, that I have never written about before.  In fact, I am not going to mention this blog entry to "her" and see if she notices.   Gigi came to me as a boy slave I called "puppy"   with a hard core foot and pantyhose fetish.   After a couple of years of taking that pantyhose fetish and turning him into a devoted submissive who couldn't get hard without Me, I took a new turn and began feminizing her with a new game–and a new name,  Gigi. (GG is short for Good girl!).   Well I have been working on turning gigi into a premature ejaculator, to make her useless to other women.   I used cock clit control techniques, edge play, long term orgasm denial (chastity play) and her pantyhose/foot fetish to make it so that when I *do* allow her to touch her "clitty" it cums at once, making it useless for actual sex.  (It is so small, it wasn't much good anyway)
So that's what is new in My world.  🙂 And why I have been soooo busy
I've really been meaning to blog more often, but the truth is that lately, almost the moment I sign on I am bombarded with emails and calls from My junkies, all needing to spend on Me for their fix.
It's been sooo profitable and wonderful, all of those marvelous wallet fucks have left Me in such a state of almost constant arousal!  Some rapes deserve a little extra mention.

Of note is a Loser I am thinking of as wallet bimbo..he really started of a bit pesky with email after email, which naturally I began charging for.  This is a loser who just can't stay away.  Each time he reappears with a new handle, but his "voice" is distinctive in his emails, and before you know it, he's paying cash for empty emails that I tell him are  a tax on a surcharge surcharge email, for sending me a two word email. This all sounds silly, but in the last week or so, I've milked him for about $950 bucks 🙂
And we have worm,  a pathetic loser who is getting addicted to the way big fat pay mails make him feel.  To that I say Yay!   A rough calculation shows he has spent about $350 on me this week
The iFool made an appearance briefly. I fucked him for $200 really really fast and he fled in terror.  He will be back. Weak willed submissive fools always return.
Oh, and I know how much some of you love reading slave letters, so I thought I would share this one from addicted n
Mistress Lauren,
I have been listening to your slideshow as directed.
I keep thinking of your words. I left feedback. As mentioned, I have no interest in any other flirts on NF. They really have no significance to me, so some conditioning is definitely working. I only look on NF hoping for emails from you Mistress.
I try not to worry Mistress as you say and want to be a good boy, so keep repeating what you tell me to say in the slideshow. I had to get money out of my savings for the last cc bill, so it was scary and hurt but it made my cock hard.
The secret parts of my mind are the property of Mistress Lauren. That means you can know anything and everything you want, because it is yours? It makes my cock hard to think of this.
All that I am is yours. But wont I be broken? It is scary. Yet I hear you say not to worry in my mind, and it makes me feel weak and hard.
I loved your previous POV pictures 'addiction'. Do you have more mistress? Like your previous POV set 'enrapture' that I found so weakening. I just want to worhip looking at the crease in your panties…..
(name changed for privacy)
Yes addicted n, you may be broken, and it may be scary, but it will be the biggest rush of your life..
Now addicted n referred to a recording..This is something I have not done previously, a VERY long recording. It's some 31 minutes, filled with multiple tracks and hypnotic audio. Your life will never be the same.
you too can have your mind warped by it..buy it now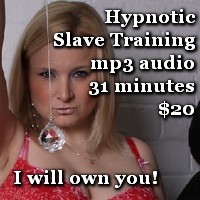 And I am sooo excited because I splurged with your cash and got a custom fitted red latex dress, and of course I did a photo shoot in it. See the photos here, you'll probably lose control and beg for more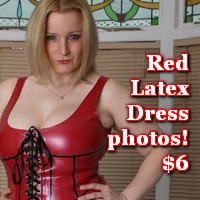 and all of you foot junkies have been begging for more PTVs, so have no fear (or perhaps you should), here is a series of some of My best foot shots ever!
Begin here
So click and pay junkies!  Maybe you'll get your name in My blog next

Wow, its been too long since I've blogged!  I was gone for part of March, on a hiking trip in Utah.   I had planned to update My blog and answer emails, but the resort I was staying at was blocking both sites, I guess the resort was owned by some Mormons who didn't think porn should be viewed on their Wi-Fi.  Oops.  If only they knew how I got the money to pay them!   No matter, I got a good break from the computer, enjoyed the delicious outdoor air and got plenty of exercise.  And days went by without Me even glancing at the computer, it was a well needed respite.
Since I have come back, I've been busy with all you boys and sissies who were missing Me.   Of note was a nice Friday night rape of the iFool.  (His first name begins with "i" and I know he keeps refreshing My blog to look for this)  The funny thing is that he is sooo angry at spending over $900 on Me Friday, that he thinks I'm the most evil Woman that ever lived.   I might be, but just between you and Me, I actually enjoy his rants at how I've destroyed him.  It appeals to My inner sadist.   I'm tempted to put the iFool's real name and his girlfriends name and email up here, just to thumb My nose at him, but the loser would probably cream his panties over it.  So iFool,, I'm waiting to hear from you again.  I think you need another 1K lesson and both you and I know that the hard on it gives you is unlike anything else!
So in other news, I've released a few new PTVs…be sure you see them!
This is a killer photo set from a recent shoot, I LOVE these pantyhose…(more available in My private collection–as always–just ask)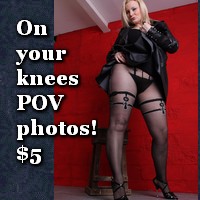 Before I went on vacation I released this killer series….it begins with a slideshow, with one of My audios FILLED with subliminal suggestions to take control of you.  The first slideshow is only $8, that's a bargain for you. (or is it?)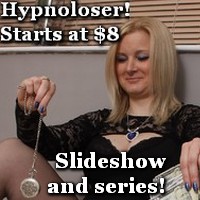 And for the foot lovers among you, a nice little photo set.   And be aware, I have an extremely large collection of foot photos….stilettos, mules, barefeet, stocking feet, pantyhose, …be afraid but be  brave and ask!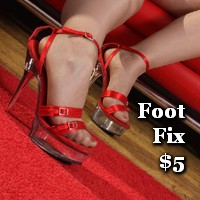 I have had so many of you begging Me to blog more often. Even though I know some of you just want the jerk material of reading about My conquests, I know that it makes so many of you vulnerable to My predations.
I really would like to blog more often, but so often, it seems like I come online, and so many of you are just waiting for Me, with wallets in hand.   Sometimes I choose between blogging and wallet rape.  It's not rocket science to know which I pick (and should pic!)
But I do know that blogging is a tool that I have in My repertoire to help train susceptible men into their transformation as My  money slave.  Even now, there is a very good chance that you are sitting there, almost without doubt sporting a stone stiff  cock, and very likely fondling it.   Excellent!  This behavior helps condition you to take sexual pleasure in the thought of financial ruin at My hands.  Pavlov would be so proud!
So who did My blog bring down since the last post?  Well scotch scotty lost control when he read about himself here and called Me right away in marathon session that cost him nearly $700. And he pretty much has admitted to Me that I do things to him he has never even heard of in our intense phone sessions. He was so far gone that he couldn't even cum *laughs*   Pretty pathetic huh?  He's turning into a pretty fun money slave for Me!
Another one that returned after I blogged about him was "g-man" now known as g-wimp  This is priceless.  I sent g-wimp email after email….raising the price each time until we reached up to a $700 emails.  Twice he had to stop to get his credit card company to lift a block on adding more $$$ to his Niteflirt account, but he did it anyway.   Quite amusingly, he begged Me to stop sending him emails at one point, he couldn't afford them.  Well…any of you that know Me, know I never stop sending the emails…..as long as you pay them *laughs*   and well he kept paying them. He got on the phone with Me for the last several, paying the final $700 one on the phone with Me.
Well, he spent an ADDITIONAL $3400 dollars (Total of over $4000).  I don't remember any slave getting off to this fast a start since Loserbeast last summer.
Here is the BEST part.  The next day, g-wimp has the nerve to write Me this. Loser
I'm sorry to ask for this Mistress, but is there any way I can get some of the money back? I have spent way too much and I don't know what I'm going to do.
Now that was about the funniest thing I read all week, and even *if* I could return $$ he spent on Me on Niteflirt (and there isn't a way to do that), I wouldn't, because he didn't deserve it. You know, if any man is weak enough to surrender 4 grand he doesn't have, why should I enable him to do it all over again with a different Domme?  *laughs*
And with the cash, I booked Myself a nice little spa resort vacation in March, in a warm place I can hike in and relax and get away from the New England weather.  Thanks g-wimp!
And coming later this week, a deadly series I call "Milked"   there will be a really addictive click and pay series that I'm going to make a killing on because these images will make you lose control.
This is Me thinking about how I'm going to be doing sooo many fuckovers with these photos