Category —
Feminization
First of all, sorry for such a long gap between posts. Between trying to make content for My NF+ page, paypigs keeping Me busy, making content for PTVs, and some personal stuff I won't bore you with, the blog post just kept not happening until I made it a priority today/
Get ready for a long Fuckover Report because you might be on it!
I thought I would share with you a portion of an email I got from My slave boomer (with his permission)
This is what happens whenever I reveal more of myself to you.
I tell you an idea that opens the door to my mind a crack.

You take that idea, force it open wider to benefit your control.

You take that cracked open door and blow it open wide and show me just how powerful you are.

I believe that you were prepared for it and know how to run with it and it leads me way deeper into your control than I thought.

Deeper than I imagined.

I asked for a captioned photo and you sent me one that blew me away , so when asked if I wanted another…..Hell yes! And very quickly down the rabbit hole to fuckover!

Which of course was fucking amazing.

It's all dangerous and amazing at the same time….don't know where this is going to wind up or how far down the rabbit hole I am being led or will wind up but the trip cannot be ignored…and as you know is way addictive.
How did I become dangerous?
What makes Me so dangerous is the addiction. I have studied addiction, applied sexuality to it, and taken advantage of your desire to please to indoctrinate you. There is no cookie cutter, My methods are adapted to suit the slave.
The Addiction.
For some slaves, it takes a mere hours. For others, it takes literal years. True, not every client I encounter becomes addicted, but enough end up in that state to keep Me happily busy!
I am always researching new ways to keep you entangled in My influence, new ways to inspire you to hand over your cash to Me, a willing drone. And new ways to either give you increasingly intense volcanic orgasms, or in some cases, neuter your desire so that your only sexuality is paying Me.
Results of the PayZombie competition!
I could have done a better job promoting this contest, it wasn't quite as lively as others I have had, but it was fun!
Winner: Helpless tool
2nd Helpless dennis
3rd sissy marla!
Recent Pay-to-Views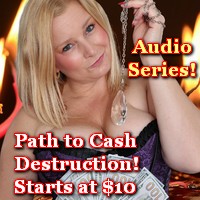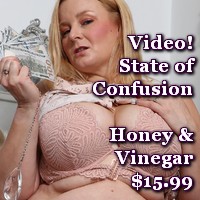 The Fuckover Report!
Since it's been way too long since I blogged, this is a LONG one
Legendary Paypig Alert!
Completely under My power is boomer, (whose letter to Me is part of the blog entry)
He called repeatedly, bought sooo many pay-to-views and begged for fuckover day after day! His spending? A tidy $3185. NICE.
Legendary Paypig Alert! earning another extreme mention is My very special slave, dr x. This slave is slowly driving his way to the #1 position on Niteflirt! He spent $1465 on Niteflirt and $535 on Amazon for a total of EXACTLY $2000 to get his Legendary mention. I'm sure neither of us realized he hit it exactly!
Extreme Paypig Alert! Helpless dennis also did sooo very well, calling and tributing and buying pay to views. My good boy spent $1448 to earn his extreme mention!
Extreme Paypig Alert! Another loser getting an extreme mention is pigbait. He is getting more pathetic every day, and his addiction is leading him toward bankruptcy. He's spending gets more and more extreme. This time it was $1650. What does he have to look forward to? Amongst other things, he will be facin poverty. Too bad. So sad. (Laughs)
Extreme Paypig Alert! My good boy, j the junkie earned an extreme mention by spending $1138. We have had a lot of fun doing cash fuckovers in chat!
Extreme Paypig Alert! Another pig earning an Extreme mention is oink loser sissy. This sissy is on a goal of $25 lifetime spending. (she's at about $22kish right now) and she has made GREAT recent progress, spending $1585 since the last blog entry
Extreme Paypig Alert! yet another extreme mention goes to "steve q fucked" I have learned this payzombies pay triggers and when he shows up I render him helpless to do anything but send big tributes. This time around, he spent $1100.
Extreme Paypig Alert! And for our final Extreme mention, we have My sweet little buffy. Despite claiming that she is spending less, she still managed to spend $1036 to get an extreme mention. My little buffy bee brings the pollen to the Queen bee and feeds on My addictive honey! So fun!
Huge Paypig Alert! For the first time in a while, I had a really nice big session with mind-controlled john,, who I pulled into a beautiful fuckover one evening. He spent $501, squeaking in for his huge mention!
Back for a nice fun phone call was one of My popper slaves, "sniffer" This guy is a perfect example of how I use your weaknesses to line My bank account!
Huge Paypig Alert! Getting his first "red-letter" mention is indy, a slave who is destined for another fuckover in the near future. This guy is very vulnerable to FinDomme manipulations, and more manipulations are in his future!
My goon junkie, who is probably the biggest perverted loser I have ever spoken with spent $167 on calls listening to Me rip him a new one for being such a loser pervert.
Huge Paypig Alert! I was so happy to do sessions with My good sissy marla, who loses herself in My feet and just pays and pays. This sissy spent $542 since My last blog entry!
I always love talking with My pantyhose junkie, I have him so addicted to wearing pantyhose that now it's the only way he can cum! He squeaked by for a mention, spending pennies more than $100 to earn one.
Paypig Alert! My longtime slave and stroke addict PIG couldn't stay away, even though I know he's trying .(Stop trying so hard PIG, just spend!) He spent $468 since the last post, just missing a HUGE paypig mention.
My good sissy girl piglette keeps dropping by to pay. Since My last blog post, it's added up to $187. I think she should spend more, don't you?
New on the Blog! Getting his first mention, is long time time slave, who I am calling "sole lover" here on the blog. He spent $227 to earn his mention. We had a lot of fun in chat with chatting and tributes, and I teased him with photos of My nylon soles! So fun!
My good sissy, caged yankee was back for fuckover fun and she spent $269 being teased with pay-to-views and chatting
Huge Paypig Alert! My very good boy spawn, did more clicking and paying to earn his mention, this time for $931. He has done sooo well in his servitude and I am well pleased.
My quiet gentleman earned a mention by spending $237 in a couple of teasing ptv sessions!
Huge Paypig Alert! Also doing so very well in service is My irish dope. I know dope saves up money for our sessions and they are always soooo fun! He has spent $900 since the last blog entry
My good boy "Q" popped in for a quick session and spent $119.
Huge Paypig Alert! My little tigress returned with more delicious pay to view spending, this time in the amount of $543, earning a red letter mention! What a good girl!
Unable to stay away, as usual was My weak for leglover who spent $130. Nice!
Paypig Alert! My slave, just another atm showed up with click and pay, spending $301 just enough for his red letter mention!
It's always good to see loserbeast click and pay, he spent $201 to earn his mention!
Huge Paypig Alert! My good boy helpless tool was busy. He won the Paypig Zombie contest, and spent $469 on Niteflirt and another $100 on Amazon for a total of $569 earning his Huge alert! Well done tool, well done!
My nylon slave is steady and dependable and he spent $264 for goon worship nylon feet photos. Well done!
New Slave! A new German slave I am calling "blödmann" (which Google tells Me is the German word for "dumbass") spent $298, just missing a paypig alert! Maybe next time blödmann!
Squeezing in for another mention with $108 of spending is tiger. Well done tiger!
And My good boy, Lauren's footlicker continued his worship of Me, spending $239. This gets My seal of approval!
My click puppet reappeared, spending $190 since the last blog post!
and finally, My good boy button, earned a blog mention with $136 of click and pay! More of that button!
Now, My slaves say seeing their name on My blog gets them all worked up. If you spend enough, you too could get a nice hard cock from seeing in print how I fucked you over!
A few blog posts ago, I announced that I would write a special post about the slave that spent the most in the month of October
The slave that did that was Marla, a sissy slave,  and I hope this is the first of several highlight posts…
Marla came to Me nearly 9 years ago. (Addiction to Lauren never fades)
In those nine years, she hit the 100,000 level of spending. (To date it has been nearly $104,000) We've shared over 200 phone calls (and 130 hours of talk time, we don't have short calls) and a few of them have been at $50 a minute (pleasing Me to no end). Marla has been the subject of a few blog posts in the past, some of My favorites actually.
I'm sure Marla sometimes thinks she would be better off without spending on Me, but she keeps coming back–one of My longest serving slaves–because she is addicted!
We did a little mutual interview for this post…
My questions for marla:
How did you first know you were addicted to Mistress Lauren?
When i woke up in the middle of the night hard as a rock with Mistress Lauren on my mind. From that point on my cock would not get hard without Mistress Lauren.
How did you feel when you realized you were in financial bondage to Mistress Lauren 🙂
Great, excited, poorer.
What is your most arousing Mistress Lauren memory?
There are too many to name just one. Every moment with Mistress Lauren is arousing. When I have been listening to her audios, which lead to a deeper trance.
and her questions for Me: (Great questions marla!)
Why am I so addicted?
Because over time, I exposed you to techniques that made you acquire both physical and psychological needs to serve Me. The interesting part is that you were one of My first guinea pigs. There were a handful of slaves that I perfected My techniques on. Those that worked became part of My repertoire for others. I studied how abusers could control their subjects in domestic situations, and pulled techniques from that. I studied the Stockholm syndrome and applied techniques from that as well. I studied hypnotic techniques and implemented some that work well in a Niteflirt setting, in emails and phone.  I targeted you, but you came to Me, again and again.

Why am i rock hard?
That too is part of the training. Over time you find that nothing makes you as rock hard as paying Me, hearing My voice, looking at My photos. It's really rewarding to addict men and sissies to this!
What is the best way You liked to be served, mail, phone, gift card, etc…
Not the easiest, but the one you get the most enjoyment from?
I honestly prefer a combination. I have a favorite of doing phone and pay to view emails at the same time! (It's a double financial penetration!) and I enjoy gift cards and Amazon purchases. If there is something I need on Amazon, I enjoy being able to have  a few slaves willing to buy them at My request. Right now, Christmas is upon us, and I like making My slaves buy presents for My friends and family for Me to give.  (and buying Me gifts of course too!)  In past years, slaves have stepped up to be "Santa slave"  This year I suspect that more than one slave will have that role.
I've really enjoyed gift cards. I've had slaves send My boyfriend and I on vacation several times, via hotel gift cards, airline gift cards and restaurant gift cards, and money of course!  Destinations have included Hawaii, Florida, Colorado, New York City,  Cape Cod.
I hope all of you take marla as a model for Financial Loyalty to a Mistress and an inspiration to paying with a rock hard cock!
Now for the spending report!
Lauren's paypig returned (again), this time spending $392
My elegant foot lover was so nice tributing Me a total of $478. I sent him a lot of photos of My bare toes as a reward 🙂
Pay pig alert! I have a new addict!  I named him paycub and he broke into My service with a splendid flurry! $1091 spending on Niteflirt. An even $500 in Amazon gift cards, and over another $700 on Amazon gifts.  I am so happy to have him on My leash!
Pay pig alert! Another slave who served very well was titfool.  He called, and paid My perfect tits to the tune of $1100. His lifetime service is approaching $6000 dollars!
My exposure sissy and I played lots of exposure games this month. That cost him $377 🙂
and pig bob is back (again), this time for $155 dollars
Helpless dave was as helpless as always, spending $237.
Pay pig alert!  And princess gigi was a good peach for Mistress, and happy in her panties paid Me $1010
Pay pig alert!  This is not a surprise really 🙂   Marla (subject of this blog post!) paid Me another $1345 this month.  Such a good girl!
pignic was about again, for $407. Just another addict who cannot stay away.
My sissy marla and I had fun, she went on cam to show Me her new fake boobs, and I had fun teasing her with exposure. $427 🙂
Pay pig alert! and PIG. He oinked and stroked away another $785 for Me this month
Clubby was a good boy and bought $177 worth of PTVs
and egghead just keeps getting weaker. I have plans to target him for even more ca$h!  This month he spent $668
GC is back again, and this time spent $175. Well done GC 🙂
paykitty was a good little kitty and paid $550 in a couple of delicious sessions!
and sleepy was about again, this time for $115, in his own little click and pay fun on My PTV buttons.
and Krispy! He was about before, deleted his account, and this time spent $213. It makes Me happy to see him paying My PTV buttons!
sissy j.  What can I say. I have had soo much fun being her keyholder as she is locked up in a chastity device. She's paid Me $386 and provided a lot of entertainment this month!
No nonsense guy paid $385 in a late night session or two 🙂
paycunt! He never fails to please, he's got a thing for his towel. He wraps up in it, his cock gets hard and he starts to pay. $618 this month!
Q, addicted to glimpses of My powerful woman pussy. He pays through the nose to be used…we had a session or two and $328 used to be his, and now it's Mine!
And it's always a pleasure to use Trance-tard. He gets so tranced out and aroused his typing looks retarded, and he pays more and more. I got him for $540, how about that!
and its always a pleasure to collect taxes from taxpayer. He owes it to Me just for existing. His tax bill for November was $396, and I just sent him December taxes and I am looking forward to those being paid too! Before that he paid some October taxes for $304. Life sucks for him, but it's great for Me!
I was not around as much as usual in November for a variety of reasons. But be afraid. I plan to be taking your hard earned cash double in December!
It's been way over due to have a special blog post all about My special sissy, princess gigi.
Let Me tell you all about her.  Gigi has been My client for almost five years, and she is My #1 spender on Niteflirt. (Currently at nearly $115,000 spending)  There has been an evolution with gigi.
Gigi began as a horny guy who liked women in pantyhose and their nylon feet, and would buy all the PTV sets I put out that featured My legs and feet.  He finally began calling, and he would stroke himself off about 3 times in one call-no lie!  Obviously a slave in need of a little control.
We went through the human puppy stage, where I called him puppy and we did a little fun human dog play, but that only lasted a little while.
One night I told him that he had to begin wearing pink panties…and it morphed into feminization.  She than became princess gigi,  her name coming from the initials, G.G. (good girl)……My sweet sissy  And I began denying her orgasms during our calls. I began requiring her to wear more sissy clothing during our calls, pantyhose, leggings, makeup. Occasionally, I had her suck on her purple dildo during our calls and began requiring her to eat her cum.
She was always a good girl and hardly ever came without permission….and I began giving that permission less and less often, until finally it only came once every 6-8 weeks. If it weren't for the fact that I would worry about her sissy prostrate, I would not even allow her to release that often.
I am now not allowing her to have erections.  I have trained her to channel the sexual euphoria feelings to her mind and her sissy heart to be expressed in love and tributing.
She has become functionally impotent.  Her little sissy "pussy" only becomes hard when I command it to for a health release.  I am so far into her head, that if she doesn't have permission, she can stroke and stroke and it just doesn't work!  At first she thought something was wrong, and that she was damaged, but I proved to her that it would work on command.   She has been conditioned so that she CANNOT have sexual pleasure now unless I command it. 🙂   Instead, she expresses her sexual feelings in the form of sending Me tributes.  Since I last posted the spending report, miss princess gigi has spent $1539 and continues showing Me love in the way in which I have trained her. Good girl!
Once a real man who came three times in a session to feminized sissy who has been rendered impotent except on command once every 6-8 weeks.  And trained to tribute instead!  What a good little sissy paypig!
Others have been spending as well!
Shoesniff Loser surrendered to the shoes of a Female Supremacist and paid $740, in two delicious sessions!
My drone, pigskin, completely lost control with oinking and paying for Me and since last update has spent $4101!  His lifetime spending has skyrocketed to over $11,000 since entering My service in July 2014–only about 8 months.  That pleases Me greatly pigskin!
My paypig, lord loser, in a mindnumbing fugue transferred $1067 into My coffers. He is a Loser among men!
Erotic fun was Mine when I extracted $340 more in danger games from My slut becca
My oink drone, a sweet guy actually, spent $221, including our first private cash rape session. I think I scared him and he deleted his Niteflirt account.  This doesn't bother Me, those piggies always return.  He is really close to $2,000 in spending!
The paypig formerly known as Guinea money pig, now only known as PIG spent $261, and I think it would have been more but we had poor timing.
wallet rape toy resurfaced for a tidy $590. I hunger for some of the 4 digit sessions we have had 🙂
My slave "button" spent nearliy $200, but $100 of that was in one lovely PTV mail. Yum.
A new slave to My service, that I have dubbed "whinny" spent $250 in just a few short days. I look forward to more from this new pet.
An old slave, english pig, was back with a new screen name and over $200 in a reunion fuckover!  Yay!  Once again proving that addicts cannot ever stay away.
Another fairly new slave,  humiliation fag, spent $235 and also deleted his Niteflirt account so that I couldn't tell him his new blog name. He too will return, the abuse was too delicious for him.
As usual, I have been busy with a myriad of projects and of course with My slaves.  I'm still working on My new web pages….I haven't had as much time to work on it as I thought I would, but progress *is* being made. I want it to be awesome when I release it, and refuse to compromise on this.
I will be here all week long, until Saturday, when I am going on vacation for a week, camping and hiking in the Finger Lake Region of New York, and a few days in a luxury hotel overlooking Niagara Falls. (Somehow I have missed going there before)
So get your Lauren fix in the next three days, or you will have to wait a whole week.
That's what the slave I will call "t-Pay" did.    t-Pay has served Me before to the tune of several thousand dollars.  And then do you know what he did? (silly creature)  He deleted his Niteflirt account, thinking that he could escape Me.   It wasn't long before he paid down his credit cards and this time I am fucking him over even more brutally.  In the last 5 days, he has spent a few dollars short of $6000 trying to please Me.   And truth is, I am pleased by $6000.  And I want more, and more and he's trying to figure out how to hide it from his wife.  I , of course, don't give a fuck about that–in fact, I suggested to him that he procure her credit cards and spend more on Me……and I think he's going to do that (YUM)   Non-consensual wallet rape.  Of course, I don't hold out much hope for his marriage if he does that, but who gives a fuck?
Last week t-pay lost control on THIS series:  (which I followed up with a little one-on-one wallet fucking.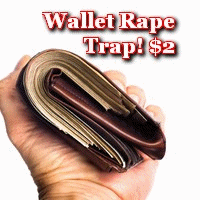 And this week, it was My newer captioned Humiliation series that did him in. Try it if you haven't yet
Also, I want to write about a long term slave, Gigi, that I have never written about before.  In fact, I am not going to mention this blog entry to "her" and see if she notices.   Gigi came to me as a boy slave I called "puppy"   with a hard core foot and pantyhose fetish.   After a couple of years of taking that pantyhose fetish and turning him into a devoted submissive who couldn't get hard without Me, I took a new turn and began feminizing her with a new game–and a new name,  Gigi. (GG is short for Good girl!).   Well I have been working on turning gigi into a premature ejaculator, to make her useless to other women.   I used cock clit control techniques, edge play, long term orgasm denial (chastity play) and her pantyhose/foot fetish to make it so that when I *do* allow her to touch her "clitty" it cums at once, making it useless for actual sex.  (It is so small, it wasn't much good anyway)
So that's what is new in My world.  🙂 And why I have been soooo busy
I am a female supremacist.  It took a while for Me to declare Myself such a person, but I have come to experience how easy men are to manipulate, in ways that would never work with a woman.
Let me state the basic premise.
A man with a hard on will do whatever it takes to get off.
There are two types of men, both inferior to Me.
a. The brutish type that takes what he wants by sheer force.  This instinct is the cause of wars and misfortune, any any woman worth Her salt is clearly above that.  I frustrate this type simply by thriving without them, which is a joy to Me!
b. All other men who can be manipulated into anything because they have a hard cock.  This is the type that 90% of all men are, and I wager 100% of the men reading this.
I could turn this into a political blog post about how fear of female power drives our political system,  clearly it does, but that is not the purpose of My blog.
My blog exists to exploit and Use you…the reader, the weak man with a hard cock that NEEDS manipulation, and feels fulfilled when a woman like Me drains his wallet, because that is PROOF of your natural place in the world– To Serve Women like Me.
Furthermore, there is a category of men that instinctively KNOWS women are superior, and try their best to emulate them.  It's fun to help them try, watch them learn to wear panties, and apply make-up and suck cock.  It's sadly amusing to see them try and try to be a superior woman, but those men are more in tune with the natural order of the world then most, and for that, no matter how much of a sissy fag slut they might be, they deserve some credit!
So when you are lost in Me….paying Me, clicking and paying, buying Me gifts, following My instructions, you are living in the TRUE ORDER of the natural world.  The Emulation and Worship of the Superior Female.
And have no worry, I am here for you!!
I've been enjoying playing with several sissies lately, and My love for feminizing My toys is not as well known as some of My other talents.  Even My personal slave here in My real life has been sissified by Me and I love nothing better than dressing him up in humiliating ways and putting him in situations in which is sissy tendencies might be exposed!
On New Years Eve, I had another FemDomme over for the evening, and I made him dress, little by little, showing her every step of the way how much of a sissy fag he was…
Our evening wasn't complete until he showed us how well he could suck cock on My strapon.  Too bad I didnt' have a real cock for him to suck for us that night! (As I have on other occasions)
It was a great way to begin 2011 (The Year of Lauren!)


And lately, several slaves have begun begging Me for feminization training, and I am soo thrilled to help them out with this.   Different sissies are of course, at different places and I LOVE finding out at what stage of the process they are in and delving right in!  Giving them assignments and sending them out in the world to explore their feminity.
Its one more tool to making them My total slave, and those slave become the most loyal and profitable money slaves of all.  So we both get what we need.  You get pink girly frilly feelings and I get your cash!
Yum
For all my girly sissy freaks and wannabe girls…a hypnotic recording! Go ahead…click and buy it…mmmmm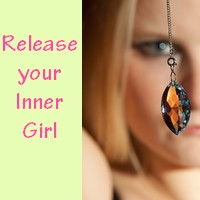 <\a>Some of you are aware of how I have recently been more open about offering erotic hypnosis.  It is, after all, another tool to control you. I've been using it in My sessions for quite some time, and in the texts of My PPVs, but I haven't pointed it out.
That is changing. I am now, officially and openly now practicing Hypnosis–primarily as yet another Mind Control Technique.  And be careful.  I am really adept at it. *laughs*