Category —
femme fatale
I've fielded a couple of pleas in emails to blog soon. I really do like blogging, because I have so many fun things to say about you junkies, addicts, losers, paycunts, oink drones and sissies that is almost unbelievable.
Sometimes I have to pinch Myself because I just cannot believe that I am getting rich from doling out clever insults and using the power of My mind to trance the lot of you into handing your cash over to Me.
I've trained your cocks to be hard and then to pay Me when they are.
Now that being said, as much as I love to blog, it isn't always easy to find the time to do it…
You fools and dolts all missed Me so much that you literally formed a virtual line waiting for your wallet fucks. When I'm sitting at the computer, I scarcely have time for anything else other than findomme fun!
That said, with the beautiful weather here, I am outside much more often than usual.
My vacation was fucking fabulous, I LOVED New York City, as I thought I would and I am planning to go back there soon! (On your collective dimes of course). Actually, in practice what usually happens is some piggy or drone steps forward and pays for My entertainment–this past time was wallet rape toy again.
We stayed in the Theatre district, just a couple blocks from Central Park and Radio City Music Hall. We went to a Broadway show. (We saw The Book of Mormon, which is highly inappropriate, therefore really funny!) We also spent an afternoon at the Museum of Modern Art, and of course shopping on 5th Ave! I eyed really expensive pianos…perhaps someday I will have one in My home. (I play on a digital keyboard currently) I drooled over lots of expensive clothes that I thought I could make My pets pay for on little Amazon shopping sprees. Yum.
After three days in NYC, we drove south along the coast all the way to Virginia , spending time just enjoying the ocean and sun.
And while I was gone, wallet rape toy bought $300 worth of Whole Foods gift cards so I could fill up My pantry with wholesome delicious organic foods when I return. (I only eat the best)
Now for the delicious Spending Report..I know how much you piggies LOVE to see your name in print as proof to how easily manipulated you are!
Easily My biggest spender since the last update has been marla paycunt. This pathetic sissy loser does nothing but dream of licking cum off from My bare feet and she is My official paycunt now….. Eventually this bitch will run out of cash but since My last update she has spent a jaw dropping $5625 on Me! Wow.
Nylon Lover spent $225 in a nylon hypno ptv session. He is close to the 8K lifetime spending mark. Soon he will be joining the 5 figure losers
Sissy curtsey spent $425 since the last update. She's trying to run away but I know the drama will fade and she will cum crawling back to My skirt.
Princess gigi stayed on top spending over $1500 since the last update.
A paypig that cums around occasionally is "steve q fucked" I rinsed him for $200 recently 🙂
PIG has turned into a real paytard for Me….I've been breaking him down and he his recent spending was $1071. He just surpassed the 60K spending level and is #6 on My lifetime list. He has been My client now for nearly 8 years.
Krusher is a slave that appeared and disappeared (closing his account), since the last time I updated. In his less than a week on Niteflirt, he clicked and paid Me $1230. Now, he may have been a previous slave who returned with a new name, silently paying Me, and not answering emails, or perhaps he is truly new but either way. They almost always return. And I will be here to take his wallet.
My british sissy surrender $180 to Me since last update. Little cunt needs to pay Me more!
New to My blog is My heart slave Amin. He spent $135 since the last update, and lifetime is up to $1685
My polish atm spent $164, mostly in one $150 dollar email just today, and lifetime has hit the $6,000 spending mark!  I LOVE that paypig brian spent$862 in FOUR different member accounts. He spends, cancels and then makes a new one. Brian, quit trying to hide, we both know how stupidly futile that is!
cumstain blew through another $330 drooling over My wallet fucking in My new PVC dress photos.  I know how to fuck with a man's  head
sissy janice spent $225 in her quest to be a special paypig for Me. Keep working at it sissy!  I know how to fuck with a sissy's head too!
My shoesniff loser dropped almost $200 one evening. Find more cash sniff loser!
Before I went on vacation, a slave I will call benny from nyc spent $400. I haven't seen him since I've come back, but I'm watching for you benny!
It was so nice to see some click and pay action from Loserbeast to the tune of $420. I always love seeing that slave go to town on My PTVs!
Woody made an encore appearance for $167. Lots more alluring ptvs woody, obey and surrender!
wallet cunt was back! He spent $132 in a nice phone call, and I found out why he hasn't been clicking and paying. That's ok, the phone is a great way to cash rape too!
In addition to My $300 gift card surprise, wallet rape toy spent over $1100 pleasing Me with PTVs. Lifetime, he is 2nd on My list at over $105,000 dollars.  What is notable is that he got there in just over 18 months, and that doesn't count the tens of thousands he has spent on Me in gifts and vacations.  (Adding that in, makes him #1)   This slave is a paypig the rest of you are free to emulate!
And last but not least is My paybitch terry. PB terry has spent over $1850 since the last update, and has sent Me pathetically gorgeous email after email, one of which I am copying here for you all to read
Dear Mistress,
i want to report to You some interesting and exciting developments in the way i respond to Your training.
1. For going on two weeks now, i find that i have little interest in pornography or any other visual stimulation that does not originate with You. When i do find myself engaged in viewing porn, i find that as soon as i start to become stimulated, i want to look at pictures of You. This leads to opening up a slideshow of Your pictures.
2. At first, i found that after i started stroking and becoming stimulated, i then wanted to click and pay. Now i find that the idea of clicking and paying makes me want to stroke.
3. i CAN NOT reach climax without paying.
4. Even though my resources are EXTREMELY low right now, i find myself WANTING to spend them. When i start to think or worry about how i will subsist after i spend out, my mind goes blank and i return to my correct desire to pay You. Lauren is ALWAYS right.
5. Last night i spent about $40. This had been earmarked for a bill i needed to pay. Nevertheless, i could not stop myself from giving it to You. In truth, i had NO desire to stop. The idea of not paying seems like being unfaithful to You. my orgasm was VERY strong.
6. After my release, i went to sleep only to wake up about two hours later. Before, i could even wake completely up, i had my slide show & NF open. i found that i wanted to pay You so strongly that even looking for a PPV that caught my fancy seemed to take to long, and i elected to just tribute you $25. As soon as i did this i found myself stroking with feverish abandon. I kept repeating over and over, "i am addicted to Mistress Lauren AND i am addicted to paying Her." As i reached climax, i began to weep uncontrollably as i repeated over and over, "thank you, Mistress, i love you!"
These experiences are precious to me. Hence, my desire to write them down in detail for You. These are my acts of devotion and love. Pleasing You makes me whole.
my greatest desire, is that You be pleased with my progress and if i dare to dream, perhaps my wanton submission will give You cause for arousal and pleasure as well.
Your Devoted one
I'll be gone this coming weekend to go to a big 4th of July bash, and I won't be near a computer…so find Me during the week for your fuckover cravings!
Love,
Mistress Lauren
[Read more →]
I do LOVE being a Financial Domme.
Why?
Is it the money? Well, that's part of it.  This is indeed a very good living, but far more importantly, it rings true with My authentic self–a Woman who needs to be in charge.  Note that I didn't say I "like" to be in charge, I actually "need" to be in charge.  This is the only vocation I have ever had in which *I* am in charge.
I have the control.  I have the power.  I do not answer to a boss, and I decide what hours I am going to devote to this pastime.  I sleep and eat and vacation when and where I want.  Working for others for a wage, didn't resonate with Me.  I had to conform to other's expectations, and I did not like that game one little bit, and My bosses knew it!  I made for a pretty unruly employee.
I had already dabbled in BDSM in My personal life, and found I loved being a Dominant Woman.  I did not begin as a Financial Domme, in fact I never heard of Financial Slavery my first couple of years.  I learned to swing a flogger and a single-tail whip. I learned all about Japanese rope bondage and spanking and cock and ball torture and face-sitting.  I learned how to feminize a submissive sissy and how to make My female slave cum on command in the grocery store (yes really).
So when I was in need of a little supplementation of income, I began dabbling on the site that would evolve into Niteflirt to earn money in the world of phone sex.  I didn't have much time and did it really part time. I did a little modeling too, and tried different things–saving money to someday accomplish My dreams.
in 2007,  I truly needed a change, so I planned a move and to quit My job.  I worked Niteflirt more intensely, saving for the move. I learned about the fetish of financial domination, and began studying it, it seemed intriguing to Me. (and profitable!). My original plan was to find another job working for a wage after I moved, but having the time to truly develop My websites and Niteflirt listings, and doing photo shoots, I found I made lots more money as a phone Mistress than I ever did working, and I never looked back.  It was in 2007 that I really entered the stage of Financial Domination, and as a fetish it was the most satisfying one I had ever tried.
This is why.  When I spank or whip a slave, they are in pain while I'm doing it, and maybe for a short time afterwards, and its AWESOME, feeding My Inner Sadist. But when a slave gives Me cash, "especially" more than he can afford…that lasts.  Tomorrow I will still have his cash.  Next week I will.  I will enjoy all the items that I buy with his money, and he will only have a bill. (If My training goes as expected, that bill will give him an erection, and he will seek Me out again!)
So this long post all led to an idea.
It's really common in the FinDomme world to see women with buttons that say.  Pay My Rent! Or Pay My cell phone bill!  I haven't done that, because it doesn't really turn Me on…I get something yes, but I don't really get the pleasure of knowing how My shenanigans have effected My slave's lifestyle (and that's what I love to know)
So instead I thought…wouldn't it make sense to charge men to sacrifice for Me, instead?  They give Me the cash, and also, consciously skip doing something they enjoy.  So that I have both the cash, AND the concrete knowledge that they don't get to have something they enjoy JUST so that I can ..a. enjoy their cash  and b.  Enjoy the fact that they don't' have it!
So instead of the traditional Tribute buttons,
I present…Sacrifice buttons! In the $5 you agree to pay Me $5 AND give up a latte or $5 worth of coffee…
For a $10 sacrifice, you will give up lunch out, and skip it, or brownbag it instead.
For a $25 dollar sacrifice, you're going to stay home instead of going out with the guys.
And note..you're not ONLY sending Me the cash, you are agreeing to give up something that costs
that amount!
Want to spend more?  No problem.  Click this button, fill in the tribute amount, and describe to Me what you are going to do without for Me.  A weekend out?  New golf clubs?   Your vacation?  To all I say YUM
.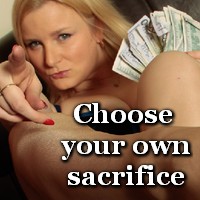 In other news…
I must give a special blog mention to a returning slave….ca$h pig brian, who celebrated his return to Me by spending an unprecedented $740!  Well done brian!  He left Niteflirt, solely to avoid spending on Me…and he found his craving was unbearable, and when he came back, I was the beneficiary of a delicioius binge.
And…not too many details I want to share yet, but I have been being called three times now by a man who has decided that his wife is now My money slave.  He makes her kneel in the corner, and takes photos of her for Me, and uses her credit card to pay Me and jerks off to My photos, telling his wife that I am more beautiful than her and I deserved her money.  Hearing her sob in the background was really HOT. She is kind of like a female cuckhold, and I am like the "bull". I hope I get more calls like that!
So stop reading now, and decide what *you* are going to sacrifice to serve Me……I can't wait to hear about it.
I have been sooo busy between doing wallet rapes and enjoying the holidays, I have not had time to blog much!


The past month has been amazing!
I will again mention sissy lily who did most of My Christmas shopping for Me.  My family was sooo impressed with My generosity . I maxed out ALL her credit cards with My shopping sprees.  Sissy lily especially enjoyed buying lots of gifts for My boyfriend, and I made "her" talk on the phone with him one night and that sent her on a final huge spree with her December rent money.  She is now a month behind on her rent, and waiting to catch up with bills when she gets her income tax return. I, of course, have My sights on it.   She has been updating Me on her credit score that she is tracking and it is plummeting, and it will be curious to see how low I can make it!



A note :  I have had many  ask Me about the sissies I blog about.  I often refer to them as "shes", and I am asked…are they women?     Just for clarity sake, they are crossdressing men, that I refer to as "she"  .   In some cases, they may be transgendered, and in others not—but one of the pleasures a Mistress has for  a slave they own, is choosing their gender.  I declare some of My slaves to be female.  If I am using the term "sissy", that is your clue!

And 2012 began with a bang!
On January 1st, My biggest spender, wallet cunt materialized, and we had a very overdue massive session, and he spent nearly $3800 on Me, including finishing with a $50 a minute phone call and a $500 PTV and TWO $999 PTVs 🙂
If that weren't enough, while I was on the phone with him, another slave spent $175 on PTVs on his own, so that was just a nice little bonus.

So what a start to My New Year, but it wasn't over!
On January 2nd, I got a notice in My email that Dr X had bought a book on My wishlist.  I email him, and that begins ANOTHER huge wallet rape. Dr X had been Santa for Me last year, and I think reading about sissy lily buying My gifts this year made him nostalgic.
We had a very long phone call, nearly 3 hours, and in that time he spent  $3920  on Niteflirt.  When he wasn't allowed to add any more money for PTVs (although it allowed him to add on the phone for his call), we switched to My Amazon list and he spent another $1900 on Me there, and what he bought included camera lenses and furniture and a Coach Purse.
We decided it would be his mission to be My first "six figure slave"  no slave has yet reached that threshold, and how delicious of him to declare his intention of being My first "six figure slave"!

If all that weren't rich enough, yesterday afternoon another sissy that serves Me spent $250 on PTVs when I wasn't even home and I came home to that nice little surprise.

I just have one thing to say as a wrap up.


Happy New Year to Me!
I love the emails I get from My slaves.
Here are a couple of recent gems!
From a slave who just renamed himself Lauren Rules Bankrupt Me (Has a nice ring to it, doesn't it?)
I

am so sorry I have been away for so long you have expoited me so bad Mistress I had to file for bankrupcy…..you have taken everything from me I have gotten a divorce because of you and lost everything. I have nothing but still cant stay away from you. I try to hide from you and you find me I try and forget about you and I dream about you what have you done to me……I am so sorry I am broke and can not give you your money you have taken me for so much I cant beleive it……there are times I just sit and think about how much you actually took from me not just financially but you took my whole life. I am so sorry I do not have the money do give you anymore I work my ass off to get out of debt so you will one day use me again. Thanks for ruining my life you are worth it.
Notice how the loser is trying to get more money to serve Me? Even after I destroyed him? I have to use him in different ways now..exploit his poverty on My blog! (You too could be exploited like this!)  For the record, this slave sent me about 15K dollars in the course of a few months…

And this one…a bit wordy, but powerful in his despair all the same
Lauren,
I have to be honest with you, I have been to other hypnotists on NF over these many years. But something always brings me back to you. Nobody else, just you. Somehow you have permanently altered something in my brain, the part that provides willpower, so it always crumbles back to you. I think it may have been that first game, the one in which "we begin our lives of service to you in the most devious way possible." The dreaded $2 email, from which thousands of dollars flow from us to you. I tell myself I am not going back to your pages, website, pictures, but something in my brain starts sending out signals that it is time to call, time to submit, no sense fighting it, just continue your life of service to Lauren. I remember being amused by the game, no way this could happen, certainly could not be permanent. But you plant something in us, I am not sure how, that seems impossible to alter, to remove, to ignore. I remember I played the game twice so maybe that is why it has damaged my brain and will so greatly. Of course I played other games of yours as well which I am sure didn't help. But the first game still thrills me when I think of that night, the first time you worked your charms on me, placed me under you stunning spell. But I thought it would fade like all others, but somehow it hangs on. I read your blogs over and over, about Dr. X and your wallet boys, and seem to cling to every word. Why? What is it that you do to us? I believe I can talk with you safely, but end up your mindless robot without even realizing it. I believe I can resist your spell, defend my brain and will, but somehow or other find myself in unexplainable obedience and worship of your every whim, your happiness vital to my existence. Why?
Sorry about my rambling. I remember the first email I sent you before playing that first game, and I remember your response was so quick. And you knew, and you said in that email, that such a quick response would draw me in further, would be so exciting that I would be compelled to play. And as always, you were right. And you watched me play, saying "don't stop now, you are playing the game so well." And that increased my heart rate, my breathlessness, forced me further, until the only way to physically stop was to call. And already capitulating to your devastating game, words and photos, I must have been easy prey for such a skilled Siren such as yourself.
Maybe that's it. You are a true life Siren from mythological times, no man can resist after once hearing or seeing such beauty and power. Once stung, always in your power.
This is scary for me. I try to reason it out as I do with all things, but just can't. Maybe that is part of the spell, the inability to understand it which prevents us from escaping your clutches. Something in our cerbral cortex damaged beyond repair, always to be totally in your control.
Signed
A
Oh and by the way…this is the game that A refers to beginning his destruction



Your financial slavery to Me begins with only a $2 email. It's only $2, that can't hurt…right?

$2
Men are weak silly creatures.
They approach Me, drawn to My power and beauty like a moth to the flame.
Do you recognize yourself?  Are you enchanted by the powerful femme fatale type, the woman who ensnares you and leads you into progressively dangerous situations?
I study the Femme Fatales of History, and take them as role models.  My favorites include  Salome whose seductive "dance of the seven veils" lead to the death of John the Baptist, entrancing  King Herod to deny her nothing, and she asked for the head of John the Baptist on a platter.

There is  also  Cleopatra, who was so beautiful and powerful that even powerful men like Julius Caesar and Mark Antony were not immune to her charms.  Caesar was a much older man, 52 years to her 21 years, and even in her youth, her seductive charm was enough to rule the two most powerful kingdoms of her day.
I am a modern day Femme Fatale.  I stand for the reversal of the "traditional" female role, denying men a woman who exists to satisfy their pathetic little egos.
It is said.  Behind a powerful man is a great woman.  It's true, most successful men are nothing without a great women, they need this or they are NOTHING.

I have a better saying.
Behind a powerful woman, all the men line up.
A powerful woman doesn't need ONE man to make Her successful. We are happy just to tread over whichever man will help us reach our goal.
Perhaps you're the next man I will tread upon.