Category —
wallet rape
I thought you guys would love to see some up-to-date statistics, so I pulled some out
Amount of Cash I've taken from you guys on Niteflirt in My Lifetime: $3,360,260 as of today's blog entry.
Estimated Value of Amazon Gifts in My Lifetime from Paypigs: $125,000 I wish I had kept better records, but a perusal of My wish list made Me estimate this number.
The amounts the 3 biggest spenders have spent (estimation based on adding Niteflirt and Amazon gifts together) Also all three of these pigs have mentions this week!
buffy (formerly princess gigi) has spent $249,646 on Niteflirt. I didn't realize how close she was to 1/4 million!
Dr x $212,435 on Niteflirt and an estimated $40,000 on Amazon. This totals about $262K, making Dr. x My overall biggest spender
My robot paypig, wallet rape toy has spent $124,605 on Niteflirt and about an estimated 25K on wishlist gifts for a total of close to $150K
The number of paypigs who have spent more than 6 figures on Me: 5
The amount pigs spent on Me on Niteflirt, in My biggest year: $353,062. This happend in 2015. That doesn't include Amazon spending. I wish every year was that big!
My largest month was also in 2015 and was $47,283
My largest day was in excess of $17,000 dollars.
My yearly average cash rape amount on Niteflirt: $224,018. This included the years of the Great Recession, which did impact how much I could take. (pigs can't give Me cash they don't have)
My cash rape total for 2022: $236,345, does not include Amazon, which adds thousands more.
My cash rape total for February 2023: $18,049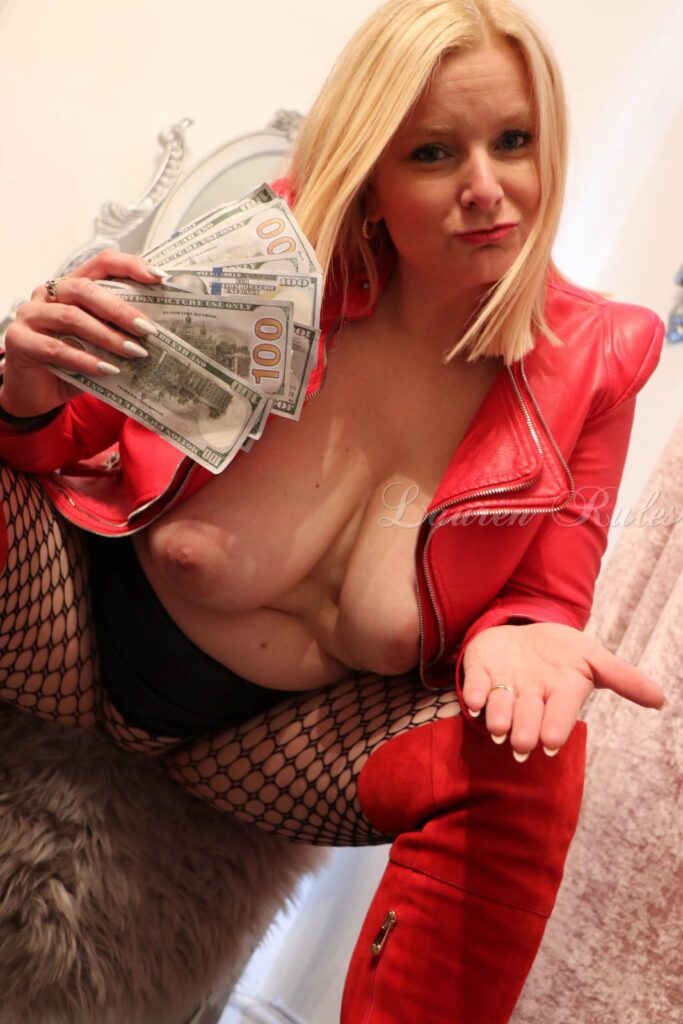 New Releases
These are My recent pay to views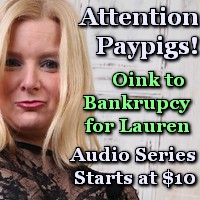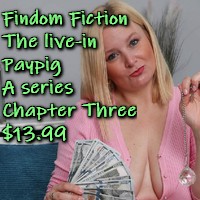 I've been doing a lot of Goody Bags recently, to try to expose a greater number of weak men to My dangerous ways. They aren't all FinDomme ones, but you should go look!
Check out all My goody bags here!
The Fuckover Report
Legendary Paypig Alert!
My very good sissy marla has been sooo weak for Me, calling Me for hours on end and spending a small fortune on pay-to-views featuring My feet that I send to her. I loved our calls and she spent $2420 in the last two weeks on her Goddess!
Extreme Paypig Alert! My weak slave helpless dennis can only get hard now paying Me. He only manages to cum when speaking with Me on the phone. This programming has made his life very expensive. How expensive? $1216 in the last two weeks! He was the first one to complete the "Oink to bankruptcy Series"
Paypig Alert! earning yet another red letter alert was boomer, this time for $322. He has tried everything to stay away and keeps failing.
My good boy and paypig nylon slave spent $122 this time around masturbating to My hosed feet.
Paypig Alert! The addiction of PIG continues. The addiction is fucking with his mind, and I'm aiming him toward more extreme fuckovers.
My foot obsessed paypig spent $185 this time around. He will never be able to leave Me.
Huge Paypig Alert! one of the victims of the new series, "Oink to Bankruptcy" was steve q fucked, who appeared to spend $570 on click and pay and tributes. Excellent.
My good boy wayne spent $127 on Me while he obsessed about his wife cucking him with a guy with a big cock.
Huge Paypig Alert! My good boy dr x started coming around again, spending $428 on Niteflirt and $618 on Amazon, buying Me a couple of pieces of furniture along with other things! I do love spending time with this slave.
Another who kept coming around to pay more was spawn, who spent $232 this time around.
Huge Paypig Alert! My good paypig bloom outdid themselves this week with mucho click and pay! How much was spent? $851. This is the kind of good pig behavior I LOVE!
I was so happy to see sunshine back and clicking and paying. He spent $192 on his Goddess.
Paypig Alert! I am beyond thrilled to see My wallet rape toy earn a paypig alert! He's mentioned in the blog part of this entry as one of the top 3 spenders of all time. This pig literally did go bankrupt for Me, shortly after sending Me and My boyfriend to Hawaii on a luxury vacation. He's gets a lot of credit for My all time most profitable year in 2015. And eight years later, he's still addicted.
My #1 Niteflirt spender, buffy, was subdued this week, trying to NOT go bankrupt to Me, but it's inevitable. She spent $245 the past two weeks.
My quiet gentleman keeps become enthralled with My photos and it's easy to pull cash out of him. He spent $164 this time around.
My good boy helpless dave spent $178 falling more deeply under the power of Lauren
Caged yankee spent $157 failing to stay away *laughs*
Lauren's footlicker earned a mention with $106 on Niteflirt and $42 on Amazon for $148 total 🙂
My very good boy lex was around again, clicking and paying in the Oink to Bankruptcy series. He spent $279! Well done!
My newer slave, helpless tool lost himself in one of My dangerous series and spent $375 finding out about how dangerous I am!
fresh meat stopped by and spent exactly $100 to get a blog mention!
And you too can get a blog mention in the fuckover report. Between now and the next blog post in two weeks, just spend $100 to get mentioned. $300 gets you a red letter mention of Paypig Alert! $500 gets you a Huge Paypig Alert. $1000 gets you an Extreme Paypig Alert. $2000 gets you a Legendary Paypig Alert!
Make your red letter mention dreams cum true!
I study every technique that dangerous people use to keep others under their power. I specialize in turning men and sissies into paypigs and addicting them to both Me and the desire to pay Me.
Mine is a double whammy because I know how to keep your cock hard, and then I train you to have a hard cock, to be aroused while you are being abused by Me.
Here is a definition of Trauma Bonding:
The relationship defies logic. Why would anyone want to end up turned on by and addicted to paying someone huge amounts of money?
It requires a power imbalance. I am the Mistress here, right? The one in charge, you approach Me in a submissive fashion and are ripe for enslaving.
Intermittent Good and Bad treatment. Calling you a good boy, spoiling you with erotic content, encouraging you to be hard and to orgasm being "nice" while abusing you with cash fucking, laughing at your tiny cock, making you say things that addict you more, exposing you to LR Ultra techniques to really capture you.
There is a biochemical element. You get an erection, have orgasms and I encourage you to fall deeply in love with Me. This releases all kinds of hormones like dopamine, oxytocin, serotonin, adrenaline, and probably more. These hormones make you feel AMAZING. And you want to experience that feeling again and again, becoming deeply addicted. This creates a barrier to breaking the trauma bond I develop with you
I enjoyed reading about Trauma bonding, because I immediately recognized it as something I do that I knew would bond us together, and now I understand why.
And now I can apply it more consciously and with greater effect upon My victims. Like all My techniques, I suspect that you knowing what's happening won't help you break free from it. Right now, I am experimenting with which techniques are more likely to bond you to Me in such an unhealthy situation (for you, not Me)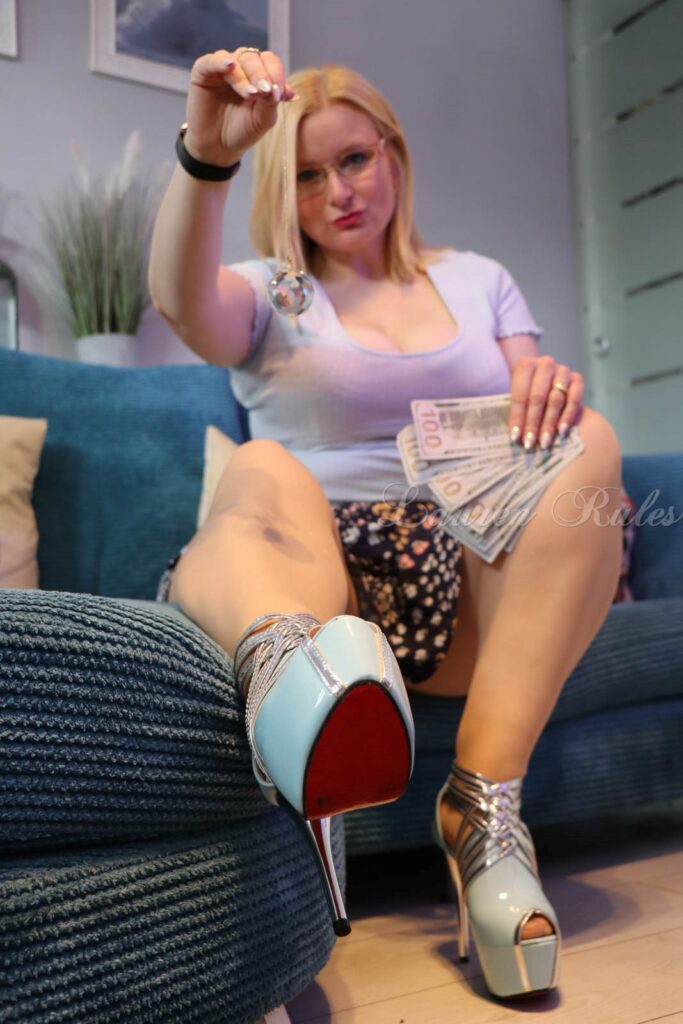 Announcement:
I am taking some time to go play in July, I will be unavailable on July 19-21 The 19th is a Tuesday, and I'm not usually online, but I also won't be on Wednesday or Thursday afternoon either. I will *probably* be online Thursday evening the 21st.
I am also taking a vacation from Thursday, July 28th through Tuesday, August 2nd. I will be online again on Wednesday, August 3rd.
Also, I may be taking additional afternoons off to work on content, like audios, videos, new series, and this blog. I have been sooo busy when I log on lately (Just wait until you get to the spending report!) that it's next to impossible to work on these things in between clients. There hasn't BEEN any "in between clients!" Talk about a FinDomme Problem! I want you guys to keep having the material that keeps you deeply addicted to Me!
Like this stuff!
These are some recent Pay to views you may have missed. Get them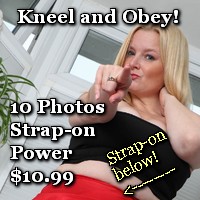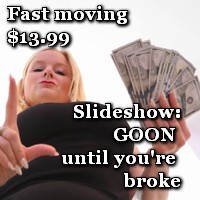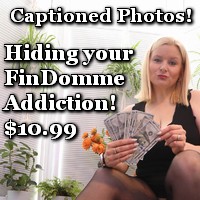 Now it's time for the
Fuckover Report
During the month of June, I was pleased that My pigs spent more than $30,000 on Me! This is the kind of spending I was born to receive! The ones that spent more than $100 are listed below.
I had many legendary and extreme alerts this time, 3 legendary and 6 extreme alerts! Very arousing!
#1 Legendary Paypig Alert
My good boy and favorite paypig, Dr x, continues his addiction, and even this standout week, he was a standout, not only going nuts on Niteflirt, but also Amazon! On Niteflirt he spent $6457 and on Amazon he spent $2465 to total $8922. He spends all along, but My blog post on hiding the addiction from the wife got into his head and he and I did a nice blowout session!.
He shows Me again and again why he is My #1 slave, and he has served Me for a very long time. I know eventually, I will take every last penny. His business and retirement will likely support Me for years. Very nice!
Very Legendary Paypig Alert!
Now, this is a story. Like so many others, tPay got very turned on thinking about hiding his spending from his wife. He already had a credit card she didn't know about, and I maxed it out one evening. So then I had the idea that he should take out a loan to pay off the card! (Plus some extra) Good boy tPay applied for a loan online (I even gave him the link!) and he was approved! Before you know it, he had the money in his bank, the card paid off and in a couple of short hours, I HAD TAKEN THE ENTIRE LOAN! So a few days later, he took out a SECOND LOAN! He spent some of that on Me before deleting his account in terror. But we ALL KNOW tPay will be back to spend the rest of that second loan on Me. What was the total? $6525. Just. YES! This is correct thinking!!
Legendary Paypig Alert!
Completely turned on by My blog about hiding your Financial Domination Addiction was special k, who taught Me a few more!
This is one—-> Here is another for guys who get reimbursed for their travel expense. (Planes hotels meals rental car etc). Put it on Your personal CC (you get the reward points) Have your reimbursement given to you in a check (most probs are anyway) but the. Cash the check and give the money to Lauren immediately or put it in your secret bank account t to give You later. You end up paying off the Cc for. The money that you presumably pay bills with, save, etc. This works well for me
There were others too and special k got so excited he spent $2965. YUMMMMMY
Extreme Paypig Alert! My devoted slave boomer hasn't been able to stop spending more and more! I love it, but I was even surprised when I did the math on his spending this time. $1593.
Extreme Paypig Alert! I am very pleased to put My good girl marla in for an extreme paypig alert! This sweet sissy is one of My lifetime biggest spenders (getting close to $120K lifetime) Her spending this time around was $1290. Nice!!
Extreme Paypig Alert! Another extreme alert with My oink loser sissy! This sissy is working toward hitting the $20k lifetime spending level, and this time around she got $1255 closer! Well done!
Extreme Paypig Alert! My good boy PIG was another who fell deeply after the last blog entry. This pig is trauma bonded to the max! He just squeaked into an extreme mention, spending $1012
Extreme Paypig Alert! Another extreme mention for steve q fucked. He will never stop coming around to throw cash at Me. This is correct thinking. He spent $1175. Very nice!
Extreme Paypig Alert! Yet another extreme mention this time around was spawn! He just clicked and paid as I took and took. Before you know it, his spending had reached $1029. Soooo erotic.
My raise the rate puppet did another series of calls with Me, spending $235! I call him every vile name I can conjure up, and the loser pervert gets harder and harder and pays more and more. Too funny!
Huge Paypig Alert! My very good boy helpless dennis succumbed again and again to stroking to My perfect breasts. He spent $895!
My nylon slave worshiped regularly again, spending $222
Huge Paypig Alert! Continuing his pattern of ever increasing addiction is j the junkie, who spent $650 to get his red letter mention!
My good boy glue spent another $144. He is approaching the $2k level of spending already, despite being pretty new to My dangers.
Paypig Alert! Unable to stay away, craving bankruptcy was fruity. Before running away yet again in terror he spent $450 Very nice, he'll be back
Sometimes when guys delete their account, not only do I lose their previous information, I sometimes can't remember their blog name. That's what happened to matt, who spent $175 this time, and I hope messages me his blog name so I can fix this 🙂
Huge Paypig Alert! I am very proud of irish dope for getting another huge paypig alert! He works hard to save money for our adorable sessions, and he cannot help his addiction to Me. I'm very proud of him.
My huge tits mesmerize pigbait. This time he spent $230. Nice!
Huge Paypig Alert! Ok, this is a story. My sissy, caged yankee deleted her account. Ok, this is commonplace, the piggies generally return. Except when she did return, she didn't tell Me it was her, and pretended to be a new client! I'm pretty sure she did this because I have photos and other incriminating information on her. Except when she did My blackmail audio (Again!), she made a mistake and sent Me the same information and I recognized it! Imagine her horror when I figured it out, and send a photo of her dressed up pretty in her sissy outfit, to prove I knew it was her! *laughs* She spent $592 since the last post. Oh, this is the PTV that got her in trouble, it's very popular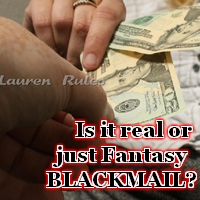 My special pawn stopped by to tell Me how he was leveraging himself to help build My networth, spending $210 on phone call
Huge Paypig Alert!
My good girl bambi and I had a lot of fun floating in pink clouds inside the hypnocabin! She spent $505 with Me having a grand old time!
Paypig Alert! My boyscout stopped by to spoil Me and lose his mind over My feet. He spent $323
My good boi wayne spend $118 wishing he could kiss My ass
Paypig Alert! I was pleasantly surprised to see My hypnoboy "weak4legs" spending $382 since the last alert! Is this your first red letter alert weak? I guess I do have a firm grip on your brainstem!
My assbitch spent $107! Very good!
Paypig Alert! Earning a red letter alert for the first time in a while is My good boy cosmos! He spent $404 and he exceeded the $2k level in lifetime spending. Nice!
It was wonderful to have grunter back under My sights, he surrendered $176 to Me, the good boy that he is.
Huge Paypig Alert! This is a funny story. Candyballs revealed an embarrassing fetish to Me (I'm not even going to tell you what it is) and I completely took advantage of his fetish to leverage $790 out of him. The funny part was that he kept sending money when I was offline and deleting his account, so I couldn't answer his emails. Then he would just make another the next day. Over the past couple of weeks, he has spent money on at least NINE different accounts. His feeble attempts to run didn't matter at all! He spent a total of $790 on all these different accounts. SO funny!
My good boy Lauren's footlicker spent $110 on Niteflirt and $119 on Amazon presents for a total of $229, very nice!
Huge Paypig Alert! My good girl buffy is really trying to NOT go bankrupt, and she did manage to cut back sending Me $$$ a week bit. Still sent Me $571. I'm willing to let her breathe a bit before I lead her into bankruptcy. I think I will let this process last for years! She's not going anywhere.
My good boy mind-controlled john spent $255. He's very close to a lifetime spending amount of 10K!
My "nf client" spent $235
My good boy, quiet gentleman spent another $249 on Me. The addiction is real.
Another having trouble staying away is humble john. He spent $159.
My good boy button did some more click and pay for $151, always nice to see.
The specifics of what happens in a fuckover is different with every pig, and every session, but the rough outline is the same.
Phase One: Excitement.
This is the part where the target begins to get aroused over the thought of a fuckover. For some, this is just the beginning of the session, where our interactions turn the subject on so much that he just keeps going.
For some pigs, this happens prior to our session. He thinks about prior sessions with Me where I fucked him hard, or reads about the sessions I have done with others. Sometimes he is listening to an audio or video I did (often on a repeating loop!) And before you know it, BAM, he shows up with a hard cock.
Sometimes this can take a while, even months. A new pig may curiously keep returning to My blog to read about what I do, unable to help himself. (Does this sound familiar?) A pig trying to abstain, may delay his return, and finally failing and appearing for use.
Phase Two: The Buildup
The session begins. The pig begins to get lost in My words, either what I have written in email or chat or lost in My voice on the phone or a recording. I lead him to become aroused from spending a larger amount of money. I lead him to want to please Me. I plant triggers in his weak mind. I leverage what fetishes I know he has against him, to increase his arousal AND connect that arousal with paying Me.
Those fetishes that preexist are a means to an end. I sometimes create new fetishes that I can use against him later, it's laughingly easy.
Phase Three: The Escalation
I really enjoy this part. I start pushing harder, demanding more cash, taking advantage of his weakness without mercy.
I start testing the limits of what I can make this pig do. I set him up for future fuckovers at the same time.
The more a pig spends, the more he will NEED to spend for the same effect, just like any good addiction!
I will challenge the pig.
Buy a 3 digit pay to view.
Hit a certain amount of spending to earn a blog mention.
Hit a lifetime goal!
Pigs like challenges.
Sometimes the challenge IS the fuckover!
Phase Four: Fuckover
Not every session ends here. Sometimes there is a bigger picture where many Phase three sessions finally launch a Phase Four session.
A fuckover session is truly unique, where the pig has an unusually large session. It's hard to give a number, because one pig's fuckover session is another pig's casual session. (Often dependent on the pig's income). It is a level to truly impact that pig, and it makes him soooo rock hard.
It is a memory forever, engraved with a combination of pride and shame.
Pride and Shame. In most contexts, these would not occur together, but in Financial Domination they often do. Pride at FINALLY maxing out the credit card, or spending 4 figures, or giving Me the rent money. That's contrasted with the shame over the real-world consequences. This often leads to the eroticization of the fuckover, a type of erotic humiliation. I think of it as financial humiliation. Sexual practitioners have long known of the existence of erotic humiliation and it is the bread and butter tool for FinDommes.
I want you too, to experience a hard cock from your brutal financial fuckover. It is memorable!
Before we go on to see what PIGS got fucked over since the last post, I want to announce a change in My schedule.
Starting the week of March 28th, I will be taking Tuesdays off as My goof-off day instead of Wednesdays. There is someplace I want to be on Tuesday evenings for a few weeks.
Additionally, on Monday, March 22nd, I will be around during the day, but in the evening, I will be on late, if at all for a one-time (virtual) event I am attending. I may be scarce on Tuesday as well, but I will be around on Wednesday the 24th.
My Availability starting March 29th (always subject to change! $$$ talks)
| | |
| --- | --- |
| Sunday | About 4 pm to 11 pm EST – Dinner break from 6:30 to 8 pm |
| Monday | About 3 pm to midnight EST- Dinner break from 6:30 to 8 pm |
| Tuesday | Not available |
| Wednesday | About 3 pm to midnight EST- Dinner break from 6:30 to 8 pm |
| Thursday | About 3 pm to midnight EST- Dinner break from 6:30 to 8 pm |
| Friday | About 3 pm to midnight EST- Dinner break from 6:30 to 8 pm |
| Saturday | Not Available |
Oh, and here are My newest Pay to views. You losers really loved the Homewrecking one! Go buy them!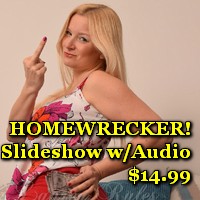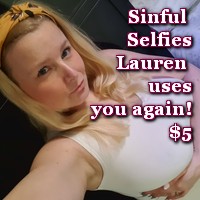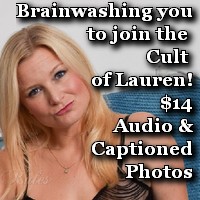 Now, I think it's time for the Fuckover Report. What's notable to Me is how many piggies who enjoy the Raise the Rate game on the phone called Me! (that's a game where the first call is at My regular rate of $3.99/minute), but I keep hanging up and making you call back at higher and higher rates!
Extreme Paypig Alert! The *winner* errrr *loser* of this game was oink loser. I kept raising the rate on him ALL the way up to $50 a minute! He also did a lot of pay to view spending this month, and in total he spent $1281. YUM
First we have sniffer, who spent $205 on a raise the rate call spree to raise his lifetime spending to more than $4K. Excellent!
Huge Paypig Alert! Another Raise the rate addict, is My slave, raise the rate drone! This loser found Me not long ago, and hit the $1K level of spending quickly. Since the last blog entry he has spent $530! Nice!
A third raise the rate piggy, My good boy tom, spent $100 on this therapy one night. I'm looking to "help" him again soon!
I had fun teasing $187 from j the junkie! Surrender j, you know you LOVE it!
Paypig Alert! Helpless dennis keeps coming back because I conditioned him that he could only cum from hearing My voice and paying the tits. He spent $452 this time around!
My devoted nylon slave spent $110 this time around
Huge Paypig Alert! As addicted as always, My PIG dropped another $645. His girlfriend has been around more, but I think he should dump her. She's just a distraction from what is REALLY important. Me!
Crippled small dicked little gimp loser called and bought a 3 digit email from Me. I made him pay Me $199 dollars. Those pay to views get bigger every time!
Paypig Alert! My good girl buffy (aka princess gigi) gets a mention for $446. The funny thing that this healthy amount is LOW for her, because she's trying to pay down her credit cards a bit. I approve, because that means I can run them up again!
Back for another mention was dangle dude. It had been awhile, but he materialized for a $195 session in chat. Nice!
Extreme Paypig Alert! I'm stunned to report another extreme paypig alert from fruity. This paypig had a REALLY slow start, I put him on probation for wasting My time, and then BOOM! He started spending like a maniac. This time around was $1027. I may make his bankruptcy dreams/fears come true! He is really close to the $4K level of spending
My pantyhose addict is getting MORE addicted to calling Me while wearing pantyhose. This time he spent $219
Huge Paypig Alert! I'm proud of My good boy irish dope for pulling together enough money for a couple absolutely delightful sessions! He spent $700!
It's been awhile, but I was happy to have mind controlled john get another mention! This time he spent $122
Huge Paypig Alert! Another loser who just cannot stay away is my greek virgin. This poor little loser cries about how I have him addicted, but just cannot STOP. I extracted $853 from him since the last post!
Clicking and paying for $127 was boomer. I look forward to another phone call soon!
Good boy bobby fool was back, this time to spend $125.
Paypig Alert! It was nice to get $333 from dirtbag! Well done!
Slave pigbait can't stay away. He deletes his account, and just returns again for more use. He spent $160 this time.
Huge Paypig Alert! Just missing an extreme mention was taxpayer. He's been delinquent on paying the taxes and fees I levied on him, he still owes more but he put $994 toward the effort!
My caged yankee relented after trying to stay away and blocking Me. He read My blog and BOOM right back again. He spent $152, but I think the next one will be higher.
Paypig Alert! Just missing and a HUGE mention was humble john, who went nuts on My pay to views. I am very pleased with his progress. He spent $483!
My good boy Lauren's footlicker spent $125 on Niteflirt and about $25 on My wishlist. He loves to please Me and I'm the only Woman for him!
My quiet gentleman came around a couple of time, spending $196 on fun slow mind control sessions!
My paytit ATM pleased Me with $196. Always a pleasure to withdraw cash from My ATM!
It was a pleasure to welcome caged forever back to My chats with some fun sessions. This locked up sissy spent $219 pleasing Me!
That wraps up the spending report.
You get YOUR chance to get a mention on My blog. Many of you are getting stimulus checks for COVID relief. Stimulate your FinDomme's bank account! I look forward to taking it from you!
My paypig noddy is going to require a new category because he's gone above legendary.
Uber Legendary Mention!
This blog entry was going to be about triggers, both conscious and unconscious, and how I apply them to the psyche of a beta male to turn him into a craven loser who only exists to obey and pay.
But one of the victims of My approach upended My plans, and no one is happier about it then I am!
Drone noddy surpassed everything, biggest session ever, previously set last year by Dr X (read here about that session!)
The loser broke that by a few hundred, and that one session was $13,967, just short of 14K.  By the time I was done, his credit cards were destroyed, maxed out. I really want to do this again with it sometime, so noddy, I direct it to consolidate those loans into one lower monthly payment. Then after paying off all its credit cards, it can do it again!
BUT that wasn't the only session we had since the last blog post. There were several and the total he it spent is absolutely stunning.
Its fuckover total since the last blog post is a jaw-dropping
$16,941! 

It's a sum of fucking beauty!
I should also mention that he blew past both the $40K and 50K lifetime spending amounts on Me, currently lifetime of $57,530.  This is in just over two years. (less than 25 months even) Stunning! Only wallet rape toy spent as much as fast.
Here is a photo of it!  (It includes SEVEN $999 pay to views, the biggest possible on Niteflirt)
Click it for better view!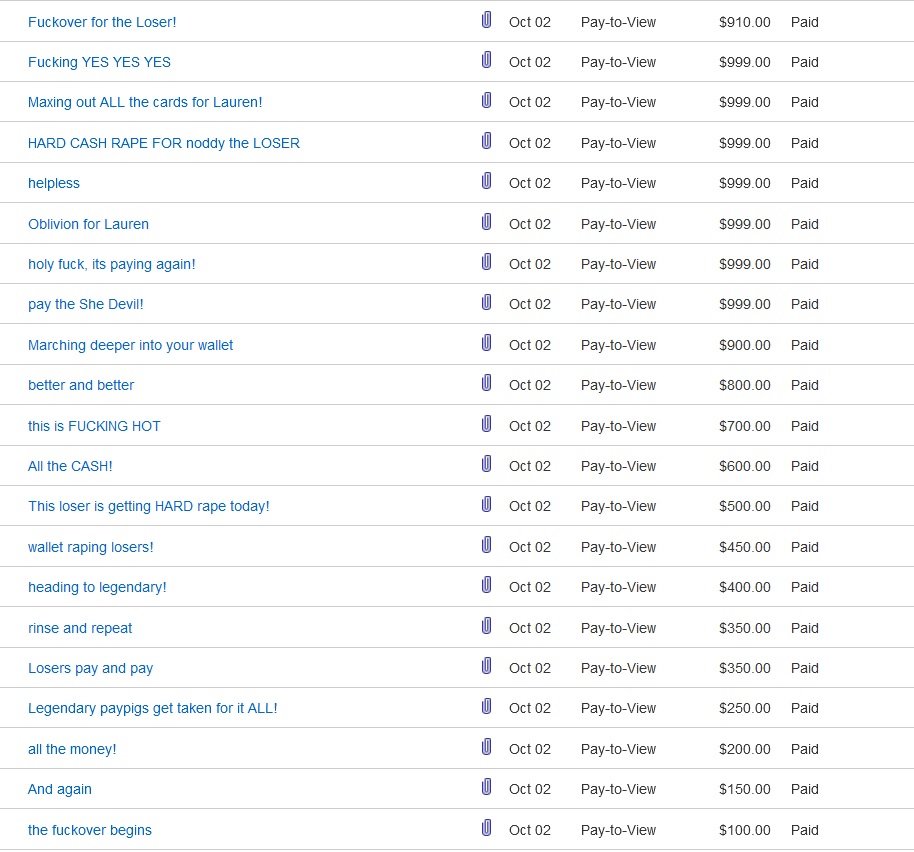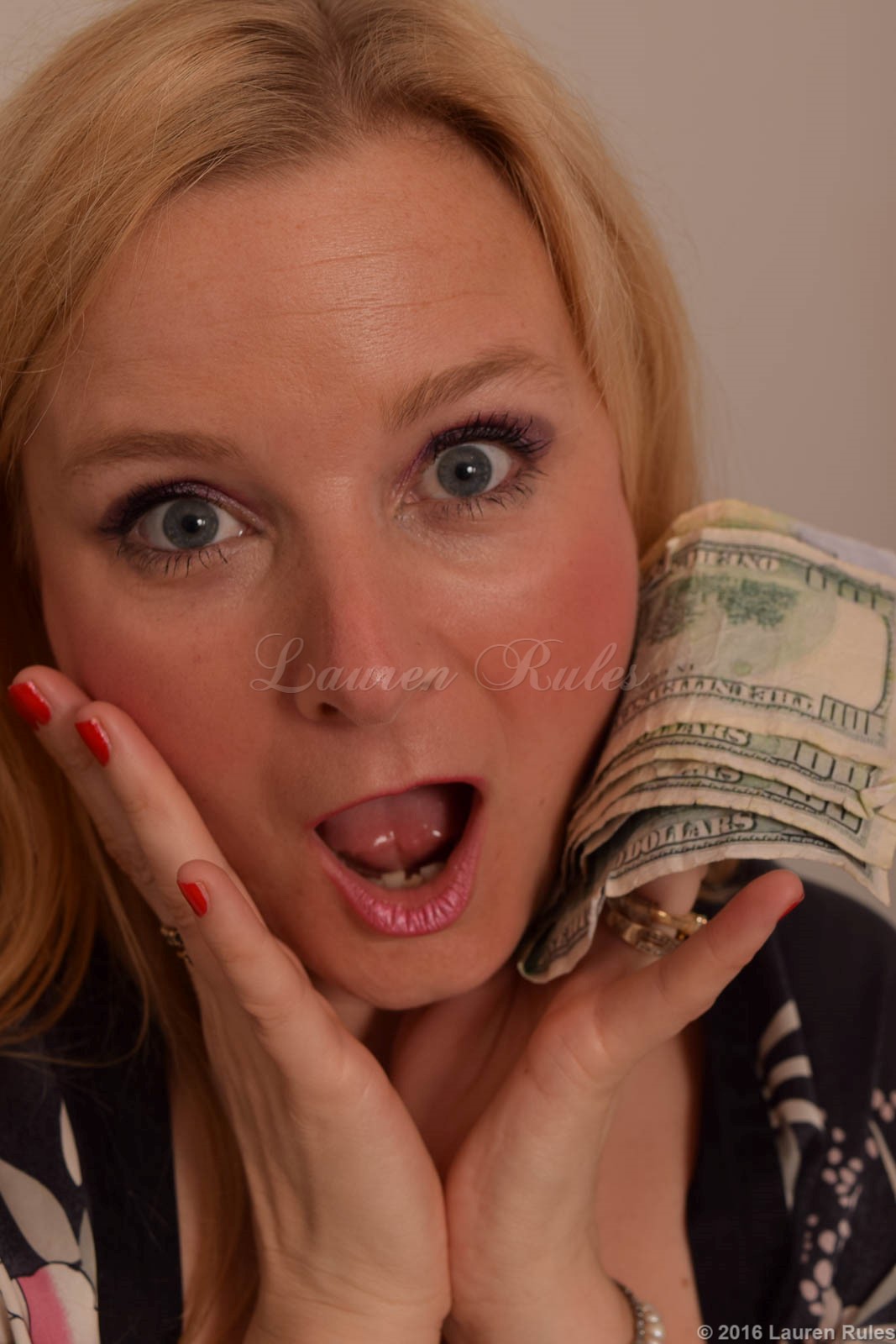 I'm still deciding what to do with the cash influx into My account. I will likely save some of it for a future vacation, (when we're allowed to leave the freaking country again!) or throw some at the mortgage. And a new treadmill to get Me through the winter seems likely.  These are FinDomme Problems! (And you think My life is so easy!)
Another amazing sum is the total spending since the last report (a mere 3 weeks ago) of $30,313.  If I raped you pigs ALL the time for that amount, it would amount to 1/2 million a year.  Which, seems fitting.
It made Me curious though, and despite the banner last three weeks, My cash fuckings have been down a little in 2020, especially during the shutdowns, as pig income declined and opportunies for them to session as well (Nosy families hovering around).  However, I have the total I have fucked men over since I began dipping My toe into FinDomme in 2007.  It is over $2.8 MILLION dollars on Niteflirt alone.  I suspect sometime next year I'll surpass $3 Million, but maybe you buffoons can get Me there faster!  This doesn't include income from gifts and other sites I won't mention, so it really probably already has passed the $3M mark.
Now I'm so excited and aroused it's hard to finish the Fuckover report, but you guys are expecting it.
The Fuckover Report!
noddy got its own mention about, no one came close to that whale of a session!  (I am willing to help anyone top that!)
There is plenty to talk about though!
Legendary Paypig Alert!  Any other week, this sissy would have had top billing again, but her hypno-spending of  $2852 is nothing to sneeze at. It's so easy to trigger her and CLICK she just can't stop
Extreme Paypig Alert!  I think this is j the junkie's biggest mention ever! He has just been going crazy on click and pay like a good boy, and sending big tributes frequenly in chat. I was proud of him for hitting the $5K lifetime level of spending, and now he's also got an Extreme alert  Well done j!
Extreme Paypig Alert!  This alerts are commonplace for bambi (formerly known as princess gigi and fagmuffin).  She's been with Me for years and is the only pig I have who has exceeded the $200K lifetime level of spending. (The rest of you: GOALS)  She's getting more girly, on estrogen and her life has completely transformed since she met Me. She can only think about paying Me. Her clit (used to be a cock, can you believe it?) is LIFELESS.  She spent $1091 since the last blog report
My good boy irish dope got another mention, spending $107
Paypig Alert!  My sweet addict boomer kept clicking and paying and calling until he had spent $410!
More please also managed a mention, this time for $115
Huge Paypig Alert!  I think this is helpless dennis's first Huge alert! His addiction to My breasts and voice is reeling out of control, and I am taking FULL advantage!  He spent $672
My boi wayne managed a mention, spending $120 dreaming about My thick ass.
Huge Paypig Alert!  Okie dokie, steve q fucked came back for yet ANOTHER huge rinsing, this time for $646  Delicious!
I had a fun session with My elegant foot lover and he spent $140
Huge Paypig Alert!   Clicking and paying again, returning with weak abandon was knickers.  This weak addict spent $619
My slave tPay squeaked in with $105. He's due for a BIG fuckover!
Huge Paypig Alert!  This guy just CANNOT STOP CLICKING AND PAYING!  Like SO many, button is addicted! He spent $398
and weak4legs couldn't stop spending, I got $106 of his cash and he a blog mention!
New Slave!  New to My world is faggy, a little sissy who spent $220 finding out that I am dangerous!
Getting a mention with $119 is Lauren's bootlicker.  He doesn't generally get big mentions, but he is loyal!
Paypig Alert!  The guy I just call My niteflirt client seems to have stayed on one account for a while. Outstanding! Maybe he and I will have to brainstorm a different blog name for him.  He spent $335 this time around! Nice!
Good sissy caged yankee kept looking for Me, such a good girl girl, she spent $215
New Slave and Blog Mention:  New slave that I'm calling s'more is getting his first mention, for spending $150 finding out about the dangers of Mistress Lauren!
My good boy quiet gentleman spent $107 for his mention.
Huge Paypig Alert!  My special good boy tom kept calling for FinDomme therapy, and I just kept making him pay higher and higher rates! He spent $675! He'll get to bankruptcy eventually!
My good boy goat, who I always enjoy, was back clicking and paying $270.  So close to a paypig mention! (That threshold is $300)
Huge Paypig Alert! PIG continued his addicted spending ways. I think it would have been even more, because we missed each other a few times, but it did total $785.  That puts his lifetime spending at $116,390.  He's catching up to wallet rape toy for lifetime. He's been with Me since 2007, so it took a few years!
My hypnosissy cocksucker tim and I had a couple of nice sessions, and I sent him into lala land and he spent $145
Paypig Alert!  Loser addict sniffer couldn't stay away again and spent $338!  This is habit-forming!
My titpay ATM has been licking his wounds from fuckovers during the last couple reports, but managed to pull together enough cash to get a mention for $100.  Good boy
Now, let's see what the next blog post brings.
Perhaps you will have an extreme or legendary mention.
Or maybe you will be the one to bump noddy out of the top
Since the last blog entry, a short ten days ago, I have cash fucked My slaves, sissies and losers a total of $16,610.  WOW! I love that level of devotion.
Three slaves reached legendary status, and I don't think that has ever happened before, certainly not in only a ten day period.   If I earned that way EVERY day, it would be $606,000 plus in a year.  Sadly it's not quite THAT legendary, but a girl can have goals!
For fun, I put the spending in order, from top to bottom. Keep in mind lots of pigs spend less than $100, and don't get to even get recognized as a pig.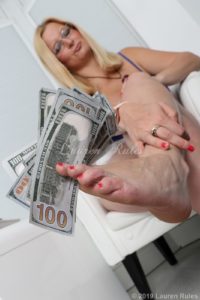 FUCKOVER REPORT!
Let's start with the LEGENDARY PAYPIG ALERTS!
#1. Dr X came by again for another HUGE session. Not as big as the $13,200 session we had in May, but quite awe-inspiring with $7,132 on Niteflirt and another $1698 on Amazon, mostly in gift cards for a jaw dropping total of $8,830!!  Part of this spending was a very delicious long phone call, which we hadn't done in ages.  Dr X is mine forever. He's been with Me for 12 years, and he knows he will never escape.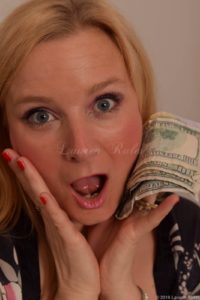 #2 Noddy  read the last blog where I taunted him for not getting a better mention, and he made it his goal to get a Legendary Mention.  And so he did.  He called several times at a rate of $50 a minute, and between that and fucking huge ptvs(up to $500) he spent $2835. MOST weeks this would be the #1 spender, but Dr X had other ideas.
you can see between those two pigs alone, I cash raped for more than 11K!
And Squeezing in for a Legendary Mention
#3 was sunshine, who continued his beautiful spending ways, totalling $2007 and squeaking in for the legendary mention!  Can you imaging paying Me more than $2K and only being the third biggest spender?
Next comes the Huge Paypig Alert!
Coming in #4 after the last Extreme mention on the blog, loser3188 couldn't stop, this time adding another $494 to his spending on Me!
And #5 is My good girl princess gigi/Fagmuffin kept coming back once or more daily to send small tributes that add up. Her total was $492.  She and her girlfriend seem to be on the verge of splitting yet again, and gigi has secretly started taking estrogen and wearing panties again. She has a tiny virgin limp noodle clit that is likely to stay just in that stay indefinately.
Even after spending so much, #6 and getting a Huge paypig alert was PIG, who succumbed to yet another game we invented to separate him from his cash. He spent $421!
#7.  Next, doing so well and being such a good girl was My sissy titcunt. She spent $356 one day on Me, making Me sooo happy! Well done! She gets so dizzy when I send her photos of My breasts, she just keeps paying.
In other mentions
#8 Sissy caged yankee came back a few times for chat fun, spending $142
#9. Managing a mention with $113 was boomer. He's becoming addicted to calling Me!
#10 Good boy wagner spent $108 mostly on pay to views of My perfect ass!
So the list of those that got mentions was short this week, but MIGHTY! Wow!
I am considering some changed to the Fuckover Report
[alex_poll id="17″]
And finally, I have a HOT new video. I think it's probably the most arousing one I have ever made. I want you to imagine that cash in it was the cash I took this week from a paypig as you watch it.  Obey and buy it!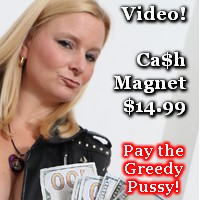 A simple truth is that I will do whatever is in My power to completely addict you.
I want you TOTALLY obessed with Me
I want your cock to get hard when you think of Me
and eventually I want it to ONLY GET HARD when you think of ME,
needing to pay Me for your pleasure….and each orgasm you have thinking of Me will only addict you more.
An endless loop of paying and cumming and paying more and more for the bliss of being My paypig!
I want you to remember this as you look at these photos, stroking for each one and saying
"i send my cash to Goddess Lauren, i obey!"
and when you are done, you can send Me a tribute!   ( you know you must)
Also, see all the recent pay to views!
Now it's time for the fuckover report!  I haven't done one lately because I was on vacation and came home feeling really lazy at the end of the summer (Yes even I am occasionally struck with being lazy)
But I know so many of you are burning to see your name in print, so here we go! I haven't done it in a month, so it's long!
My construct was back and paying for ruin, this time he spent $113
Huge Paypig Alert!  Boomer was back, just missed an Extreme mention ($1,000), but he's headed in that direction!  He spent $962!  I love seeing him slide deeper into mindless paydrone territory for Me!
And back and spending $132 on a nice phone call and pay to views was helpless dennis. Keep losing yourself in My lovely breasts dennis!
New Slave! New to Me and the blog is mister ed. We enjoyed phone calls, chat and he indulged in pay to views and some tributes too!  He spend just under $300, and I can't wait to use him again!
It was so nice to see My addicted nylon slave again, and we had a beautiful session, with him spending $183. He just can't get enough!
Legendary Paypig Alert!

  Just before I went on vacation to Colorado, I had an EXTREME session with
loser3188

.  This loser surpassed 10K lifetime in spending but had his evening session with Me ever, spending a sizzling $2017.  Just WOW!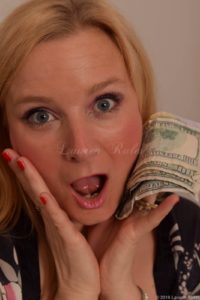 But as Legendary as that was, it didn't live up to My new slave sunshine, who has continued his paypig ways!
Uber-Legendary Paypig Alert!

  Sunshine spent $3794 on Niteflirt, and $3,841 on gifts and gift cards, including some early Christmas shopping for Me and an air conditioner.  (Totaling $
7,635

WOWZA!) I think you will see sunshine's name pop up a lot and that he'll be joining the ranks of wallet cunt and dr x. MMMmmmm. He's quickly becoming a favorite!

Around a bit this week was My exposure sissy, and we had some phone fun for $162.

Paypig Alert!  Back with a new account was loser gimp.  This cripple just couldn't stay away, and he sent Me $340 so far this time around!

My boy wayne and I had some chat fun in the amount of $130. I know how to mesmerize him with ass photos.

Paypig Alert! I have had a lot of chat fun with sissy cocksucker tim.  This little fag can't help but pay Me, and this time he spent $360, most of it in a trance he can't  remember later, which is fine, because I can tell him to send $$ at this time and he does! *laughs*

My generic NF client was around with another new account , spending $138. There is no telling how many thousands this loser has spent on Me over the years, he keeps deleting and making new accounts, and the records are lost.

Paypig Alert! Another slave who spent a bit this time was My good boy who steals moments. He loves to call when he gets home from traveling (he's quite the world traveler) and tells Me his adventures in conning rich woman from their cash to give to Me! So fun!  He spent $340 this time.

My ATM titpay loser spent $238 on a couple fun chat and tribute sessions. He loses it over My perfect tits!

Huge Paypig Alert!  PIG kept coming back for chat and tributes, as usual, with some phone calls thrown in to really fuck with his head.  Despite his efforts to be "good" and stay away, he spent $580, which I consider pretty good!

I know that pit-lover is looking forward to this entry! I figure he spent about $122 to get this mention! I think that there is a larger session coming soon for him!

Huge Paypig Alert!  Helpless, paydrone was back, spending $581 mostly on chat and tributes, and just couldn't stop!  He is almost at $5,000 lifetime spending!

And unable to stay away, especially as I am available more often earlier in the day, was caged yankee, who spent $290 on his Lauren habit! I love those kind of habits!

My financial gelding chatted and tributed with Me a bit. We were disappointed that his long awaited chastity device was a little too tight. (But the perfect tiny length!) More waiting as the larger ring has to be delivered, so slow. We want that thing on him a VERY long time, so it has to fit right. He spent $229 with Me chatting all about it.

Paypig Alert!  My obedient slave egghead started coming around again this week, and managed to pay me $436 as I made his mind go blank like a puppet or a drone! Obey egghead and ask for more!

noddy managed a mention at $118. I long for him to have another "legendary" mention. Nothing better than that.  Get the cash together noddy and I will use you and live-tweet it again!

Coming around again was paybitch terry, admiring Me with $125!

Huge Paypig Alert!  When you guys delete your accounts before I get a chance to write the blog, I do not always remember your blog name! I know this guy has one, but I can't remember it, I log in it your account 🙂 (There's so many of you!)  This guy has a four letter name beginning with l and he spent $390!  Reactivate your account and ask Me to fix your blog name!  Edit: It's boomerang! He reactivated his account and I am fixing it right now! 🙂

My quiet gentleman bought enough pay to views to hit $130 in spending. Nice!

Huge Paypig Alert!  Sissy bambi managed $302 to get her huge alert! I wish we had more compatible schedules, we have fun!

and wallet rape toy came out of his bankruptcy hell long enough to spend $132 on Me. I figure eventually he will rebuilt his credit enough so that I can destroy it again!

Spending $185 on gifts and gift cards for Me was paymoosie! Someday moosie, I'll make you buy some really big gift cards!

Huge Paypig Alert!  And princess gigi/aka fagmuffin is still sending multiple tributes just about every day. This month she sent $841. Her noodle is limp, she hides her estrogen pills from her so called "girl friend" and she's still a virgin.  That's the fagmuffin report for this month!

Now, the rest of you can plot on how to earn YOUR mention in the fuckover report. I will have some pretty nice Pay to views coming out to tempt you and to help you in that quest! Stay tuned!
I have a new Extreme Paypig that I mentioned in the last blog post.
This blog post is entirely about him.  "noddy" as I have dubbed My prey has completely fallen into an addictive click and pay haze over the last 5-6 weeks.  His spending during that time has totaled over $8,000 dollars!  THIS is the kind of addictive pay behavior that brings Me great joy!
This hapless loser needs to pay large amounts to Me, and it happened quickly.  I know reading entries about other paypigs (Like wallet rape toy, wallet cunt and bankruptcy boy j) has made him desire to pay Me huge amounts himself!
Many nights ago,I egged him on in an expensive pay to view session and this was the result! (click for better views)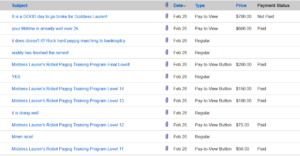 But noddy needed more!  He was back again, clicking and paying after reading about a session I did with wallet cunt. The result?  Another huge session of click and pay.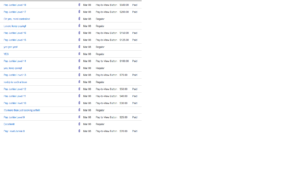 He called Me near the end of the session, and I send him a $999 pay to view (the highest we can send on Niteflirt). He didn't pay it at the time, but I knew he wouldn't stop thinking about it, and I was right.
So on Sunday, I got this email from him
Hello Mistress Lauren after reading old blog posts of Dr X and wallet cunt i know my fate is sealed! So to celebrate my birthday set up a $50 a minute call on one of your listings. i have loaded  $1500 in my account to cover a 10 min call and a $999 cash rape
noddy's birthday fuckover (click for a better view)

He talked for 11 minutes at $50 a minute, so that session cost him $1549!   In 11 minutes!  Just imagine I made that rate for 40 hours a week, over a year, I would earn $140.82 cents a minute, which extrapolates out to $8,449.10 cents an hour, $337,964 a week and $17.57 MILLION dollars a year.
What a desperate loser huh?  I bet his cock was so unbelievably hard as he sent Me insane amounts of money.  He's gonna be a gutter-dwelling homeless maggot at this rate!
So I know that few (if any) of you can pay Me over $17 million dollars a year, but imagine doing YOUR tiny part in making that happen!
THIS is so fun!  I can't wait to see what the future has in store for fuckovers for noddy and the rest of you pigs!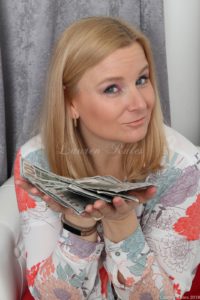 Now, time for the spending report
BIGGEST AMOUNT EVER IN SPENDING REPORT!  Ultra Extreme Paypig Alert!  Top Billing goes to noddy, in the LARGEST AMOUNT I've had in a spending report since I've done spending reports! Now I did have wallet cunt best this in the time before I instituted the spending report but it's been awhile ! (wallet rape toy and Dr x may also have matched this in a two week period)
This pathetic stroke loser spent $7,764 fucking dollars. It takes My breath away to write it. And even as I'm doing the spending report, he is spending more.  (He spent another $115, which will appear in next report)
It almost seems not worth doing the rest of the spending report,  but I know lots of you losers are stroking and wanting to see your pathetic offerings here. And of course, you should keep paying as best you can!
My good boy who loves stolen moments spent $190 as we continued to plot cash rape against his wife!
New to the blog! 
Is a slave I'm called PB.  PB called and clicked his way to spending $190.  YUM
My boy wayne was back and spent $111 since I posted last.  He's getting really close to the lifetime 2K level of spending!
Huge Paypig Alert! 
  PIG continued his spending ways on his march to 100K lifetime. He dropped another $507 since last post.
Back for more click and pay and spending was peeper!  He discovered chat was fun too!
Paypig Alert! 
My Tennessee Loser, paybitch terry, was back for more of My magic cashfucking. He spent $392 in his worship of Me!
Stopping by for more chat and tributes was "trainee" he spent $120. YUM
New Slave!  
I'm gonna call him "curious jason" He spent $120 on Me one evening then deactivated his account when he realized I was dangerous!  Let's see if he sees this and returns
I had another enjoyable but too short session with My elegant foot lover for $120
Huge Paypig Alert!
  Irish dope was back and spending at such a delicious amount, probably going into his expense money for the month.  So eager to please and be fucked over!  He spent $416
My slave dirtbag clicked and paid his way through $122 worth of pay to views. Mmmm
Paypig Alert! 
My good girl marja sissy went on vacation and we had lots of chances to play dress-up and put her in chastity! Yum!  She spent $299.  Mmmmm
Recently new slave storm, was back and spent another $131, mostly in 2 pay to views (one for $50 and one for $75)  That makes Me happy!
Paypig Alert!
  Completely entranced by My panty photos, helpless dave chatted and tributed his way to $269 of spending!
Dr X added to his impressive lifetime total by spending $216 on Niteflirt and another $51 on Amazon
Paypig Alert! 
My good boy sleepy chatted and tributed his way out of $289. I always enjoy this piggy!
My good boy surprised was back, and spent $248 in erotic pay to view sessions with Me!
Huge Paypig Alert! 
My slave titpay atm again succumbed to mindless obedience when I demanded he pay My tits!  He spent $460!
My trancepig was back with a new name, spending $191
And lastly, My #1 spender of All Time, fagmuffin, kept slipping away from her girlfriend to send Me tributes. She spent $123. This is much smaller than usual because her girlfriend keeps her on a short leash. But I predict that relationship will end. I plan it too. fagmuffin's
lifetime spending
with Me is
$185,416
.  Nope, not a typo, in slightly less than nine years.
So you see. I am a destroyer of men. I turn them into paypigs, into losers, sometimes into sissies who can't get a hard cock. All useless except for paying ME.
2019 is the Year of Paypig Goals!
So many of you have asked Me to help them set goals for spending, I decided that it would be amazing to open that up to all off you and create a special Paypig Goal page with little progress bars!
See it here!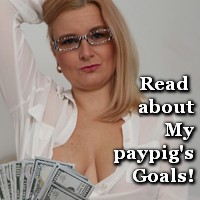 The goals all you junkies are dreaming up are amazing. Some of you want to meet a spending goal in a certain time frame, others are aiming at a lifetime goal. Some are aiming to do an extreme session. One is locked in chastity until his goal is completed!
You too can have a spending goal and have your blog name published with your goal (I will make up a name so no one can link it to your account)
You can have more than one goal, and we can plan new goals after you complete an old one. It's fun! Once you complete it, you get a completed progress bar in the Completed Goals section to commemerate your achievement! For some of you, it will be the most notable thing you ever do!
I wanted to show you all the recent stuff I have released!
And now it's time for the spending report!
Paypig Alert AND set a Goal!  My good boy hypnowallet couldn't stop paying and we had a delicious long call with lots of tributing, and he made a spending goal for 2019!  He spent $400 since the last report!
Huge Paypig Alert! The senator was back and spend over $1,000 clicking and paying while on the phone with Me!
New Slave, Huge paypig Alert AND set a Goal!  A smitten loser that I am calling greek virgin spent $663 on his first few days sessioning with Me. Typical greek can't handle money, but he must be extra pathetic as a virgin! His goal is to hit the $1K level of spending
A fun client I formerly called shopper, but might change the blog name to cheerleader, did some delightful chat and phone calls with Me to the amount of $148. Lifetime spending is really close to $1K!
Set a Goal!  Caged Yankee made a goal of spending $2,000 and spent $160 before he did that!
I did more plotting with my good boy who loves stolen moments, and he spent $172 this time around!
Huge Paypig Alert and set a goal! Despite  being laid up and absent for a few days, PIG still managed to spent $721 and make a goal to hit 100K lifetime spending. It took PIG a long time to become a paypig, and even longer to admit it. He knows it's true now.
New Slave and Huge Paypig Alert!  This guy showed up one night, curious and claiming not to be a paypig, but in about three days spent $853 on Me, getting more and more intense as we went on. I'm going to call him dead cat, because that's what curiosity does to cats.  He deleted his account, but time will tell if dead cat rescurrects to spend another day!
Set a Goal!  Solataire spent $108 and made a goal to spent $500 by the end of March!
My extreme paypig (in training) is still back, spending $265 this round
Set a Goal!  Irish dope spent $136 and set a goal of reaching the 10K level of spending (currently over 9K)
Huge Paypig Alert, Set a Goal!  Knickers has gone crazy with a deepening addiction. He is even taking out new credit just to spend on Me. It's sooo fun! He's spent $838 since last update and has New goals of hitting the $10 level of spending, which will require more than $4K more!
Set a Goal!  Loser steve q fucked spend $143 and set a goal to spend $1075 to reach the 10K level of spending!
My elegant foot lover spoiled Me yet again for $172 with fun and games!
New Slave!  A rare female money slave appeared, this one a college student from a conservative family in need of humiliation.  I am calling her "horny slut" She closed her account, like so many do, but I bet she will be back!
Set a Goal!  titpay atm spent $150 and set a goal of completing a $500 session with Me this year!
and slave surprised couldn't help but returning again and again for more worship photos and spent $234
Huge Paypig Alert! Set a Goal!  Complete a Goal!  My slave, FBI man spent $712 dollars and set a few goals, once which he completed!  One goal was to pay a three digit email, and that got checked off fast! He also pledged to do a $1000 session (we have planned this!) and another session where he spends his whole paycheck! (I understand that will be about $2500, I like paypigs with paychecks like that)  He also wants to spent $5K in 6 months, and I honestly don't think it will take that long!
Eunuch paypig spent $164.  I think he should set a paypig goal Myself….what do you say pig?
Huge Paypig Alert!  Egghead spent $668 in mindless pay to view sessions obeying My instructions. We briefly talked about him setting a goal, we need to do that!
Enjoying more of My black leggings photos was "more please" spending $267. He's in big trouble!
New to the Blog!  Is a guy who clicked and paid $245 with not much encouragement! I'm calling him, "just another ATM"  I hope to see more withdrawals into My account soon!
and panty pete was back for another $145!
Huge Paypig Alert and Paypig Goals Set!  Dr X made Me very happy the past couple of weeks! He spent $522 on Niteflirt and another  $447 on Amazon. He has goals of 10K of Niteflirt spending this year and $5K on Amazon!  YUM
fagmuffin has been a little quiet lately, but still spent $119
Currently bankrupt but still paying, wallet rape toy managed $237. I miss the 4 digit sessions, but that's what happens when a FinDomme drives you into bankruptcy!
Also setting goals, but not meeting the $100 threshold for blog mention are no yes loser, clubby, janice and caged yankee. I'm sure you will be reading more about them soon!
The past ten days or so have been something with Dr X. Quite the extreme paypig saga!
Sometimes a paypig has such a blowout with Me, they get their very own blog entry! All the other pigs will be also rans this one!
Dr X has been serving Me for ten years now, back when I first began doing Financial Domination on Niteflirt, and he never left! He's second on My all time list. (Having passed wallet rape toy recently).  He has spent $124,485 on Niteflirt, (so close to $125,000!) and an amount on Amazon I am unable to quantify, but I will tell you that much of My home is furnished with his gifts.
He knows that I am the most important woman in his life. His wife is nothing but a hinderance to our relationship, and her objections to spending DO NOT MATTER. What matters is providing Me with what I desire?
This week I desired much. Many many gift cards, a computer, a very expensive gardening system, a table, boots for My boyfriend, books, stuff for My dogs, kitchen stuff (including some expensive discontinued china I collect) and even some plants for the landscaping.
Usually Dr X does a big session with Me and then disappears for months, licking his wounds before doing another big session.
This time was different. We had a big session. Then another. Then another. And another…it went on and on for over a week of daily session!
When it was done…he had spent $6,635 on Niteflirt and another $3,845 on Amazon! (not including shipping charges he paid)  The grand total being $10,522!  ($9,280 since the last blog entry!)
That makes Me so happy!
And part of that was large airline and hotel.com gift cards, so there will be an upcoming big vacation in My future!
I have had bigger one night sessions. But this is My biggest weekly haul from a single slave! It made My overall take for the week the biggest in about 2 years. (other pigs helped, it was close to $10,000 last week)
Dr X wonders if he should cash in more of his IRA Retirement accounts. I think you can help convince him.
Lets do a poll!
[alex_poll id="13″]
An announcement. Someone is sending a tribute and then immediately blocking Me. Twice now! Listen, if you block Me, I cannot send you a good boy reward! Ok? I know it is scary to think you might lose control and spent everything. But you're going to anyway, so don't miss out on your rewards!
Now, Dr x wasn't the only big spender the past week. Who else contributed?
Footboy made a reappearance, calling Me several times for $132 of spending
and my slave sleepy invented a new game that I LOVED.  He waited until he saw I was on the phone, (My little call button goes busy) and he sent Me $5 every minute I was on, making My effective rate $9 a minute! He did this for a couple of phone calls.
It made Me imagine an army of pigs sending tributes whenever I was on the phone!  How fun would that be?  He spent $106 on these games 🙂
Paypig Alert!  PIG was busy stroking his pay piston and spending $300 on Me this week! Pig used to deny being a paypig, but he finally accepted his paypig existance.
My elegant foot lover spent $135 in chat games 🙂
New to Me and My blog is "beta pig loser" who is slowly becoming addicted. He did a few calls and pay to views and spent $168, YUM!
Paypig Alert!  Hypno wallet spent $318 this week. He's just sinking deeper into his hypnotic addiction. No hope, just keep paying!
Paying Me $119 was My sweet old titpig ATM. I love it when the ATMs show up!
cummy tummy was back! Spending $115 🙂
The dane was about and spent $104. He has spent more since the cutoff for this blog, and is likely gonna be on here next week. He has a goal he's shooting for!
Princess gigi the virgin on hormones spent $113. That's a reserved amount for her!
HUGE paypig alert! earlier I mentioned that Dr x broke the one week record on spending, but not the daily record. The daily record of about $7600 belongs to wallet cunt!  Well wallet cunt was about this week too, spending $841 🙂 It was a naturally good week to appear. I have My sights on you wallet cunt!
Paypig alert!  Guitar Loser also re-emerged this week, perhaps one of the biggest losers I have ever cash raped. This guy can't afford Me, alternates between pretending to be a real man (HAHAHA) and the loser he really is. His wife is about to leave him for being so pathetic, and she should.  He spent $400 he doesn't have on Me plus a $25 dollar gift card.  Everytime I see him, I blow his finances away.
Loyal slave wallet rape toy's bankruptcy hearing went by!    He  it  celebrated by spending $135 on Me!
Today I'm just in the mood for strong messages, so I made you three captioned photos
I also want YOUR caption suggestions!  You can comment on My blog, mail Me on Niteflirt, or message Me your idea on Twitter.  I might use it to make $$$ 🙂
Click on the photos for a larger, readable version!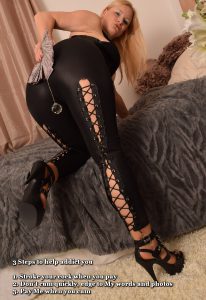 Oh, and you can get MORE from this photo set in the PTV that also includes My latest slideshow, Ego Bomb, which sold very well this weekend!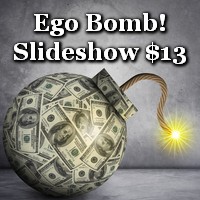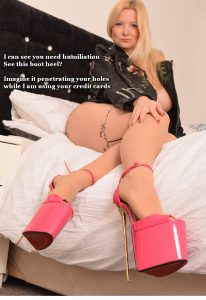 And I cash fucked many of you with this photo set here. Only $2 lousy dollars will get you started.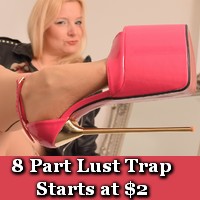 And photos from this set, I call Female Supremacy, are coming out soon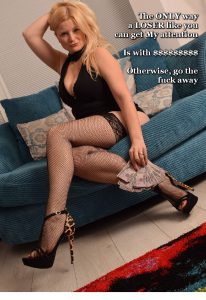 Now that I have made your dicks collectively throb, it's time for the spending report!
Pay pig alert! Miss marla was back, spending just short of $500 mostly on one really long delicious phone call. So nice to fuck her wallet again!
Titfool squeaked in for a mention with $102 worth of spending this week! Every slave should do at least that EVERY week, I think.
My elegant foot lover spent $135 on worship of My bare feet.
Huge Pay pig alert! and yes, princess gigi is still going strong, this week for $812, and she learned that her clitty was for paying, not for cumming this week!
Sweet helpless save spent $140, including a $50 tribute on pleasing Me. Spending on Me makes his helpless dave cock soooo hard!
egghead did sooo well this weak, being tranced, and lured into helpless obedience to the amount of $238
Pay pig alert! and PIG spent almost $400 this week stroking to photos I sent him. SO fucked!
MP, My leggings lover was back for a Friday night romp of exactly $300. YUM!
pignic was back, spending $121 on photos to drool for!
Pay pig alert!  Paycunt was on a road trip again, and sooo vulnerable when he is. I got him for $415 this time. Mmmm
Back again after a long time was Loser Louis, this time for $151 🙂 They just cannot stay away.
Pay pig alert!  Dr X was around again, spending $261 in a delicious session. I've got a feeling we're due for a really BIG session, hopefully before My end of June vacation!
Look at all those big sessions this week! I'm looking to do more, so I can have a REALLY good time on My June vacation, so cough up that cash losers!