Chat is so fun! And dangerous!
The new Niteflirt chat program is such fun! And it's now open to International callers too, so no one has an excuse. I don't mind a quick chat message to ask a question, it's less intrusive than email and you pay 69 cents a volley, so you're not taking up My time for nothing. (Money slaves need not fear guilt!)
One fun thing is that you send a tribute (I tell you how much in chat), and I start sending photos to do little roleplays! its right here and interactive (you can still save photos from chat windows)
It's so intimate and fun, like a messenger conversation.
I've done some major wallet rapes this week making guys weak in chat.  I've arranged scenarios and assignments.
I've learned more about how My clients tick and how to exploit them, and they have gotten to know Me better
One long time client who had never called Me on the phone, decided to call and was so happy he did!
It makes the Mistress/slave relationship so much better!
Imagine Mantra training!
Imagine NLP conditioning!
Personalized paypig brainwashing!
Even just fantasy sharing or friendly chat
What are you waiting for?
oh and this is the latest PTV, you should buy it. It's a beautiful set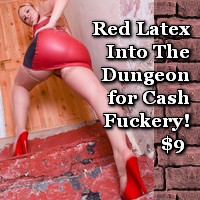 (attention cumstain, it has wallet rape and cum photos for you!)
Now for the spending report.  It's long this week!
NEW slave! HUGE Paypig Alert! Wow. An ass admirer popped up, and he became completely addicted to Me in a few short days, buying everything he could get his hands on. He was shocked to find himself becoming a money slave. I'm going to call him "eric loves ass" here on My blog.  eric deleted his account after completely losing control. I bet he reads this.  His conditioning program was short but powerful, and it is highly likely he will return.
*  Nylon slave spent $178 on the new pantyhose photos and a phone call! And yes, of course, there are more!
HUGE Paypig Alert!  My longtime sissy slave lily was back bigtime after a hiatus. She spent $650 dollars this week after I lured her in with chat. We did sissy training, paypig training, and bbc lust building. She is Mine!  Nice to cash fuck you again lily!
Paypig Alert!  Also back was OinkLoser.  This guy just passed the $6,000 level of spending and his goal is 10K for Me. 60% of the way there!   He vacillates between enthusiasm and reluctance.  I like enthusiasm!
 * and My pantyhose junkie was back, spending $110. He is unusual in that every cent he has spent has been on the phone. Hasn't bought a single photo. He likes the pantyhose on himself, more than Me I guess!
HUGE Paypig Alert!   Princess gigi and her clitty, Felicity came around and again this week, spending $763.  mmmmm,  Felicity is what I let gigi name her clitty, and she has become like a second person. Felicity gets hypnotized and likes to pay. She also loves purple lipstick. What a slut!
*  I had a lot of fun this past ten days with My exposure sissy, for $225 🙂
"Paypig" Alert!  My elegant foot lover called Me for the first time in the years he's been a client. I talked him into it on chat and what an amazing phone call, this guy has a radio voice. I told him he could even do phone sex if he wanted. My foot lover isn't a typical slave, he's more into sensual service and romance, and heck, it's a nice change of pace for Me. I can take romance that gets Me the $420 he spent 🙂
*  I had a lot of fun chatting with pantyhose viking and planning an adventurous session he's going to have.  $209 YUM
Paypig Alert!   PIG spent freely this week, his addiction grows.  $381. YUM!
*  My titfool spent $140 to continue this addiction to My perfect breasts. Some of that was a delicious surprise $50 tribute!
New Slave  "holy jason" is new to both My service and My blog. I call him holy jason, because he keeps saying Oh God, to what I say or the photos of Me he sees. I lured him in with chat and now he is completely Mine. $207 for Lauren!
 HUGE Paypig Alert!   "Mind controlled john" was back! He's been a long time client, but went dormant for years. Until this week.  And he was easily the biggest spender of the week at $1764!  That pleased Me immensely!  Well done!
 *  wagner was back for another $120 spending on My perfect ass. He loves to see it when I'm wearing stockings with garters!
 *  tranceboy was back with a new name, and $120 in spending.  Another addicted loser who can't stay away!
Paypig Alert! tPay spent $300 and hit the $6000 level of spending Mmmmm
Paypig Alert! and paycub was around this week, even just now as I was about to publish, he bought a $150 PTV Mmm.   This week he spent $300 on Niteflirt and another $100 on gift cards from My Amazon wishlist. (Keeping me in groceries, coffee, and gasoline!) What a good boy!
This was a very nice week. Well done, boys and sissies, junkies and slaves, fans and losers.  Keep up the good work. Perhaps you'll see your name next post!