Exposing sissy janice, she's gonna be so humiliated!
The caption below is a fun game janice and I played in the past.
Right now there is a different game afoot, that involves this page being public1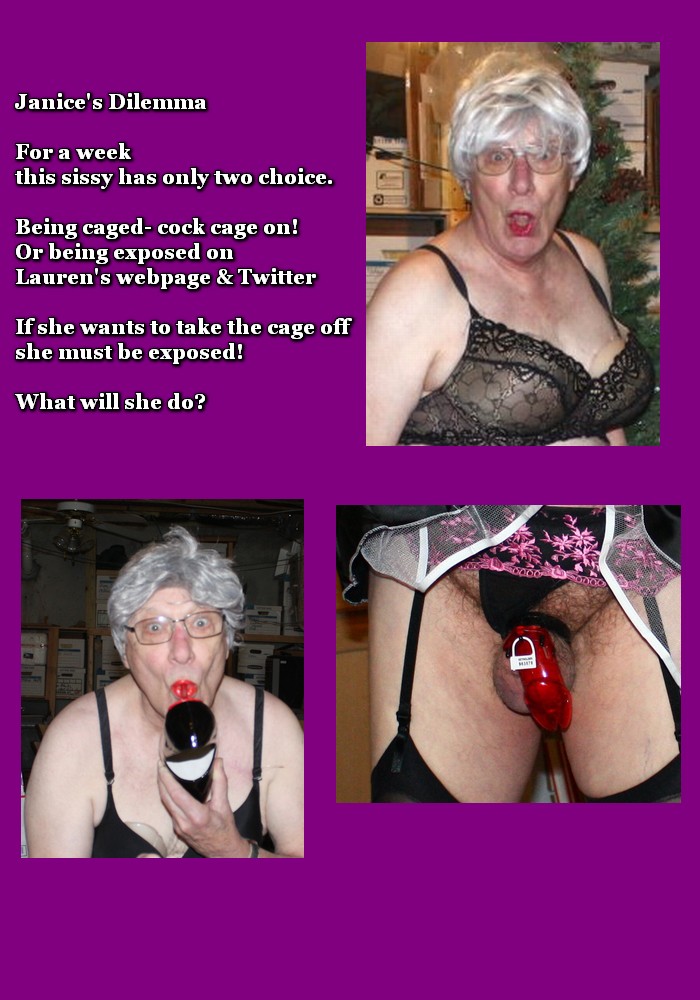 From janice's notes for the challenge
The Challenge
A quick note on Your most recent game for sissy pay pigs such as I. The "The Permission To Cum or Not To Cum" game for closet sissies. A game of denial and/or humiliation.
For years we have done PTV mail on niteflirt. That has been fabulous: the exchange of messages, the fantastic pics of You in all those devastating heels (that I love so much) and the slow and steady wallet rape. You said that You would addict me, and You did. You said You would seduce me, and I gleefully fell for You. You said You exploit me, and I have loved it, every minute.
Now You have devised a neat game, no longer PTV but now PTC. Pay To View has become Pay to Cum. Let me explain the nature of the game for any other closet sissies that might wish to venture down this path, really exciting, but oh so deliciously controlling as well.
As a sissy girl I want others to notice and admire me, but a closet sissy can not really afford to be noticed publicly(like being displayed on the net). Imagine, if You will, all those pics of me dressed and semi undressed, lingerie, heels and hose no less, that I have sent over the years to You, Mistress Lauren.
Some of the pics are really awful, some almost cute, all devastating if discovered. However I wanted to see them privately displayed, so You cut a deal with me: The pics You chose would appear on a password protected page. On Your blog at laurenrules.com I could see them whenever I liked. A very nice way to indulge my girly need to be seen, but without anyone else noticing.
You being a findom with more than some considerable talent not to mention greed, I had to pay for the service, pay to be almost-displayed on the the net. Fine by me. Then I thought that it would be cool to be "temporarily" shown publicly as Your owned sissy slave. So I asked for the password to be lifted for a little while from time to time.
The thrill is unimaginable seeing myself displayed as the sissy You have trained even-though I am a closet sissy. And like many other sissies I enjoy cage time at Your direction. A wicked combination: Display and/or cage time.
A new game is born where I get to choose: wear a cage or be put on public display. One or the other. If I am in a cage the password page is protected. If I desire to have the cage off for any time at all, the page goes public until I am back in my cage. Forgot to mention that Twitter is also involved. When I am out of my cage, I get twittered. Total humiliation: You control me completely. Your privately held sissy, is temporarily not so private.
So the question: to cum or not to cum. You charge a fee to allow me out of my cage, but then I am displayed and twittered for all to see. The fee is small but the price is high. And You know that I will have to pay the fee and the price, over and over again. I am caught in an endless loop of Your making. I love the agony of choice. You endure only profit and amusement.
Hence the Pay To Cum nature of the game. Turning the password off and on is done with a payment to You. As it should be.
Getting to cum is terrifyingly exciting and I must hurry up and get that password protection back in place. A speedy cum, a quick resetting of the cage. In the cage or out of it I am totally absorbed with Your control over me. Naturally, all interactions with You are paid interactions. Fine by me because I am totally focused on a cum or the password. To cum or not to cum? I get to pay either way.
This game is to last one week, or at least I hope only a week
This is a fantastic ownership game, where I get to choose, but oh those choices.
janice, aka sissy j
Exposing janice
It's so fun to toy with janice with all kinds of exposure threats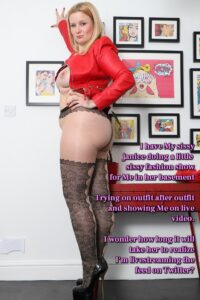 She sends Me photos of her dressed up as a sissy,
making expressions, and I torment her with the
possibilities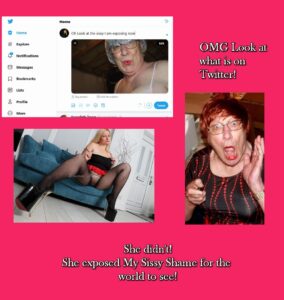 I make her do fun sissy things, like practice walking in heels.

And sometimes it feels to janice as if I am using Mind Control techniques on her. Perhaps I am!

It started quite slowly, bit by bit, some heels, some fun, some makeup

And we entertained quite extreme sissy fantasies, it was fabulous fun!
And I got her to take a lot of really suggestive photos and send them to Me. Before you know it, I was using them to expose her!

And you know, janice is coming to understand the consequences of dangerous games with Lauren Rules

And the assignments! Making her emulate Me was powerful
and funny

I have fun teasing janice, and making caption collages from her photos. It could be you next!