How I learned to be a FinDomme
How I learned to be a FinDomme
It was a multi-pronged journey, but credit must be given where credit is due. I initially learned from paypigs , desperate men who so badly wanted a woman to financially abuse them, men ALREADY addicted who had hard cocks over the thought of a beautiful woman taking their cash.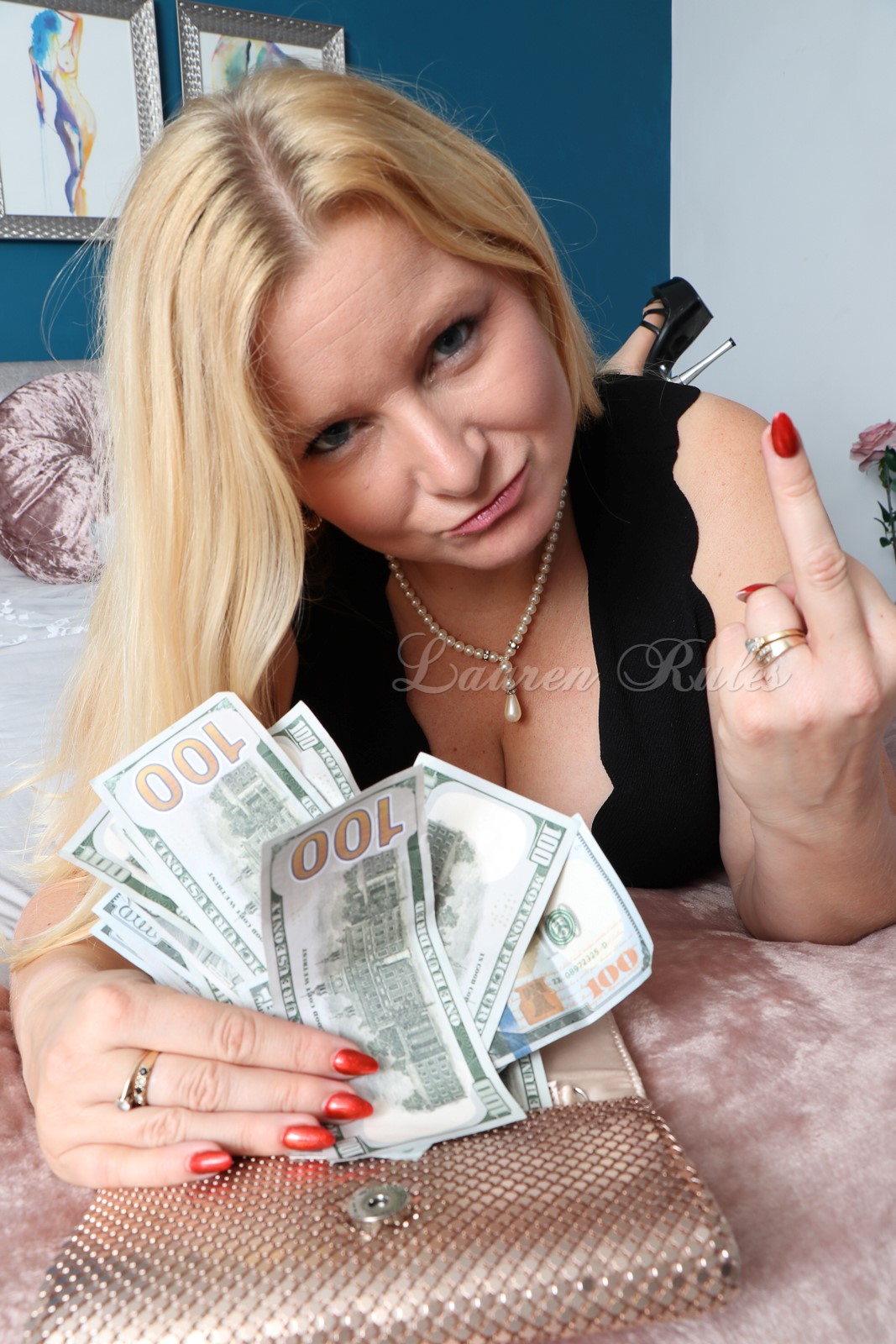 So I paid attention. I learned that they found this humiliating. I learned the devastation it brought to their lives, their families, their future. I learned that they were helpless, this was their drug. I learned that their cocks didn't get hard unless they were being cash fucked.
I was more than willing to take advantage of men who had proven they were in bondage to this fetish. I didn't care what it cost them, because it gave Me two things that I absolutely loved. One was, of course, money. I enjoyed having a very comfortable living making men slaves to their fetish.
I did, however, supplement my learning with additional research. I googled subjects like abuse, sexual addiction, Stockholm syndrome, even magic. I bought books about hypnosis and mind control, pouring over them in gleeful anticipation of yet more power. I read about power, powerful people, and how cults controlled their subjects. I was alert to things I could use on My victims.
I went from learning how to take advantage of men who were paypigs, to turning ordinary submissive men into paypigs. I learned about having a fetish for humiliation and being a paypig were related. I learned why sissies can be particularly vulnerable. I learned how to tell which men were worth training and which were not. I learned to cull men who were a waste of time, or who I found particularly grating. (sometimes the money isn't worth putting up with some guys) I learned how to make a man's cock hard from paying Me, and eventually I trained the hapless loser to only get hard FROM paying Me.
I learned how many pigs LOVED reading about their own debasement, and the humiliation of others. I know that many end up stroking their cock to My blog. (You're paying the blog fee right?)
I am very good at what I do. And there is no one as dangerous as Me.
Check My recent pay to views and succumb to My powers!
Read who fell victim to Me since the last blog entry in
The Fuckover Report!

I am blogging only a couple weeks since the last one, and took some well deserved time off, so it is a little smaller than usual.
Paypig Alert! I'm going to begin with a piggy who is returning after a hiatus (they almost always come back, sooner or later) This pig, addicted kevin, lost himself in a click and pay haze and spent $440. Good boy for earning your alert!
Getting yet another mention is sniffer, who spend $120. I hope to lure him into another dangerous amount SOON.
Stopping by one Friday night to lose his mind over My black leggings was "more please" who spent $156
Huge Paypig Alert! Wow! My good boy, boomer, couldn't stay away, delving into click and pay with more expensive pay to views and calling. He spent $602! Excellent!
My special good boy tom, called for more "therapy" I'm teaching him to strive for medical bankruptcy with Dr Lauren! This time around, he spent $215
Huge Paypig Alert! My good sissy caged yankee has gotten addicted. I remember how this sissy didn't think extreme addiction could happen, but obviously that wasn't true. This sissy spent $560 since the last fuckover report!
Huge Paypig Alert! Knickers was back with click and pay, spinning deeper under My power. He was never able to escape Me. He spent $538!
Trying to stay away by deleting his account is pigbait. He just can't stop, coming back on again and again. This time it cost him $161
My exposure sissy got exposed and spent $123!
Huge Paypig Alert! Getting a huge alert was helpless dennis. He literally cannot cum now (see above blog entry about this pnenomena) unless he is paying the tits! He spent $311
Stopping by for some more click and pay was "horniest" he spent $157
My special good boy and I had a couple nice phone calls for $102
I was pleased to see My good boy button do some more click and pay, he spent $128.
Paypig Alert! My elegant foot lover kept finding Me after a time of missing each other, and he made up for lost time, spoiling Me for $325
Coming around again was nylonslave, so very devoted. He spent $116 on his religion of Goddess Lauren!
Unable to stay away is clayton. I got him as a slave when he was about 20, which is before the brain is fully developed. I turned him into a lifetime addict for financial domination. He spent $268
Paypig Alert! Pig and I kept missing each other, and that meant that he spent just $423, missing a huge or extreme alert for the first time a while!
J the junkie kept slipping back into chat with Me, and each time I used My beauty to lure more cash from him. He parted with $258.
Trying without success to quit Me was extreme paypig, managing to only spend $110 this time.
Paypig Alert!
Huge Paypig Alert! My good girl buffy, (formerly known as princess gigi), kept falling deeper under My power. Her tiny clitty is comatose now, and she is in an estrogen induced stupor of spending. Buffy spent $646 since the last fuckover report.
Paypig Alert! My tranced sissy bambi, returned again and again to pass time with Me. That cost her $457
My good boy, irish dope, devoted $228 to pleasing his Mistress!
Back, spending $125, was helpful one. We have lots of fun with cock control!
Back and spending more is dirtbag, he parted with another $148 since last fuckover report!
Now, will YOU be in the NEXT Fuckover report?