I addict you using science!
Why Lauren is habit-forming.
The science of psychology is a FinDomme's best friend. I am always on the alert for scientific insights and research to apply My methods into addicting you. Many of you can attest to the power of My methods,
I leave no stone unturned in understanding how I program you to be a better pig. I thought I would share some recent research.
I have been studying the formation of habits as of late, I use the knowledge I glean in both My personal and professional lives. One theory of habit formation really resonated with Me, giving Me even MORE insight into the path of paypig addiction.
It is called "The Four Stages of Habit" and is described by habit scientists as a feedback loop.
It goes like this
Cue
Craving
Response
Reward
This loop creates a habit!
Let's break it down.
What CUES does serving Me provide? Here are some examples that My slaves have told Me about.
Seeing My Niteflirt call button on.
Seeing My green chat light on
Seeing an email from Me.
Looking at our past chats or correspondences
Viewing My blog or NF+ Feed
Seeing/playing a photo/audio/video of Me
Seeing your name in the blog Fuckover Report
Seeing other paypigs get used hard. Whenever I do a Raise-the-Rate phone call, it is very common for another paypig to comment on it. Sometimes reading about Me using another pig hard provokes a cue.
you get a credit card bill and see how much you spent on Me
Another event might cue you, the cues are rather personal. Perhaps you see some high heels on a woman, or you have a fight with your wife/girlfriend that frustrates you.
The CUE provokes a CRAVING
you feel a desire to call/chat/pay Me
your cock stirs
you start thinking about Me, My content, time we have spent together.
you start to fantasize about serving Me.
The CRAVING provokes a RESPONSE. The hard cock demands attention
you call, you send a chat
you buy a pay-to-view, you may be triggered to buy many in rapid procession.
you view My audio mantras or My NF+ Feed and stroke
you start stroking to My blog/videos/photos/voice, etc
you add $$ to your Niteflirt account
you might plan ways to get money to spend on Me
The RESPONSE leads to a REWARD
you have an amazingly hard cock
you have a mind-blowing orgasm
you may have new content to add to your Lauren collection (photos, videos, audios)
you may have new chat or emails to read repeatedly
you may have earned praise from Me for your correct thinking and behavior.
you likely enjoyed talking and interacting with Me
The Rewards you get reinforce the loop. Your subconscious remembers, so any cues you associate with our time together (Seeing the chat light, or an email), automatically propel your unconscious into the habit loop. So dear pig reader, this isn't your fault, right? Science did it. Science guided by Lauren!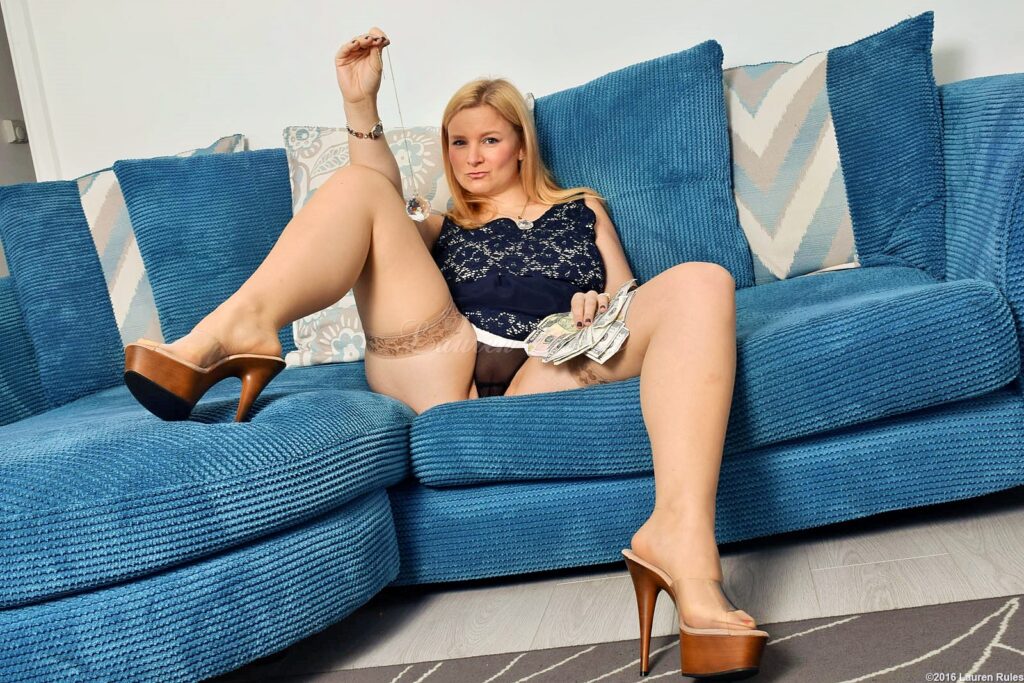 Recent Pay-to- Views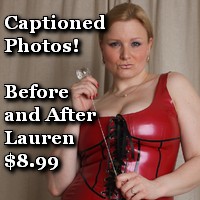 And are you subscribed to My Niteflirt+ Feed? It's getting rave reviews and apparently I'm one of the top flirts on the site for subscriptions. Sooooo, do not miss out! This isn't like other subscription services, such as OnlyFans, this one limits how much past content you can see. I can designate a few posts that can be seen upon subscribing but you are missing OUT by not subscribing now.
Click this graphic to see more!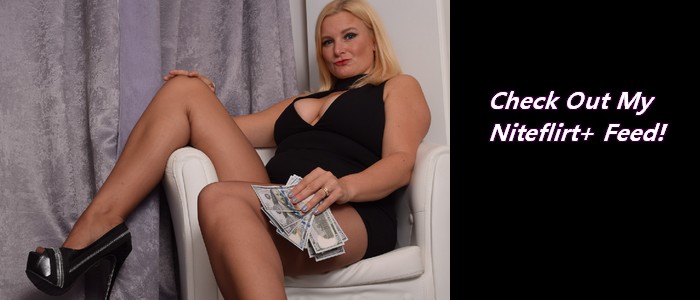 Other news
I have been working on transferring all My FinDomme stuff to a brand-new computer. It's one dr x bought for Me, months ago, but I delayed switching over because it's so much work. I use a lot of programs for My content, and they all must be installed, along with the usual stuff. And then the content must be organized (groans). It has taken more time than I anticipated! I also have been refreshing all of My photographs (several tens of thousands of them) with a new AI program to brighten them. Almost every one of you who has mentioned it (with one exception, that client will keep getting the old ones) prefers the new "radiant" photos. So much stuff goes on behind the scenes to make sure that I can keep exploiting you slaves for a long time to cum!
I also use a special program written especially for Me to calculate all the transactions into the Fuckover report. Well, it REFUSES to work on the new computer. The programmer is writing an updated version with some hopefully new features, but until it's ready, I have to hook the old computer back up every time I want to download and calculate PIG spending.
But I'm getting settled into the new computer, and now I anticipate being able to leverage Myself to set all you pigs up for glorious fuckovers!
Upcoming vacation!
I have not had a vacation in a while, and I am taking a 5 day one to go to NYC! It's only my second visit to the city, despite not really living THAT far from it. I will not be available at that time, but I will be posting the mantra of the day to My NF plus feed, along with photos, so no worries there. I will be gone from Saturday, May 6th to Wed May 10th. I plan to be logged in for calls on the 11th.
There will be no blog entry that week, it will be delayed until the week of the 15th.
Now it's time for…
The Fuckover Report!
It's short this time, mostly due to not being available as much for the computer switcheroo.
Huge Paypig Alert! Once again near the top of the spending ladder was helpess dennis. We had lots of fun calls,
Paypig Alert! Just missing a huge alert was My very very good boy, j the junkie. He returned several times, and spent $472.
My good slave, just another atm, spent $116 deeping a need to pay Me. My new feed should help with that.
New Slave! Just squeaking in with a first mention, is a sissy I am calling, ms. slut. This sissy spent $100 finding out how dangerous I am! Well done!
Unable to stay away, a slave to his addiction to Me is pigbait. When he is cued, he shows up to pay, slathering his tiny cock with numbing cream. And I torment him! He spent $113 since the last blog entry.
Paypig Alert! Another slave just missing a huge alert was helpless tool. This dude is getting more and more addicted and he spent $495 plunging deeper into addiction with Me! Yay!
PIG is trying really hard to slow down, but I have him by his throbbing pigstick and he spent $205 since the last time.
New Slave! Another new slave is an italian dude I am calling damien. He spent $275 on a rousing series of raise the rate calls. Mmmm My favorite.
My weak leg addict michael, just couldn't stay away. I tested the habit loop cycle detailed in this post on him last night, and he will be horrified to learn he spent $283, just missing a paypig alert. Mmmmm
Paypig Alert! My hypnotized construct j had another call that included lots of pay to views while on the phone. He ended up spending $437 in a short period of time. Nice!
My good boy boomer is now responding to My NF+ feed as a cue and although he really tried to stay away, he still managed to spend $158. Nice!
Paypig Alert! My good girl buffy is trying so hard to moderate her spending, I have her on the "slow path to bankruptcy" She spent $309 this time around. I think I will push her more this time.
My nylon slave spent $149 in worship and awe of Me and My hosed feet.
My good boy, Lauren's footlicker spent $30 on Amazon and $88 on Niteflirt for a total of $118. Sweet!
I had a nice call with My sweet girl marla, she spent $179 this time around.
My oinkloser sissy spent $170. She is getting closer to her goal of $20K lifetime spending!
and it was sooo nice to see My wallet rape toy clicking and paying again. This robot pig spent $243 buying stuff he bought years ago, the compulsion is still there!
Last and maybe least is caged yankee, who clicked and paid all the way to $225, pleasing Me, well done sissy!
Now, earn your mention to be in My next blog!