Inspiring paypigs to give Me cash!
I've been so busy since the last blog entry, taking a little time to myself and every moment I'm logged in all of My fans, slaves, sissies and addicts have been lining up to beg for some time with Me and to throw $$ at Me.
I've managed to make a new slideshow that has really inspired a lot of paypig spending!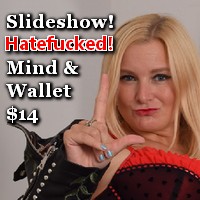 and a new Goody bag with captioned photos around a chastity theme, that has also inspired a bit of spending! I am very skilled at taking your fetish and monetizing it, as so many chastity fetishists discovered the past couple weeks!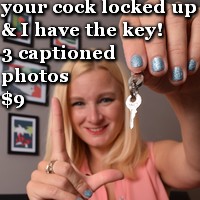 Very much of what I am inspires the losers and pig addicts to crawl to Me to give Me their cash…
But I don't want to give the impression that all of My devoted slaves are like that. I've got a couple of really good clients that are more of a heart to heart connection that doesn't involve Me casting them as a loser! But they show their appreciation of Me with nice tributes and gifts.
And most of you get glimpses of My warm nice self..
but mostly you come for the abuse
for the brainwashing
for the cock control
for the wallet rape that makes you feel shame
you ping My chat and send tributes and emails and call with your soft plantive voices and credit cards knowing that you will get from Me your heart's desire
you click and pay My devastating series, unable to stop sending Me cash, in ever increasing amounts.
to be completely used hard by a woman you adore who has no regard for you or your feelings.
And I have no desire to stop you.
I have no reason to stop you, and every reason to encourage you to spend beyound your means. I have the power, and it is sexy for Me (and profitable)
And if you will not spend, I move on to the next mark. That one will
Speaking of spending….
Back after a long long time was a slave interested in FinDomme, lefty, spending $107 on phone calls. YUM
Paypig Alert! Another returning slave I have dubbed boomarang for always coming back. He celebrated his return by spending $355 on Me!
Paypig Alert! My slave loser gimp, spent $420 on calls and large pay to views, designed to drain his meager savings. The payments will continue to the end!
My pantyhose addict is getting to the point where he can only orgasm by wearing pantyhose while I whisper to him on the phone how addicted he is!  He spent $115 this span on phone calls getting more addicted
Huge Paypig Alert!  My good girl, fagmuffin spend $617 confessing her flaming faggot ways to Me….she's taking a break to catch up on her credit cards, but still managed this $617 BEFORE taking the break since last week! I know she will be back!
And My shopping slave pablo who loves tight European clothing was back for more chatting and phone calls, this time spending $250. Well done pablo!
My good boy who loves stolen moments spend just over $100 to get a mention. I know he's gonna be calling soon for a fun good boy session!
and My boy wayne managed to spend $113 telling Me on phone and chat how much he wanted to be My ass kissing house slave!
HUGE Paypig Alert!  Coming completely unglued in his meager attempts to resist Me is LONG time slave PIG. PIG has been the subject of years of Me testing different Financial Domination techniques on. He has been a Guinea PIG. The years of chipping away at his ego are solidifying. He spent $1050 since last blog entry. He is on his way to being My next $100,000 slave, getting very close to the 90K mark.
Spending $118 was titpig ATM. I sense another big cash blowout soon from him.
Spending another $329  on Me was santa bitch. He did very well, begging for hard abuse, and I may have scared him by being a little TOO demanding.  So I did get a few Christmas presents bought, but I may be without a santa slave, hopefully he will rematerialize in time. Certainly, the rest of you can step up to ask Me if you can help with My shopping, that's appreciated!  I want to buy a computer for someone, so I'm really happy with Amazon gift cards right now, I am half way to having what I need. I mean, I shouldn't have to spend MY money, right?
and tranced by legs, was tranced enough to send Me about $10 in pay mails but $125 in Amazon gift cards. I always LOVE Amazon gift cards (send to laurenamazon@gmail.com) I am saving up a balance to get someone a large gift, so send those cards My way!
HUGE Paypig Alert!  My slave robot eunuch came completely unglued as I hatefucked him, sending him bigger and bigger PTVs, and then squeezing even more out of him by slowly decreasing the PTVS in price (I have SOOO many tricks to use you) When I was done, $1555 that used to belong to him was now MINE!
Flip off idiot fell victim to sending him photos of Me giving him the finger one evening, spending $162 in just a few minutes!
Spending another $111 was flaming pig! I'm looking for you pig!
Sweet sissy marja spent some time in chastity all locked up in her cage for Me….verified by Me and everything and came out of it with $234 less cash. Yum
Quiet gentlemen spent $120 and got himself a blog mention. He is always there spending quietly, and sometimes he crosses the threshold. This was one of those times.
Helpess dave parted with $131 talking with Me in chat. I have My ways!
HUGE Paypig Alert!  I knew this pig had spent a lot, but I was even surprised when I added it all up. Formally called fagpig here on the blog, he will henceforth be known as "paything"   And paything he was, spending $1,345 since last blog report!  Wow!  I LOVE it! He wants Me to be sure I mention that he is a pathetic loser, isn't that funny?
My good boy, helpful one, helpfully spent $225 on paymails and tributes!  I like that kind of help!
Paypig Alert!    The quiet dirtbag was back, clicking and spending his way through $405! I like that kind of quiet spending!  He is REALLY close to the 2k level of spending lifetime
Paypig Alert!  Paybitch terry spent $300 being use by Me, tributing and buying PTV. I still have hopes he gets to 10K of spending by years end!  He's currently at $6500ish, so he better get going!
HUGE Paypig Alert!  I completely got into egghead's mind, as I would send him photo after photo with the Loser sign in it, and he would just keep paying! How much did he spend?   $637!  YUM!
I was happy to see peeper paying again. He spent $140!
And pignic was around, this time spending $144, and I know he is looking forward to see his name on My blog….so mesmerized by Lauren!
and still recovering from a series of brutal fuckovers by Me is paycunt. He's trying to fix his finances, but last night I did $141 worth of damage to them.  Fix it cunt, so I can destroy you again!
HUGE Paypig Alert!   DrX was about again, spoiling Me both on Niteflirt and on Amazon. He spent $1,388 on Niteflirt and another $700 on Amazon, including gift cards, a new fancy Fitbit and a mattress for My best friend's house! (yea, I make My slaves buy My friends stuff they need, haha) He is My second biggest spender on Niteflirt, only fagmuffin spends more, but if you add in Amazon stuff and gift cards, he's probably #1 now. (Wallet rape toy used to have that position, but he went bankrupt, and only pays in tiny squirts now)  He knows it is his life's mission to make Me happy!
Someone is due for a HUGE rinsing, slave steve q fucked spent $108, but it should have been a grand …I'm looking for you sqf
and surprised is doing a bangup job buying the vacation ptv! He spent $108 since last review.
I change the photos almost every day! Keep checking it!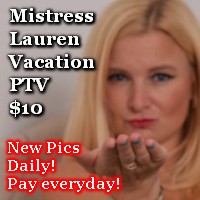 \
ATTENTION.  My birthday is coming up, on November 9th! On November 14th I am going to Disney World for a one week vacation, and what I want for My birthday is for you all to haul out your wallets to spoil Me so I can have a good vacation!
Get ready!
Get your mention for being a good boy to help Me have a good vacation!
Spend $100 between now and the next blog post, and your name will appear! (Amazon spending counts)