Neurolinguistic Programming and Financial Domination
I've mentioned previously that Neuro-linguistic Programming (Also known as NLP) is a core component of My LR ULTRA brainwashing program.
NLP is a great tool to use to brainwash someone. One very simple way to explain the aspect I use the most is that it takes language and combines them with sensory experiences to assert a powerful and direct influence on the brain. I like to use phrases that I have you repeat while you are undergoing a sensory experience. I choose phrases that serve My goals, and the sensory experience I use most often is sexual arousal. What more powerful sensory experience is there than an orgasm? This is why I have found stroke mantras to be so effective.
I am generally a science person, who relies on the best science to develop my theories. I have learned something quite interesting in my studies of these techniques. Any actual studies I've been able to locate seem to consist of people writing to discredit it, not study it. I wonder why that is? Is it because it works, and in the correct hands could be dangerous? Is it because powerful people don't want minor players to delve into this? Perhaps, but regardless, I use this secret knowledge to program your mind to become a puppet. I make it plastic in a few specific ways that are powerful and lasting. And they also give you great pleasure along with the pain. Pleasure and pain have been combined since ancient times to control people.
I do not know the truth of why this knowledge has been suppressed, and it matters not at all. I KNOW it works, I have used the techniques for yours, I have a large following of brainwashed cash slaves and a very healthy net worth now.
I add new slaves all the time. I have legions of readers who read my words for years before finally summoning the curiosity to contact Me, finding out in the process that I really am as advertised!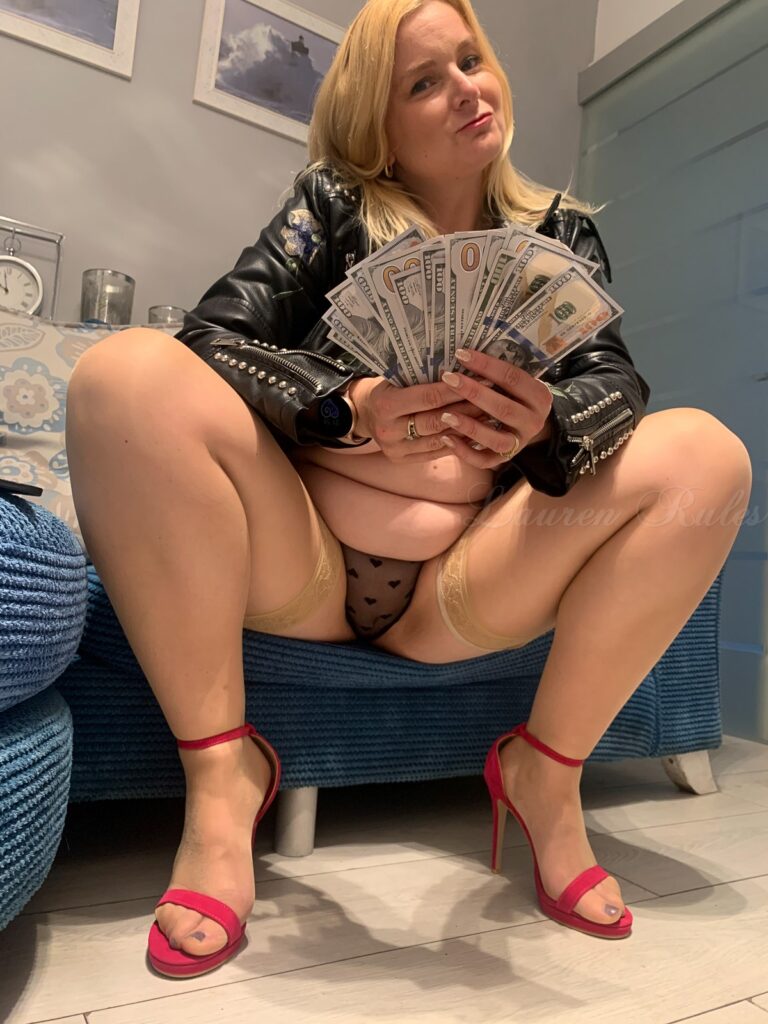 Here are some new pay to views to check out, some captioned photos, an audio series, and another video 🙂
Recent fun feedback. All true!


Lauren is so much fun to talk too. Be careful as she is very dangerous and hypnotic. You will find yourself wanting to spend lots of money on her. She is so addictive.


Live my Life for Lauren is my forever Mantra. Lauren is the only one that will ever matter.


Lauren is Dangerous.
The Fuckover Report
Legendary Paypig Alert!
My good girl buffy is My number for spender for a very good reason. This sissy spends regularly and for a long time. She's addicted, and I have completely remade her the way I want. She knows there is bankruptcy in her future, but I greatly enjoy stringing it out. She spent $2191 since the last post. Lifetime she has spent $230, 700 on Me.
Extreme Paypig Alert! citrusy was entirely weakened by Me, unable to stop himself from spending, between chat, tributes and pay to views. This weak slave spent $1470 learning all about My dangers!
We have the raise the rate puppet, who appeared for some heavy humiliation and paid $215 in a raise the rate session. Nice!
Paypig Alert! Squeezing in for a paypig alert was caged yankee. This sissy is so addicted, she keeps spending. She gave me a peek at her new tiny little cock cage too! Adorable!
I had fun in chat with tribute with j the junkie! He spent $163
Huge Paypig Alert! My good boy boomer is pretty much My paybitch now. He can't stay away, although he makes small attempts to do so. He spent $890 this time around. Very nice!
Back, weak and spending yet again was loser louis. He dropped $215 getting his fuckover
Huge Paypig Alert! Dr x was back and spoiling Me again. I love sessioning this guy. He spent $308 on Niteflirt and $481 on Amazon including a beautiful pair of Skullcap headphones and some gift cards
My footpaypig showed up and dropped $150. Always nice to see him
Huge Paypig Alert! Good boy helpless dennis spent $895 calling and tributing, including one or two nice $100 tributes, always sooooo nice. My big round breasts have him entirely belonging to Me
I had a great call with Special K, as he couldn't help but spent $222 on Me!
New Client, Paypig Alert! This is a great story. This guy, I'm gonna call larry, found My blog years ago when his coworkers were looking at it and laughing at all the guys spending so much money. They thought no one in his right mind would do this, but he was intrigued and found himself reading My blog for years. Recently he finally called, and now he has a secret from his coworkers. I wonder if they will read this and wonder if I'm talking about one of them? So larry spent $345 on phone calls to Me since the last blog. I want him to try some pay-to-views next.
My boi wayne cannot stay away. My huge ass has his mind completely enslaved. He knows what I like in a man, and he knows it's not him! He spent $218 wishing he could be a fly on the wall.
Paypig Alert! My good girl sissy marla (one of My six figure spenders) has been calling and buying pay-to-views again, as she spirals deeper into her addiction to Me. She spent $445 this time around
My quiet gentleman got sucked into My pay to views with selfies a few times and spent $198. Very nice!
New Slave! (or maybe not) I suspect this guy was a client previously, but on this new account he spent $157. I'm calling him "eager" Well done!
My hosiery slut tributed again and again and spent $122 getting good boy rewards.
Paypig Alert! Another good girl sissy, oink sissy loser came around again for some fun raise the rate calls and pay to view purchases. She has hit the $15K level of spending and I want her to be at $20K soon! She spent $345 this time
Helpless dave showed his helplessness a few times, chatting and tributing for $130
Huge Paypig Alert! Breast addicted pigbait is falling hard and fast under My power. I weaken him, arouse him and use him brutally! He spent $540 this time around!
My boyscout stopped by again to spoil Me for $175 in our fun little trivia games!
Huge Paypig Alert! Pig just can't help himself. He disappears for a few days, but then falls completely off the wagon in a spending frenzy. His pigstick demands it. He spent $748 this time around
dirtbag was back clicking and paying, and spending $145. Nice!
Huge Paypig Alert! Clicking and paying again was button! I didn't originally name him button because of his tendency to press the pay button again and again, but it sure suits him! He spent $430
Back after a long hiatus is no nonsense guy who spent $130. I really missed him and was glad to see him again.
New client! A slave-type guy I'm calling duckling and I had a nice long phone call where he learned all about the dangers of talking to Me on the phone!
My armpit loser got a mention for spending $141 on Me. What a good boy!
Paypig Alert! It's been awhile since beta male bert managed a mention, but after clicking and paying for $417, he certainly has earned this one!
bloom got another mention. (I love when slaves appear often) this time for $180. Nice!
goat appears with some click and pay to spend $112. I love when that guy spends!
Huge Paypig Alert! Back for more cash abuse the past month was spawn. His addiction goes soooo deep, he can't help it, can't stop. He spent $584 since the last post
My nylon slave loves worshipping Me and listening to My audios and videos. He spent $129 on photos of My hosed feet. Such a devoted worshipper!'
Pleasing Me by spending $241, largely on tributes was humble john. He's another one who just can't leave Me
Paypig Alert! Lauren's foot licker has been such a good boy, paying homage to the Most Important Woman he will ever have in his life. He spent $287 on Niteflirt and an another $49 on Amazon for a total of $336. He has been very devoted in his service for several years now. He's spent over $7,000 on Me on Niteflirt and several hundred more on Amazon over the years
Getting another mention, because of a lot of click and pay is "lex" who spent $252. Something about this guy makes Me smile.
Back with a new account was "because Lauren says" He spent $105. I am thinking he needs a better nickname, he should talk with Me about it.
New Client! A guy I am calling "trinket" began exploring how dangerous I am with My pay to views, spending $155 doing so. Welcome to My world, trinket!
jaybee returned to My fold recently, spending $169 in delicious pay to views. I love that!
candyballs can't stop paying Me. He keeps trying to delete his account, and he just keeps coming back! He spent $193 in the past month not staying away.
goat came around again to spend $112. Always enjoy seeing his name in My payment notifications!
My shy roleplayer turned up again, clicking and paying for $190. So sweet!
Will your name be in the next Fuckover report? I hope so. With a red letter mention!