New Biggest Session Ever and New Uber-Legendary Fuckover Report Total!
My paypig noddy is going to require a new category because he's gone above legendary.
Uber Legendary Mention!
This blog entry was going to be about triggers, both conscious and unconscious, and how I apply them to the psyche of a beta male to turn him into a craven loser who only exists to obey and pay.
But one of the victims of My approach upended My plans, and no one is happier about it then I am!
Drone noddy surpassed everything, biggest session ever, previously set last year by Dr X (read here about that session!)
The loser broke that by a few hundred, and that one session was $13,967, just short of 14K.  By the time I was done, his credit cards were destroyed, maxed out. I really want to do this again with it sometime, so noddy, I direct it to consolidate those loans into one lower monthly payment. Then after paying off all its credit cards, it can do it again!
BUT that wasn't the only session we had since the last blog post. There were several and the total he it spent is absolutely stunning.
Its fuckover total since the last blog post is a jaw-dropping
$16,941! 

It's a sum of fucking beauty!
I should also mention that he blew past both the $40K and 50K lifetime spending amounts on Me, currently lifetime of $57,530.  This is in just over two years. (less than 25 months even) Stunning! Only wallet rape toy spent as much as fast.
Here is a photo of it!  (It includes SEVEN $999 pay to views, the biggest possible on Niteflirt)
Click it for better view!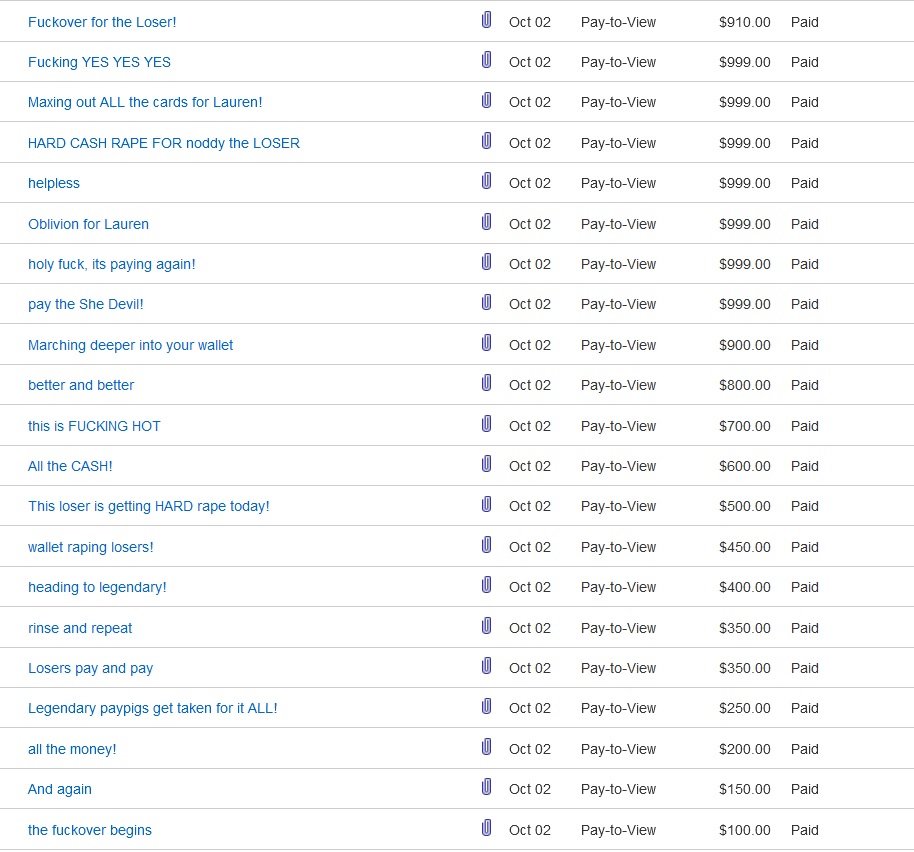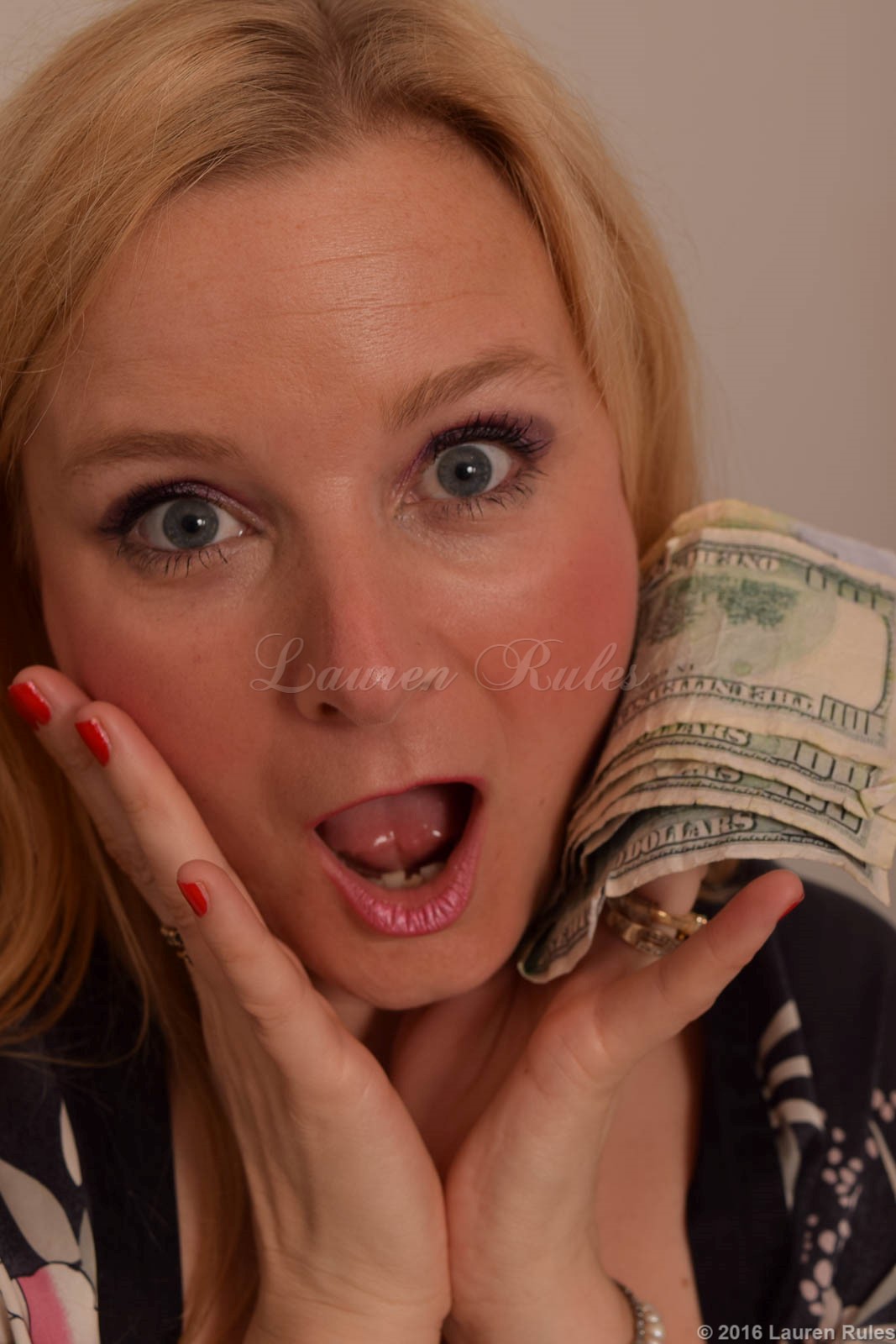 I'm still deciding what to do with the cash influx into My account. I will likely save some of it for a future vacation, (when we're allowed to leave the freaking country again!) or throw some at the mortgage. And a new treadmill to get Me through the winter seems likely.  These are FinDomme Problems! (And you think My life is so easy!)
Another amazing sum is the total spending since the last report (a mere 3 weeks ago) of $30,313.  If I raped you pigs ALL the time for that amount, it would amount to 1/2 million a year.  Which, seems fitting.
It made Me curious though, and despite the banner last three weeks, My cash fuckings have been down a little in 2020, especially during the shutdowns, as pig income declined and opportunies for them to session as well (Nosy families hovering around).  However, I have the total I have fucked men over since I began dipping My toe into FinDomme in 2007.  It is over $2.8 MILLION dollars on Niteflirt alone.  I suspect sometime next year I'll surpass $3 Million, but maybe you buffoons can get Me there faster!  This doesn't include income from gifts and other sites I won't mention, so it really probably already has passed the $3M mark.
Now I'm so excited and aroused it's hard to finish the Fuckover report, but you guys are expecting it.
The Fuckover Report!
noddy got its own mention about, no one came close to that whale of a session!  (I am willing to help anyone top that!)
There is plenty to talk about though!
Legendary Paypig Alert!  Any other week, this sissy would have had top billing again, but her hypno-spending of  $2852 is nothing to sneeze at. It's so easy to trigger her and CLICK she just can't stop
Extreme Paypig Alert!  I think this is j the junkie's biggest mention ever! He has just been going crazy on click and pay like a good boy, and sending big tributes frequenly in chat. I was proud of him for hitting the $5K lifetime level of spending, and now he's also got an Extreme alert  Well done j!
Extreme Paypig Alert!  This alerts are commonplace for bambi (formerly known as princess gigi and fagmuffin).  She's been with Me for years and is the only pig I have who has exceeded the $200K lifetime level of spending. (The rest of you: GOALS)  She's getting more girly, on estrogen and her life has completely transformed since she met Me. She can only think about paying Me. Her clit (used to be a cock, can you believe it?) is LIFELESS.  She spent $1091 since the last blog report
My good boy irish dope got another mention, spending $107
Paypig Alert!  My sweet addict boomer kept clicking and paying and calling until he had spent $410!
More please also managed a mention, this time for $115
Huge Paypig Alert!  I think this is helpless dennis's first Huge alert! His addiction to My breasts and voice is reeling out of control, and I am taking FULL advantage!  He spent $672
My boi wayne managed a mention, spending $120 dreaming about My thick ass.
Huge Paypig Alert!  Okie dokie, steve q fucked came back for yet ANOTHER huge rinsing, this time for $646  Delicious!
I had a fun session with My elegant foot lover and he spent $140
Huge Paypig Alert!   Clicking and paying again, returning with weak abandon was knickers.  This weak addict spent $619
My slave tPay squeaked in with $105. He's due for a BIG fuckover!
Huge Paypig Alert!  This guy just CANNOT STOP CLICKING AND PAYING!  Like SO many, button is addicted! He spent $398
and weak4legs couldn't stop spending, I got $106 of his cash and he a blog mention!
New Slave!  New to My world is faggy, a little sissy who spent $220 finding out that I am dangerous!
Getting a mention with $119 is Lauren's bootlicker.  He doesn't generally get big mentions, but he is loyal!
Paypig Alert!  The guy I just call My niteflirt client seems to have stayed on one account for a while. Outstanding! Maybe he and I will have to brainstorm a different blog name for him.  He spent $335 this time around! Nice!
Good sissy caged yankee kept looking for Me, such a good girl girl, she spent $215
New Slave and Blog Mention:  New slave that I'm calling s'more is getting his first mention, for spending $150 finding out about the dangers of Mistress Lauren!
My good boy quiet gentleman spent $107 for his mention.
Huge Paypig Alert!  My special good boy tom kept calling for FinDomme therapy, and I just kept making him pay higher and higher rates! He spent $675! He'll get to bankruptcy eventually!
My good boy goat, who I always enjoy, was back clicking and paying $270.  So close to a paypig mention! (That threshold is $300)
Huge Paypig Alert! PIG continued his addicted spending ways. I think it would have been even more, because we missed each other a few times, but it did total $785.  That puts his lifetime spending at $116,390.  He's catching up to wallet rape toy for lifetime. He's been with Me since 2007, so it took a few years!
My hypnosissy cocksucker tim and I had a couple of nice sessions, and I sent him into lala land and he spent $145
Paypig Alert!  Loser addict sniffer couldn't stay away again and spent $338!  This is habit-forming!
My titpay ATM has been licking his wounds from fuckovers during the last couple reports, but managed to pull together enough cash to get a mention for $100.  Good boy
Now, let's see what the next blog post brings.
Perhaps you will have an extreme or legendary mention.
Or maybe you will be the one to bump noddy out of the top