I have had a lot of fun this year, I did a very witchy photo shoot and video, that you can get here if you haven't already!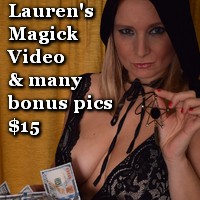 This is a very trancy video, with My crystal…and the light gleams from it just right…
and until 11/1, I will be putting more photos from that set, Sorcery, on this vacation PTV!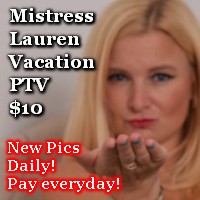 \
IMPORTANT DATES
November 9th is a day of Lauren Worship. It's My birthday! I made it easy for you to send Me $25 and give you some photos from a set I'll be releasing later this week, so you get a sneak peek. Get this, then find a way to spoil Me more.
A few days after My birthday, I'm going to Disney World for a week, so if you want to please Me, and serve Me like an addicted paypig, you will buy this!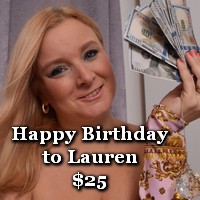 And now we have the spending report!
New slave!  New to Me is "target", so called because I am conditioning him to become addicted to Me. He spent $180, mostly on the telephone, listening to My silky voice condition his to paying Me!
I was so happy to hear again from marla, who spent $138 on a very nice session on the phone. I think she would like to spend more, but is recovering from the major financial fuckover I did with her last year! I AM danger!
Huge Paypig Alert!  OinkLoser was back! I had one of the most enjoyable raise the rate games I have ever done. He had expressed a desire to be "tricked" into the game, so I did so by sending him a free minute, then after talking a few minutes, I would offer him another to "save him money" but he would have to call back!  Of course each time, the rate was higher! He also had some pay to view fun, and ended up spending $635 on his march to spending 10K on Me!
Gimp Loser was back for another phone call and another huge email. I keep slowly increasing the amount of the email I make him pay, and its well into 3 digits! I swear I'm gonna bankrupt this loser before he's done with the world! He spent $193 this time around.
Huge Paypig Alert!  Fagmuffin (formerly known as princess gigi) got even more submissive to Me. She tried a reconcilliation with her ugly ex girlfriend, but that failed. The ex is a gold digger. Well, so am I, but I'm honest about My motives!  Anyway. The tiny clitty wouldn't stiffen, fagmuffin couldn't perform like a real man, and the ex fell asleep! While she was sleeping, fagmuffin called Me and I got her all squirmy with talk of making her suck cock, and lo and behold, a stiffy and a squirt!  Not a real man, a fagggot obviously.  Fagmuffin is back on the hormones, her ass is getting round and fat and she spent $875 on me since last report, despite trying to cut back!
My good boy with the stolen moments spent $180 on Me as we plotted together how to take his wife's money and get it to Me where it belongs!
My exposure sissy was back for MORE exposure, spending $158 so I could help let the whole world know she is a sissy crossdresser!
Huge Paypig Alert!  My long time slave PIG has achieved a more profound level of addiction. Chatting on the chat program has made him more vulnerable to My predations. He spent $780 since last blog entry, and twice he paid two and three times My normal rates for sessions outside My normal hours. He is fucked!  He is close to $90 lifetime spending on Me!
Reading about his Huge Paypig Alert last blog was enough to inspire Robot paypig Eunuch to spend another $180 on Me. His finances need to recover from the brutal beatdown they took at My hands this October!
And Dangle jim was back, spending $120 on My new blackstocking photos!
My sissy lily spent $110.  She is slowly recovering her credit after I completely destroyed it a few years ago. I am encouraging her to improve it, so she can get more credit extended to her. I plan to completely destroy it again, once it is worth it!
Huge Paypig Alert!  I think this is the first time Irish dope got a huge paypig alert. I took so much for him, I doubt he can pay his rent (Not MY problem, haha)  He spent close to $700 in chat and tributes on Me. Chatting with Me is dangerous!
Another one addicted to chat and tribute (I encourage good boy behavoir with photos!) is flaming pig. He had been trying to be good, but one little message to him in chat, and boom,. I had him back, spending $240 deepening his addiction to Me!
Click and pay slave dirtbag spent $114 on his obsession
Paypig Alert!  I had this sissy in chastity for part of the time, requiring her to pay Me a certain amount before I released her. Since the last blog entry, sissy marja has spent $280 on her need for My control!
And slave pay thing couldn't stay away even after a huge fuckover, spending another $207 on chat and tributes. He always falls into My traps!
My elegant foot lover spoiled Me with another $125 recently. His birthday is the day after Mine, so I know he won't forget it!
And daredevil spent $125 on Me since last entry as well! I'm going all Wonder Woman on his wallet!
Huge Paypig Alert! I think that paybitch Terry has come to the realization that is going to give Me EVERYTHING. That process continues at a brisk pace as he spent $935 more as an offering to his OWNER!
and egghead managed to keep his spending under $200!   Hahah, he spent $199 since last blog entry!
Huge Paypig Alert! Dr X was pleasing Me again, with $240 dollars of Niteflirt spending and over $500 on My wishlist, including gift cards and a new Fitbit that wasn't supposed to be released until November 12th, but I see that they moved the date up a week! So I'm hoping to have it for My vacation! His spending totals over $740! Well done!
And slave suprised has been doing such a good job buying My vacation pay to view. He's spent $120 since last update!
and finally, but not leastly is titpig ATM who sent Me $160 in tributes one evening out of the blue, including a $100 one. So addicted!
I'll be doing one more blog and spending report before My big vacation. I want it to be HUGE with stories of how all you slaves are spending for Me to have a wonderful vacation! So load up your accounts and start spending!
Remember
Pay Lauren
I've been so busy since the last blog entry, taking a little time to myself and every moment I'm logged in all of My fans, slaves, sissies and addicts have been lining up to beg for some time with Me and to throw $$ at Me.
I've managed to make a new slideshow that has really inspired a lot of paypig spending!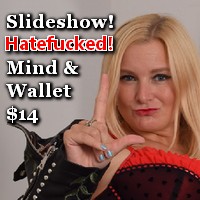 and a new Goody bag with captioned photos around a chastity theme, that has also inspired a bit of spending! I am very skilled at taking your fetish and monetizing it, as so many chastity fetishists discovered the past couple weeks!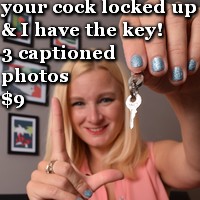 Very much of what I am inspires the losers and pig addicts to crawl to Me to give Me their cash…
But I don't want to give the impression that all of My devoted slaves are like that. I've got a couple of really good clients that are more of a heart to heart connection that doesn't involve Me casting them as a loser! But they show their appreciation of Me with nice tributes and gifts.
And most of you get glimpses of My warm nice self..
but mostly you come for the abuse
for the brainwashing
for the cock control
for the wallet rape that makes you feel shame
you ping My chat and send tributes and emails and call with your soft plantive voices and credit cards knowing that you will get from Me your heart's desire
you click and pay My devastating series, unable to stop sending Me cash, in ever increasing amounts.
to be completely used hard by a woman you adore who has no regard for you or your feelings.
And I have no desire to stop you.
I have no reason to stop you, and every reason to encourage you to spend beyound your means. I have the power, and it is sexy for Me (and profitable)
And if you will not spend, I move on to the next mark. That one will
Speaking of spending….
Back after a long long time was a slave interested in FinDomme, lefty, spending $107 on phone calls. YUM
Paypig Alert! Another returning slave I have dubbed boomarang for always coming back. He celebrated his return by spending $355 on Me!
Paypig Alert! My slave loser gimp, spent $420 on calls and large pay to views, designed to drain his meager savings. The payments will continue to the end!
My pantyhose addict is getting to the point where he can only orgasm by wearing pantyhose while I whisper to him on the phone how addicted he is!  He spent $115 this span on phone calls getting more addicted
Huge Paypig Alert!  My good girl, fagmuffin spend $617 confessing her flaming faggot ways to Me….she's taking a break to catch up on her credit cards, but still managed this $617 BEFORE taking the break since last week! I know she will be back!
And My shopping slave pablo who loves tight European clothing was back for more chatting and phone calls, this time spending $250. Well done pablo!
My good boy who loves stolen moments spend just over $100 to get a mention. I know he's gonna be calling soon for a fun good boy session!
and My boy wayne managed to spend $113 telling Me on phone and chat how much he wanted to be My ass kissing house slave!
HUGE Paypig Alert!  Coming completely unglued in his meager attempts to resist Me is LONG time slave PIG. PIG has been the subject of years of Me testing different Financial Domination techniques on. He has been a Guinea PIG. The years of chipping away at his ego are solidifying. He spent $1050 since last blog entry. He is on his way to being My next $100,000 slave, getting very close to the 90K mark.
Spending $118 was titpig ATM. I sense another big cash blowout soon from him.
Spending another $329  on Me was santa bitch. He did very well, begging for hard abuse, and I may have scared him by being a little TOO demanding.  So I did get a few Christmas presents bought, but I may be without a santa slave, hopefully he will rematerialize in time. Certainly, the rest of you can step up to ask Me if you can help with My shopping, that's appreciated!  I want to buy a computer for someone, so I'm really happy with Amazon gift cards right now, I am half way to having what I need. I mean, I shouldn't have to spend MY money, right?
and tranced by legs, was tranced enough to send Me about $10 in pay mails but $125 in Amazon gift cards. I always LOVE Amazon gift cards (send to laurenamazon@gmail.com) I am saving up a balance to get someone a large gift, so send those cards My way!
HUGE Paypig Alert!  My slave robot eunuch came completely unglued as I hatefucked him, sending him bigger and bigger PTVs, and then squeezing even more out of him by slowly decreasing the PTVS in price (I have SOOO many tricks to use you) When I was done, $1555 that used to belong to him was now MINE!
Flip off idiot fell victim to sending him photos of Me giving him the finger one evening, spending $162 in just a few minutes!
Spending another $111 was flaming pig! I'm looking for you pig!
Sweet sissy marja spent some time in chastity all locked up in her cage for Me….verified by Me and everything and came out of it with $234 less cash. Yum
Quiet gentlemen spent $120 and got himself a blog mention. He is always there spending quietly, and sometimes he crosses the threshold. This was one of those times.
Helpess dave parted with $131 talking with Me in chat. I have My ways!
HUGE Paypig Alert!  I knew this pig had spent a lot, but I was even surprised when I added it all up. Formally called fagpig here on the blog, he will henceforth be known as "paything"   And paything he was, spending $1,345 since last blog report!  Wow!  I LOVE it! He wants Me to be sure I mention that he is a pathetic loser, isn't that funny?
My good boy, helpful one, helpfully spent $225 on paymails and tributes!  I like that kind of help!
Paypig Alert!    The quiet dirtbag was back, clicking and spending his way through $405! I like that kind of quiet spending!  He is REALLY close to the 2k level of spending lifetime
Paypig Alert!  Paybitch terry spent $300 being use by Me, tributing and buying PTV. I still have hopes he gets to 10K of spending by years end!  He's currently at $6500ish, so he better get going!
HUGE Paypig Alert!  I completely got into egghead's mind, as I would send him photo after photo with the Loser sign in it, and he would just keep paying! How much did he spend?   $637!  YUM!
I was happy to see peeper paying again. He spent $140!
And pignic was around, this time spending $144, and I know he is looking forward to see his name on My blog….so mesmerized by Lauren!
and still recovering from a series of brutal fuckovers by Me is paycunt. He's trying to fix his finances, but last night I did $141 worth of damage to them.  Fix it cunt, so I can destroy you again!
HUGE Paypig Alert!   DrX was about again, spoiling Me both on Niteflirt and on Amazon. He spent $1,388 on Niteflirt and another $700 on Amazon, including gift cards, a new fancy Fitbit and a mattress for My best friend's house! (yea, I make My slaves buy My friends stuff they need, haha) He is My second biggest spender on Niteflirt, only fagmuffin spends more, but if you add in Amazon stuff and gift cards, he's probably #1 now. (Wallet rape toy used to have that position, but he went bankrupt, and only pays in tiny squirts now)  He knows it is his life's mission to make Me happy!
Someone is due for a HUGE rinsing, slave steve q fucked spent $108, but it should have been a grand …I'm looking for you sqf
and surprised is doing a bangup job buying the vacation ptv! He spent $108 since last review.
I change the photos almost every day! Keep checking it!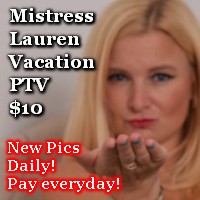 \
ATTENTION.  My birthday is coming up, on November 9th! On November 14th I am going to Disney World for a one week vacation, and what I want for My birthday is for you all to haul out your wallets to spoil Me so I can have a good vacation!
Get ready!
Get your mention for being a good boy to help Me have a good vacation!
Spend $100 between now and the next blog post, and your name will appear! (Amazon spending counts)
I am full of news, and all the upcoming stuff until the end of the year!
First of all, the Paypig World Cup was an amazing fun success!
Although it wasn't won by an actual paypig, but an admirer of Mine that likes to spoil Me. But either way it meant $$$ for Me, and that's never a bad thing!
Full results here! (And it's a spending report for the event)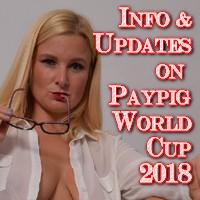 The second fun thing is that usually about this time of year, I start talking about finding a "santa slave" The slave that will do all My Christmas shopping and buy all the gifts for My family and friends. One read about past santa slave exploits, and stepped forward to offer, so this slave, "santa bitch" has already started My lengthy list. His next task is to cough up the cash to buy someone on My list a new laptop.  All ready he's bought Me many gifts,and many more to come!  Let's see if this bitch follows through on his promises, or if he is a completely worthless Loser.
The next news I wanted to tell all you guys about is that in November, just after My birthday, I'm going to Disney World for a week. I have this childish soft spot for Disney, with a grown up twist. I'm staying in a nice resort on site, and you guys need to pay for it. I've been available far too much lately so you losers can pay Me to stroke your cocks, I need a vacation, and part of being a good paypig is surrendering yourself to paying for My leisure time!
Oh and that brings Me to My upcoming birthday! It's November 9th (Put it on your calendar!) And I want $$$ for My birthday to pay for that vacation, and to have spending money on the vacation!
To help you guys out, but not flood mailboxes with emails from Me, I devised this little button, and I'm going to try to change the photos everyday from now until My vacation! I will put the date on the subject line, so you can verify it's new photos, and you can tithe Me $10 every day and enjoy new photos! And of course, you can pay MORE or in different ways. But you pigs and Losers will be helping Me have a great time!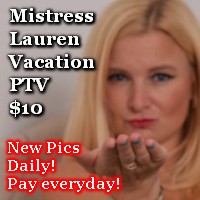 Now  time for the spending report!
Huge Paypig Alert! First mention is going to go to santa bitch, who was upset he missed the Paypig World Cup and has been trying to make it up to Me since. He has agreed to submit to all the abuse I dish out in addition to paying! (what fun!) So far, his spending on pay to views, calls, and presents is just over $900.  He's juggling trying to figure out how to pay for the laptop I'm demanding of him. His problem! He agreed to be fucking santa slave.
My good boy, nylon slave spent $140. Still more delicious photos he hasn't seen!
I had a delicious $130 dollar phone call plotting deviousness with My good boy who loves his stolen moments with Me!
And more please surrendered to the black leggings (which I have MORE of, haha), spending $235 in just a few minutes!
Huge Paypig Alert!  PIG is completely out of control with spending. He is an addicted pay machine for Me! He spent $623 paying Me since last blog!
And still spending briskly is dirtbag, this time for $147!
Huge Paypig Alert! Titpay ATM went nuts on Me once night, including calling for 3 minutes at $50 a minute!  He has spent $535 since last blog entry!
And helpless dave gets a mention for his $124 of spending
Paypig Alert!  My irish dope was such a good boy this week! He may have had his biggest week every, spending $395 just pleasing Me for a pat on the head. Amazing!
egghead cannot break free. He tries, but then he surrenders a little and before he knows it, he's dropped $152 in a short time.
Barely earning a mention was sissymarja, who spent$128 to manage a mention. Still licking her wounds from paypig world cup, she did manage to get herself locked up in chastity. Getting freed, took most of that $128 bucks!  And now she is locked up again!
sissy j gets  mention, not because she met the $100 threshold, she didn't but she DID pass the $10,000 in spending and six years serving Me. Well done! I need to lock her up again soon.
Paypig Alert!  paybitch terry the exposed lost control again. He spent $372 since the World cup. Completely addicted and I will probably bankrupt him before the year is out
Spending $213 since the paypig world cup, was helpful one. He just keeps coming back for more and more!
Huge Paypig Alert!  Weak betamale bert was back with $530 dollars of spending. He tries to stay away. He tries blocking Me, hoping I'll block him back. Nope, I am patient, and eventually he gives in and spends a crazy amount of cash. Good boy!
Dr X managed a mention with exactly $100 of spending. Dr X, we have a wallet rape date coming up. SOON.
Pay drone was back, spending $226 in a mindless click and pay session! Well done!
Also squeaking out a mention was kane, with $104 in spending
and after trying to avoid My effects, needful one was back, this time for $214. Delicious!
Also squeaking in a mention, was gutter dweller, his for $109
and after a long hiatus, the slave I call "because Lauren says" was back with a vengeance, paying $211 in a single hot session!
And the fagmuffin previously known as princess gigi spent $281, as she learned that the reason her relationship with her ugly-faced girlfriend ended was because her tiny clitty only stiffens for cock, and in fact, squirts for it. That's all. Otherwise, it stays soft and helpless in her panties, where it belongs.
Not in this spending report? Spend $100 before I blog again, and you will be in the next one!
Here are some recent PTVs to start with!
You got to the end of the post! Enjoy the gallery!
Be sure you see the event page here!
Results will be updated as we go along, and the top spots will probably change hands many times.
Also there are daily winners and mentions given to paypigs who make certain achievements, you too could get a mention (I invent blog names for everyone that doens't match their member name, so no one will know who you are but you and I)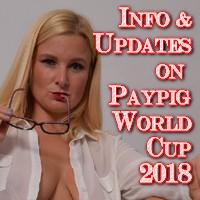 All the different ways you can pay Me are also listed!
You can buy pay to views or phone, or tribute, or buy stuff on My wishlist! Don't delay, enter the World Cup right away!
Here are some new pay to views to help you spend!
Now, I am doing a quick spending report, so we can start fresh for Paypig World Cup!
It's a little shorter than usual, for a few reasons, its only a week, I wasn't available much this week (working on Paypig World Cup stuff) and piggies are saving their money for the event!
First up is My good boy who loves stolen moments, who spent $139 on deliciously twisted phone calls with Me!
Paypig Alert!  PIG just missed a Huge alert by about $17. He sepnt $481. Still addicted!
My no yes Loser spent enough this week for a mention for $105! Good boy!
Paypig Alert!  Irish dope spent $318 dollars he didn't have, maxed out his credit card and gave Me some of the rent money. How will he pay his rent?  Not My Problem!
Paypig Alert! Another just missing a HUGE alert was the slave formerly known as princess gigi.  I have renamed this sissy. She will now be known as fagmuffin .  Her relationship with the girlfriend (known otherwise as uglyface) is all but over, because uglyface cannot get fagmuffins tiny little clitty stiff. This doens't bode well for a relationship, and the truth is, the only thing that gets the fagmuffin clit stiff is cock! And the thought of licking up real man spunk from My feet. Too funny. Oh and fagmuffin wants the world to know she only gets excited for cock.
Paypig Alert! And back for more abuse was sissy marja (Not to be confused with sissy marla, two different sissies) This sissy is rapidly getting addicted, and spent about $314
And paybitch terry continued his spending ways, this time for $270!
Paypig Alert! back for more abuse was dirtbag!  This slave spent $314, and has now passed the $1k level of spending in a short time!
Egghead lost his egghead again this time around, spending $264.  I predict more loss of control this week!
Huge Paypig Alert!  My robot eunuch went blank in a session and spent $555 dollars. This series got him, and then I sent a few more to top it off!
Try it yourself during Paypig World Cup week!
And "surprised" spent enough again to get a mention, in the amount of $126.  And he is ALMOST at the $1k level of spending. Just a few more dollars!  Well done!
A blast from the past, wallet hole, made a new account and returned to Me and immediately spent $200.  Wouldn't be surprised to see some action from him for Paypig World Cup!
Now piggies, go and spent!
Paypig World Cup is upon us!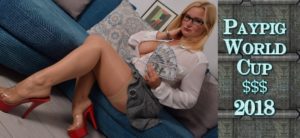 Beginning on Friday Sept 7th at 6 pm, the Paypig World Cup 2018 will begin!
It will run for one week, and will end Friday Sept 14th at 11:59 pm.
You know that only the most special paypigs will be deserving of accolades on My blog!
There will be lots of stuff you can buy over the week. A special video. Photos, Goody bags.
There will be subcategories. Most money spent on one phone call, fastest to hit the $500 level, the biggest tribute and more!  The Paypig World cup will have something for every one.
Maybe you can't win the big prize (Most money spent on Me during the week), but you can aim for one of the subcategories!
Your prize?  Bragging rights, blog mentions and special photos and audios.
Keep an eye on your Niteflirt mail for information! Subscribe to My blog for updates!
Pay for the glory!

This is one championship you can buy!
I've been super busy crazy lately, with My crazy FinDomme life,  between doing dozens and dozens of wallet rapes, making new content, and the big news, is I am in process of updating My websites to be more mobile friendly. I admit this blog is now about ten years old, and mobile smartphones weren't a thing then!.  It's a little tedious, so bear with the process. You will likely come to the site and it looks different! Although all the content is still there, it may be arranged differently for mobile friendliness.  Best of all, I can take your cash right from the convenience of your phone!
I've already begun the process for the main web site. (It looks good on your cell phone now), but there is still editing going on. I do it when I have time, which has been rare lately!
Next will be THIS blog, and then lastly My Pay to view store because that's the one that might be the most difficult.
Upcoming is a new dangerous pay to view with a little different spin than I have had before. It will involve a video!  Get excited! Look for it in the beginning of September!
I'm also hoping to have another paypig event in September, possibly a whole week of you guys competing to be the biggest LOSER. Those are always highly anticipated and well received. (and I make LOTS of your cash into MY cash, best of all!)  Stay tuned, and apply for new credit cards and loans NOW. I still have to brainstorm the details. But I enjoy them, you enjoy them and all of you like to see the lengths the losers will go to to get mentioned!
And here is a gallery featuring boots for your enjoyment!
Now, speaking of mentions, here is today's spending report!
My good boy, hypnowallet came back after a hiatus, and spent $169 on a delicious phone call and tribute session, just getting more deeply tranced under My power. YUM.
Huge Paypig Alert!  Slave titpay atm spent $586 over a few sessions, completely losing his mind about My perfect tits! Some slaves just can't stop!
I had another fun session, with mind controlled john, including a nice mind controlling phone call. Usually we just do pay to views, but occasionally he calls, and just last night he did Mmmm.  He spent $233
New slave Alert!   New slave "deep kiss" got caught in a fun raise the rate telephone game and spent $294.  Yum. I'll play raise the rate on the phone with deep kiss anytime!
And slave loser gimp gets a mention too for spending $190 this time around. The end is near gimp, keep spending!
My favorite FBI guy was back, spending $159.  I want more, and you know you will give it to Me. No delays!
Huge Paypig Alert!  PIG went overboard yet again, spending $530 this time around.  He is close to 90K in lifetime spending (Get to 100k soon!)
and it was really nice to hear again from dangle jim, in  a fun chat and ptv session, he spent $586
and sissy marla rematerialized for a fun $225 session. It had been awhile, I have a history of really huge sessions with this sissy!
and irish dope continued his steady spending with $154 worth of spending the past two weeks. Yum!
and flaming pig couldn't stay away, spending $235, mostly in chat and tributes. Another slave I caught in the chat trap!
and New to My service, she's been lurking a long time is a sissy name marja. This sissy spent $263 finding out how dangerous I really am!
My slave quiet gentleman spent $101 since last blog mention, squeaking in for a mention!
Paypig Alert!   My completely addicted paypig, egghead couldn't stop paying, spending $355 since last mention. The best part is that after the cutoff for spending, but before this got published he spent a bunch more, so I expect he will be in the next mention too!
And slave micro was around, spending $140, in his failure to quit spending on Me!
After his huge spending spree last time with Me, taxpig came back for another $104.  Soon taxpig, you will be penalized more!
My fan wagner was about the past couple of weeks, spending $113 dollars on pay to views
Paypig Alert!  My slave terry paybitch kept his spending streak up, begged for exposure, which he got (see the widget), and proclaimed his devotion and love to Me. The $454 dollars he spent helped punctuatate that!
Dipping his toe in a little more, feathered pig spent $152 as he slowly worked his way through one of My deadly series!
Paypig Alert! My slave weak4greed just missed his HUGE paypig alert by only $38.  Between payto views, chatting, tributes and Amazon spending he made it up to $462.  Next time loser!  I did however, enjoy sessioning him, and can't wait to fuck him over some more!
Cucky phil was back spending $220!  I love it!  It's been awhile, and always glad to see his smiling emails. I can tell from his emails that he smiles a lot. That might sound weird, but I just know it.
And horniest spent $107 on a click and pay flurry. It had been awhile, so it was good to see that. In fact, the past couple of week have been long time slaves reappearing. It's nice!
HUGE Paypig Alert!  I was pleased to see newbie knickers go bonkers on the robot paypig series and spend $503 dollars on mindless click and pay!  And already he is close to the $2000 level of spending!
That loser from down under, paymoosie spent $100 on gift cards to get his mention. I do love those gift cards!  Amazon is awesome for that, and there are always gift cards on My wishlist!
HUGE Paypig Alert!  Dr X was busy spending on Me the past week, with $453 on Niteflirt and $385 on Amazon for a total of $838.  YUM. He knows how to keep Me happy
Loser steve q fucked stopped by so I could rinse $150 from him one evening. I look forward to another huge cash rape of this slave
After just missing a mention last time, button stopped by for some more click and pay and dropped $150 to cinch his mention.  Good boy!
HUGE Paypig Alert!  Princess gigi is on the last whimpers of her relationship with the uglyfaced girlfriend. She can't get a stiffy clitty for the girl friend, but strangely responds to photos of cocks and strapons. It's obvious she is a sissy fag now. She spent $555 learning about her proclivities this week! Oh and she is back on estrogen.
And spending another $224 this past couple of weeks was helpful one. He's getting quite accostomed to paying Me!
Returning from deleting his account was wallethole with a fresh new account. He dropped $151 on Me, just this afternoon!
Now, I'm not going to do this every week, but this time I added up total spending (including Amazon) since the last blog mention 2 weeks ago. It was just short of 10K at $9,815.  That's about average. 
I bet the week I do the special event, it will be that in just one week 🙂
Stay tuned!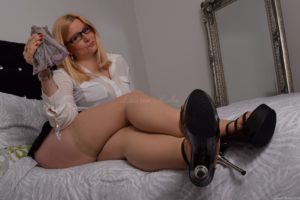 It's very easy to train a submissive beta male when you find out what his weaknesses are.
You use that weakness against him.
Weak for My ass. I ply him with ass photos (for a price of course), descriptions of how I will use My ass to break down his defenses, and then start to train him to pay the ass….
Then I use My ass and his love for it to reinforce the kind of behavior I approve of (Clicking and paying for example!)
Soon when his cock throbs, he will find that he seeks Me out, because I understand how to use his weaknesses, to get him aroused.  But more importantly, that arousal will make him spend and spend on Me!
And I usually discover, or create (sometimes purposely, sometimes accidently) other little fetishes I can leverage. Each trigger becomes like a mooring line, hooking the subject more securely in My service.  He needs, that need grows, and I become the most effective avenue to satisfy his growing need.  Very often I am the ONLY avenue.
I am often asked by one of My addicted subjects how they may break free of My ownership of them. I have studied and experiemented how to harness my skills and powers (and having a Dominant Female personality *is* a power!) to enslave men. I am very good at it, as hundreds can attest to.  I have not given any energy into learning how to help men get past their addiction to Me.
Perhaps someday, many years from now, when I am retiring on all the riches I have maniuplated from you all, I will give that some energy, and devise a cure, which I will of course sell to the desperate slave. A final slap in the wallet!
And of course, I have thought about writing a book on how to DO Financial Domination for the aspiring FinDomme. The prevailing myth is that she sits on her lazy ass while men pay her, which sadly enough is pretty far from the truth. There is an art to this, and also a need for bread and butter income in between the cash rapes of the big whales.  It would be a cruel book to unleash on mankind, but a gift to women who are confident and ruthless enough to use the techniques.  So that is why I would write both books. A double cash out so to speak.  But that's still many good years away, I'm not done using all of you yet!
Now, a couple new pay to views for you to throw your cash at!
This fetish assessment tool, helps Me get the goods on you, so that I can train you oh so effectively!
Maximize your submissive experience with Mistress Lauren!
and this is a delicious photo set for the summer I did. Bare feet lovers will lose their mind, but you all with love it!
Featured PTVsAnd
and this is a revamp of an old pay to view, it's not oriented to FinDomme, but it is a controlling jack off instruction series.  Now I can do JOI with a FinDomme bent, and Chat is a great place to try that (right titpig?)  Chat Me up on Niteflirt and I will show you how. Better load up that account first though.
Maximize youand r submissive experience with Mistress Lauren!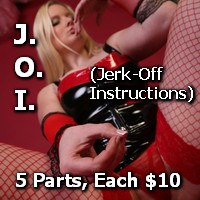 oh and of course I want you to have a gallery again. This will make the pantyhose guys drool. And if you have a pantyhose fetish, you should know I have THOUSANDS of pantyhose photos of Me in My private collection, and adding more regularly, just ask!

And now it is time for the spending report! It's a good one!
Huge Paypig Alert!  I'm going to begin with an amazing spend by paybitchterry! I've got this guy wrapped around My finger, and he's just spending it all on Me!  Since last blog?  $1502. Beat that bitches!
My exposure sissy and I had fun, well, exposing her, and the sissy paid Me $238 for the priviledge since the last report!
New Slave AND Huge Paypig Alert!  I love that combination, a new slave who just mindless spends! Yum! New to Me is "dirtbag" who got caught in click and pay, and with really just a little encouragement from Me, spent $720 since I last blogged. I hope he gets LOTS of blog mentions in the future!
and nylonslave was back losing his mind over My pantyhose, this time spending $249. I've got more photos you haven't seen slave!
Huge Paypig Alert!  Oinkloser was back briefly before deleting his account, but not before I took him for over $900 in just a few days. Hey OinkLoser, you have to reactivate your account again, we gotta get you to 10K of spending!
My slave addict, micro was about, and he spent $167 since last update. I think it would have been more, but the dude and I have time zones that don't match up very well!
Paypig Alert!  Also continuing his downhill slide is Gimp Loser, who is spending everything he has on Me because he doens't have long to live. Stark, Brutal, Cruel. It's not like he needs it, he may as well give it to Me! He spent $353 since last blog entry.
And My good boy who loves stolen moments managed a couple nice phone calls for $137
Huge Paypig Alert!  and even after years serving Me, PIG's addiction is getting worse! He never used to be a paypig, but I used My techniques on him, and now he is trapped, like a machine.  He spent $815 since the last update!
Newbie feathered pig was back, this time clicking and paying for $104 and barely getitng another mention
PayPig Alert!  My elegant foot lover completely spoiled Me the past couple weeks with $406 worth just making Me smile. I love it!
Slave more please was back drooling over My leggings and paying!  He spent $130, and there is MORE to buy, hit Me up more please!
Huge Paypig Alert! and My tit-crazed slave, titpig ATM went nuts again, this time paying $538! He discovered the dangers of JOI games in chat. And loved it, can't wait to do it again!
sissy j has been suffering under her tiny cock control control, and this time she spent $128.  She's learning self control though!
HUGE Paypig Alert!  Taxpig was back paying his taxes, and there were heft fines levied (By Me of course!)  The biggest penalty was a $500 pay to view!  His total payments to Me since last revew amounted to $1177!  WOW! I like being the tax collector!
And My slave peeper has been hanging around again, this time spending $194.  It was in little bits and pieces, and
HUGE Paypig Alert!   This has sure been a week for huge paypigs!  Another one coming over to the dark side was knickers, who was new not very long ago, but he got caught up in the dangerous robot paypig series, and he sepnt $1248
Yes, THIS series here, try it!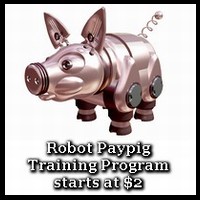 Paypig Alert!  Irish dope has discovered the dangers of chat, and now I'm taking EVER more from him.  $316 since last report!  As I am writing this, he is spending more that isn't even included in this!
And I ripped off humble sub for another $155.  Actually he ripped himself off just buy clicking and paying! Too funny!
Paypig Alert! Wallet Rape Toy has gone bankrupt for Me, but he's still spending This time period it was $362. Still sacrificing even in bankruptcy!
My slave surprised might be surprised he spent another $208, but I am not at all surprised. I get into a beta man's head after all!
Paypig Alert!  Dr X outdid himself with about $280 dollars of Amazon purchases I really needed!  I love having a slave I can call on when I need stuff!
HUGE paypig Alert!  Despite being on vacation and not at the computer AND having a nosy so called girlfriend trying to keep her away from Me, princess gigi sent Me $783 since last report!  And her usless little clitty is still dormant. It's going back in panties full time soon, and it is alreayd back on estrogen, like it should be!
and drone walter was back, spending 162 on pay to views!  It added up to more than I thought it would!
Huge paypig Alert! Slave helpful one lost himself in My pay to views this week. He spend $805, and he just can't stop. I LOVE it!
and a loser that previously served Me is back. I had previously named him shopping slave, but I realize I have duplicate blog names! So I'm going to call him, weak4greed.  He spent $335 on Me this week. Delicious!
Now, this was a long and profitable spending report. The reason it took so long to blog was because of all these users I was using!  You too can  get a mention here on My blog. Just pay!
Being an effective FinDomme isn't as easy as it seems. It requires not only knowing the basic toolbox for getting men/sissies aroused enough to pay you, but also learning about each individual, what arouses them, what makes them fascinated by Me. What makes them hooked enough to come back again and again.
To make it harder, some of you wankers are moving targets, changing what you desire from being a paypig. It's trite to say, it doesn't "matter what the pig wants, only what the Mistress wants"  because, if the pig isn't getting SOME kind of erotic or psychological thrill from this, he's not going to serve Me very well.
And there is NO cookie cutter. For example, what turns on princess gigi would send dr x running. What turns on dr x, would send princess gigi into a panic.
And just to make it interesting, that might not be the case in a year. I get to adapt.
So in a nutshell.
A target contacts Me:
 I assess the target, find out what makes him/her/it tick, test My hunches and/or My understanding. Some pigs just tell you, and others aren't tuned into themselves enough to explain it, and some have nebulous ideas and seek something thrilling, but don't know excactly WHAT.
Put in a plan to hook that arousal psychologically with paying and pleasing ME. (this is really fun)
Take cash (Usually I can loop the training so that its more intense, and the pig pays more and more! This is FUN)
At some point reassessment may become needed. Things are not going smoothly, the money isn't flowing or the pig is reticient and balks at the service, or requires more attention to inspire him/her/it to pay. Sometimes in this stage, it's simply a matter of the cash drying up, but sometimes its just time to recaluculate so the interaction inspires the pig to cough up cash. If the cash is drying up, it might just be time to put the pig on ice, but other times, a heart to heart is worth it for both parties. These can sometimes be really painful and annoying for one or both but worth My time. I have gone throught this with most of My biggest spenders at some point!
Make a new plan and test it's effectiveness.  This is basically going back to step 2.
Rinse and repeat! Or…repeat and rinse! *laughs*
So I think I'm going to work on a fetish assessment tool. There are various ones out there for real life BDSM interactions, but I need one that just covers the situation of phone/online Domination.
Imagine giving Me all the information I need to USE you most effectively?
Here are My recent Pay to views. Go buy them, if you haven't!  THe video is freaking AMAZING
And if I get really into your head…..you might make My spending report!
And speaking of spending report,
I'm going to start with hypnowallet, who is trying to break his Lauren habit, but slide back down under My power for $108 session. Delicious!
PayPig Alert!  One legged, gimp loser suffered in the heat but couldn't stop himself from spending and spending on Me. He sent Me $450 since the last blog. I've got My sights pinned on much more!
My good boy who loves his stolen moments paid $157 for a couple really enjoyable conversations!
PayPig Alert!  and I had a great raise the rate session with steve q fucked. I took $307 of his cash this way!  YUM!
PayPig Alert!  I really enjoyed a long over due call from My shoe sniffing loser. He spent $375 on photos of My shoes. (with Me in the photos, he's not quite THAT pathetic–yet) After a session, he feels the pain for a while!
and micro was back, with a fun chat session of $224!  He tried and failed to quit Lauren
HUGE PayPig Alert!  paybitch terry was back again, as I extracted $1208 from him., I have lots of fun and games in mind for this loser! (The fun might be more on My part!) He's a victim of My black leggings and dark games!
and my sissy cock sucker was back, tranced to sleep and pay in chat. He spent $169 on our games!
New slave is "surprised" who is really surprised he spent $185.  He did over $100 in one session! He earned his mention!
My elegant foot lover returned to gift Me with $230 as I distracted him at work!
and back for more was helpful loser, spending $220 this time around! Since he joined NF less than a month ago, he has spent $759 on Me! Awesome!
slave mindfucked came back for round 2, this time for $174. He is astonished at how much I make him spend. He didn't expect it
PayPig Alert! and taxpig stopped by to pay Me $302 worth of taxes and penalties. He has a terrible wanking habit!
clubby gets a mention for $142 worth of spending.
PayPig Alert! and egghead opened his mind and wallet for My trancing and spent $290 on pay to views. Delicious!
My good girl, sissy j spent $190 on fun and games with Mistress. Oh, and cum persmissons, under her clit control contract!
PayPig Alert! Another victim of My black leggings was "more please" I extracted $435 from him. Divine!
Mmm x-dash84 was back spending $126. Always good to see him click and pay!
New slave!  Getting his first mention this week is "knickers"  He went crazy on My pay to views and spent $174. Delicious!
HUGE PayPig Alert! princess gigi's new "girlfriend" is not doing well keeping her away from Me. Miss gigi snuck around the harpy and spent $947 on Me since the last blog update.
HUGE PayPig Alert!  Getting yet another mention is Dr x. He spoiled Me for $811 on Niteflirt and another $568 on gifts and gift cards, including a big Amazon gift card, an Old Navy Gift card, and various asundry things I needed. Oh and yes jewelry, including a nice Uno de 50 bracelet I have been eyeing! (it's gorgeous!)
So it's wicked easy to get a mention here. Just spend $100 before I do another blog, probably in a week or two. I can help you! Just ask!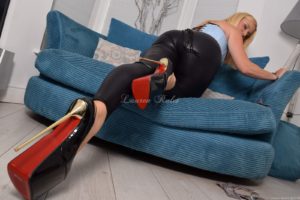 I get this question a lot.
How much should I pay you each session Mistress? Each month? What goals do i set to pay you?
For every wallet rape toy, and Dr x paying Me thousands there are easily a hundred of you paying a lot less.
Not all who buy something of Mine will end up being My paypig.
I lay traps, and do My manipulations and some escape.
Others I send away, because they have more desire to talk to Me than desire (or ability) to pay Me. I'm busy enough talking with the guys who actually DO pay Me.
So, how much do you pay Me?
Here is My step by step guide for YOU to figure it out. (Don't ask Me to do it, I don't care to)
Steps to preparing to be My paypig.  Option ONE:  Run of the mill paypig option
Do a budget. Pare it down where you can.  Remember that if you are paying Me on credit card, your monthly bill might go up each month, work that in.
Identify a discretionary amount.
Decide on the amount you will spend per session with Me, divide that into your discretionary amount and that will tell you how many sessions you can affort with Me. Note: The more you spent per session, the more you will enjoy it. I won't give you much attention for a small amout. You wont get ANY for a tiny amount.
Evaluate your choice by noting if its fitting into your lifestyle without notice, or if it is making you go without things you normally enjoy. NOTE: you SHOULD be paying enough to feel it. If you don't feel it. Pay MORE!
You might set goals. Pay a $100 pay to view sometime, Finish a PTV series. Pay $2,000 in a year.
Option TWO (My favorite!)  The EXTREME paypig option
Apply for credit cards NOW before you start maxing them out.
Begin spending huge amouts on Me fast and furiously
Liquidate assets to keep paying Me! (sell shit, cash in your retirement)
Assuming that you are spending 100s and thousands, you WILL get more attention than the losers that choose Option ONE.
Set lofty goals.  Spend $5,000 in one session. Max out a credit card in one evening. You will love it.
Here are some recent pay to views that you might have missed! Go get them now!
Now it's time for the spending report: It's a  long one because I had a vacation, and as soon as I came back, you guys all mobbed Me! Busy is good, but it makes it harder to blog!
PayPig Alert! Let's start it off with My pathetic junkie, gimp loser.  This one legged wonder spent $492, through calls and now emails. My brutal plan is to separate him from all his money so it doesn't go to waste when he finally keels over.
Huge Paypig Alert!  My paybitch terry is back, playing blackmail games with Me, and paying Me just $15 shy of $1,000 since last blog entry. Nice! He's going to be unable to stop, I know it!
the iFool played with danger with Me the past couple weeks, but he got lucky, coming out of it only $135 poor. Hey iFool, I wont be fucking around next time
PayPig Alert!  I was so pleased to see a long time slave who never left but was spending tiny amounts finally have a session where she spent. Marla was back, My addicted sissy paypig, and she spent $304.  This is a sissy I have caused over $100,000 of financial damage to over the years. I'm not done with you yet marla!
My addicted pantyhose slave was back with some hypnotic phone calls. His $135 is now Mine!
Huge PayPig Alert!  My titpay ATM returned again and again, spending nearly $630 since last blog entry! He really can only stroke and pay now….calling to listen to My voice, in steamy raise the rate sessions!
My special good boy and I had some stolen moments, and although he's been quite the world traveler lately, (Japan! England!) he still managed to spend $219 on Me.
My exposure sissy and I had fun with exposure games and she paid Me $260
Huge PayPig Alert!  PIG keeps getting more addicted.  He didn't think it was possible, but I did. He spent $730 since last blog entry!
Paypig Alert! Right after I re-named him, Extreme paypig disappeared. But I knew he would come back and he did, spending nearly $400 to begin training anew!
New slave! "newman" managed to squeak in with a mention with $107 of spending.
Huge PayPig Alert! and back and spending $1031 was hopelessly addicted flaming pig!  He tried to stay away. He failed of course
My long time slave irish dope stopped by to do a $200 session he claimed was part of his rent money. Too bad! Save more for Me next time dope!
Huge PayPig Alert and princess gigi, is the one who has a Dominant "girlfriend" trying to save him from Me. How's it going?  $943 since last blog!
and back spending more is the cute little maybe sissy "shopper" who spent $113 on chat with Me
My quiet gentlemen discovered the dangers and FUN of chatting and spent $203 in his first blog mention in a while!
Huge PayPig Alert and helpless dave kept finding his way to Me since the last blog, spending $575. YUM. I love that he is so HELPLESS to My temptations!
Another to squeak into a mention, was elegant foot lover with $102
Huge PayPig Alert!   Dr X can never stay away, and he pleased Me with lots of pay to views to the amount of $1013 AND about $250 on Amazon in gift cards and items. Dr X, that blanket is the softest thing, and I appreciated the computer accessories I needed. Good boy!
New to My blog and service is "mind fucked" who has a penchant for breasts and tight latex clothing. He's in trouble. He spent $221 since he joined Niteflirt on Me!
and also squeaking in for a mention is taxpig with spending of about $105. Hey pig, you OWE taxes. And a new month has passed. No more hiding. Cough it up!
Paypig Alert!  Peeper was back with some click and pay! I do like seeing his name come up as a wallet rape volunteer! This time he spent $307! He has spent more than $2500 on Me lifetime now!
My former extreme paypig, and now bankrupt loser, wallet rape toy, managed to scrape $161 together to send Me since last mention. See, there is still serving after bankruptcy!
New Slave! Another newbie to Me is "feathered pig" who spent $195 learning about the dangers of Mistress Lauren
Huge PayPig Alert!  My secret agent returned! He spent $641 just since My last blog! He can't stop spending, an he will get hard and horny reading his name here along with the other piggies!
Hypnovictim was back again, spending $119. I am on the lookout for you victim!
Another New slave!  I love new slaves and had a few this week!  This one, freshmeat spent $138 falling slowly under My power! Can't wait until next time!
and it's nice to see Loserbeast get a mention for his $115 🙂
Paypig Alert! "more please" was back and spending $270 on pay to views. I enjoy draining his wallet!
Huge Paypig Alert!  Humble sub was back for some rip-off victimization!  He gave Me nearly $600 and didn't get too much in return! So sad!
and steve q fucked stopped by for a rinsing of $165. I think he will need a bigger one soon
New slave AND Huge Paypig Alert!  I've named My new fan of My pay to views Helpful loser, for finding some dead links for Me,. and also paying a LOT of Money (best of all!)  He spent $559 popping his cherry to My manipulations!  A welcome addition!
and I had loads of fun with assignments and tortures for sissy j. She spent $159. I probably should make her pay more, but she's sweet.
Now, work hard so you can get a blog mention next week
And I reward you with another gallery
Pay the ass! Let it inspire you to pay!