Paypig Chicken Game
On April 10th, I began the Paypig Chicken game which will run through May 31st.
It *is* a competition.  Who will prevail? I've created a page JUST for this competition.  Many have played a little.  Several have hit Level 10 or higher which gets them a mention on the page.
I LOVE fanning the flames of competition, as you guys strive to be the top Loser, the biggest fool of a paypig for your Goddess.  Go for the glory of being MORE special than the other losers!
You can start here.   It's just ONE freaking dollar.  Of course, it gets worse, but you can just start it.
Find out at what level you chicken out!
Did you already start it and lose your place?  Email Me and I will help you pick up where you left off.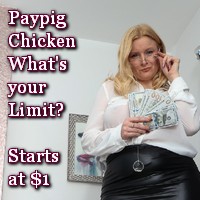 There is nothing more fun then pitting extreme paypigs against each other.
Who is the best pig? Who will be My favorite one?  Who outspends the other pigs?
WHo tries their best to make the list, even if they aren't on top.  (Most of you reading this could make the list if you wanted to)
Go please Me
Other recent pay to views you will want
And now it's time for the FUCKOVER report!
I want to add, that you guys are keeping Me comfortable while I am on a stay at home order (like most of us, honestly) you're bored, and spoiling your Goddess, just as you should!
Huge Paypig Alert!  Let's start with My special boy tom who kept calling for high level Financial Domination Counseling. He's made so much progress and devoted $890 to his therapy since the last report.
And calling often despite being really busy is boomer, who spent $274. Always a pleasure to use him!
And a blast from the past is bag boy, who spent $190 on a nice phone call
Legendary Paypig Alert! It's always a pleasure to session Dr x.  Since last review he spent $1905 on Niteflirt and $200 on gift cards from Amazon. He reminded Me that tonight is the one year anniversery of our huge $13K session. (that was amazing!)
Good boy helpless dennis spent $182 staring at photos of My breasts as he called Me.
Huge Paypig Alert!  My good slave paybitch terry showed his level of devotion in sending Me tributes after tributes and buying nice pay to views from Me. He spent $875.  Very nice!
My nylon slave spent $218 on phone calls and photos 🙂
Huge Paypig Alert!  Irish dope really went beyond expectations for Me this month, spending $660.  What fun we had! He's doing very well being so loyal!  He went quite far in the Paypig Chicken game!
Back again after another failed attempt to quit was clayton. He spent $120
Calling me several times as he is on lockdown in the US, while his wife is in the UK was My good boy with the special stolen moments. He spent $315 since last report
Lauren's footlicker has been doing a great job spending a little on most days. It's added up to $173 that used to be his and is now MINE 🙂
Extreme Paypig Alert!   PIG continued his spending stroke and pay ways, sending Me $1175 mostly in phone calls and chatting and tributing.  YUM!
Just squeaking into a mention was hypnowallet, spending $103.  He's trying not to spend on Me, but he's having trouble.  Just give it up hypnowallet, you know where your cash belongs!
I keep catching the sissy caged yankee on chat, and I managed to tease $237 since the last report from her!
Extreme Paypig Alert! My slave jeffnomore was back with another new account. My mission to turn him into a payslave is having a LOT of success. I was pleasantly surprised to see that he spent $1741 on our tasty session recently!
I'm laughing at candyballs because he keeps deleting and making new accounts.  He spent $139 total with 7 different accounts.  Hey candyballs, just keep one and it's so much easier to keep track!
And ds keeps returning again and again, this time for $254
New slave!   I'm always amused by the ones that show up curious in My chat, claiming that they're not a pay pig, but curious about what I do.  This happened with lost alex, and he ended up spending $195.  So fun!
and My good boy sissycocksucker came around for some fun hypno fun and under trance I separated him from nearly $200.
Huge Paypig Alert!  My titpay ATM did really well in the paypig chicken challenge. At the time of this writing, he is currently in the lead at level 18.  Between that and other spending, he totaled $631.  YUM!
Earning the first mention in the paypig chicken game was special k.  He spent $180 this past month!
Spending $180 on mostly spontaneous surprise tributes was helpless dave.  I love that!
Huge Paypig Alert!  Back again for more click and pay fun was star junkie! He did very well on the paypig chicken game and spent $530. Bravo!
Unable to stay away, My boi wayne spent $147 chatting and drooling over My thick ass photos!
Oinkloser10K stopped by to spent $119.  I'm going to lean on him soon for more.
Extreme Paypig Alert! Spending more than enough to get an extreme mention was noddy.  My goal for him is bankruptcy. He's maxed out his credit cards again, I think he should get a debt consolidation loan to pay them off so I can max them out again! His spending was a head spinning $1556
Spending $161 on his surrender to Me is egghead.
Huge Paypig Alert!  Back for more late night fun was sissy bambi!  She spent $671 since last report. I love triggering this bimbo.
And back for more spending was ninja! He disappeared for a while, but reappeared with $257 of click and pay!  Nice!
Spending $227 since last report was dirtbag.  Nice!
And back after a little hiatus was button, spending $176 on click and pay!
and finally
Paypig Alert! My good girl princess gigi has been very busy lately but managed to tribute Me $336 anyway.  AND MILESTONE!  She hit the $200,000 lifetime level of spending, the first of My stable to hit that sum! Well done gigi!
I am Fine.
So many of you have reached out to Me to make sure I am weathering this current COVID storm well, so I want to assure My fans, admirers, slaves and pigs that I am doing well.   Like most of the world, I'm staying home most of the time, except for some essential trips. We are well stocked here for all the essentials. One of the advantages of being your FinDomme is that I am already accustomed to being at home to use you pigs and no huge adjustments have been needed.  My state isn't on stay at home orders, but that's probably coming, and I know that many of you are on stay home orders.  While you are bored, load up your accounts and call Me, email Me or chat Me up. I will make sure your spending habits are exercised!
The past couple of weeks have been a blur of getting Myself ready, as well as helping family and friends who are more vulnerable get ready. Now it's just sit and wait and use you. (With at home exercise breaks!)
That made blogging a little hard, due to preoccupation with the outside world, but here I am finally 🙂  You will notice I did get the paypig milestones sidebar updated, and paypig goals updated 🙂 Enjoy!
Now, enough of that, let us move on to more important things.
Me of course
I think some mindless enjoyment is what you need right now, so I'm adding some hot leather, latex and strap on photos right here to get you into the proper frame of mind to serve Me!
Now, let's do the fuckover report!
Paypig Alert!   Let's start with My special good boy tom, who has been calling Dr Lauren for a "cure", and he's had to call often, spending $400.  Excellent!
Also calling often was target, who spent $135 enjoying My voice!
Huge Paypig Alert!  My good boy boomer has been calling and clicking and paying, and has helplessly spent $525.  YUM.
A loser who can't stop himself from spending is clayton. He will go away for a while, but he's been My slave a good ten years and I have changed his brain chemistry forever. His future is spending more and more $$$ on Me. He spent $192
Paypig Alert!  Speaking of helpless spending on Lauren, helpless dennis is another slave who just cannot cum without hearing My voice!  This cost him $390 since the last blog report 🙂
My good boy who loves stolen moments called Me for $254. I expect to hear from him a lot since he's in stay in place order in the states, and his wife is in a stay in place order in England!  I will be profiting from that!
LEGENDARY PAYPIG ALERT! 

(All sirens sound in announcement)
My useful idiot, noddy can't stay away from extreme spending!  The loser came around for a couple extreme sessions and the total ended up being. (Hang on to your hat)  $2932, just shy of three grand!  That makes Me wet!
Huge Paypig Alert! Back after a hiatus was sissy jocelyn from maryland, who was unable to stay away. I dove right into her mind and wallet and she spent $546! YUMMY
Spending with chat and tributes was caged yankee. This poor sissy can't stay away and she spent $152.
Extreme Paypig Alert!  My sissy gigi/AKA fagmuffin is finally done with her cow girlfriend. It's over, and now I have free reign of her time, money and sexuality and can keep her tiny clitty ASLEEP forever!   She spent $1415 since the last blog entry!
Extreme Paypig Alert!  Another extreme paypig spender is PIG. PIG is another on a stay at home order, and that is only compounding his addiction to Me. He keeps calling again and again for Dopamine Rushes!  He has no hope of moderating his spending on Me and it has amounted to $1495
Extreme Paypig Alert!   Yet ANOTHER extreme paypig is paytit ATM.  He saved up special for an extreme session and it was FUN! I can't wait to hear from him again!
NEW slave Extreme Paypig Alert!  There were a lot of extreme pigs hanging around.  A new one was an ugly virgin who has already deleted his account because he was too weak to stop paying. I expect he will read this and come back. They always do. He spent $1442
Coming around again was paydrone, with a couple fun sessions, spending $123
Huge Paypig Alert!  Hitting my blog again was "j the junkie" who usally spends a small amount often, but this time he went WAY crazy spending $412 on Me. I LOVE it!  Well done j!
And the Dane was back, spending $150 on pay to views and chat. I always enjoy him! Is Denmark on a stay home order? I do not know, I'm sure he will let Me know!
Paypig Alert!  Paybitch terry couldn't manage to stop sending tributes. That is just sooo much fun.  The addicted loser spent $348 since last blog entry
Good boy irish dope showed up for a nice $173 session. Soon there will be another!
Huge Paypig Alert!  My good boy sunshine has been working hard to earn money for Me. He did manage to spent $389 on Niteflirt and another $150 on Amazon. well done!
My leg slave I call extreme paypig tried to quit, but he's back and spent $275.  I'm working on making that MORE!
Huge Paypig Alert!  Good boy helpless dave spent $530 on chat and out of control tributes! I love that!  I see that he has deleted his account, but he will be back. He always comes back, like the rest of you addicts!
My good boi wayne spent $160 drooling over photos of My thick ass! He can't stop thinking about it!
Huge Paypig Alert!  My elegant foot lover has been so very generous to Me since last blog, spending $500.  Very nice!
Good boy helpful one clicked and paid $115, I hadn't seen him in a while, so that was nice!
Paypig Alert!  The slave dirtbag couldn't stop clicking and paying, spending $289.  Delish!
And My leg addict, who is also weak for tits, couldn't stop. I tranced $144 from him!  YUM
Paypig Alert!  Lauren's footlicker is going to bum that he just missed a HUGE paypig alert! Maybe next time. He spent $275, which is a really healthy amount for him.  If he spents $50 by the end of the day tomorrow, I'll change to to a HUGE paypig alert for him!
Buying more leggings photos was "more please" he has such a weakness for them, and he spent $125
Extreme Paypig Alert! Dr X can't stop pleasing Me. He spent $753 on Niteflirt and another $250 on Amazon giftcards, squeaking in for an Extreme mention!
Getting another mention is mindless, who has maxed out her cards on Me, but still managed to come up with $141 to please Me!
Huge Paypig Alert!  Spending $446 on Me, with about 6 different accounts was candyballs. The fool tries to delete the accounts to stay away, but that fails, and he makes a new one. Rinse and repeat!
Spending $291 was egghead. I have a feeling I will see more of him very soon. Let's see if I am right. (I usually am)
Huge Paypig Alert!  I had so much fun triggering sissy bambi into doing secret things she doesn't remember! Nervous bambi?  Good.  She spent a healthy amount of $720 Mmmmm
Back with a new account was jaybee!  He spent $193. Guys?  Why bother to delete your account, it doesn't work!
Huge Paypig Alert!  My good boy oinkloser10K was back with a vengeance spending $585.  YUM.I love watching this guy click. and. pay.  So fun!
Turning up to spent $110 was button. Nice!
Sneaking in for a mention was goat, for $101. I love seeing that guy pay like crazy at times!
Huge Paypig Alert!  Or maybe I should say Pay Pig Robot!  Wallet rape toy turned up to spend the most since declaring bankruptcy, a nice happy $505. Yes, I drove him into bankruptcy and he STILL can't stop spending $$ on Me. It's not really its cash anyway, it's Mine!
Visualize how good it will feel to pay Lauren
I want to take your brain on a journey of submission
Imagine that you have a wallet full of cash.  Take a moment to see it. Stock full of $50s and $100 dollar bills (Or whatever currency you use).  It feels like strength, like power, like sex.
Now, imagine you are naked, except for that wallet.  Naked. Vulnerable. Needy. Kneeling. It feels like vulnerability, like surrender, like sex.
Now imagine you are in front of Me. I am standing, above you, looking like this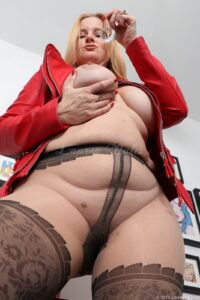 Now, imagine your cock getting hard.
-because you are hard
-because you are submissive
-because it's your desire to surrender power to a Superior Woman.
Engage all your senses:
-imagine the crystal swinging over My breasts
-imagine the sound of My voice as I lure you into a senseless state of     surrender
-imagine My perfume floating down, its delicate fragrance a love potion infiltrating your brain
-imagine the way the carpet feels on your knees, imagine the way your cock begins to feel more engorged.
-taste the excitement on your tongue as you imagine what My foot, or My breast, or My ass might taste like on it.
Imagine how all your senses will swirl together when you pay Lauren.
No need to imagine
you can experience the joy and bliss of paying Me.
Did you see this free audio?  No?  What are you waiting for?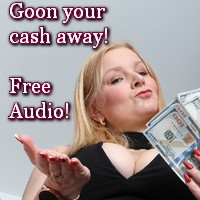 And this is another recent pay to view to surrender your cash to.
Now, it's time for the FUCKOVER REPORT!
I'm starting the report with beta boi. I think he might be more interested in FinDomme then he let on. He spent another $160.
Huge Paypig Alert!  Continuing with his escalating addiction was PIG, who is beginning to stop trying to resist. I won't rest until I have destroyed him and taken all his cash! He spent $536 this time around
And unable to stay away, even though he tried deleting his account was boomer. His efforts resulted in another $210.
Clicking in a haze a few times was bambi, who has triggers inserted into her brain stem. She just can't help paying when I get into her head!
Paypig Alert! Continuing with his self victimization was click addict, who couldn't stop clicking and paying. He missed his huge alert by $8 and spent $492.  Yum.
Barely making a mention this time was target, who spent $105
and my popper bitch, "pb" spent another $139.
New Slave.  New to My blog is "loser pony" who spent $155 learning how dangerous I could be.
My good boy who loves stolen moments called several times, spending $195
My exposure sissy did  a nice call and some tributes and spent $113
Huge Paypig Alert! I managed to tease $555 from helpless dave. He couldn't help sending Me ever greater amounts of cash! I really enjoy doing this to him!
Calling again to destroy himself was jeffnomore who spent $104.
I've managed to catch the sissy caged yankee a few times during the day lately, and it's cost her $227.
Spending $224 this time around was paydrone. I love taking his cash!
Huge Paypig Alert!  My paybitch terry was losing control again, sending Me large tributes on several days at the wee hours in the morning while I wasn't even online.  This added up to $565! That's devotion!
The Dane spent $121 in pay to views while chatting. I think he's due to pay again actually.
Playing in chat and tributing with fun hypnosis games was sissy cocksucker. He has no memory of spending $138 but he did!
Huge Paypig Alert! Reappearing after a hiatus was an old favorite, paycunt. (No one stays away for TOO long). He fell with a bang, spending $568 on his fuckovers!
My elegant foot guy spent $101 getting a mention!
It was SOOO nice to see Loserbeast clicking and paying!  He spent $250, what a good boy! What a Loser!
Huge Paypig Alert!  My estrosissy fagmuffin keeps spending, as usual.  This sissy has an on again/off again relationship with a girl, even though she's a hopeless virgin and the cow girlfriend is just taking advantage of her. I WILL wreck it permanently.  And fagmuffin knows it's true.  The sissy is still taking estrogen and she knows that I will suceed!  She spent $890 this time around.
Doing very well with spending is "veryhard4Lauren" who spent $245 on photos of My perfect feet! He's getting REALLY close to $10K lifetime level of spending!
Dr x pleased Me with $156 on Niteflirt and $50 on Amazon.  He's due for another big fuckover, and I cannot wait!
Coming around again was special k, who spent $161
The other thing I noticed about the spending report was the huge amount of clients that spent smaller amounts.  Some of them need to up their game and make the Fuckover report!
Until next time!
The Paypig Rush is unlike anything else
I am, of course, not speaking from personal experience, but from the perspective of a FinDomme who has sessioned hundreds of piggies over the years. and so many of them have described the experience, so I thought I might share it with you losers who have wondered what it felt like.
The cock begins to stir as the pig encounters Me. Perhaps an email, or seeing My listing.
Anticipating the fuckover, the cock gets stiffer and the piggy's heart rate rises.
Payment commences.  The pig edges his paycock.  Each payment causes a rush in adrenaline. The pleasure grows and grows. Each payment is like a small hit of a drug
Each payment causes a rush of pleasure. The pig may get dizzy. The pig's eyes may roll to the back of his head.
The buildup to orgasm is extremely intense and pleasureable.
A final large payment will result in the most intense orgasm the pig can imagine.
The pig will want to repeat the experience and will return soon to pay, even more, to experience the rush again. Many will listen to My recordings/videos as they return to pay, inspired by My words to go to even higher levels!
I invite My pigs who have experienced a rush to comment and expand on My words.  I may edit and add to this bases on what you pigs  relate to Me!
Here are some recent Pay to views you should buy!
And now it's time for the Fuckover report!
Legendary Paypig Alert!
I'm gonna begin with "mindless"  Mind less JUST missed an Extreme Paypig Mention last blog, but this time the sissy outdid herself, spending enough for a LEGENDARY mention of $2,632!   I was even surprised it had been that much, and I've been having fun, ruining orgasms and making her take out new credit cards! I wonder how much more extreme it will get before I break her.
Next, let's talk about sniffer, who has been calling multiple times! In just two weeks he spent $243. Keep that up sniffer!
New Slave and Huge Paypig Alert! New is a guy I'm calling beta boi, and although he claims not to be into FinDomme, he keeps calling for long conversations, mostly on the subject of Female Supremacy.  He's spent $542, not bad for a guy "not into FinDomme"
My special good boy surrendered $117 to Me to get an entry, with a couple nice phone calls!
Extreme Paypig Alert!  Sissy princess gigi has been taking estrogen on the sly and sending Me cash and hiding it from her soon to be ex girlfriend.  That cow is pissed at her because she is a sissy and not a real man, and I think she'll dump gigi pretty soon. Then gigi will be free to explore her femmy side again!  This sissy managed a couple phone calls and LOTS of tributes and sent Me $1002, some of it while she was at Disney World.  So funny.
My nylon slave got very excited by his pantyhose video and spent $139.  And even though he said he wasn't coming back, I know he will to see the new pantyhose photos I have!
Huge Paypig Alert!   Pig's addiction continues to become more extreme, as he chats Me, tributes and calls on a nearly daily basis.  This time around it was $544 Wow!
And gimp loser was back with some more end of life spending, sending Me $146.  Excellent.  Mostly in ONE huge email while on the phone with Me for some vicious insults.
New Paypig!  A guy I'm calling patch discovered Me and has enjoyed chatting and tributing Me! He spent $126 on his introduction to My wiles!
My elegant foot lover squeaked into a mention with exactly $100 of spending. I love money.
Paypig Alert!  My titpay ATM emptied his coffers a couple of times over the last couple weeks, spending $340.  We've been talking about having a 4 digit session and I'm looking forward to him making that happen!
Back again doing a lot of click and pay was quiet cuck.  He spent  $229, bringing him just $10 away from hitting a life time spending of $1,000!
Paypig Alert!  Squeezing in for another paypig alert was boomer. He called, and clicked and paid to the amount of $306.  Nice!
After a hiatus, ninja reappeared, returning as stealthily as he left, like a ninja!  He spent $166.
I'm so happy to mention Loserbeast again, this time for $150.  Yum.
Paypig Alert!  one evening I REALLY took advantage of no nonsense guy.  I just kept sending him ass photos and he kept buying them, whining about not being able to afford it, but unable to stop.  Yum.  He spent $460!  I loved our session!
Spending at least $117 on at least 4 different accounts was candyball. He keeps deleting them and making new ones. He is addicted and he has it really bad for Lauren. Deleting accounts doesn't seem to be helping.
Huge Paypig Alert! Dr X kept coming around, spending $486 on Niteflirt and another $227 on Amazon, mostly in gift cards, but he got Me some bubblebath and a Brita water pitcher. He takes such good care of Me!
Back again after a break was "surprised"  and I was not surprised that he spent $152. It was nice to session him again!
And sissy bambi spent another $214 this time around. We missed each other a couple of times or I think it would have been even more!
Most of these paypigs mentioned here experienced at least one Paypig Rush.  You want one too, don't you?
you want a blog entry too, don't you?
It can be yours.  Surrender your wallet to Lauren now!
I have great news!  I tried the beta program My computer programmer wrote for Me last night to calculate piggy spending and it works great!  (that's how the numbers were calculated in this post) That means I will be doing more frequent spending reports and more blog entries. I'm so excited about that.
It still needs to get transferred onto My own laptop to be used, and the programmer wants to tweek a couple of things, but it's ready.
That means I can thrill paypigs and motivate them to spend MORE cash AND have more time on My plate to actually write blog posts that get you losers pulling out your wallets.
Did My blog make you start spending on Me?
I am trying to learn what percentage came to Me because of My blog.
Now, let's do the FUCKOVER report! It's six weeks worth, so it's LONG.
I'm gonna begin with My boy wayne, who just cannot help himself. He kept telling Me he was trying to save money for Christmas but just kept tributing Me. He loves My curvy body.\
Extreme Paypig Alert!   Princess gigi tried to quit again, as she tried to patch things up with her girlfriend, who knows all about Me, and doesn't think I'm good for her. Of course, I'm not the one trying to make her deny her sissy nature. Miss gigi knows she is a sissy who belongs on estrogen and in panties for the rest of her life. She spent $1,808 despite taking a ten day break. Imagine how much it would have been without that break? There is a reason this girl is My lifetime #1 spender.   $196.478 Lifetime, I realize she will hit $200K this year, probably before summer.
Extreme Paypig Alert!  Another slave getting an extreme mention (again) is noddy.  He managed to hide for a while, but one night he succumbed to My maneuvers and ended up paying Me $1634.  That kind of spending is the only way you losers can give Me the shivers!
My good boy who loves stolen moments called several times for delightfully evil conversations. He spent $248
Huge Paypig Alert!  Going completely nuts on click and pay and occasional calls recently is boomer. I think I have really fanned a dangerous addiction in this slave, and he just keeps coming around, and he spent $582!
New to My blog is sniffer, who kept calling and calling and ended up spending $122.
Extreme Paypig Alert!   Another extreme alert for PIG. He's getting more and more out of control.  Recently,  he finally hit the 100K lifetime spending mark, and he's already up to $105K plus!  I LOVE that I as time goes on he has less and less control and needs to pay more and more! He spent $1729 since last review!
Paypig Alert!  Helpless dennis can't get hard anymore without hearing My voice.  What does that mean?  Lots of calls and paymail purchases, He spent $330!
Trying so hard to "cure" his FinDomme addiction is My special good boy, who called Dr Lauren several times, spending $201.
Huge Paypig Alert!  I think this might be goat's first Huge mention, he went really crazy clicking and paying things for Me! He spent $834!  YUM!
Paypig Alert!  j the junkie couldn't help himself as his addiction spiraled dangerously recently. He spent $355. YUM.
Another one who keeps calling is target.  He is another who just can't get enough of My mesmerizing voice, and he spent $228 this time around.
Paypig Alert!  My sissy, caged yankee can't stay away and she spent $325 since last spending report! YUM!
My leg addict kept trying to quit Me but instead spent $241. I don't really think he wants to quit.
Quietly spending $147 was peeper.  Surrender more deeply peeper!
Paypig Alert! Dr x pleased Me with spending and gift cards totaling $340. I have a feeling he is ripe for a Legendary Fuckover
Huge Paypig Alert!  Helpless dave stayed helpless and sent Me $530 in tributes and click and pay!
Another slave who kept spending was piglette. This loser handed Me $161 and won't be stopping anytime soon.
Extreme Paypig Alert!  Sissy bambi kept coming in a drunken haze, again and again.  How much did the bitch spend?   $1625.  Nice! (For Me)  Silly bimbo
My nylon slave is another who keeps popping back in. He spent $170
Huge Paypig Alert!  Oink Loser10K finally hit 10K. Now on to 20k! I see he has deleted his account, but we ALL KNOW he will be back!  Hey Loser, you spent $703!
My Australian paymoosie spent $165 on Me, mostly in gift cards, which I love. YUM.
I was really pleased to see Loserbeast get a mention for spending exactly $200.  Will 2020 be the year Loserbeast loses control and ravages his bank accounts for Lauren?
New Slave and Huge Paypig Alert!  Clicking and paying his way through My pay to views, "mindless" discovered why I am so dangerous.  He just missed an "extreme paypig" mention by $15. He spent $985.  Mindblowing!  I want to see more of that mindless!
dusty, aka jenny was back, clicking and paying and calling. This sissy spent $220 since last spending report. Nice!
Huge Paypig Alert!  Just missing an "extreme paypig alert" was titpay ATM! This robot paypig is so programmed to pay the tits, that I just have to withdraw from him just like he was an ATM. I empted this ATM of $975 since last blog entry!
The slave I think of as "finally quit" still hasn't.  I think he finally gave up on his delusion that he had stopped this, and is thinking of himself as a loserpig, which he is.  He spent $271.  🙂
New to My blog is "bewildered" who managed a mention at $158! Well done!
Paypig Alert!  And hoping he will recognize himself,  he's made so many accounts I dont even know his original member name. (When you delete your account, I lose your member name and notes that include the blog name).  This "client" spent $333 on two different accounts.  Good boy!
Back doing some spending was the Dane. He spent $198. I would love to see more of that!
My elegant foot lover pleased Me with $227
Huge Paypig Alert!  Egghead surrendered and paid again and again. Mind controlled, he can't help himself! He spent $540
dirtbag weakened and managed to get a paypig mention at $103.
Another deleted account that I can't recall who it belongs to (he changes his member name a lot too), was elric, who spent $255. Help Me out elric, who are you?
Paypig Alert! And also with a deleted account is candyballs, who reappeared to identify himself to Me!  He spent $358.  Now I remember who he is on the blog!
My good girl sissy j spent $233 and send lots of fun photos that I can tease her with on her special password protected page 🙂
Spending $180 was paybitch terry. I have My eyes on more of his cash.
Huge Paypig Alert! Back again is a paypig named dave, whose original blog name is also lost in deleted accounts.  Maybe he remembers and can let Me know.  He paid his way up to $703!  YUM.
Lauren's footlicker managed a mention with $112 of spending
And I am finishing up this fuckover report with a
Legendary Paypig Achievement!
My good boy sunshine came through once again, this time for $2,290 in spending, on Niteflirt, gift cards and gifts (My favorite is the new fitbit to replace the one that died) I LOVE seeing this boy's name come up in chat or email. He's smitten and I love it!  Well done sunshine!  (PS I'm due to hear from you!)
Now, will you make the next Fuckover report?
It takes $100 to make it
$300 gets you a  Paypig Alert Mention
$500 gets you a Huge Paypig Alert Mention
$1000 gets you an Extreme Paypig Alert Mention
$2000 gets you a Legendary Paypig Mention!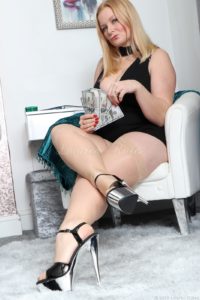 I groom paypigs.
I find two types of potential losers to take advantage of.
Paypigs and those with paypig potential.
I put things out on the web. On My Niteflirt listing, on this blog, on twitter, so My victims will find Me!
I tailor My words to attract the weak, the vulnerable, the lonely, all horny and with a hole in their life. Sometimes you find Me, and don't even realize that you have a gaping need being unmet.
But I have spent years honing techniques to get inside your mind to take advantage. I flatter you with attention, I take the time to learn about you, to find out what turns you on.
Then I leverage that knowledge and begin exploitation.
If you don't have the money to be exploited, I don't really bother. I do have some success at making men want Me sooo badly, they figure out a way to have money so I can give them attention and take their hard-won cash.  That will get them attention as long as the cash lasts, then I will dump them.
If I judge you have a little ability to pay, I train your cock to respond to abuse and paypig themes. It's laughingly easy.  Suddenly you can't stay away, and I make sure you are addicted and slowly start jacking up the prices.  Even within a session, things gradually cost more (as many of you know well)
When I groom you, it will feel soooo amazing. It will also be personally dangerous. Many will attest to it, but strangely, most of those still come around. (Or wish they had the $$$ to do so)
I will push your boundaries, and your cock will love it.
Missing today is a spending report.  Why?
I have a computer programmer working on a program that will hopefully make it sooo much faster to calculate My pig's spending, and it might be ready to beta test very soon. So I'm holding out, due to how tedious and times consuming doing it can be. I'll do a separate report next week, new program ready or not though.
Here are some recent Pay to views you should buy if you have not!
Let Me give a plug again for Pay Mail Club, if you click this button, you will get an email detailing it.
I initially planned to send guys almost daily emails, but in reality, it turns out to be once or twice a week at most. They are small amounts, usually $5 or less, and offer extra unreleased photos of some of My older stuff. Occasionally I record a special audio or a sneak peek of a new unreleased set.
I cannot believe that it's been way over a month since I blogged!
I've been really busy in My personal life lately (Life happens), and haven't been able to even be as available as much, although you guys still manage to spend!  I'm working on trying to improve My ability to keep My blog up to date, and doing the spending reports (This is gonna be a LONG one)
Since you've all been so patient, I thought you all deserved a new gallery.  These are some photos from upcoming sets waiting to be released! You have a lot to look forward to, including a couple videos too. And I'm always doing new shoots too!
The Fuckover Report!
Starting off on the Fuckover report are a couple of Legendary paypigs!
Legendary Paypig! Spending more than anyone this interval was tPay.  This pig gorges on extreme financial domination and then disappears for a month or a couple years. I wish I could cash rape him every night like this!  He spent…..$6,092 in one session!  That's what losers like him do. I bet he reads this and shows up for another wallet RAPE!
Legendary Paypig! Dr x can't stay away. He spent $3,740 on Niteflirt and another $700 on Amazon. That's a total of $4440 since last blog!  Lifetime on Niteflirt alone (not counting Amazon) he has spent over $156K lifetime, and probably at least 30K or so lifetime on Amazon too!  He's been with Me for almost 13 years now.
Extreme Paypig!  Good girl princess gigi aka fagmuffin couldn't stop her spending ways.  This sissy has been on again/off again with her girlfriend, but either way she can't stop her addiction to Goddess Lauren.  This time around since last blog, she has spent $1470 (in six weeks)  She is completely helpless to My mercy (or lack of it more accurately)
Extreme Paypig! Good little loser PIG was back stroking his pigstick and paying more and more. How much?  $1,238 since last blog!  BOOM!
Extreme Paypig!  My good boy sunshine took a little spending break, but came back in fine form!  He spent $1,535 in cash and another $450 on Amazon, for almost $2K total spending on his Goddess. Good boy sunshine!
Extreme Paypig!   The long gap between blog entries helped paytit ATM to hit extreme status.  This piggy can't afford this, but he does it anyway, because he is a victim of his addiction to Me. He is a good ATM loser. He spent $1007 since last update!
Next is long time loser paybitch terry.  He knows he's a loser, pretends he isn't sometimes, but he is. He comes back again and again. He spent $179 this time around, but I'm predicting a bigger session soon.
Huge Paypig Alert!  Good boy boomer spent $600 on phone calls and click and pay!  I LOVED seeing it. He's getting pretty close to the $4,000 level of spending!
Back again and spending $154 was cartman.  Do it again loser!
Paypig Alert!  Back for more abuse was steve q fucked. I managed to rinse the loser for $391. He deserves to lose more cash than that to Me…. I'm waiting steve.
My special good boy spent $131, he returns again and again.  I really enjoyed our calls.
Paypig Alert!  My special good boy who loves stolen moments called Me a few times and bought some pay to views.  He spent $319 since last blog entry!
Spending $200 during this period was helpless dennis. He finds he can only cum now by calling and buying photos of My tits.
Paypig Alert! My good boy nylonslave couldn't stop worshipping Me. He spent $350 worshipping Me! YUM
New to my blog is dusty, who squeaked into a mention with $100 dollar phone call.
My elegant foot lover spent $127.  I miss him, we haven't connected much lately!
Huge Paypig Alert!  jeffnomore called Me twice and clicked and paid while he did it. These long calls and pay to views ended up costing him $758 since last blog entry!  Nice!
My long time slave clayton has been calling me since he was 18, and we figured out that I altered his brain development because he was still impressionable. I have no mercy, and he's headed toward financial ruin at My hand.  He spent $258 this time around.
Huge Paypig Alert!  My good boy and financial gelding and I had a fun chat and tribute session and it was very profitable for Me!  How profitable?  He spent $559.  YUM. Can't wait to do it again!
Back with a couple of phone calls was piglette, this little piggy spent $120 since last blog entry!
Calling for the first time in a while was gimp loser. I thought the worm had died, but apparently not. He spent $178 of his end of life cash on Me.
Huge Paypig Alert!  Loser noddy was back buying My pay to views one night. He spent $360. Soon he will be getting another legendary mention. I feel it in My bones.
My good sissy cocksucker went to sleep in a trance for Me and spent $275 as I had fun twisting the sissy's mind!  This sissy is only about $7 short of lifetime $5k spending!
Huge Paypig Alert!  My long time slave eggy was back for several delicious paypig sessions. I can never get him to buy huge emails, but I can get him to buy a ton of moderate ones that add up.  He spent $693 since last blog entry!  I happened to notice that his lifetime spending is up to $39,910, so close to 40K!
Good boy gutter dweller was back for $130 of click and pay just a couple days ago.  Yum.
Paypig Alert!  The dane was back chatting and buying pay to views, and I was happy to see his spending add up to $395!  I like a dane with cash to spend!
Also doing click and pay a couple of days ago was beta male bert, who spent $144.  Nice!
another click and pay addict, that I call "click addict" haha, was back and spent $221 mindlessly buying emails.  Those click and pay guys that just spent on their own are really easy!
Huge Paypig Alert!   Sissy bambi just cannot stay away, even though I scare the crap out of her since I have unedited photos of her dressed in her sissy getup, and can expose her whenever I want.  She spent $602 since the last time!
Getting a mention this time is Lauren's footlicker.  This good boy doesn't usually spend a lot at once, but he spends every week and over time it's added up.  This time he spent $110 and lifetime he is up to $3,565. Over time it accumulates!
My good girl sissy j spent $143, lifetime she is closing in on $12K ($350 more to go). Another example of how regular smaller amounts add up!
Lastly, getting a mention is wallet rape toy.  He spent $122, since I bankrupt him and they took his house, the courts have attached quite a bit of his income. But he still spends what he can on Me.  He had several legendary sessions with Me. Now he strokes to the memory of it.
Load up your account, so you can make extreme paypig memories with Me!
I warned you.
I consciously connect in your mind the orgasm and pleasure of paying Me. I offer it as a warning.
you will get addicted
you think it can't happen to you
but it can.
Then there is shame, due to the embarassment you feel for spending so much on Me, even though I warned you. Because you are a submissive loser, you will probably get aroused by your shame. This will further trap you into My paypig cycle. I warned you.
you will return to tell Me you're not doing this again. But you do, usually starting within moments of telling Me you are done.
The next orgasm is more intense. The money spent is more…
The cycle is developing. Addiction is beginning.  I warned you.
I will have no mercy
I am dangerous, and I am warning you.
Let's talk about the warning.
It has many layers
It attracts submissive men who are attracted to powerful dangerous women.
It warns off some men who would probably be a waste of My time anyway. (I wish this were foolproof, alas it is not)
It gives Me cover to blame your addiction on yourself later, "I warned you" Ironically, it will contribute to the SHAME that aids Me in addicting you. Victim blaming is so fun for a sadist. It makes a great gaslighting tool.  I warned you.
This is your fault that you're addicted. you couldn't stop jerking off, and now all this gooning is making your credit card balances climb.
This shame is sending you right back to your Niteflirt account to add MORE cash for Lauren.
The warning does something else, for Me. It lets Me off the hook. I can keep abusing you because it's YOUR FAULT. I can keep raping your wallet because YOU ASKED FOR IT. I can keep fucking you over because it's not MY fault you have no ability to stop wanking your loser cock.
You deserve what's coming.
I may as well have a little fun with it!
I deserve it.  I warned you.
New PTVs
Schedule Changes:  I have edited the schedule, (see right sidebar) and I am experimenting with less time logged into Niteflirt and more time doing things like shooting and editing videos/photos, making recordings, writing blog entries, updating webpages, etc.   I used to be able to do more of that stuff while logged in and available, but the Niteflirt Chat option is making that more difficult, with simply too many interruptions.
I MAY be available earlier in the day, you can always look to see if I am logged on, but I think it's better to offer fewer hours you can count on.
Now it's time for the
FUCKOVER REPORT!
Legendary Paypig Alert!
I added it up twice to be sure. In the middle of this spending spree, he tried to quit Me. I don't think it lasted a week.  He has slowed down from the frenzied pace the first week of October, but the number is very impressive.  My good boy sunshine spent $7281 (If I am getting everything on Amazon counted, it gets confusing sometimes). Most of that in spending, not gifts!   What a very good boy, and I'm glad he's back. I don't expect as many "legendary" mentions from him, but they will not surprise Me!
Paypig Alert!  The next mention goes to boomer!  This slave has been very busy and he is sliding deeper into the paypig cycle.  This time around he spent $362
Hitting the $10K lifetime spending level this time around was steve q fucked. It took a single $222 session to pop him over that threshold.  I cannot wait until the next milestone!
The discovery that helpless dennis can't cum until he hears My voice has ended up being pretty profitable for Me. A few shortish phone calls and pay to views added up to $268, a good return for My little time!
Huge Paypig Alert!  As her relationship has disintegrated with her soon to be ex-girlfriend (we've nicknamed cow), princess gigi has been able to spend more time with Me again. This sissy hasn't had an orgasm in MONTHS and she didn't think her limp clitty was working at all because it wouldn't respond to cow.  It only took one phone call to prove to her that it DID work, but only if I gave it permission to work, and she had her first sissy orgasm in I don't even know how long, followed by a repeat a few days later.  Now, I'm not gonna let gigi cum willy nilly all the time, but I did want to show her that it was broken for her drama girlfriend and to end it with that cow. I guess cow is moving out this weekend, about time!  Miss gigi spent $740 on her Goddess!
My elegant foot lover squeezed in a mention with $120 session. I think I need more sessions with him!
Paypig Alert!  A slave I call PB on the is getting his first paypig alert!  A few raise the rate calls is responsible for his mention! He spent $331.  YUM
I have a prediction!  My nylon slave told Me he was quitting Me.  This time around he spent  $270.  I bet I hear from him because I have NEW pantyhose photos. There is no quitting Lauren.
Huge Paypig Alert!  PIG can't stop. His addiction is getting worse. Stroking his pigstick delivers the addictive neurochemical dopamine to his brain and he needs daily fixes.  This time around he spent $885. I can't wait to see how bad it gets!
New to My blog, but not to Me is "Lauren's footstool". We had a great session of raise the rate phone calls and he spent $190 in just a few minutes. Yum!
Paypig Alert!  Making a very nice mention this time around is gutter dweller! He surprised Me when I totaled up that he had spent $365 mostly on click and pay when I wasn't around!  Well done!
My good boy who loves stolen moments managed a mention with a couple of phone calls totaling $110. I expect to hear from him soon, he's been traveling a lot on business lately, and I noticed some business news that I think probably is keeping him away more. When he makes it back to the States, I know I will hear from him.  I'm always the first person he calls when he lands.
Squeaking in for a mention is cl (clearly loser) who spent $100 exactly since last blog entry!
Spending $206 this cycle was dirtbag! It was so nice to see him clicking and paying!
Huge Paypig Alert!  Addicted and tortured, paybitch terry was back to worship Me with his cash. This time around was $682.  YUM
My boy wayne spent $165 mostly on chat and tributes.  He is a sucker for My big thick ass!
sissy caged yankee has found Me online more recently and I extracted $173 from her
And for the first blog mention in quite a while, is mind-controlled john, who spent $235. He's creeping onto the 10K lifetime spending level!
Paypig Alert!  Losing himself in Me again was egghead, this time around spending $427. Stroke, Obey, Surrender, Add more to the Account, Repeat!
Back to spend $145 was click puppet.  Another session or two and he will hit the $2K level of spending!
Back with a beautiful session that included a $100 tribute was cucky phil, the ass lover. He tried to quit and failed. Again. Like so many before him, and many more to cum.  He spent $250 on his reunion with Me!
New Slave!  Paypig Alert! Losing himself in My click and pay series was a slave I'm calling "click addict"  I don't think I can take credit for his click addiction, but I sure don't mind it! He spent $318 on his debut!
Slave peeper was back, and this loser clicked and paid his way through $190. Nice!
and sissy marla, who I miss sessioning stopped by for a quickie of $143.  I miss those 4-digit sessions though! Save your money good girl!
Good girl miss piggy spent $190 on click and pay! Very good
Huge Paypig Alert!
My no nonsense guy can tell you all about My abuse and being addicted to Me, and not heeding My warnings. He tried to stay away and was doing pretty well until last week when he got weak and spent $711 on Me! Nice!
Good girl titzombie squeezed in a mention with $120. Nice!
Paypig Alert! Dr x, who is still licking his wound from a major session last month, well into 4 digits, still managed to spend $486 between Niteflirt and Amazon.  Good boy!
Since the last blog entry, a short ten days ago, I have cash fucked My slaves, sissies and losers a total of $16,610.  WOW! I love that level of devotion.
Three slaves reached legendary status, and I don't think that has ever happened before, certainly not in only a ten day period.   If I earned that way EVERY day, it would be $606,000 plus in a year.  Sadly it's not quite THAT legendary, but a girl can have goals!
For fun, I put the spending in order, from top to bottom. Keep in mind lots of pigs spend less than $100, and don't get to even get recognized as a pig.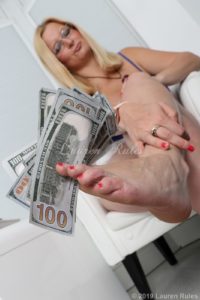 FUCKOVER REPORT!
Let's start with the LEGENDARY PAYPIG ALERTS!
#1. Dr X came by again for another HUGE session. Not as big as the $13,200 session we had in May, but quite awe-inspiring with $7,132 on Niteflirt and another $1698 on Amazon, mostly in gift cards for a jaw dropping total of $8,830!!  Part of this spending was a very delicious long phone call, which we hadn't done in ages.  Dr X is mine forever. He's been with Me for 12 years, and he knows he will never escape.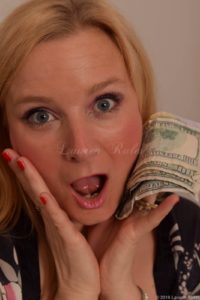 #2 Noddy  read the last blog where I taunted him for not getting a better mention, and he made it his goal to get a Legendary Mention.  And so he did.  He called several times at a rate of $50 a minute, and between that and fucking huge ptvs(up to $500) he spent $2835. MOST weeks this would be the #1 spender, but Dr X had other ideas.
you can see between those two pigs alone, I cash raped for more than 11K!
And Squeezing in for a Legendary Mention
#3 was sunshine, who continued his beautiful spending ways, totalling $2007 and squeaking in for the legendary mention!  Can you imaging paying Me more than $2K and only being the third biggest spender?
Next comes the Huge Paypig Alert!
Coming in #4 after the last Extreme mention on the blog, loser3188 couldn't stop, this time adding another $494 to his spending on Me!
And #5 is My good girl princess gigi/Fagmuffin kept coming back once or more daily to send small tributes that add up. Her total was $492.  She and her girlfriend seem to be on the verge of splitting yet again, and gigi has secretly started taking estrogen and wearing panties again. She has a tiny virgin limp noodle clit that is likely to stay just in that stay indefinately.
Even after spending so much, #6 and getting a Huge paypig alert was PIG, who succumbed to yet another game we invented to separate him from his cash. He spent $421!
#7.  Next, doing so well and being such a good girl was My sissy titcunt. She spent $356 one day on Me, making Me sooo happy! Well done! She gets so dizzy when I send her photos of My breasts, she just keeps paying.
In other mentions
#8 Sissy caged yankee came back a few times for chat fun, spending $142
#9. Managing a mention with $113 was boomer. He's becoming addicted to calling Me!
#10 Good boy wagner spent $108 mostly on pay to views of My perfect ass!
So the list of those that got mentions was short this week, but MIGHTY! Wow!
I am considering some changed to the Fuckover Report
Fuckover Report Poll
I am thinking of making some changes to the Fuckover Report. Choose which you like best
And finally, I have a HOT new video. I think it's probably the most arousing one I have ever made. I want you to imagine that cash in it was the cash I took this week from a paypig as you watch it.  Obey and buy it!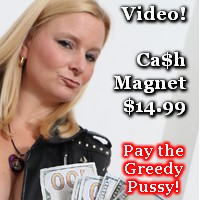 A simple truth is that I will do whatever is in My power to completely addict you.
I want you TOTALLY obessed with Me
I want your cock to get hard when you think of Me
and eventually I want it to ONLY GET HARD when you think of ME,
needing to pay Me for your pleasure….and each orgasm you have thinking of Me will only addict you more.
An endless loop of paying and cumming and paying more and more for the bliss of being My paypig!
I want you to remember this as you look at these photos, stroking for each one and saying
"i send my cash to Goddess Lauren, i obey!"
and when you are done, you can send Me a tribute!   ( you know you must)
Also, see all the recent pay to views!
Now it's time for the fuckover report!  I haven't done one lately because I was on vacation and came home feeling really lazy at the end of the summer (Yes even I am occasionally struck with being lazy)
But I know so many of you are burning to see your name in print, so here we go! I haven't done it in a month, so it's long!
My construct was back and paying for ruin, this time he spent $113
Huge Paypig Alert!  Boomer was back, just missed an Extreme mention ($1,000), but he's headed in that direction!  He spent $962!  I love seeing him slide deeper into mindless paydrone territory for Me!
And back and spending $132 on a nice phone call and pay to views was helpless dennis. Keep losing yourself in My lovely breasts dennis!
New Slave! New to Me and the blog is mister ed. We enjoyed phone calls, chat and he indulged in pay to views and some tributes too!  He spend just under $300, and I can't wait to use him again!
It was so nice to see My addicted nylon slave again, and we had a beautiful session, with him spending $183. He just can't get enough!
Legendary Paypig Alert!

  Just before I went on vacation to Colorado, I had an EXTREME session with
loser3188

.  This loser surpassed 10K lifetime in spending but had his evening session with Me ever, spending a sizzling $2017.  Just WOW!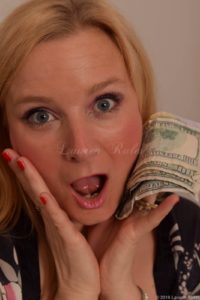 But as Legendary as that was, it didn't live up to My new slave sunshine, who has continued his paypig ways!
Uber-Legendary Paypig Alert!

  Sunshine spent $3794 on Niteflirt, and $3,841 on gifts and gift cards, including some early Christmas shopping for Me and an air conditioner.  (Totaling $
7,635

WOWZA!) I think you will see sunshine's name pop up a lot and that he'll be joining the ranks of wallet cunt and dr x. MMMmmmm. He's quickly becoming a favorite!

Around a bit this week was My exposure sissy, and we had some phone fun for $162.

Paypig Alert!  Back with a new account was loser gimp.  This cripple just couldn't stay away, and he sent Me $340 so far this time around!

My boy wayne and I had some chat fun in the amount of $130. I know how to mesmerize him with ass photos.

Paypig Alert! I have had a lot of chat fun with sissy cocksucker tim.  This little fag can't help but pay Me, and this time he spent $360, most of it in a trance he can't  remember later, which is fine, because I can tell him to send $$ at this time and he does! *laughs*

My generic NF client was around with another new account , spending $138. There is no telling how many thousands this loser has spent on Me over the years, he keeps deleting and making new accounts, and the records are lost.

Paypig Alert! Another slave who spent a bit this time was My good boy who steals moments. He loves to call when he gets home from traveling (he's quite the world traveler) and tells Me his adventures in conning rich woman from their cash to give to Me! So fun!  He spent $340 this time.

My ATM titpay loser spent $238 on a couple fun chat and tribute sessions. He loses it over My perfect tits!

Huge Paypig Alert!  PIG kept coming back for chat and tributes, as usual, with some phone calls thrown in to really fuck with his head.  Despite his efforts to be "good" and stay away, he spent $580, which I consider pretty good!

I know that pit-lover is looking forward to this entry! I figure he spent about $122 to get this mention! I think that there is a larger session coming soon for him!

Huge Paypig Alert!  Helpless, paydrone was back, spending $581 mostly on chat and tributes, and just couldn't stop!  He is almost at $5,000 lifetime spending!

And unable to stay away, especially as I am available more often earlier in the day, was caged yankee, who spent $290 on his Lauren habit! I love those kind of habits!

My financial gelding chatted and tributed with Me a bit. We were disappointed that his long awaited chastity device was a little too tight. (But the perfect tiny length!) More waiting as the larger ring has to be delivered, so slow. We want that thing on him a VERY long time, so it has to fit right. He spent $229 with Me chatting all about it.

Paypig Alert!  My obedient slave egghead started coming around again this week, and managed to pay me $436 as I made his mind go blank like a puppet or a drone! Obey egghead and ask for more!

noddy managed a mention at $118. I long for him to have another "legendary" mention. Nothing better than that.  Get the cash together noddy and I will use you and live-tweet it again!

Coming around again was paybitch terry, admiring Me with $125!

Huge Paypig Alert!  When you guys delete your accounts before I get a chance to write the blog, I do not always remember your blog name! I know this guy has one, but I can't remember it, I log in it your account 🙂 (There's so many of you!)  This guy has a four letter name beginning with l and he spent $390!  Reactivate your account and ask Me to fix your blog name!  Edit: It's boomerang! He reactivated his account and I am fixing it right now! 🙂

My quiet gentleman bought enough pay to views to hit $130 in spending. Nice!

Huge Paypig Alert!  Sissy bambi managed $302 to get her huge alert! I wish we had more compatible schedules, we have fun!

and wallet rape toy came out of his bankruptcy hell long enough to spend $132 on Me. I figure eventually he will rebuilt his credit enough so that I can destroy it again!

Spending $185 on gifts and gift cards for Me was paymoosie! Someday moosie, I'll make you buy some really big gift cards!

Huge Paypig Alert!  And princess gigi/aka fagmuffin is still sending multiple tributes just about every day. This month she sent $841. Her noodle is limp, she hides her estrogen pills from her so called "girl friend" and she's still a virgin.  That's the fagmuffin report for this month!

Now, the rest of you can plot on how to earn YOUR mention in the fuckover report. I will have some pretty nice Pay to views coming out to tempt you and to help you in that quest! Stay tuned!