Paypig Chicken: How far will you go!
Paypig Chicken Game
On April 10th, I began the Paypig Chicken game which will run through May 31st.
It *is* a competition.  Who will prevail? I've created a page JUST for this competition.  Many have played a little.  Several have hit Level 10 or higher which gets them a mention on the page.
I LOVE fanning the flames of competition, as you guys strive to be the top Loser, the biggest fool of a paypig for your Goddess.  Go for the glory of being MORE special than the other losers!
You can start here.   It's just ONE freaking dollar.  Of course, it gets worse, but you can just start it.
Find out at what level you chicken out!
Did you already start it and lose your place?  Email Me and I will help you pick up where you left off.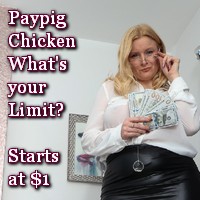 There is nothing more fun then pitting extreme paypigs against each other.
Who is the best pig? Who will be My favorite one?  Who outspends the other pigs?
WHo tries their best to make the list, even if they aren't on top.  (Most of you reading this could make the list if you wanted to)
Go please Me
Other recent pay to views you will want
And now it's time for the FUCKOVER report!
I want to add, that you guys are keeping Me comfortable while I am on a stay at home order (like most of us, honestly) you're bored, and spoiling your Goddess, just as you should!
Huge Paypig Alert!  Let's start with My special boy tom who kept calling for high level Financial Domination Counseling. He's made so much progress and devoted $890 to his therapy since the last report.
And calling often despite being really busy is boomer, who spent $274. Always a pleasure to use him!
And a blast from the past is bag boy, who spent $190 on a nice phone call
Legendary Paypig Alert! It's always a pleasure to session Dr x.  Since last review he spent $1905 on Niteflirt and $200 on gift cards from Amazon. He reminded Me that tonight is the one year anniversery of our huge $13K session. (that was amazing!)
Good boy helpless dennis spent $182 staring at photos of My breasts as he called Me.
Huge Paypig Alert!  My good slave paybitch terry showed his level of devotion in sending Me tributes after tributes and buying nice pay to views from Me. He spent $875.  Very nice!
My nylon slave spent $218 on phone calls and photos 🙂
Huge Paypig Alert!  Irish dope really went beyond expectations for Me this month, spending $660.  What fun we had! He's doing very well being so loyal!  He went quite far in the Paypig Chicken game!
Back again after another failed attempt to quit was clayton. He spent $120
Calling me several times as he is on lockdown in the US, while his wife is in the UK was My good boy with the special stolen moments. He spent $315 since last report
Lauren's footlicker has been doing a great job spending a little on most days. It's added up to $173 that used to be his and is now MINE 🙂
Extreme Paypig Alert!   PIG continued his spending stroke and pay ways, sending Me $1175 mostly in phone calls and chatting and tributing.  YUM!
Just squeaking into a mention was hypnowallet, spending $103.  He's trying not to spend on Me, but he's having trouble.  Just give it up hypnowallet, you know where your cash belongs!
I keep catching the sissy caged yankee on chat, and I managed to tease $237 since the last report from her!
Extreme Paypig Alert! My slave jeffnomore was back with another new account. My mission to turn him into a payslave is having a LOT of success. I was pleasantly surprised to see that he spent $1741 on our tasty session recently!
I'm laughing at candyballs because he keeps deleting and making new accounts.  He spent $139 total with 7 different accounts.  Hey candyballs, just keep one and it's so much easier to keep track!
And ds keeps returning again and again, this time for $254
New slave!   I'm always amused by the ones that show up curious in My chat, claiming that they're not a pay pig, but curious about what I do.  This happened with lost alex, and he ended up spending $195.  So fun!
and My good boy sissycocksucker came around for some fun hypno fun and under trance I separated him from nearly $200.
Huge Paypig Alert!  My titpay ATM did really well in the paypig chicken challenge. At the time of this writing, he is currently in the lead at level 18.  Between that and other spending, he totaled $631.  YUM!
Earning the first mention in the paypig chicken game was special k.  He spent $180 this past month!
Spending $180 on mostly spontaneous surprise tributes was helpless dave.  I love that!
Huge Paypig Alert!  Back again for more click and pay fun was star junkie! He did very well on the paypig chicken game and spent $530. Bravo!
Unable to stay away, My boi wayne spent $147 chatting and drooling over My thick ass photos!
Oinkloser10K stopped by to spent $119.  I'm going to lean on him soon for more.
Extreme Paypig Alert! Spending more than enough to get an extreme mention was noddy.  My goal for him is bankruptcy. He's maxed out his credit cards again, I think he should get a debt consolidation loan to pay them off so I can max them out again! His spending was a head spinning $1556
Spending $161 on his surrender to Me is egghead.
Huge Paypig Alert!  Back for more late night fun was sissy bambi!  She spent $671 since last report. I love triggering this bimbo.
And back for more spending was ninja! He disappeared for a while, but reappeared with $257 of click and pay!  Nice!
Spending $227 since last report was dirtbag.  Nice!
And back after a little hiatus was button, spending $176 on click and pay!
and finally
Paypig Alert! My good girl princess gigi has been very busy lately but managed to tribute Me $336 anyway.  AND MILESTONE!  She hit the $200,000 lifetime level of spending, the first of My stable to hit that sum! Well done gigi!