Paypig World Cup 2018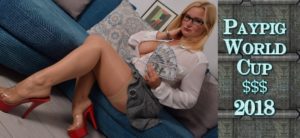 Beginning on Friday Sept 7th at 6 pm, the Paypig World Cup 2018 will begin!
It will run for one week, and will end Friday Sept 14th at 11:59 pm.
You know that only the most special paypigs will be deserving of accolades on My blog!
There will be lots of stuff you can buy over the week. A special video. Photos, Goody bags.
There will be subcategories. Most money spent on one phone call, fastest to hit the $500 level, the biggest tribute and more!  The Paypig World cup will have something for every one.
Maybe you can't win the big prize (Most money spent on Me during the week), but you can aim for one of the subcategories!
Your prize?  Bragging rights, blog mentions and special photos and audios.
Keep an eye on your Niteflirt mail for information! Subscribe to My blog for updates!
Pay for the glory!

This is one championship you can buy!