I've written how I'm taking down a Masturbation Game I've had up for over a year now, so that I can write a new game.  One that will be unlike any game you've ever played.  I'm conceptualizing it now..Trying to decide what goodies to put in. It's going to be part maze, part mind fuck, part scavenger hunt and part tease and denial, and part treasure hunt.
The object is of course, to hook you in, make you click and click and spend a small fortune on me.  Sometimes I've been surprised at what will make a guy click and what makes him walk away. We will see what I've learned 🙂
You have to buy this on Niteflirt.  So if you're not on it, go join.
If you are not already on NF….you should join from this link….you will get three free minutes to call me as well,  click here

And after you join…you can play this Mindfuck Game that I designed for weak men.
That would be you. I'm not ordinary, I find many ways to exploit men. Sometimes I do it through automated means, which I think it hilarious.
I set the game out like a trap.  And submissive men just wander in and set it off…
Don't believe me? Go see.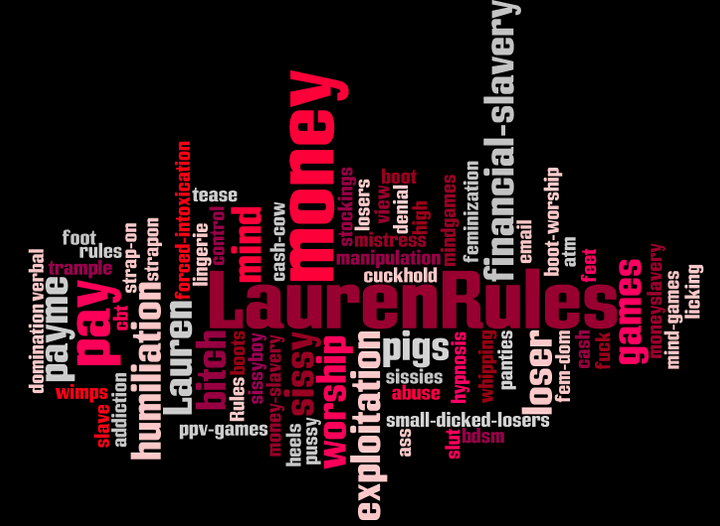 This blog is for anyone curious about the inner workings of a Financial Dominant.
I do not speak for all, but I do speak for myself.
I came across this fetish backwards. I have been a lifestyle Dominant in my local BDSM scene for years, its part of my relationship style. I came to know myself as having a deep sadistic side. It didn't satisfiy me to just to hurt someone physically, I enjoyed orchastrating the mind fuck on my slaves and submissives. I enjoyed making them face dark things about human kind and themselves. I loved making them weep and kissing their tears away. I did not and still do not practice money exchange for live play.
Some years later, I came to explore my BDSM fetish as a telephone fem-dom on the predecesor to Niteflirt.com, a site called Keen (It still exists, but no longer offers adult services). I did this on a very part time basis, for extra money as I drudged off to work like most wage slaves every day.
By the summer of 2007 I was ready for life changes. I quit my job as a wage slave and relocated to a community I had made connections in and loved. My original plan was to take Niteflirt calls to earn money until I found a job.
Something amazing happened. Since suddenly I was available regularly, it only took a matter of weeks before I had built up a clientele so strong that it no longer made sense to return to a "regular" job. It didn't take long for me to begin to deeply appreciate not only the income I was earning but the absolute flexiblity of controlling my hours and when I worked and had both the time and money to vacation as I wished.
Like most Niteflirt girls, I create a listing in financial domination, really having little clue as to what it was about, but figuring "it can't hurt' No one ever calls it.
Skip ahead a few weeks, and I get a lovely call on my regular Mistress listing from a lovely man that I immediately connect with. He begins calling me several times a day, and it comes to light that he has a fetish for financial domination. I pay close attention, and its not long before the sadist within awakens and responds to the money masochist. I take him to the edge financially many times over the course of the following weeks. A piece of me has pangs of regret, I have come to enjoy him and his calls. We get deeper and deeper, as he liquidates asset after asset to satisfy our mutual need.
Eventually, I break him, alas, the fetish turned out to be stronger than my affection for him. I cannot stop and he cannot stop Me. Him maxing out his credit cards with no means of paying them off easily stops the train.
Around this time, I start attracting more money slaves , and I realize that each contact leads me deeply aroused. Most of my fantasies now revolve around using men for money, to the point of causing them financial distress.
Am I a piranha? Well, piranhas are predators that swarm in a group. I work alone, so I would have to say. No.
Am I a vulture? Vultures pick apart dead carrion to the bones. I prefer lively prey with meat on the bones. So once again, I have to say, No.
I am a woman with a fetish for a power exchange. A woman who now lives a good life living that fetish.