Taking advantage of captive paypigs
Captive paypigs stuck at home are easy prey for your Goddess.
Stay at home orders are custom made for predators to victimize their prey
Bored, lonely and vulnerable losers and sissies are easy pickings.
You see an email from Me, your cock gets hard.
you see a pay to view from Me, your cock gets hard
you see a new blog post from Me…your cock gets hard
you see I am online, your cock gets hard
you find yourself checking to see if I am available. Distractions away from the computer are few, it's so easy to just check again and again
This builds the addiction, the obsession, and when you finally do see Me?
BOOM!  The cock wants you to pay
so you do. I make it soooo easy
your cock is hard reading this, you'll obsessively check to see if you're on the spending report and vow to be on the next one either way
I will be there waiting to reward your vigilance with a cash rape!
New Stuff
Some of you are having trouble getting My email blog notifications, they have a tendency to be in spam. I'm looking into ways to mitigate that, but in the meantime, I will notify you on Niteflirt. (Or if you prefer that, that's fine too) Click here for infomation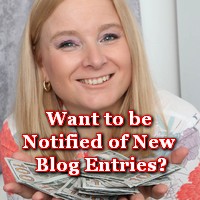 I've got a some new pay to views as well, check out any you haven't. I've been doing more selfies since I can't do studio shoots right now.
The Fuckover Report!
Paypig Alert! My special good boy kept up with his high priced therapy with Dr Lauren. How motivated he is!  He spent $329
My nylon slave kept popping in to get more nylon sole photos. He spent $129
New Slave and Huge Paypig Alert!  Getting caught in a really dangerous game of Raise the Rate on the phone (I keep raising the phone rate and make the client call back again and again at higher and higher rates). It was sooo fun and cuckie mark spent $545 learning why I am dangerous!
My leg slave extreme paypig is showing up more often and this time he spent $280
New slave!  I have a new one serving Me, and I'm calling him drooling paypig.  This pig is a stroke addict, and I have a feeling I will be taking huge advantage of him in the future! This pig spent $138 getting to know Me.
My good boy that loves stolen moments with Me called a few times spending $155
Huge Paypig Alert!  As always, princess gigi (AKA fagmuffin) was a busy girl, tributing and even calling in her need to be more and more girly and obedient.  I am taking full advantage, as always!
And the secret Niteflirt client (who has easily a dozen names) spent $294 on Me since the last blog, just missing the $300 level for a huge alert!  So close and Delicious!
Huge Paypig Alert!  PIG kept coming around to fall deeper and deeper into My clutches, this time spending $555 in a giant wallet BOOM!
I had some fun doing a short term cock control contract with helpful one.  He spent $142. Nice 🙂
Huge Paypig Alert! My good boy irish dope spent all his disposible income on Me, earning his huge alert and spending $309.
My good boy egghead surrendered another $110 to Me since last mention.
Paypig Alert! My sissy caged yankee has gone to a new level of spending, begging for pay to view fuckovers and being unable to stop! I know yankee is looking for this blog entry and after sprouting a hard cock in her panties, I expect to hear from  her again for fuckover! She spent $426!
My shoe sniffer was back, and I was glad because I really enjoy him and he spent $136 on photos of My shoes *laughs*
Paypig Alert!  Slave mr ed is back, but spending at a much faster clip then before. I enjoy making him feel stupid and humiliated, and laughing that it gives him a hard cock when I abuse him.  He spent $459!
My no nonsense guy was back going further into debt for Me. SO weak for My ass, he ended up spending $261 on photo after photo of My perfect round derriere!
Huge Paypig Alert!  My good boy paybitch terry kept sending tribute and buying pay to views until he passed the Huge paypig threshold! He spent $518.  Delicious!
My good boy quiet gentleman spent $136 this time around enjoying My photos. Good boy!
New Slave!  Getting her first mention is a sissy I'm calling swine lady. This sissy spent $120 to make it on My blog for the first time! I think she will find out how dangerous I am!
Huge Paypig Alert!  My good girl sissy j went crazy on the paypig chicken game, and ended up spending $349.  I wonder how far she will get before it ends at the end of May?
Remember, you do can do the Paypig Chicken Game and get a mention like sissy j.
Or you can just start it here!