The 10 Day Extreme Wallet Rape of Loserbeast
Loserbeast is a fairly new slave, but a very notable one.  In a very short time, mostly the last ten days, he has catapulted to #9 on My All Time Spender List, recently passing a dormant Australian money pig I know still stalks My pages.  He is closing in on the #8 spender.  All of the ones ahead of him took fucking years to get there, this is unprecedented.
Loserbeast should be a shining example to the rest of you Losers out there.  Make an impression, damn it!

Here is a synopsis of his downfall.
It started slowly on August 24th, the last day of My 10K Challenge  –Loserbeast spent $139 dollars, not chump change, but not much foreshadowing of the total extreme financial fucking to come.
A few days went by, and on August 28th, suddenly, the waters broke loose, and Loserbeast lost all control.  I woke up to his clicking and paying to the tune of $710,  ending with a $100 tribute.  Very nice.
But Loserbeast had only just begun.
August 29th brought him to spend another $803 on Me….in another click and pay frenzy
August 30st  was another click and pay Frenzy, and a one on one pay to view session, where once he had spent nearly $900 dollars, I sent a $125 dollar email and he begged Me to lower My price.  My slaves know, that when I do a PTV session, each email cost more than the previous one, and I had been increasing his mails in $10 increments, and jumped to $25 increments when he got to $100.   So he started begging, I said   Sure, Loserbeast…pay that one, and I'll start decreasing,..so he bought that and I started decreasing $10 at a time.  $100 email…a $90 email….a $80 email…..I'm assuming you all can do the arithmetic,  the rape totaled a Mind blowing $1575.
But Loserbeast wasn't even close to being done.
August 31st ended the month with a $1126 dollar day
Enter Sept, which began at midnight for me, and the month switched over in the middle of the rape Mmmmm
Sept 1st Total:  $977
Sept 2nd:   $1036
Sept 3rd:  $1070
Sept 4th   $1445
Sept 5th  $684
And today Sept 6th so far a mind fucking 

$2965

, and I wouldn't be at all surprised if it went way over $3000 today before we are done, as seeing this blog entry is going to turn him on to return for more fucking.
The Grand Total for Loserbeast: 

$12,530.

  Holy fuck and most of that was in TEN DAYS (An average of over $1200 a day)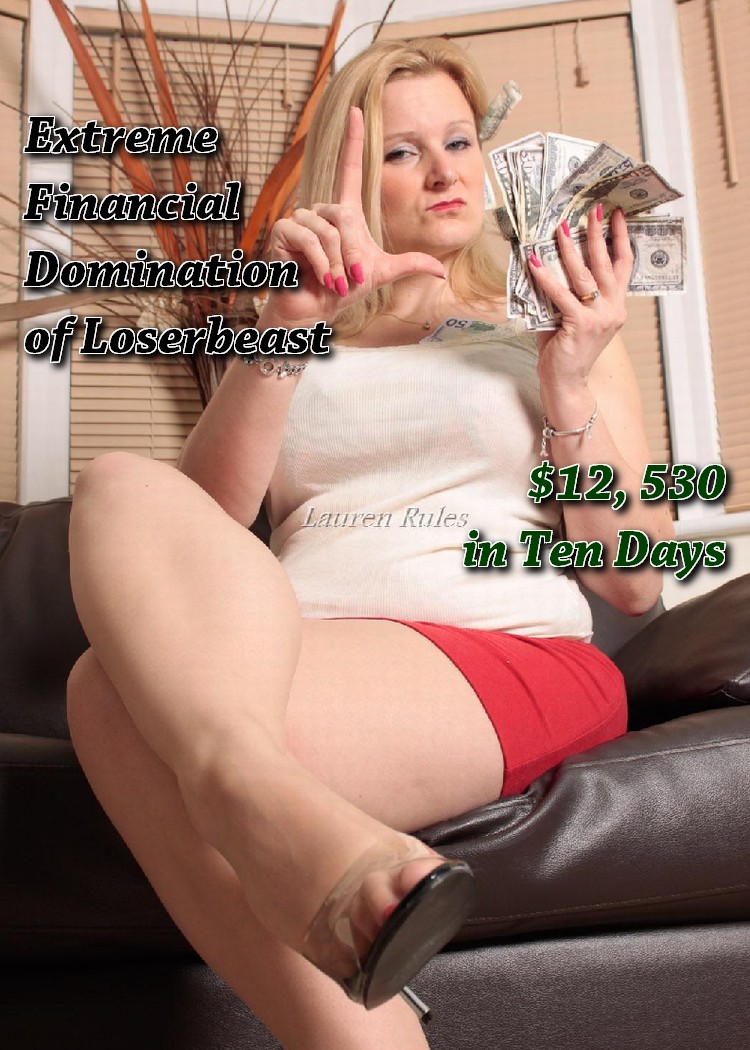 So let Me tell you guys how that feels.  I'm on a high right now.  I'm getting a huge rush seeing the cash flow in. I have resorted to checking My email in the middle of the night, and Loserbeast is not disappointing.  Do you know how HOT it is to wake up to more than $1000 in your Niteflirt account, that got there when you were sleeping?  And a slave begging for more?  I literally get dizzy, I get aroused and I get stoked and full of energy, its better than any drug let Me tell you. And My boyfriend is the sexual beneficiary of this, I haven't even had a chance to spend this, between the wallet rapes and the sex.  Oh but that will come. 
I'm thinking its time to update My kitchen,  Other girls, they buy shoes, clothes and go out partying with your cash.  Me? I do that too, but I have more expensive needs. I go on vacations, I buy things like cars and artwork.  And I bought a home 3 years ago, and part of Loserbeast's former cash is going to the principal on that pesky mortgage and possible toward that kitchen renovation.
And let Me just say. Other boys have not been silent during this, and are not forgotten by Me as well.
Kudos Loserbeast.  You're one of My biggest Losers ever