The Paypig World Cup has started!
Be sure you see the event page here!
Results will be updated as we go along, and the top spots will probably change hands many times.
Also there are daily winners and mentions given to paypigs who make certain achievements, you too could get a mention (I invent blog names for everyone that doens't match their member name, so no one will know who you are but you and I)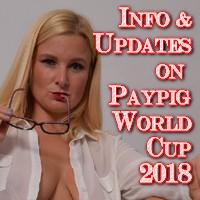 All the different ways you can pay Me are also listed!
You can buy pay to views or phone, or tribute, or buy stuff on My wishlist! Don't delay, enter the World Cup right away!
Here are some new pay to views to help you spend!
Now, I am doing a quick spending report, so we can start fresh for Paypig World Cup!
It's a little shorter than usual, for a few reasons, its only a week, I wasn't available much this week (working on Paypig World Cup stuff) and piggies are saving their money for the event!
First up is My good boy who loves stolen moments, who spent $139 on deliciously twisted phone calls with Me!
Paypig Alert!  PIG just missed a Huge alert by about $17. He sepnt $481. Still addicted!
My no yes Loser spent enough this week for a mention for $105! Good boy!
Paypig Alert!  Irish dope spent $318 dollars he didn't have, maxed out his credit card and gave Me some of the rent money. How will he pay his rent?  Not My Problem!
Paypig Alert! Another just missing a HUGE alert was the slave formerly known as princess gigi.  I have renamed this sissy. She will now be known as fagmuffin .  Her relationship with the girlfriend (known otherwise as uglyface) is all but over, because uglyface cannot get fagmuffins tiny little clitty stiff. This doens't bode well for a relationship, and the truth is, the only thing that gets the fagmuffin clit stiff is cock! And the thought of licking up real man spunk from My feet. Too funny. Oh and fagmuffin wants the world to know she only gets excited for cock.
Paypig Alert! And back for more abuse was sissy marja (Not to be confused with sissy marla, two different sissies) This sissy is rapidly getting addicted, and spent about $314
And paybitch terry continued his spending ways, this time for $270!
Paypig Alert! back for more abuse was dirtbag!  This slave spent $314, and has now passed the $1k level of spending in a short time!
Egghead lost his egghead again this time around, spending $264.  I predict more loss of control this week!
Huge Paypig Alert!  My robot eunuch went blank in a session and spent $555 dollars. This series got him, and then I sent a few more to top it off!
Try it yourself during Paypig World Cup week!
And "surprised" spent enough again to get a mention, in the amount of $126.  And he is ALMOST at the $1k level of spending. Just a few more dollars!  Well done!
A blast from the past, wallet hole, made a new account and returned to Me and immediately spent $200.  Wouldn't be surprised to see some action from him for Paypig World Cup!
Now piggies, go and spent!
Paypig World Cup is upon us!