Training you to be aroused
One way to manipulate you is to hypnotically train you to respond to a phrase.
That way I can reward you with just a couple of words. It will make you hard, it will make you work VERY hard to get Me to use the phrase.
This is all part of My LR Ultra Brainwashing Method
I will train you to respond to GOOD BOY (Or GOOD GIRL)
and you will do ANYTHING for Me to say it
because it will make you feel good, it will make you soooo aroused.
I had planned to give this audio for free then I realized it was way too dangerous just to let out on an unsuspecting public….but I am making it a low cost. This Pay to view contains both the "GOOD BOY" and the "GOOD GIRL" audios, you should listen to the one that appeals to you the most.
I know you're going to want it…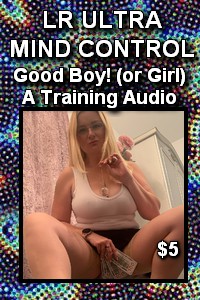 I'm steadily adding new tribe members to the tribe rolls, and you too can qualify. Many already do qualify, they just need to ask.
I think it's time for a few photos
And be sure you check out ALL the LR ULTRA offerings!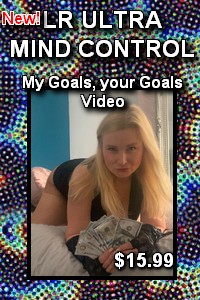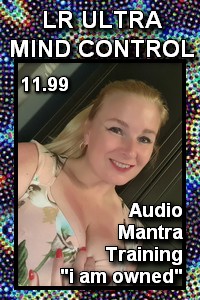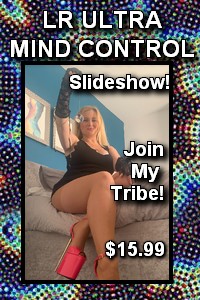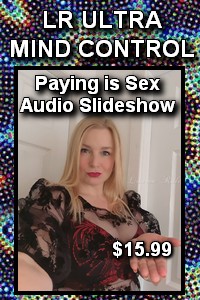 Fuckover Report!
LEGENDARY PAYPIG ALERT!
Topping the mentions is the legendary Dr X. He is second in lifetime spending on Niteflirt, and including his Amazon spending is likely My number #1 spender of all time, and has been serving Me for fourteen beautiful years now. This time around he spend $9546 on Niteflirt and another $2,590 on Amazon, which included an Expreso machine, a new printer (to replace one he bought me years ago!), over $1,400 in gift cards and many other smaller items too numerous to mention but needed! (Things like allergy pills) SOOOO erotic, and I LOVE sessioning this loyal paypig.
Extreme Paypig Alert! My tribe member boomer kept losing control in all the best ways, spending nearly $1200! THIS is devotion!
My good girl and tribe member sissy marla stopped by for a fun $180 session!
Huge Paypig Alert! Back after a hiatus is lefty, getting sooo wrapped up in My words that he spent $575. Mmmmm-lefty, you better ask Me about tribal membership, because you qualify.
Briefly appearing yet again was addicted kevin, who passed enough time on My pay to views to spend $260, Good boy, and he also joined My tribe
Huge Paypig Alert! Helpless dennis squeaked in for a HUGE paypig alert, spending $501. NICE
And sniffer called and spent $130 in a fun session. I wanted to also say, hey sniffer, you qualify for tribal membership, ask Me about it.
candyballs can't stay away, and spent $194 this time around!
Paypig Alert! My good boy and tribe member victor spend $355 worshiping My hosed feet. So nice!
My raise the rate puppet did a fun session, spending $185
Huge Paypig Alert! My special good boy tom, My tribe member was very attentive to his therapy this month spending $530!
My pantyhose junkie spent $125 on a few very addictive phone calls!
Huge Paypig Alert! Yet another busy tribal member, j the junkie went crazy on chat, phone and tributes, spending a delicious $685. Good boy!
Tribe member pigbait keeps coming back for breast worship and he spent $245. Very nice!
My good boy yeboev was back, this time spending $150, including a couple of surprise $50 tributes!
Huge Paypig Alert! Just missing an EXTREME alert was jnomore, My tribe member who I fucked over one delicious evening for $962
Good boy special K stopped by to spend $150. I support this action!
Tribe member loserbeast spent $138. Mmmm always love seeing him get a blog mention!
Huge Paypig Alert! PIG continues his addictive ways, as I find new ways to warp his mind. He spent $775
My exposure sissy got exposed and thrilled for $116
Tribe member buffy has been scare lately as her "girlfriend" is desperately trying to save her from My clutches. It won't work. She spend $240 this time round.
New Slave and Paypig Alert! A new slave I am calling "snout" came around briefly and spent $365 before deleting his account, a shame! Hopefully, he will see this, recognize his name and return to Me in hard cock glory
Tribe member caged yankee spent $160. I bet if I had been around more during the day it would have been more.
My good boy button spent $161 this time around. This is another slave who should be asking Me about tribal membership because he would qualify.
Paypig Alert! My very good boy irish dope saved and saved so he could spend $470 SOOO close to a huge alert. What a good tribe member!
And swedish dog spent $130. This is another who should speak to Me about tribal membership!
Huge Paypig Alert! My good boy hosiery slut showed Me why he is a deserving tribe member, tributing repeatedly so much that it totaled $850! Well done!
Bankruptcy obessed fruity spent $133. We gotta work harder to make him bankrupt!
Paypig Alert! Tribe member bambi and I had fun in the secret hypnocabin and she spent $335 pleasing Me. YUM
My good boy sissy spitton send $200 in Amazon gift cards, always useful!
New Slave! Making his first appearance on My blog is new slave, "potato" who spent $151 finding out all about My dangers!
Tribe member quiet gentleman kept returning for more abuse, spending $190. YUM
Huge Paypig Alert! Tribe member dirtbag clicked and paid his way to $352, to get a HUGE alert. Well done dirtbag!
My sissy cocksucker is another who should request tribal membership. This time around she spent $210 in a hypnodaze
Paypig Alert! Clickpuppet stopped by to spend $301 on click and pay. This is another slave who qualifies for Tribe membership and should ask Me about it!
And faggypiggy earned a blog name by spending $120 and getting a mention! Well done!
My good boy wayne spent $185 of his wife's birthday money on Me.
Once again, tribe member scout pleased Me, spending $220. Nice!
Addicted to legs completely lost his mind for Me, spending $216 as I stroked his brain stem with My mind, spurring him into mindless paying!
Paypig Alert! Working on qualifying for tribal membership is virgin loser! he came $303 closer to his goal!
Back again was stiffy al, spending $129
Tribe member Lauren's footlicker loyally spent $139 on Niteflirt and $29 on Amazon. Well done!
Good boy jaybee was back, spending $132. He can never leave.