Update on LR Ultra
LR Ultra: A success story
After years of learning about how paypigs tick, months of researching and refining techniques, (which are ongoing). My foray into brainwashing My pigs has been OUTSTANDING
Since I implemented LR Ultra, the sales of LR Ultra items has been through the roof! And My earnings from My stable of pigs are up about 40%. In fact, My biggest problem is finding time to make new photo sets, videos, recordings and blog, while still finding time to exploit you pigs live!
This is a FinDomme problem, isn't it? My success doesn't change the fact that there are only 24 hours in a day, and that I like enjoying a lot of those hours! Often when you are looking for Me and not finding Me, it's fun to think of Me frolicking in stores and having sex with My boyfriend, but a lot of that time is preparing for and doing photo shoots, creating recordings and graphics, writing this blog, and brainstorming more ideas for your exploitation!
But don't worry, I leave time to have FUN!
Here are some LR ULTRA things to not miss! The audio series is turning out to be quite memorable for the slaves that listen to them!
DID YOU GET THIS AUDIO SERIES YET?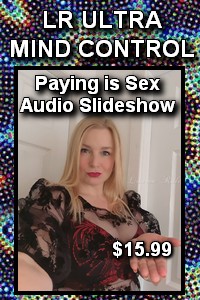 Celebrate My Birthday!
And tomorrow (Tuesday, November 9th) is MY birthday! And I will be having fun doing adventures, and going to dinner, and being spoiled by My boyfriend.
And while I am doing that, you will be spoiling Me, won't you?

I added a lot of stuff to My wishlist, if you buy something, drop Me a line to tell Me!
I also like getting Amazon gift cards, you can even just buy one and send Me the code in Niteflirt email!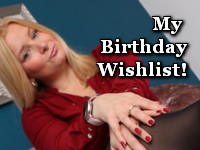 and of course, I'll be sending out a PTV for you guys to buy for My Birthday, and I always love tributes!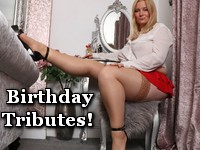 And of course, naturally, it is time for:
The Fuckover Report
It's less time between blog entries this time, so it's a smaller list than usual.
Legendary Paypig Alert!
Getting a special mention today is Dr x, who as usual, outdid himself with $2831 spending on Niteflirt and $1242 on Amazon, including starting My Christmas shopping for Me. Thanks to Dr x, I've got a chunk of it done already! His total was $4074. He sure *is* a lengendary pig who I own body and soul!
Legendary Paypig Alert! Another legendary alert goes to buffy, who spent $2332 since the last blog. This sissy just knows what her role is now. She exists to pay Me, and it will probably bankrupt her, but that doesn't matter. Her cow girlfriend doesn't matter, and who wants a limp sissy who pays a Queen anyway? No nice vacation for cow, I am taking that cash
Back spending again was yeboev who spent $117. I think he needs to surrender again!
Huge Paypig Alert! Next up is My weak slave boomer, who just comes back again and again for fuckover. He spent $630 this time around!
My good boy, My nylon slave spent $178 worshipping Me1
Paypig Alert! My good boy helpless dennis needs to pay to cum now. I trained him so that his poor cock just won't get hard unless he pays Me. That gets Me a nice bit of $$ every time! He spent $440 this time around.
Almost to a paypig alert, but not quite was j the junkie, who is addicted to Me teasing him with My body. He spent $265
Paypig Alert! My oink loser sissy came around, spending enough to get an alert, with a total was $307. So nice to see her get a red letter mention.
I had a nice session with sissy marla for $118
Huge Paypig Alert! I am very proud of the amount of money My irish dope spent, and I believe it was mostly in one day, in a heady session. He went all the way through My new series, then a dangerous chat session. I took all his cash he had available, and that was $703. YUM
pigbait keeps humping his palm and paying, this time was $205
New Slave! Someone new clicked and paid their way through $260. Very nice. I'm calling this slave "flea"
Just barely squeaking in for an alert was shy roleplayer for exactly $100!
Paypig Alert! PIG is as addicted as ever. When I strike, he spends, and this time was $385
Also spending a bit was caged yankee. This sissy just missed an alert, but just today I had her unable to stop. So hot! Her spending was $285
Pleasing Me so very much with click and pay and a tribute was "more please' he spent $246, and kept his word, as all slaves should do
New Slave and Paypig Alert! New to Me is spawn, who couldn't stop clicking and paying to My delight. He should do a lot more of it! He spent $417 losing himself to Me!
Back again with more addictive spending was nail drone. This guy is just getting more and more addicted. His spending was $205
New slave! New to Me is over easy. He has been lurking for years, and finally surrendered to My power. My legs have slayed him and he spent $210 learning about the Greed of Lauren. Tasty!
My quiet gentleman came around to give Me $118. Thank you!
My good boy button clicked and paid $252 away. I love it! He just comes back around again and again. Nice.
Paypig Alert! squeezing in for a red letter mention is steve q fucked. A zombie if I ever saw one. He spent $301
I had fun in the hypnocabin with bambi. I managed to take $210 without her really noticing.
New slave! Another new slave is a dude I'm calling panty model, with a passion for wearing panties and sending Me photos of them. I had fun playing with him and he spent $125
My boyscout came around to spoil Me again! This time for $275!
Paypig Alert! My good girl sissy j spent $369. She is soon moving across the country to start a new life, in which I will REALLY be able to force her into the sissy life she was meant to live. I can't wait!
So nice to see dirtbag get a mention again, this time for $246!
My good boy Lauren's footlicker slipped in for a mention between $71 on Niteflirt and $43 on Amazon. ($114 of spending) Good boy!
It was so nice to see click puppet doing what he does best, which is click and pay! This time he spent $152
Now, who of you will be on the next fuckover report? No telling who loses control of his wallet for My benefit!