Visualize the Effect of Paying Lauren
Visualize how good it will feel to pay Lauren
I want to take your brain on a journey of submission
Imagine that you have a wallet full of cash.  Take a moment to see it. Stock full of $50s and $100 dollar bills (Or whatever currency you use).  It feels like strength, like power, like sex.
Now, imagine you are naked, except for that wallet.  Naked. Vulnerable. Needy. Kneeling. It feels like vulnerability, like surrender, like sex.
Now imagine you are in front of Me. I am standing, above you, looking like this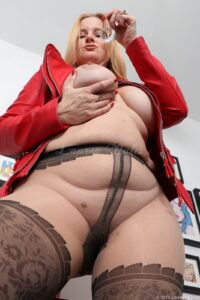 Now, imagine your cock getting hard.
-because you are hard
-because you are submissive
-because it's your desire to surrender power to a Superior Woman.
Engage all your senses:
-imagine the crystal swinging over My breasts
-imagine the sound of My voice as I lure you into a senseless state of     surrender
-imagine My perfume floating down, its delicate fragrance a love potion infiltrating your brain
-imagine the way the carpet feels on your knees, imagine the way your cock begins to feel more engorged.
-taste the excitement on your tongue as you imagine what My foot, or My breast, or My ass might taste like on it.
Imagine how all your senses will swirl together when you pay Lauren.
No need to imagine
you can experience the joy and bliss of paying Me.
Did you see this free audio?  No?  What are you waiting for?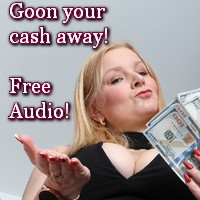 And this is another recent pay to view to surrender your cash to.
Now, it's time for the FUCKOVER REPORT!
I'm starting the report with beta boi. I think he might be more interested in FinDomme then he let on. He spent another $160.
Huge Paypig Alert!  Continuing with his escalating addiction was PIG, who is beginning to stop trying to resist. I won't rest until I have destroyed him and taken all his cash! He spent $536 this time around
And unable to stay away, even though he tried deleting his account was boomer. His efforts resulted in another $210.
Clicking in a haze a few times was bambi, who has triggers inserted into her brain stem. She just can't help paying when I get into her head!
Paypig Alert! Continuing with his self victimization was click addict, who couldn't stop clicking and paying. He missed his huge alert by $8 and spent $492.  Yum.
Barely making a mention this time was target, who spent $105
and my popper bitch, "pb" spent another $139.
New Slave.  New to My blog is "loser pony" who spent $155 learning how dangerous I could be.
My good boy who loves stolen moments called several times, spending $195
My exposure sissy did  a nice call and some tributes and spent $113
Huge Paypig Alert! I managed to tease $555 from helpless dave. He couldn't help sending Me ever greater amounts of cash! I really enjoy doing this to him!
Calling again to destroy himself was jeffnomore who spent $104.
I've managed to catch the sissy caged yankee a few times during the day lately, and it's cost her $227.
Spending $224 this time around was paydrone. I love taking his cash!
Huge Paypig Alert!  My paybitch terry was losing control again, sending Me large tributes on several days at the wee hours in the morning while I wasn't even online.  This added up to $565! That's devotion!
The Dane spent $121 in pay to views while chatting. I think he's due to pay again actually.
Playing in chat and tributing with fun hypnosis games was sissy cocksucker. He has no memory of spending $138 but he did!
Huge Paypig Alert! Reappearing after a hiatus was an old favorite, paycunt. (No one stays away for TOO long). He fell with a bang, spending $568 on his fuckovers!
My elegant foot guy spent $101 getting a mention!
It was SOOO nice to see Loserbeast clicking and paying!  He spent $250, what a good boy! What a Loser!
Huge Paypig Alert!  My estrosissy fagmuffin keeps spending, as usual.  This sissy has an on again/off again relationship with a girl, even though she's a hopeless virgin and the cow girlfriend is just taking advantage of her. I WILL wreck it permanently.  And fagmuffin knows it's true.  The sissy is still taking estrogen and she knows that I will suceed!  She spent $890 this time around.
Doing very well with spending is "veryhard4Lauren" who spent $245 on photos of My perfect feet! He's getting REALLY close to $10K lifetime level of spending!
Dr x pleased Me with $156 on Niteflirt and $50 on Amazon.  He's due for another big fuckover, and I cannot wait!
Coming around again was special k, who spent $161
The other thing I noticed about the spending report was the huge amount of clients that spent smaller amounts.  Some of them need to up their game and make the Fuckover report!
Until next time!