Why be an Extreme Paypig?
 Why would anyone want to be an Extreme Paypig?
I mean, on the surface it really makes no sense.  A man surrenders huge amounts of money to a beautiful woman for no apparent reason.  I'm not talking a couple hundred bucks here, I'm talking about thousands, tens of thousands, even hundreds of thousands of dollars.  He goes on to financial hardship.  She goes on to spend his money. Perhaps she even squanders it on some useless little frolic, or party, or trip. Perhaps she invests it and grows it. Ultimately, it's not any of the man's business.  If you're reading this, it's highly likely that you work hard for your money.  Why in the world would you give it to Me?
There are a lot of reasons, and none of them will fully explain what happens, and it's really likely that the mark himself doesn't know quite what happened, and it's highly likely that he will be very embarrassed and humiliated about it.
In fact, I am a highly successful FinDomme, and I'm not 100% sure Myself. I mean, I know what things to do to increase the chance that you will lose control over your wallet. (And I will employ all the techniques I know)  I have an idea of what conditions are in place to make it more likely, and I will leverage every bit of advantage I manage to get over you. No mercy.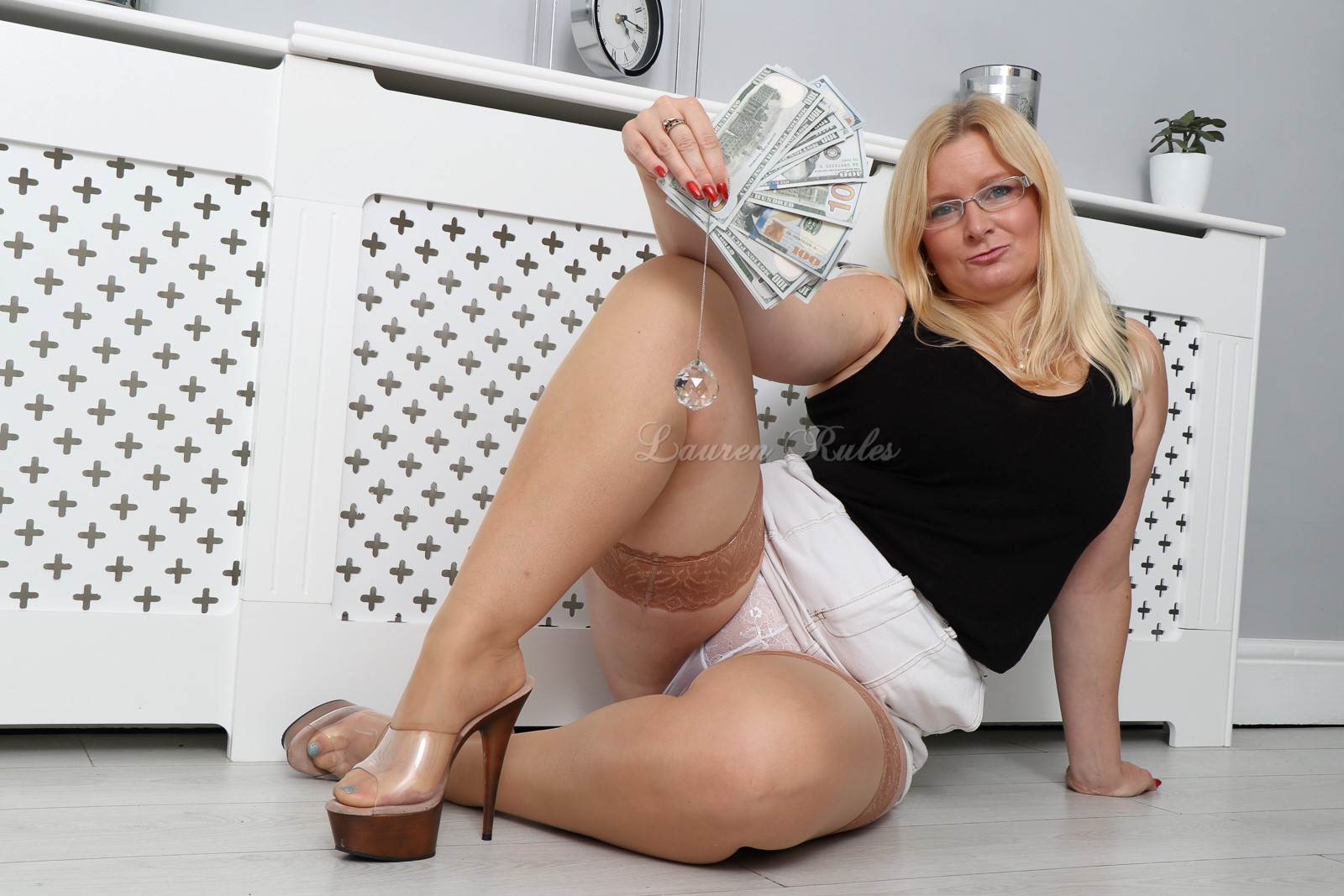 The Setup- What ideal victims of FinDommes look like:  (Many of these elements are in play)
The victim is in a period of uncertainty in his life, he's feeling inadequate. (He's a Loser). This can be a number of things, marital discord or boredom, an upheaval in life that can be health-related, job-related or relationship related. I have had pigs appear when their girlfriend broke up with them when they were diagnosed with a serious disease or when someone they care about has died.   This creates a path of vulnerability I exploit.
Despite their woes, they still have a sex drive and often find themselves unworthy of sex.  This can take many forms. Perhaps their wife doesn't arouse them anymore. Maybe they have a small cock and can't keep a girlfriend. Maybe they are grieving and feel they need to be punished for having a hard cock even though they SHOULD be doing anything else other than stroking their miserable worthless dick.
For whatever reason, they feel like a Loser.  They might be successful at work. (I like those guys, more likely to have money for Me to take), but failures in life. They need to be used and punished for being so inadequate.  They don't think they deserve real love.  And they probably don't.  I am happy to remind them of their shortcomings.
There is usually already a history of masturbating to pornography that makes My use of them easier. They have lower inhibitions to stroking their cock. (And might feel guilty about that).  I WANT them to stroke their cock because that makes them easier to take advantage of!
The victim often has a history of addiction, to alcohol, drugs, tobacco, food or (very often) sex or masturbation. At the very least, they have the propensity for addiction.
The Psychology of Addiction
Sex is My primary tool to turn you into a paypig.  I WANT you hard. (although I may ridicule you for it).
I make suggestions of how I want you to feel, while you are hard and stroking. (I call them mantras).  Things like: "my cock gets rock hard when i pay Mistress Lauren"  or "i am a loser and losers pay!"  They are simple, rhythmic and powerful. They will change your brain chemistry, they get into your thought process and in turn, they become TRUE. As a result, you will end up spending more money than you planned. (If you even planned)
The power of suggestion is one of My best tools.   I suggest you do things. (Or for some, I command you do things) and you find yourself doing them.
Orgasms from My little games feel amazing and not only that, you will give Me the information I need to present you with fetishes designed to hook youand I will USE that ammunition, yes I will!
I make you feel proud of what you have become!
you will hear that you are a "good boy" when you pay and I will compliment you for spending a lot. I blog about your spending and note milestones, and urge you to meet them
Competitions make pigs work harder!  Which pig is the best pig? Which pig is a huge paypig? You desperately want to please. And I stoke that need like a fire.
I remember and take notes on what you respond to. Like a certain kind of photo? Audio? Subject, I will make things "just for you"  You will end up doing ANYTHING for Me.
you will find yourself bragging in feedback and blog comments on how devoted a pig you are!  (And you are!)
I give you a sense of BELONGING that you have been lacking.  When you belong and you have powerful orgasms from paying, nothing feels better than this.
And I warn you at the beginning that I am
dangerous
men who are desperately in need of attention don't care that I'm dangerous. They feel like whatever I do to them they must deserve (and they are right about that)
Self-destructive men are actually attracted to that danger.  And self-destructive men are more profitable!
Me being dangerous and manipulative relieves you of the responsibility.  It's not YOUR fault you spent $100K on Me, I was taking advantage of you!  You can blame Me, yet it still makes your cock throb.
And now it's time for the Fuckover Report.
Let's read about all those men that succumbed to My powers, who became addicted, who became pathetic unsympathetic victimes of My fuckeries.
Remember:
Spend $100               Get a mention
Spend $300               Get a Paypig Alert!
Spend $500                Get a Huge Paypig Alert!
Spend $1000               Get an Extreme Paypig Alert!
Spend $2,000             Get a Legendary Paypig Alert!
First up is our LEGENDARY mention!
Legendary Paypig Alert!  After a little hiatus, noddy was back!  He spent $2017 for his Legendary mention AND hit a lifetime spending amount of $37,226.  Soon I will have him at 50K, probably before this year is up!
Back and sniffing, I mean spending another $122 was chair sniffer. Nice to see him paying again!
My good girl sissy j spent $124 and we had some fun exposure games!
New Paypig!  A slave I'm calling dopey darren is getting addicted.  Stupid loser left his tablet open and his roommates found out that he was paying girls for humiliation. I'm wondering if I can turn his roommates into his bullies.  Might be fun.  He spent $160.
Making yet another account was beta george.  This guy keeps trying to purge his accounts, but just makes new ones. That means he's deleted My notes on an old account, so I have no idea what his original blog name is. Maybe he will tell Me! This time he spent $174
Huge Paypig Alert!  My sissy bambi is so easily mind controlled that she probably doesn't remember sending Me $444. But she did!
My good boy horniest, who comes back regularly, clicked and paid $145 since last report. Mmmmm
New Slave.  New to My world is a guy I'm calling glue.  Glue spent $184 on click and pay just today, finding out how dangerous I am!
I'm happy to say Lauren's footlicker got another mention spending $112 since the last report.
Huge Paypig Alert!  This sissy is getting more and more addicted, and confided in Me that a hardon doesn't happen unless I am being paid! Just as it should be!  Caged yankee spent $535 since last report!
I'm so happy to see that boomer keeps coming around!  This junkie has spent $285 since the last report, just missing a paypig alert!  So sad!
Paypig Alert!  Helpless dennis can't get hard anymore unless he hears My voice, so when he needs to cum, he needs to call!  This little addiction cost him $374 since the last report!  Mmmmm. I like it.
My good boy, My nylon slave keeps coming around and this time he spent $135. Yum.
Huge Paypig Alert!  Back again, saving every dime he can to send to Me was irish dope. This boy is such a good boy, getting better and better at surrendering all his cash! He spent $940!   Oh so close to another Extreme mention!
My pig I just call "nf client' was about again, this time for $225.  Delicious!
New Slave is a guy I am calling lookey who went crazy with click and pay to the tune of $205. I am looking forward to more manipulations of him!
My good boy sissy cocksucker was mind controlled into spending $144. I've been too nice, but he's started a new job and I can soon get more brutal!
Paypig Alert!  My good boy hosiery slut spent $375 pleasing Me, and being rewarded with photos of My nylon feet. I LOVE it.  He also hit a lifetime of 1K in spending, even though he is still pretty new!
Pathetic gimp loser, called again. I always make him pay a 3 digit email on our calls, and the wheelchair bound freak gets off on being degraded. He spend $162
Paypig Alert!  Once again, clicking and paying to please Me an feed his addiction was button, just missing a HUGE alert. He spent $462
Back for more cock control games was helpful one, spending $202 for Me to deny him orgasms!
Extreme Paypig Alert!   PIG is just getting more and more addicted. He can't stop spending, he craves paying Me daily. He started off as a regular guy who liked to stroke his cock, and I turned him into an extreme pig. He's been hiding this addiction from his new girlfriend, but she doesn't get him as hard as I do. He spent $1278 since last review.
My exposure sissy and I had some fun and he spent $124
New Slave.  Losing his mind over My pantyhose and dangling shoes was dangle dude. I managed to show him how dangerous I was for just $208.  Excellent!
and mindless was back, this time the sissy spent $188.  I want to drive her into a HUGE mention for next time.  Take note, mindless!
My elegant foot lover and I had delightful conversation and he showed his love to the tune of $197. Mmmmm
Paypig Alert!  Just squeaking into a Paypig alert is helpess dave, who spent just a hair over $300 on Me.  Delicious!
j the junkie was back and did an amazing session,. perhaps his biggest one to date, spending $225 in one session.  Wonderful!
Good little sissy, prim, was about spending $134.  Mmmm I have a feeling the damn will break for this one soon, I foresee a bigger session for her.
And finally getting another Huge Paypig Alert is princess gigi.  This sissy has become addicted to taking estrogen, which make her tiny clitty lifeless and useless. All she thinks about is being a girl and paying Me.  She spent $645 since last report.  She is My #1 spender lifetime, and her lifetime spending is up to $203,244.  (This is not a typo).  And it continues. She has been My slave here  on Niteflirt for over ten years now. Do the math, this sissy is spending more than $20K a year on Me.  What a good girl!
Now, you can show how much of a victim for Lauren you are, and get your own spending mention! The bigger the better!
You can start by buying a recent PTV