Category —
humiliation
The wallet rape flurry is continuing, and 2014 is off to such a great start that I have a few goals in mind.  December was another record breaking month, surpassing even November and we have a new all time "earning" (perhaps taking is a better word) record.   Likewise, 2013 was My biggest year ever, finally surpassing My 2008 total which I have chased for years, by quite a bit.
So I made a special little pay to view for all you lurkers that want to know all the hard little details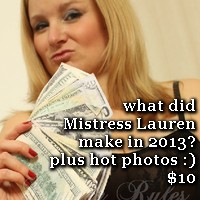 Now on to the good part
I would like to make January another earnings  record month and I LOVE having a goal.  I want guys to spend $50,000 on Me!  And yes I think it is doable, and there will be a widget on the right hand side, that I plan to update every day to give you guys a progress report.  Already on only January 2nd it is at  $6395!  That is freaking amazing and  50K is well within reach!
And I will keep calling out the guys on My blog who spend well.  I want to do it weekly, the holidays have prevented Me from having time to add it all up, but I have finally caught up.
Since Dec 18th, this is the "Spending Report"
In the 1K club:
DrX returned with a vengeance to please Me, spending….hold on to your hat.– $6100 on Niteflirt PLUS a $400 aAmazon gift card and another $720 worth of gifts from My wishlist including some Kohls gift cards and a very very nice BOSE Wave Radio for My upstairs. He bought Me one last year I love, so I asked him to get Me another for upstairs. I cannot wait until it arrives!  (Edit, it arrived today on 1/3, thank you Dr X!)
My new boy, wallet rapetoy came back for more abuse, and spent $3040, and I finally got the quiet guy to send Me 2 different one line emails.  Some of you guys are sooo garrulous and this rapetoy just spends and spends!
Loserbeast came back to serve with a vengeance! Over the course of a few days, he handed $2878 to Me.  Now *that* is the Loserbeast I love! Well done beast!
My princess gigi just can't stay away and I took full advantage of having her in chastity. She spent the previous six weeks in chastity before I finally allowed her to orgasm last night. (I made her wait until 2014). She was not allowed to touch her tiny clitty, she just came when I told her to, on her purple dildo, which she licked clean of a massive amount of sissy juice.   In the past 2 weeks she has spent $2037 on her Mistress. I love how submissive and desperate chastity makes princess!
Other big spenders the past two weeks:
Just missing being a 1K spender  was greggy. And greggy, see, you are NOT  a footnote, you lead the "other big spender list" Greggy's New Years Resolution is to quit NF, but he's chatting with Me there now, and waiting for the blog.  I will send him a big email, and that will end his resolution.
My little sissy becca got convinced to give up over $670 dollars on Me. Mmmmm I love our dangerous games.
And sweet sissy marla pleased Me on the phone and with emails to the tune of $657. Marla is 5th on My all time spending list, and holding strong–she has been with Me for years.
redbird clicked and paid and tributed nearly $900!   Well done redbird! I especially love the tributes!
Guinea Pig Money Slave got experimented on some more and I got $615 from him as he plods toward the secret goal I have for him.
My British sissy "love in the time of cholera" lover blindly paid Me another $493
Formally FootSniff slave, now known as Sniff Robot, he returned to spent nearly $400. Yum.
My #1 ass lover slave surprised Me by spending $378!  Well done!
My no nonsense college boy gave Me $246 bucks he couldn't afford.   That means bye bye to his planned wedding gift to his sister.
paypig brian was back yet again with another new screename to the tune of $240. He tries to quit, but I am just soooo addictive!  As I'm finishing this blog entry, I'm getting an email from him apologizing for not having more money.  He'll just have to scrimp more!
Loyal peter clicked and paid, in I hope a haze of subservient adoration to the tune of $178!
The new slave solitaire spent $164 dollars while begging Me to block him.  Guess what? I don't block slaves because they are tooo weak to resist Me!
faggot jessica is an 18 year old loser in desperate need of humiliation.  This faggot has spent $129 and has spent nearly $500 on Me so far, and gave Me all her Christmas gift money.
Loser louis managed almost $138, and I'm looking for more from him
sexy jakey managed $185, and if I had been around when he was looking it would have been more!
loser #12 spent $154, and in the two years he has been spending it's over the $1400 mark…all of  you mini losers add up!
My good payclub slave spent  $186 in his service, including a lovely $50 email!
My Canadian footlover spent $126…we keep missing each other too.
barefoot kane is a long time slave who spends consistently and LOVES bare feet.  He spent $109, but what I "really" want to mention is that he finally hit the $4,000 mark in his service to Me. Well done good boy, and yes there are LOTS of feet photos waiting for you that you will die to see and I know you are reading.
Button topped three digits with $102
Mistress-dick lover dave finally got a blog mention by spending nearly $100!
Calvin's better half finally got a blog mention by spending $93
mister t gets a mention with $92, was trying for more, but I couldn't seem to connect with him, perhaps because of the holidays. Watch out t!
Another mention goes to bob51 who also spent $92 and is one of those occasional slaves that you don't realize is spending much, until you add it up.   In the 18 months he has served Me, he has spent over $1300.   So even if you can only spent a few bucks a week, it does add up for your Mistress!
Also at $92 was josie, a new slave that I haven't spoken with, but all the little purchases made added up to $92 and I did notice!
Maybe you too can earn a blog entry for helping Me make My January spending goals for you all!  I don't use member names, I invent your very own blog name for you, so don't worry about other people recognizing your Niteflirt name here.
Extreme Financial Slavery is My ultimate goal, and it has a few definitions.  I have slaves in all three categories.
One
Delicious one is Fast Bankruptcy!  Mmmmmm imagine going into debt so deeply and quickly you will never find your way out without the help of bankruptcy court, all because you are controlled by Me!  Knowing as your debts are settled that I am laughing at your insolvency.  This type is usually bankrupt within 2-3 weeks after first encountering Me.
Two
The slave who indulges in very occasional, Really Huge 4 or 5 or more figure sessions. Some slaves actually save for really huge sessions with Me, devoting several thousand dollars in a mind numbing, stomach spinning, cock throbbing session.  Those slaves return again and again, reporting that the orgasm they had during the extreme session was most powerful of their life.
Three:
The slave who plans for multiple sessions a week with Me, over the course of months and years. I have several slaves who spend 5-10K a year on Me, and they regularly spend several hundred a week, in multiple sessions.  A slave who sessions for $100 an evening 2-3 nights a week over the course of months, will endear himself to Me.  These are not extreme sessions, although some sessions are more intense (expensive). I am always trying to stretch these slaves to spend more, training them that paying Me is the greatest pleasure they will know.  I would say they are very addicted, and worried that if they go bankrupt, they won't be able to session with Me anymore.  Some of them will eventually go bankrupt over Me anyway
Which are you?
Since My last blog post, I have enjoyed several delicious sessions.   My revamped "Financial Slavery begins with a $2 email" got a lot of play.
(Note)  I added audio mantras, reworked the words, and added photos to every level. I even added a couple of levels. It is a new monster, check it out here.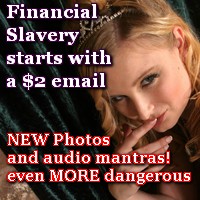 tPay read My entry detailing all My rapes, and added his to the mix, surrendering $600 in the matter of a few minutes.     Over the course of a couple of weeks, princess gigi spent $763 and fell in love with My strap on.   Ass Love Too slave also upped his spending to a very impressive $814–now has spent more than $1600 in his service on Me 🙂
The biggest turn on was a brutal rape I did for Shoe Sniff Loser, and he cried on the phone with Me as I sent him huge email after huge email. He begged Me to stop, but I wouldn't, and he paid emails as large as $300 as I completely stripped him of any remaining humanity over the phone. He knew I completely deserved the $1440, and he is a worthless loser freak.
A boy who has bought small emails over the past few months exploded in a frenzy last week– I'll call him slave2005–he wrote Me this:
"oh my god
what happened to me?
I just can not stop
I want to knee down at your feet,lick your feet
why when I pay you more ,I get harder?"
slave 2005 was good for nearly $800 in mostly one evening, out of the blue.  So nice.
Goodboy redbird clicked and paid and tributed for $404!
And Loser Louis reemerged just before Thanksgiving to drop $290 on Me!
A special mention for "Loyal Peter"  Peter is one of those slaves that easily flies under the radar, because he spends smaller amounts consistently over years and it adds up!  This week he splurged and did really get My attention, spending $255.  In just under 4 years, Loyal Peter has spent over $4200 on Me.  Good boy!
My Canadian pantyhose zombie was good for another $260.    Brian surrendered another $256 to Me, in an addicted haze.  Buttonboy for another $110.  My Guinea Money Pig spent $373 (yes, refreshing is dangerous). My paymail clubslave upped his spending to $142! (yes I noticed)   No Nonsense stayed in poverty for $96.
New to My blog is "devil greg" who spent $117 and "jaybee" who spent $100 on My new game, upping his lifetime spending to $1600, despite thinking he's not a money slave 🙂  hisexy showed up again for another $180, and Egghead just can't stay away…this time for $102 and now lifetime of 12K in just over 16 months.   Lastly, virgin JD Dave found out how dangerous My games are to the tune of $129 in just a few minutes 🙂
First of all, I disappeared for a few days with an unexpected emergency for my little dog that required a long drive in the middle of the night to the specialist she needed to see. I was actually in the middle of this post, when she was injured, and just today got to return to it.  She is doing much better, and I can now return to the business at hand.
Wallet rape Mmmm
I know a few of you kept looking for this post, so here it is, better late than never.
Everytime I log on, the men start lining up for wallet rapes.
tPay's big rape a couple of weeks ago inspired other men to allow Me to empty their wallet.
Of note, was Fledgling Loser (Perhaps that boy needs a new name, he's turning into a veteran wallet worm!) He sacrificed to Me to the tune of close to 2K, with over $1600 in one mindless rape, that started with him talking about people getting addicted to Facebook Games, and spending a few hundred.  He supposed that much of what happens with Me, is much like people playing candy crush.
So I happily played a game of  CandyWallet Rape, with Candy Wallet Crush levels, and changed the photo set every time he was ready for a new "level"  $1600 later, he realized how addictive sessions with Me could be. 🙂
Yum
Another slave of note is new to My blog, and I shall call him Redwing the Cash Bird.  Redwing just keeps clicking and paying on My series, and then sends a tribute after each one! (Those add up!).  His spending in the last month has been in excess of $1000.  Well done Redwing!
As usual, I have been busy with a myriad of projects and of course with My slaves.  I'm still working on My new web pages….I haven't had as much time to work on it as I thought I would, but progress *is* being made. I want it to be awesome when I release it, and refuse to compromise on this.
I will be here all week long, until Saturday, when I am going on vacation for a week, camping and hiking in the Finger Lake Region of New York, and a few days in a luxury hotel overlooking Niagara Falls. (Somehow I have missed going there before)
So get your Lauren fix in the next three days, or you will have to wait a whole week.
That's what the slave I will call "t-Pay" did.    t-Pay has served Me before to the tune of several thousand dollars.  And then do you know what he did? (silly creature)  He deleted his Niteflirt account, thinking that he could escape Me.   It wasn't long before he paid down his credit cards and this time I am fucking him over even more brutally.  In the last 5 days, he has spent a few dollars short of $6000 trying to please Me.   And truth is, I am pleased by $6000.  And I want more, and more and he's trying to figure out how to hide it from his wife.  I , of course, don't give a fuck about that–in fact, I suggested to him that he procure her credit cards and spend more on Me……and I think he's going to do that (YUM)   Non-consensual wallet rape.  Of course, I don't hold out much hope for his marriage if he does that, but who gives a fuck?
Last week t-pay lost control on THIS series:  (which I followed up with a little one-on-one wallet fucking.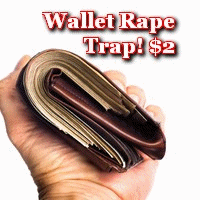 And this week, it was My newer captioned Humiliation series that did him in. Try it if you haven't yet
Also, I want to write about a long term slave, Gigi, that I have never written about before.  In fact, I am not going to mention this blog entry to "her" and see if she notices.   Gigi came to me as a boy slave I called "puppy"   with a hard core foot and pantyhose fetish.   After a couple of years of taking that pantyhose fetish and turning him into a devoted submissive who couldn't get hard without Me, I took a new turn and began feminizing her with a new game–and a new name,  Gigi. (GG is short for Good girl!).   Well I have been working on turning gigi into a premature ejaculator, to make her useless to other women.   I used cock clit control techniques, edge play, long term orgasm denial (chastity play) and her pantyhose/foot fetish to make it so that when I *do* allow her to touch her "clitty" it cums at once, making it useless for actual sex.  (It is so small, it wasn't much good anyway)
So that's what is new in My world.  🙂 And why I have been soooo busy
Money Slave Trap
That is what My new web page is going to be.   Drawing men in with their fetishes, and taking advantage of their inclinations to condition them into a new fetish….the Financial Domination fetish of course!
Men already attracted to FinDommes will love My page, but so will the feet and legs men, and the humiliation pigs, and the sissies and the naturally submissive men, and I will expose them to My covert conditioning and before you know it, they are handing everything over to ME 🙂 Yum.
As to the website, I have been busy at work but it has been much slower than I hoped. I hate to say I'm pushing back the date, but I'm pushing it back to at least July 15th. I want it to be amazing.
In other news…
I've been busy as usual with wallet rapes  I have a couple of regular pantyhose slaves who have been dropping hundreds and hundreds of dollars on a regular basis.  So nice.
And the training on one neophyte money slave I will call "Fledgling Loser" has been coming along really well.  I've turned him on to the humiliation of being a pay pig and he is addicted.
Last night I found this email from him that he wrote back in April
I really love your blog. When I first discovered it just a few weeks ago it really opened my eyes as to just how deep some guys go!
I'm dreadfully curious how someone ends up spending $900 dollars on you when they don't mean to. Of course, I'm also a little afraid to ask in case you *show* me first hand. That would be a bit much for me I'm afraid.
Well, he is a little "less curious" and more experienced now, as last night and this morning,  this "dreadfully curious" slave dropped $700 on Me.   (Not quite the $900 as he recounts in his email, but pretty healthy (unhealthy?)  nevertheless.
Welcome to your new life, Fledgling Loser!
I also want to turn you all on to a newer PTV series I have that is filled with captioned humiliating photos!  I have ideas for new ones coming out soon as well, but meanwhile check these out!
The two seem to go hand and hand…
It is a rare Financial Domination addict that doesn't crave the humiliation a FinDomme can dish out when feeling particularly vicious.
And that is part of the joy for Me, I mean, I don't have the time or inclination to humiliate and degrade losers for nothing (That line would be very fucking long), but a good wallet rape has a little extra jolt to it when I get to really shred Loser psyche.
In general a good humiliation session includes the following.
1. It's personalized. There is really no "one size fits all" way to do it. The best sessions come when I know what causes a slave to FEEL the erotic shame, and that experience is going to vary. (Thankfully, it would become dismally fucking boring for Me otherwise). Sometimes its something the slave tells Me, that I run with…or something I say that I intuitively know has created an erotic rush that I can go with.
So go ahead..tell Me something embarrassing that I can use against you. Be rest assured that I will explore it with angles and perspectives you never dreamed of.
2. It has unique elements to it. Even if the theme is the same, I love to spin it a little differently each time. I like to branch out and create NEW humiliations for you too Often the brand new humiliating thing is the most effective.
3. It is most powerful combined with kindness and/or humor. Counter-intuitive? Not really, it is the contrast that makes it so effective! Imagine this:
Me: Hello! I can't stop thinking about you and wondering about your cock, I'm so happy you called today!
you: Really? You've been thinking about my cock?
Me: Yes! and I have ALL kinds of really kinky ideas about it…I couldn't wait to tell you about them!  I've been fantasizing what it looks like

you: ohhhh tell me
(see first the build up…and then WHAM)
Me: Well, I'm thinking that it probably is  fairly small and soft looking, and would look really adorable in a pink ribbon, and for you to wear that as you pay Me today…so you'll be loser with a pink ribbon!
4. It's combined with wallet rape.  I mean I *am* a FinDomme   This gives Me a chance to make fun of you for paying Me lots of cash to humiliate you too, adding ANOTHER layer to the wallet rape and the humiliation.   And..best of all, it will help cement your addiction.
I've really been meaning to blog more often, but the truth is that lately, almost the moment I sign on I am bombarded with emails and calls from My junkies, all needing to spend on Me for their fix.
It's been sooo profitable and wonderful, all of those marvelous wallet fucks have left Me in such a state of almost constant arousal!  Some rapes deserve a little extra mention.

Of note is a Loser I am thinking of as wallet bimbo..he really started of a bit pesky with email after email, which naturally I began charging for.  This is a loser who just can't stay away.  Each time he reappears with a new handle, but his "voice" is distinctive in his emails, and before you know it, he's paying cash for empty emails that I tell him are  a tax on a surcharge surcharge email, for sending me a two word email. This all sounds silly, but in the last week or so, I've milked him for about $950 bucks 🙂
And we have worm,  a pathetic loser who is getting addicted to the way big fat pay mails make him feel.  To that I say Yay!   A rough calculation shows he has spent about $350 on me this week
The iFool made an appearance briefly. I fucked him for $200 really really fast and he fled in terror.  He will be back. Weak willed submissive fools always return.
Oh, and I know how much some of you love reading slave letters, so I thought I would share this one from addicted n
Mistress Lauren,
I have been listening to your slideshow as directed.
I keep thinking of your words. I left feedback. As mentioned, I have no interest in any other flirts on NF. They really have no significance to me, so some conditioning is definitely working. I only look on NF hoping for emails from you Mistress.
I try not to worry Mistress as you say and want to be a good boy, so keep repeating what you tell me to say in the slideshow. I had to get money out of my savings for the last cc bill, so it was scary and hurt but it made my cock hard.
The secret parts of my mind are the property of Mistress Lauren. That means you can know anything and everything you want, because it is yours? It makes my cock hard to think of this.
All that I am is yours. But wont I be broken? It is scary. Yet I hear you say not to worry in my mind, and it makes me feel weak and hard.
I loved your previous POV pictures 'addiction'. Do you have more mistress? Like your previous POV set 'enrapture' that I found so weakening. I just want to worhip looking at the crease in your panties…..
(name changed for privacy)
Yes addicted n, you may be broken, and it may be scary, but it will be the biggest rush of your life..
Now addicted n referred to a recording..This is something I have not done previously, a VERY long recording. It's some 31 minutes, filled with multiple tracks and hypnotic audio. Your life will never be the same.
you too can have your mind warped by it..buy it now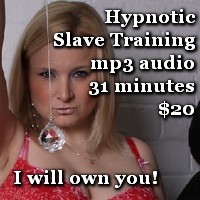 And I am sooo excited because I splurged with your cash and got a custom fitted red latex dress, and of course I did a photo shoot in it. See the photos here, you'll probably lose control and beg for more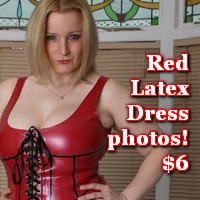 and all of you foot junkies have been begging for more PTVs, so have no fear (or perhaps you should), here is a series of some of My best foot shots ever!
Begin here
So click and pay junkies!  Maybe you'll get your name in My blog next

This is how you know if you really *have* become poor for Lauren, and yes, most of these things have been the reality for My clients.
I invite you to add in the comments what else you think of when you are "Being poor for Lauren"
Being poor for Lauren means:
That you have unpurchased Pay mails from Me in your email that you are saving up to buy.
That upon seeing a new PTV come from Me that you covet, you decide which bill to NOT pay so you can buy it
That you can't afford a vacation for yourself, because you helped pay for Mine.
That you don't have a girlfriend because you don't have enough disposable income for dates
Having to borrow money to pay your rent because you spent it on Me. Then turning around and spending the borrowed money
on Me too.
Having your home foreclosed on and sleeping on your in-laws couch because you spent the money to get current on your mortgage on Me.
Being poor for Lauren means:
Liquidating part of your retirement accounts to pay off your credit cards you maxed out on Me.
Maxing the paid off cards out on Me again.
That you get an erection when you look at your credit card bill.
That you work overtime so that you can have a session with Me, because you can only orgasm from spending on Me
That you pretend you are working through lunch at work, because you dont have the money to go out with the guys.
That you sell a family heirloom so that you can have money to spend on Me.
That you use your income tax refund to pay off your credit cards, but max them out within a couple of days, binging on Me.
Being poor for Lauren means:
That bankruptcy becomes a real option for your future
That you spend more in a month on Me than on your mortgage
That you open a new credit card before you max out the old one, so you will have a really big splurge
That when you are so desperate to talk with Me, after months of not being able to afford it, you accept an offer to get paid for a blowjob and use the cash to get a prepaid credit card to hear My voice and tell Me about what you did.
That you spend the money you and your fiancee were saving for a house on Me.
That you eat ramen and tuna for a month so that you can pay for My boyfriend and I to go to Vegas.

Noobie pig made another appearance last night, and during the course of an erotic wallet rape of $410 dollars, I found out some potentially embarrassing details about him, like he loves being called degrading and humiliating names and the thought of sucking cock and eating cum  just makes his little cock twitch!

I started captioning photos for him and he went nuts over them and the wallet spread wide open (yes I can caption photos for all My junkies for a price, just ask)

Pay Noobie Pig pay!
In other news! Please be sure you read about

The Extreme Money Guinea Pig Project

  I have targeted a regular client of Mine, Red Door Guy for Extreme Money slave training.  I'll be posting regular updates on how much cash he is spending and the mind fucks I'm doing to him. I want to see just HOW addicted I can get him, and how much I can get him to spend and how obsessed one man can become with Me.  Today I ambushed him on yahoo and began sending PTVs with a single photo, making him buy it and then rewarding him with a free photo.  I watched the poor junkie on yahoo with a trembling dick and when he called it couldn't hold back. Only two pathetic minutes, but he had spend $100 dollars, nearly double our usual session.  I will never leave his mailbox empty. Always a PTV temptation to buy.
Who knows, if this is successful, I will be recruiting more pigs for Extreme Money Guinea Pig Training. (At least the ones that can afford it! haha)
I'm so busy Christmas week, wrapping all the presents that Sissy Lily bought for my boyfriend and family that I have scarcely had time to post…
but lily is in trouble, because she has maxed out all her credit cards on Me….spoiling Me like I deserve, she's broke
So last night and tonight…she has been spending her rent money on Me!
She told the landlord she could catch up in January.
But I have plans for that money too…
I might end up with a homeless paypet haha 🙂