Coming up on the end of the Paypig Chicken Challenge Game!
Don't forget about Paypig Chicken!
This game will end on Sunday, May 31st at the stroke of midnight, and it's your last chance to get mentioned on the challenge page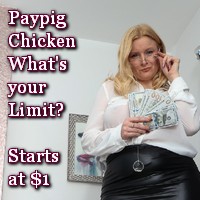 What level will you get up to?
Right now the leader is titpay ATM, who got all the way to level 18.  Can you best him?
Are you worthy of a mention?  Do you deserve one?  Do you want to be a special elite pig?
If you need a link to pick up where you left off, ASK, and I will help you.
Summer is finally upon us!
Here are some SUMMER HEAT images to help you keep up the fire! 
Fuckover Report!
Let's start with boomer.  He deleted his account to try and stay away, but only found himself starting another account to spend on Me again.  He ended up giving Me $290.  YUM.
Extreme Paypig Alert!  Coming back with more loss of control and amazing raise the rate calls is cuckie mark. He started as a cuck and is turning into an extreme paypig!  He spent $1652 this time around!
And a sissy that can't get enough of Me spent $121 since the last report.  I suspect the next one is going to be bigger, and caged yankee spent $122, on chat and pay to views!
Paypig Alert!  Unable to stop himself from coming around is extreme paypig. He's really an extreme paypig in training, but his training has been going VERY well
Coming around to spend some more was j the junkie.  This time it was $129.
New Slave!   Getting acquainted with My dangerous ways was greg in a cage. I hope that soon I can show him how well I can coerce him to pay more and more!  He spent $176
weak for legs can't stop coming around, and this time I used My legs and mind control to extract $232 from him.,  YUM
Huge Paypig Alert!  Adding to his impressive extreme paypig spending ways was PIG. PIG is bored on lockdown and working from home, and I am just sooo tempting. He spent $901 dollars since the last Fuckover Report
It's really common for paypigs to delete accounts and open new ones. This happened with a pig I'm calling weak goon. He has already deleted his account.  Again. But spent $260. He'll be back.
Huge Paypig Alert!  My special little devoted slave treats Me like his religion.  Correction:  I "AM" his religion, and paybitch terry spent $636 showing his devotion to his Goddess since the last report.  NICE, I am well pleased.
The guy I call Niteflirt client was back with a couple new accounts, spending $209 this time. He should just have ONE account, would be so much easier!
My good girl bambi came around and spent $120.
Huge Paypig Alert!  A special shoutout goes to irish dope who had his best sessions ever with Me!  This VERY GOOD boy spent $842 on Me since the last report! His lifetime spending is wayyyy over $13K now!  I am proud.
Back again, just sending random tributes to Me is helpless dave.  He gets good boy rewards for his efforts, and he spent $229 this time around!
Also back again after a while was button, spending $214 in a delicious click and pay session!
New Slave!  Finding out how dangerous I am was an adorable slave I have decided to call gilligan.  Dear gilligan spent $137 learning about My dangerous ways!
Another new slave was tc, who spent EXACTLY $100 to get a mention, and has since deleted his account.  I'm so dangerous the slaves try to flee!  Usually coming back of course.
Back again after a hiatus was redbird!  He spent $152. I love it.
Huge Paypig Alert! Completely losing himself in My power was egghead. He really shouldn't even try to stay away.  He spent $426
My good boy nylon slave spent $152 on his worship of Me.
New Slave and Huge Paypig Alert!  New to Me and the blog is "bishop" who discovered the dangers of click and pay with Goddess Lauren.  This hapless slave ended up spending $372 discovering how dangerous I am! Well done!
Going nuts with the paypig chicken game and some custom captioned photos I made for her was sissy j, who spent a glorious $266 in her worship of Me!
Back for the first mention in a while was sissy marla, one of My all time biggest spenders, and one of the 100k club! She spent $142. YUM.