Extreme Paypig Bait
I put out bait for extreme paypigs.
It's true.
I use this blog to lure them in. It works.
I have a new pig I'm calling junky
This pig, junky, found Me three years ago and never spent a penny, but apparently spent a lot of time jerking off on My blog, reading about My brutal wallet rapes and he spent for the first time, and it was memorable! He spent $6820 on his very first session. It's likely to be an uncommon occurrence for him for a while, as it turns out that the fool is unemployed and ran up his credit cards sending Me tribute after tribute!  He told Me last night he was afraid to start again because he would spend $10,000 and be truly ruined!
So what do you think junky should do? Take the poll!
What should junky do?
Weak piggy craves spending, after all!
See the screenshot of many tributes (It doesn't represent all the spending, but the tributes alone are pretty beautiful) It concluded with FOUR $999 tributes (the largest Niteflirt allows), send in a short period of time.  This is what gooning and edging to My blog does to weak men, bois and sissies!
This is what I call a LENGENDARY Paypig Alert!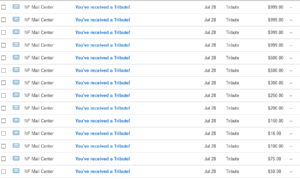 Hot huh?
So are you one of those lurkers who has been dreaming of spending on Me?  Do you jerk off on the descriptions of cashrapes and fuckovers of other pigs?  Does the thought of going bankrupt for Lauren make your cock stand right up?
I'm waiting for you.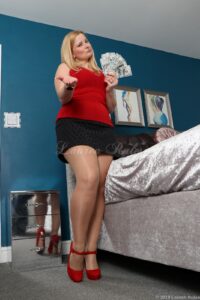 Oh, and there is a new Pay to view featuring this set! Plus a few other recent ptvs, gotta start someplace!
Now I know what many of you stroke junkies are here for.
It's time for the FUCKOVER report!
besides junky who was baptized in a legendary wallet rape, we have many more piggies who earned mentions!
Let's start with hypnowallet, who really really tried to stay away.  He failed of course, and dropped $283 dollars just listening to My voice and sending tributes!
Extreme Paypig Alert!   My good boy sniffer was back with a MAJOR session, he called and I directed him to click and pay in a series of escalating expense!  He spent $1566 dollars in an induced paypig haze!  So hot!
My good boy tom was back for more special intense therapy with Dr Lauren, spending $296 dollars as I told him he was so dedicated to his therapy of trying to futilely cure himself of being a beta male loser who would end up in Medical bankruptcy from all the cash he was giving Me!
Huge Paypig Alert!  My good boy boomer just kept coming back for more and more calls and click and pay. I'm sure he will be shocked to find out he spent $805!  Mmmmm THIS is what good boys do!
My good boy helpless dennis spent $148. I have a feeling he will be in the next spending report too, because he called just after I did all the calculations for this one!
My nylon slave came around a few times to spend $172. I think he is accepting his divine addiction!
Paypig Alert!  My new hypno slave "hypnofag" was back for another round of Me fucking in his memories and mind and inducing him to spend and tribute a lot of money!  He spent $440 on Me since the last report.
Failing to stay away again was j the junkie. He spent $196. I see he has deleted his account again, but I know and so does he, deep inside, that he will return to throw money at Me again soon.
Paypig Alert!  Earning a paypig alert was cucky phil! I always enjoy it when this sweetie comes around to through his money at Me and My shapely ass!
Spending $194 on a nice phone call and email session was special k. That slave needs to come around more often because I always like talking to him!
Paypig Alert!  My good boy who loves his stolen moments stole enough moments on his travels to pay Me $303, mostly in phone calls. This is one of My most interesting clients.
Showing up again for more training was mindless. I have fun things in mind for her! This sissy spent $178
Paypig Alert!  My exposure sissy and I had fun brainstorming new ways to exposure her that made her safe YET gave up more control, and she spent $412.  Erotic!
Unable to stay away for long, caged yankee spent $180
LEGENDARY PAYPIG ALERT!  I am sooo pleased that PIG is sliding into new levels of spending. He has a new girlfriend who is frequently around, and he spends every waking moment trying to pay Me because that's the only satisfying sexual release he has now. I have completely destroyed him to feel the same depth of pleasure with other women now. He spent $2,025!
New to My blog was babycock. He spent $122 on Niteflirt, and disappointed Me by insisting on spending a lot on Amazon and then canceling it. This is why I never give attention to guys who don't want to back up their Amazon spending with some real spending.  Another slave did this to Me a couple of months ago claiming I didn't trust him! (For good reason apparently).  If you don't intend to follow through with the gifts, you are a grifter, not a gifter.
Extreme Paypig Alert!  Another one I am destroying is greek virgin.  This loser just cannot stop sending Me cash he doesn't really have.  He is hopelessly in love and returns again and again. Since the last report, he spent $1202!  WOW!
New Slave and  Paypig Alert!  This is a guy I'm going to call jackward, who likes to click and pay!  He spent $407 getting to learn how dangerous I am!
He's trying to avoid living up to his moniker of extreme paypig, but he was back spending $105 in chat and getting a mention.
HUGE Paypig Alert!  My "niteflirt client" can't stop. He just keeps making new accounts and coming back again and again. Stop trying to escape and accept your fate!   He spent $594 since last report!
Stopping by to send some tributes was helpless dave!  I love it and I love the $185 he put in My pocket!
My boy wayne pleased Me by spending $140 just so he could admire My phat ass!
Paypig Alert!  My hosiery slut just keeps paying small amounts again and again, and boy do they add up!  He spent $360 since the last report!  Well done!
I have been having sooo much fun with My sissy j.  We have been messing around with exposure games (she likes to see Me expose My "exposure slave") and she spent $280 on captioned photos for an exposure webpage!
Paypig Alert!  Also spending at a healthy amount is My sissy cocksucker, who loves to be put to sleep and ordered to do kinky things he won't remember later!  He spent $405 on our kinky games!
Huge Paypig Alert!  My titpay ATM just can't stop going into a trance for My breasts and being My machine. An ATM machine. I press My PIN into the machine. (It's OBEY) and he spurts out cash!  He spent $630 since the last report, and his Lifetime spending just surpassed the $25,000 amount!
This is funny. My slave weak4legs (and tits, etc) can't stay away. I found NEW triggers for him and he spent $208!  He HATES seeing he made the blog because it is proof he is addicted to this!
New Slave!  Welcome to questioner. A boob guy who spent $164 finding out how dangerous I am!
Also getting a mention is dom, who keeps deleting his account after doing some click and pay. He spent $212 since the last report
Paypig Alert!  My good girl bambi was back and we had fun triggering her to do all kinds of fun stuff!  I got her to spend $369 on our naughty fun!
Lauren's footlicker has been a VERY good boy lately, even buying pay to views when he was on vacation!  He spent $261 since the last report!
Huge Paypig Alert!  My good boy button has been really pleasing Me lately with lots of click and pay. This slave spent $589 since the last report, and I am all smiles over it!
Once in a while, you get some junkie who spends a bunch of money, gets embarrassed over it, and trashes you in feedback. One of these spent nearly $175 on clips,  trashed My feedback, got blocked and found it necessary to make a new account to spend a whole bunch more to leave more shitty feedback.  Those losers are blocked and reported for harassment.  Here he could have had a nice blog mention and been nurtured to be a loyal slave.  Where on the doll did the FinDomme hurt you, fucktard?
So pigbait spent $173 and deleted his account. Again.  But I know he'll be back!
Huge Paypig Alert!  My good girl, princess gigi is being trained to be in My royal court as a sissy lady in waiting, I am doing wardrobe and makeup training on her, and she is heels over the moon with it! She spent $967.  (SOooo close to an extreme alert!) The pandemic has her trapped in an apartment with her unemployed ex-girlfriend, who she is being TOO nice too, or I think it would be even more!  What has made her into a paysissy for Lauren to this extent?  Why mind control and hormones, of course!
Coming back for more spending is a sissy I call prim!  She spent $182. Very nice!
and finally
Extreme Paypig Alert! I am SOOO proud of My slave irish dope.  Dope is a very good boy who just keeps trying his best to find money to give Me. He agonizes when he can't pay me, but dutifully plans to spend each paycheck on his Goddess.  This very good boy spent $1170 since the last report, and now his lifetime is over $15,000!
I love writing about My slaves, the modest ones, but especially the extreme pigs!  It's not hard to get a mention. Spent $100 before My next blog post.
Remember:
Spend $100               Get a mention
Spend $300               Get a Paypig Alert!
Spend $500                Get a Huge Paypig Alert!
Spend $1000               Get an Extreme Paypig Alert!
Spend $2,000             Get a Legendary Paypig Alert!
There was one in every category this report!  Be in the next one!