My slave Dr X
Dr X is what I've called him in my mind since he won My online contest "The Game"  last summer.  He has become much more to Me since, and a loyal and devoted slave.
The past couple of weeks he has truly awe=-inspiring and the rest of you should take a page from Dr. X.
Last week after spending about $1000 on me, he went to my Amazon wishlist and purchased me a brand new laptop computer, and a very nice 35mm SLP Canon digital camera with a zoom lens. Actually, he accidently purchased 2 of those beautiful cameras, and he told me to return it for a $500 Amazon gift certficiate.  Nice!  Those arrived Thursday.
And last night, My good boy went crazy finishing my high stakes Hypnotized Money Slave series and spent over $2000 dollars, culminating in a $999 paid email. I wasn't even there egging him on, and he did it anyway, just to surprise Me!

What a awesome sight  to see all that money in my account! I began My day with  a huge smile on My face, the rest of the weekend is just going to be frosting.  And good timing, because I'm going on a short vacation in July, and its nice to have a little extra pocket money.  Oh, and I'll have a beautiful camera to record all my vacation adventures 🙂  New Orleans here I come!oh, and for the record, this is the game that created the mindfuck that made him pay and pay and pay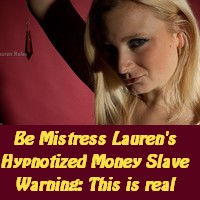 Well done Dr. X!