The Evolution of a Paypig
The Evolution of a Paypig-Stage 1- "The Lookover"
When a man approaches Me, I take stock of him for his paypig potential.
This is the assessment period, where I feel out a slave to determine if he is suitable for training. The #1 determinant is his willingness to part with some money.  If he is unwilling to spend even a modest amount of money in his contacts with Me, I cut him loose at once.  He may reapproach with a better attitude later, but until I'm being paid for My time, I don't even bother.  If he calls on the phone, that's fine, I'm being paid.  If he buys pay to views, that's even better. When chatting, he better be sending even small tributes or buying pay to views as well, because he's not impressing Me with .69 cent volleys 🙂 (Although I will engage with that for a short but not endless amount of time)
If the subject has already spent some money on pay to views, goody bags or tributes before emailing or messaging Me on chat, I am likely to be much more impressed. Likely if he indicates that he has been reading this blog.
Additionally:
I also look for respect.  Calling Me "baby" or "honey" or *shudders*  "slut" will not impress Me.  Calling Me, Mistress, Goddess, Miss (that's very European) goes a long way, but even just politely using My name is better than nicknames that diminish women. Or describing sexual acts he wishes he can engage in with Me!  Ewwww. Call one of the other girls who do that, I'm a FinDomme! That is not what I am seeking out.
Stage 2 -Paypig School
This begins with getting to know you and your buttons. Every client is different and responds to different images, words, techniques differently.  I'm likely to ask questions, and if you are an earnest paypig, you'll help not waste time but just telling Me things that make you tick.  There *IS* not a one size fits all approach, and although I'm pretty intuitive and observant, I am NOT a mind reader. (If flirts were mind readers, we would be making bank on psychic hotlines. not here)
Regardless of how you tick, some things are very universal.  Read this blog, for example, it really will show you a lot about who I am and what I do.
Sometimes pigs-in-training, new clients notice that I have A LOT of pay per views, and get overwhelmed and don't know where to start.
I suggest these. The first helps Me get to know you, the second introduces you to Me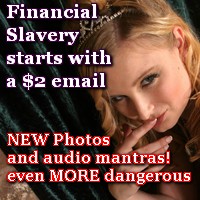 Stage 3- Ramping up the Intensity
In this stage, I increase the intensity. Some slaves I do very fast, others very slow, depending on how responsive I view them to the process.  Some slaves are stuck in this stage for a long time. There are many barriers to being able to progress further or faster on the path.  On occasion,  slaves simply lack the financial resources to go further. I keep them in training, making them needier and they become stuck on spending at least a certain amount to even achieve an erection.  Note: I do consider these slaves to be paypigs, just not EXTREME paypigs.  A very large proportion of My clients become stalled here, and as long as they are respecting My time I allow them to stall. I encourage them to find ways to advance their spending, and to be honest, most want that on some level.  Some slaves can afford to advance but are psychologically stuck.
I keep implanting triggers and advancing their addictions to further My financial goals.
These are some favorite series more advanced pigs enjoy. (To be honest, so do newbies to Me)
Stage 4- The Harvest
This is My favorite part. Some slaves never quite get here, but many many do.  I begin really draining them.  Extreme paypigs like wallet rape toy, PIG, princess gigi, sissy marla loserbeast, and Dr X.  Some of these PIGS gave fast and hard (like wallet rape toy, noddy and loserbeast). Others, like PIG and princess gigi just can't stop paying more moderate amounts almost every day, and after years it really added up. (Both are six-figure spenders)  Some like Dr X and wallet cunt do occasional HUGE sessions for Me. (Dr X had a session last year of about $14,000)
Sometimes with slaves of more modest means, the harvest is less noteworthy for Me, but it is VERY noteworthy for them, as they struggle to pay bills and enjoy ordinary life because of their sacrifices to Me.  This is what harvest is about. Realizing that your sacrifice for Me is your duty and compulsion.  It is an addiction and I LOVE to see it happening! These addicts go on benders and I encourage it. If they can't afford it, well that is their problem, not Mine.
One effective way of encouraging My pigs to spend has been My spending report which I call…
The Fuckover Report!
Huge Paypig Alert!  First up is My good girl, caged yankee who couldn't stop her monthlong fuckover. She spent $512.  It appears she has hit a new stage in her training!
My special good boy called Dr Lauren and spent $112 on Financial Domination therapy
Paypig Alert!  My slave boomer couldn't stop paying Me, between calls and pay mails and he spent $428. Mmm
My nylon slave is so deeply smitten and he spent $165 on phone and pay to views of My hosed feet.
Paypig Alert!  My extreme paypig (in training) spent $331 on My perfect legs and breasts. This boi cannot stop returning again and again!
Stopping in after a long hiatus was sissy marla, losing her mind on a phone call with Me and spending $131. I miss that sissy!
Huge Paypig Alert! My PIG tried to moderate his spending. But he failed, spending $765 that I cheerfully exploited from him
And gimp loser stopped by for abuse and to pay me $132
Huge Paypig Alert!  My sissy cocksucker who loves his trancy hypno sessions spent $335 on Me since the last blog.  What a good girl!
Back and spending $142 was PB, a weak little popper bitch
My good boy who loves stolen moments called a few times, spending $220. Love to hear how he is manipulating others to get $$ for Me!
Huge Paypig Alert! Going nuts with multiple phone calls was My Exposure sissy,. who just can't get enough of the world knowing how much she loves crossdressing.  She spent $882!
Back again for a little spending was swedish dog, who spent $104
Extreme Paypig Alert and New Slave!  New to My clutches was hypnofag.  A submissive hyp0 addict who couldn't stay away and couldn't stop spending!  This fag spent $1090 finding out how dangerous I am!
My good girl sissy j spent $180, mostly on cute little captioned photos using her photos 🙂
Huge Paypig Alert! Paybitch terry couldn't stop spending either, he spent $568 dollars on tributes, chatting, and pay to views.  He is an owned paybitch in love with Me!
My "niteflirt client" spent $289 this time around, just missing a HUGE paypig alert!
Huge Paypig Alert!  I have to say that My good boy irish dope has outdone himself. He scrimped and saved so that he could spend $315 on chat sessions with Me.  What a VERY good paypig!
My titpay atm couldn't stay away, even after his huge session last month, and he spent another $195 being used by Me!
New Slave!  New to be and the blog is ffins, who is a slave who loves sniffing My hosed feet, and I love using that weakness against him! He spent $201 dollars on Me 🙂
My recently acquired slave gilligan couldn't stay away and he spent $126. I'm looking for him to do more soon.
Huge Paypig Alert!  My good girl and I had all kinds of fun with royal court fantasies, and she joined My court as a sissy in waiting! She spent $709.  YUM.
Back again after a break was "horniest" who clicked and paid his way through $247 all for Lauren!
Huge Paypig Alert!  Another Hypno slave is bambi, who didn't even realize she was paying she was so tranced. She spent $816,  YUMMY
Lately, Lauren's footlicker has been extremely busy buying old pay mail club mails and he spent $164, EVEN THOUGH he had a health scare.  Outstanding!
Huge Paypig Alert! Going nuts AND winning the Paypig Chicken Challenge was star junkie, he spent $381 being My VERY good boy.
Huge Paypig Alert! Missing Me letting her know about her mention, because she's trying to block Me to avoid spending is a good girl paypig I'm gonna call "prim" , dear little princess, message Me to ask Me if you are prim, you spent $306. Silly paypigs
Since the last blog entry, My piggies have handed Me really close to $12,000.  Nice!
But you pigs can and have done better. Get your payments in to be on the next entry!