The Unethical Hypnotist runs Cash Rape Experiment!
Cash rape trance….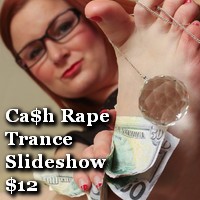 The evil hypnotist has returned…
And She is testing about a new cash rape trance.
You are invited to be Her subject
Purchase this slide-show with audio.
Listen to it in it's entirety and that is all you have to do!
Dr. Lauren will be keeping statistics on her webpage.
# of subjects
# 5 largest cash rapes as a direct result of this test
# total amount cash raped as a result of this test
I am so excited to see all you piggies get all whipped up into a frenzy and begin your descent deep into your doom.
The audio will get so far into your head….