My hypnotic surrender Crystal makes you surrender your $
I am not strictly a hypnotist.  I don't have any special training other then what I have gleaned from speaking with certified hypnotist friends and reading.  I am a natural, I know instinctively how to lull men into a false sense of complacency and make their cock throb on command.
I actually *can* do hypnotic sessions, but I find them a bit draining and less profitable then just fucking your mind up so much you just buy PTV after PTV.  Hypnosis is but a tool for Me. I insert it into everything I do, every email, every PTV, every phone conversation. It is covert. It is overt. It is subliminal, and it is right out there for you to view. It works.
Many men have doubted, and many of these men now have huge credit card debt.  I warn all of you.
I am dangerous.
I am not playing around.
I am easy to talk with but that is part of what makes Me deliciously addictive
I will make your cock throb like nothing else in your life.
I am extreme.
you will be Mine….another addicted junkie for Lauren
This week's spending report:
Sporadic paypig, "rare whale" was by last night to drop Me off $665 in spending, mostly on My goody bags. He's one of those that I use hypnotic techniques on…
Here is one of the Mantras I used on him
"I surrender to Lauren and her hypnotic crystal"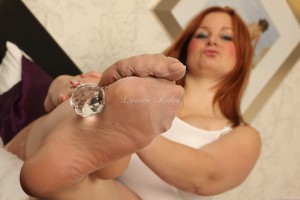 My hypnotic surrender crystal makes
seasoned paypigs like rare
whale surrender.  You have
no fucking chance!
Another slave of Mine, nylon lover, become mesmerized by My reinforced pantyhose (as in the above photo), and I completely took a ride through My junkies credit card accounts to the tune of $752.
My armpit loser was tranced through imagery of hypnotic armpit fragrance making him surrender.  $200 was Mine.
A very polite sissy new to Me I'm going to call curtsey on here spent nearly $200 as well. Very good girl. I LOVE addicting sissies, I find them so easy to manipulate with a combination of kindness and humiliation. Very profitable.
Speaking of manipulated sissies, princess gigi shoved another nearly $1100 at Me this week, while I spent the week teasing her about finally being allowed to cum.  She stayed chaste and soft the better part of two whole months. And this week I kept commanding her to rub her little sissy parts and be hard, and finally after an agonizing week, I allowed her a release. Dear gigi. Next time it will be longer than two months!
paybitch terry spent another $235 after an unsuccessful attempt to stay away. I laugh every time I see a weak little slave try to make a run for it…I'm like a cat with a mouse, only amused at your weak efforts!
My robot paypig eunuch clicked and paid $235 without even any encouragement on My part. I didn't even realize how much he mindlessly spent until I added it up. Delicious!
And I lured cumstain back in for another $525 dollars. The losertard has a weakness for latex and black strap ons. I exploit that….
My young slave no nonsense guy threw $135 he didn't have at Me.  Good boy.
After her brutal cash rape last week, marla STILL couldn't stay away, but this week was an anemic $233 in comparison.
and Last and least is my wallet rapetoy, who spent $427 on Niteflirt on his owner, and surprised Me with nearly $800 worth of spending on My Amazon wishlist, including a new Fitbit Charge wristband, a cute new Rebecca Minkoff purse, new running shoes for My girlfriend who runs with Me, coffee (of course), a new knife for My boyfriend, and a bunch of new garden tools.
I don't know why more of you Losers don't buy stuff on My wishlist, you don't all have to spend big bucks….also I LOVE Amazon gift cards (send to Laurenamazon at gmail), I use it for stuff like household items too boring to put on My wishlist, and sometimes you need to order something where time is of the essence.