Cash cows love seeing their names in print!
I've got two really interesting letters from cash cows that are loyal and well programmed piggies. I'll be doing blog mentions later, so look for their names.
From lord Loser (who reactivated his account to serve Me again)
Mistress Lauren – I tried to escape you by closing my account, but I started looking at your blog on your website and stroking for free, slowly sliding back.  The final straw was when I was reading an older entry and you casually talked about waking up in a beautiful bed that was bought by a loser you had sent into bankruptcy.  At that I shot a huge load.
That night I dreamed that you had a convention for paypigs, fucktards, sissies and faggots in which 100 losers were to pay $1,000 each in order to attend.  They all had to be naked, exposing their ugly bodies and tiny cocks.  I woke up with a very hard cock that was oozing precum.  I squeezed the head of my dick, took the precum on my finger and ate it.  Then I finished the story as a day dream.  I know that you do not want me to go into detail, but I will just tell you that the sessions required additional cash from the losers and they focused on groveling on the floor and oinking, how to steal from your wife and family to pay Lauren, cocksucking to earn more for Lauren and being kicked in the balls by Lauren or other doms you had brought along.
I knew then that I could not escape you, that I had to crawl back. worship you and be ready for a severe wallet fucking.
lord Loser
Phew, what a thought, a Loser convention that costs $1,000 a head!  I would probably be able to retire after all you fucktards were competing to spend the most!
For the record, after his sent this to Me, lord Loser went on the click and pay for a total of $1065. All while I was sleeping. And he started his descent with 3 little $2 emails.
While I was writing this post, Lord Loser called Me, and I fucked him over some more…his grand total is below 🙂
Most of it was on a popular series.  Find out why it is so dangerous!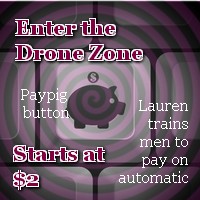 Another letter came to Me from paypig brian, a deliciously addicted paycunt of Mine.
Obsession and Reprogramming – The Plight of the Money Slave Pig
After a recent session with Mistress Lauren, she announced that I was definitely in her class of extreme money slaves.  It was a targeted comment on her part to bind me even tighter to her.  I knew it.  She knew it.  And I love her for it.  I have been her paycunt now for around four years, and I have tried to quit many, many times, but I have not been able to shake the addiction.  Now that I am classified as an extreme money slave, I know that my fate is sealed.  Lauren has my cock and mind in her addictive web, and I am her property.  There is little hope for me.
Now, I could warn potential money slaves about the very real danger of lurking around Mistress Lauren's site, reading her blog, and paying her PTVs, but that would only encourage you.  To be quite honest, I love serving Lauren by bringing other pigs to the slaughter.  I am like a missionary bringing lost souls to be saved.  For a submissive like you, that place is Mistress Lauren's money traps.  It is where you need to be and what you are missing in your life.  I only need to lead you there and encourage you; she will do the rest.  She will target you and victimize you, and I will watch with pleasure as she enslaves you.
The traps are baited nicely with photos and words of warning meant to attract just the sort of man that is turned on by a dominant woman.  If you think you are not in this category, you are kidding yourself.  You are here, aren't you?  You are getting hard by the thought of giving up all control to Mistress Lauren and her manipulation.  You are a money slave in the making, even if you won't yet admit it or are foolish enough to think otherwise.  You came here because you want it.  Bad.
But the real danger begins when she takes control over your hard cock.  I remember how my pulse raced the first time I entered that credit card number.  My fingers were trembling on the keyboard in excitement and fear of the danger I was putting myself in.  And my cock demanded that I continue, even when I mis-entered the number twice, because I was sexually aroused by the thought of being used by Her.  And a few minutes later, my eyes rolled back in my head with that overwhelming feeling of Her control and that hard orgasm that came from knowing that a dominant had taken me for her pig.  That feeling doesn't go away when Lauren owns you.  In fact, it only gets worse.
After a time, paying Lauren not only makes you hard, it shuts out all other normal sexual functions.  You struggle to get it up, unless you are dreaming of being submissive to and paying Lauren.  And just thinking about it isn't enough.  Try as you may to escape it at that point, you are hers now.  You will think of her.  You will tell yourself that you are her slave, that she demands your obedience, and you will want to look at her website again and again, and soon you will be paying her again and again.  More and more, over and over, getting fucked harder and harder.  You are caught in her trap, and she is preying on you.  And the very thought of that is too much for your submissive brain to handle.
What you don't realize is that this addiction isn't just a learned behavior.  It is a true, chemical addiction in your brain.  She has programmed your brain to find pleasure in paying her, and over time, that has changed your brain's chemistry to where you ONLY find sexual pleasure in pleasing Lauren.  Much like other addictions, the chemicals your brain releases during repeated incidences of pleasure causes withdrawal when the source of the pleasure is removed.  And Lauren knows very well how to make you associate first her dominance and then her financial dominance with that pleasure.  That pleasure of paying her causes the brain chemistry to change, and then she has you.  She is calculating.  She is merciless.  And she owns your sorry cunt ass.
paycunt brian
brian, that letter needs no elaboration, you are completely correct. And it's also true that the mere fact of Me posting the letter will drive more pigs to Me. Well done pig, well done!
And without further ado
The Spending Report….
nylon foot lover just cannot get enough of My elegant nylon feet. Do you know I actually take photos for top slaves that I know will make them open their wallet.   He has spent $520 dollars since My last update
PIG is another I tempt with photos I take to lure him in. $340 this time.
An update on a loser from Last Week, Ass drone, who spent close to $1500 on Me in a short period of time. I see the Loser has deleted his Niteflirt account.  Drone, most come back. I bet you're reading this and I summon you back to Me 😉
I want to highlight a special Loser with a new name. Formerly he was known as Fledgling Loser. He debuted on My top paypig list at Number #13.  Well he worked himself into a frenzy over this and spent in several late night sessions with Me to the tune of ….hang on to your cock…to $5,633.20  Yes, you are reading that right.  He sold his condo, paid off his credit cards and started with a bottle and My photos in long expensive sessions over 3-4 evenings.
He has a new name  "trancetard!"   And tard has tried to protect his credit card from more damage by blocking Me.   But it won't last.  Trancetard, I am waiting. Surrender and go blank and pay!  I know you're reading. Edit:  I also know you have been viewing My listings, because you are obsessed. Go blank, unblock, surrender, obey.
Trancetard, you have climbed up the Loser list, you're now #9 with a total spending of over $21,000 on Me.
Other spenders include cumstain, who dropped another $270 on Me over My shiny latex photos. (And he has such a weakness for My black strap-on cum photos too!)
My special little club piggie is working hard to climb My all time spenders list, and his goal is to hit My top 25 list! He has a long way to go, but he has spent about $140 this week!
I have a long time client who has never been on My blog, but this week he went crazy for My new series "She Devil" (many clients did actually), and all could say was "more please" to the tune of $281. He is only about $18 from reaching the 2K threshold as well.
Oh this is the series driving everyone crazy btw
You can check it out, and if you love it I will gladly do a nice little PTV session with you and more of these photos!
Also Dr X threw $137 on Me.  He is trying to duck a huge session, but both he and I know it's inevitable.
Dr X, I know just reading this is making your cock hard. surrender and email Me.
Sweet pig declared her love for Me again, and spent $114. I'm thinking this girl is due for a larger session with Me.
My little paybitch couldn't stop, and spent another $450 on Me.
No nonsense guy once again couldn't stay away and spent his paycheck on Me. $437 from him to Me. Yum
$116 from the iFool which was cut short when he couldn't add more $$$ *sigh* Let's try that again fool.
princess gigi spent $394 since last update, she's been gone a lot this summer, but the little faggot has a birthday coming up, and I bet that she would LOVE a release. Maybe Ill give her one. Maybe not.
New is ordinary sub, and he spent $110 getting to know how dangerous I am.
Another huge spender this week, was the loser whose letter I quoted, "Lord Loser"  This guy is an old geezer with a tiny dick living on a pension, and in his retirement he has been obsessing over Me.  Since he came back to Niteflirt just last night, he has spent…get ready $2481.  I bet I hear from him again tonight, I just have a feeling! If he can hide from his cow wife long enough that is…
egghead got all turned on by being one of My top 25 spenders and dropped $171 this week.
kane the foot lover gets a blog mention for his $140. Gotta work harder than that to climb the loser list though!
Footsniffer surrendered $127.  I've got him targeted for more.
Another new piggie, dream loser learned how dangerous I was to the tune of $410.  It just goes sooo fast when you get caught up in click and pay!
paycunt brian sent $125 in addiction to the lovely composition that I published in this post. He has dedicated his life to being one of My losercunts
curtsey continues to be a good girl for Me. She was $279 worth of good girl since the last update!
slave benny was back, this time for $216. He was another that loved the She-Devil set!
pigskin spent $125. I always get wet when he started paying because sometimes he goes on automatic and doesn't stop until he has spent thousands! I love that!
Lastly, but not leastly, elegant foot lover tributed Me a total of $153. Yum.
I always love publishing the spending report, because it inspires all the Losers to spend. So start spending!