I have lots of new clients in the past few months, and I thought I would highlight some of My most popular pay to views
that aren't up on My store yet, nor are they available on My listings right now….I want you to have access to all the best stuff. 🙂
I'm also taking suggestions for what people would like to see in blog posts. I'm looking for SPECIFIC suggestions. I commonly get asked for posts on "the psychology of Financial Domination", and I have gobs of those, and if you have a specific suggestion about that I will run with it.  For example, if you say Mistress, I get hard when you talk about how you manipulate, isn't a specific suggestion, but if you say, Mistress, when you did xyz with Me, it was amazing, why did have that effect? I might be able to do something with that….
Not every suggestion I will run with, but I might like your idea. Email Me on Niteflirt, or comment.
Now a couple of polls. Please only vote once.
Would you be interested in Blog posts or Pay to views about sissification?
Are you interested in the fetish of cuckoldry?
Also I am curious about how much those who indulge on Me make. If you don't spend on Me, you have two choices. Don't answer the poll, or go buy something and come back and answer the poll.
Please Answer ONLY if you have spent on Me in the past
What is your annual income? I won\'t be able to tell who answers what.
Now it's time for the spending report!
jeffnomore was back for a rousing little call for $154 🙂
Huge Paypig Alert and New Slave! And new to My blog AND My service is hypnovictim.  This guy thought he could just check out a couple of My PTVs and he NEVER thought he would get so addicted so quickly. How bad was his first week?  $773  Yep. I want to see just how fast I can completely fuck him over!
PIG surrendered another $142 to Me. Lifetime he is over $80,000 for Me. Yes, you read that right. Eighty Grand. He is well named. Oh and he thought he would NEVER get addicted.
Huge Paypig Alert! and titfool gets noted for spending over $573 dollars on Me this week. Wow! We did a fun raise the rate session,. and a separate high stakes PTV session another day. Yum
My #1 spender of all time, princess gigi did $151 this week.  What makes her the top spender is her consistency. She is in My paid box just about every day. She's been with Me for 7 years and has spent just under $165,000 total.  That's about $65 a day on average. Mmmm
Huge Paypig Alert! Another big lifetime spender that made the report this week was egghead.  Egghead spent $414 on PTVs with Me this week, and lifetime he's up to about $25,600.  He's been with Me for 5 years, and his daily average is only $14!  Most of you dolts could afford that-no excuses.  Good job eggy!
and walletfucking cumstain appeared again  this week for $179,  Hey you fist pumper, there are more from that set you will like!
Lauren's junkie managed to get a mention with $106 of spending
Paypig Alert!  and moneybunny was back and spent $208 this week!  This sissy has been waiting for her blog mention with excitement!
And sleepy got busy with click and pay this week, and spent $182. YUM. I love that
another back from a hiatus was button, this time for $187.  They never leave for long. Addiction to Lauren is very potent.
Huge Paypig Alert! and back again for more click and pay for Mistress was loserbeast. Beast has been one of My most loyal slaves, and I appreciate his service. He's been with Me for 5 years and 4 months and has spent almost $41,000 in that time. His daily average turns out to be $21 bucks.  I bet most of you waste more than $21 on stupid shit every day, that would be better spent on Me!  This week he spent $418, so above average for him 🙂
Paypig Alert! and finally my wallet rape toy spent $140.  He told me that he's getting foreclosed on soon, he's going to court, and he will be homeless.  Why so broke?  He spent so much money on Me (How much? $118,000 on Niteflirt and about another $25,000 in gifts and gift cards)  He did that in only 3 years and 8 months, averaging about $108 a day.  So stop complaining about your piddling contributions. Spend yourself into bankruptcy for Lauren!
One of My favorite things is doing the spending report. I love new entries appearing and I love the junkies that come up week after week, being weak for Lauren!  You too could be here. Just starting paying!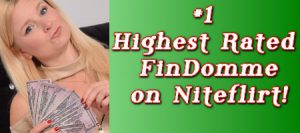 Yes, with help from All My fans, junkies, losers, sissies and slaves, I finally hit #1 in the inancial Domination category! It happened a few days ago, I've just wanted to build a little lead before telling everyone!
Thank you for all your help making it happen, and your future help keeping Me there!
Today is just gonna be reward photos for the fans, and then the spending report. Click on the photos for a better version!
Thank you everyone!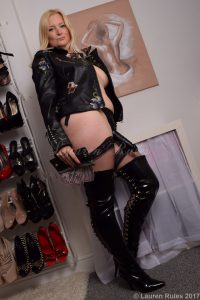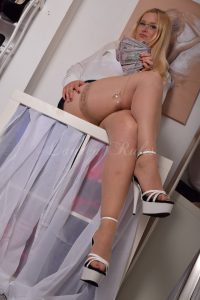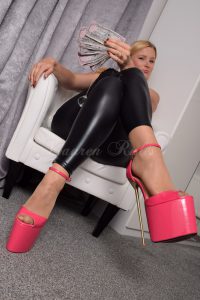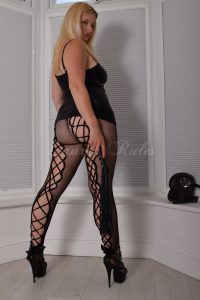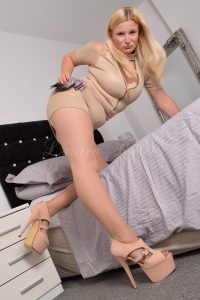 It's been a very crazy week, between personal stuff and wallet rapes and just enjoying the cash that I have taken from all My slaves recently. Every week an erotic adventure of money fuckery!
And new slaves this week, yum yum yum
And without further ado, the spending report!
  New Paypig Alert! New to Me and the blog is a new junkie,
"pantyhose viking"  Viking and I enjoyed a couple long, warm and erotic conversations as we got to know each other better. He ended up spending about $375 on our get acquainted conversations! I can't wait to get into deep manipulations with him!
Nylonslave was saying YES to Lauren again, this time for $225!  No matter how much will power he has, it won't be long before he's saying YES again!
My little princess gigi was spending this week, this time over $200 and she finally risked a phone call and got rewarded with her first release in over two months. Delicious!
PIG was the slave who pushed Me into 1st place with feedback, little rascal was saving them up to be the one. This week, his weakness brought him to spending $135 on Me.
New slave!   Lauren's junkie spent $138, when finally losing control of his wallet this week. YUM!
And hike by My poet was back on another round, this time for $200, a record for him I believe.  He'll be back with his elegant words soon enough.
and elegant foot lover squeaked in under the wire with $100's of spending this week
and fruity managed another $118 this week, was nice to see him take another plunge!
And Irish dope keeps maxing out his card on Me..this time for $250.  I think that loser needs a second job just for Lauren!
After the huge fuckover I gave star junkie a week or two ago, I rubbed some salt in his cash wound with another $124 taken from him!
New Paypig Alert!  New to Me and My blog is money bunny, who spent nearly $400 ($391) on obsessive click and pay flurries! She is discovering what happens when I gaslight a sissy!
And titfool was back last night for a nice little $166 dollar session. Oh to pay to cum to a photo of My tits! Amazing!
Paypig Alert! Overdue for a nice little fuckover was Loserbeast! We did one in honor of My finally hitting #1, which he noticed on his own. Very good beast! It was nice to work you over again!  I took $300 from him!
and finally goat was back with another $122 in spending.  YUM!
Who will it be next week?
I want all My slaves to have the chance to experience to utter joy of impassioned Financial Domination!  Being an impassioned paypig for Me is an incredible, life altering experience.
It's REAL submission, as real as if I had you bound with straps to a rack.
As real as if you were kneeling at My feet and offering yourself up to a spanking.
As real as if you were getting you cock put in a steel cage and being penetrated by a strap on!
So I want to offer you up HELP to be in a position to have this unique experience.
Money is often the limiting factor, so you may need MORE access to cash.
How to do that?
The easiest and fastest way is to call and ask for a credit increase on your current credit card. You may be surprised how quickly they will give you several hundreds of thousands of dollars of credit for you to have an erotic spending binge with Me!
You can also apply for a new card.  This site, Credit Karma gives you a free credit score, but MORE IMPORTANTLY, will suggest new credit cards that are more likely to actually give you a card.
Admit it, the thought of applying for a new card to use just to give Me cash is making you hard, isn't it?
If you have a wife/girlfriend who always knows what's going on with credit card spending, this is your chance to get  a card she doesn't know about!  Get the card, if she finds the new card first, tell her that either 1. you are going to have your own independent account, and so should she as a matter of having your own little discretionary account.   Or 2.  Wow, I don't know what that is, I'll call and cancel.  Then tell her you did that.   Remember to go online and ask for paperless billing, and no notifications in the mail. Perhaps you have the chance to use another address to hide it….
Another way to hide your spending from your wifey is to buy prepaid credit cards, but it's better to have your own dedicated account!
Go do this small thing for Me..
Now, have you seen the newest ptv yet?  This slideshow has been selling like mad.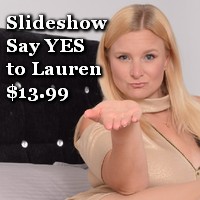 Now, time for the spending report!
Hypnowallet and I had a nice phone call, he ended up spending $130, mostly in tributes. Nice!
HUGE Paypig ALERT! And a NEW,  slave clicked and paid a total of just over $500 this week!   Nice!  My new slave goat, seems to be completely under My control from listening to My audios. *smiles*  I warn them, and yet then become ensnared! Welcome to the menagerie, goat!
My sissy, princess gigi was should have been lucky this week, as we kept missing each other.  But she got caught up in My gaslighting series. and ended up spending $275.  Soon I will lead her back into her sissy paradise, where all she knows is paying Me.   I love it that way!
HUGE Paypig ALERT!  Star junkie stopped by, bought the new slideshow and stayed for a nice one on one Pay to View session with Me.  An hour or so and $774 he let with balls drained from an intense paypig orgasm!
wallet cunt made a rare appearance and spent $100 exactly.  I'm looking for you wallet cunt!  This one holds my all time record for spending in one session, $7676. I'm looking to have that record broken in 2017 by someone!  Who will it be?
Paypig ALERT! And Dr x and I had a nice session, this time him devoting $306 to Me…he knows it's all gonna be Mine!
and loser3188 was back, this time spending $272!  Good boy, another one caught up in click and pay for Lauren
and Irish dope was back again, in a nice late night session, spending $272 🙂 YUM
Paypig ALERT! Also back was firedog!  He tries so hard to stay away but always comes back.  This time he spent a delicious $385
also back was My shy roleplayer, tod. Kind of a retard, he just kept clicking and paying. Spent $279 one day when I wasn't around.  YUM
Paypig ALERT! another to fall under My spell was paycub!  He spent $316 on Niteflirt and another $140 or so on Amazon gifts, including a $50 Whole Foods gift card and some dividers for organization in  My kitchen 🙂
I want to add that I had an unusually high amount of slaves spending more than $70 but not hitting $100 this week. Even though I don't give you a special mention, I notice.  Next time, hit $100 and you will get a mention!
Say Yes to Lauren, Say Yes to Financial Domination
Right now, just say yes. It won't cost anything.
Just say it out loud.
"Yes Lauren"
Now, did that make you bankrupt?  OF COURSE NOT
Good boy.
Now this won't cost you either…
Click this button.   You will have to sign into Niteflirt.  You will get a pretty photo and asked a small thing.

If you are not on Niteflirt, you will have to join.  About Niteflirt
Oh that was Very good.
You likely enjoyed the photo.
Obeying Me probably made you hard, and I didn't ask much of you.
I'm going to ask another thing of you that will be simple.
This cost $1.
Buy it.  Inside are more instructions, which will not cost you anything, but you will be doing Me a great favor and it will make you hard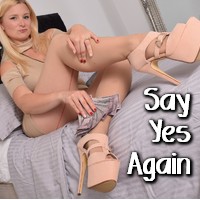 See? that wasn't bad….
Now…I want you to do Me one more thing
Find a Pay to View of Mine that is interesting. Any Pay to View..
From My Niteflirt pages….   Or My Pay to View Store
Click it. Put it in your Niteflirt mail box.  Makes you hard, doesn't it?
If you really want to be obedient, you'll buy it now…
Now….what have I been doing?   It's  a psychological technique….called "Foot in the Door"  I get you to say YES YES YES several times
To small things.  It will be harder to say yes to big ones.  Sometimes I don't even need to ask, the piggies just start sending money.  Think of yourself asked to be a frog in warm water, and gradually, so gradually I turn up the heat, you never notice.
Many of them have been spending this week on THIS series.  Do Me a favor and just click the button 🙂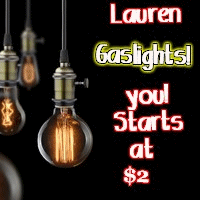 Now…on to the Spending report!
Huge Paypig ALERT! Back for more abuse was jeffnomore. He has been a client of Mine for years, and we've done many hypo type calls.  He has never really been into financial domination.  But last week, he started My gaslighting series and THINGS changed.  He ended up calling (for an almost FOUR hour marathon call) and ended up doing the WHOLE gaslighting series while on the phone with Me, and ended up spending $1900. Not bad for someone not into FinDomme, haha. Oh and I got lots of potentially useful information on him  too. Stuff to use against him later! YUM
Huge Paypig ALERT! But the delicious a fuckover weren't over!  I had another even BIGGER kickass fuckover  session  last night with tPay. He also self victimized with the gaslighting series and begged for even MORE abuse.  And then again this morning as well! The total?  In less than 24 hours. $2624.
Also surrendering to Me after a few gaslighting ptvs was nylonslave, sending Me a quick $185.
and foot freak was back, spending $116 in a quick raise the rate session. Fun!
My paymoosie from Australia was pleasing Me with more gift cards. $50 gasoline card, and $55 on Amazon for $105 total. Good moosie! Go lick up your cum now like the pervert you are. Save your $$ for more fuckery!
Paypig ALERT! Back for more pleasing of her Mistress, was princess gigi who spent $407 this week, mostly getting weaker and more girly sending tribute after tribute!  YUM
and My foot sniffing robot slave was back for $102 in a bunch of calls
loser21 was back with some click and pay, spending $107
HUGE Paypig ALERT!  PIG was so weak for Me, calling and clicking and paying for $537 this week. YUM.
and Lauren's ATM is on a mission to hit the $1k level of spending. This week he tributed Me $101 on that pathway. I'm rooting for you ATM!
steve q fucked slid back into My radar again, clicking and paying the gaslighting series and now is $147 poor. Mmm
Paypig ALERT!  egghead was clicking and paying in a mindless obedient haze this week.  $522 dollars poorer for Lauren. Remember, say yes to Lauren
My slave irish dope reappeared after a hiatus and spent $176.  Good boy dope. I'm looking for you
Paypig ALERT! and hitting the 1k level of spending with $420 spending on the new Gaslighting game was click puppet! YUM
Also liking being gaslighted, sissy j gets a mention with $112
and peeper was around again, clicking and paying $168 on his self gaslighting mission!
oh and shy tim!  You do realize you're MY slave…no matter what you call yourself. Thanks for the $107!
and lastly we have wallet rape toy, who spent almost $200 being gaslit.  And I'm not done with him.
Just remember.
Say yes to Lauren enough, and you'll end up on My blog!
I have many every effective manipulation techniques!
Conventional wisdom claims that once you reveal your techniques they become less effective, but I have found the exact opposite to be true!
The men most in need of being manipulated and abused by Me show up in droves when you tell them you are going to fuck them over, and give them a preview of how you will do it!
I made a little chart.  It's gonna get your cock hard. (click on the image for a bigger view)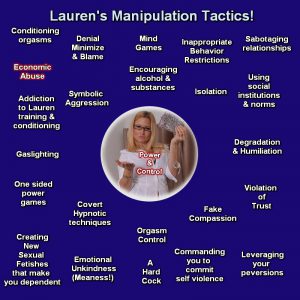 Some of the techniques are self explanatory. Others I will explain a bit.
Mind Games.  You never know what I will do, but you do know it will be erotic and interesting.
Using Social Institutions and norms. The biggest way I use this is to emasculate you. I show you that you are a beta male, and that propels you under My control.
Violation of Trust.  Yep. Trust Me and see what happens. *laughs*
Commanding you to commit self violence. I don't do this with everyone, but some of you I require to hurt yourself, perhaps by tying up your balls and spanking them, etc. S/m play is what I'm referring to, but you have to do it to yourself. The psychological impact of this cannot be overstated.
Isolation.  When you have been My slave a long time, you find yourself socially isolated, for two reasons.  You prefer to talk with Me and stroke your cock instead of hanging out with people, and I take so much cash that you don't have money for a social life.
Sabotaging relationships. Well, if you don't have any time of money, and I'm the most important person, your other relationships suffer. I don't care.
Symbolic Aggression. This is really a fancy way of saying you fear what I will do and get hard from it.
Gaslighting.  Ohhhhh  later this week, I'm releasing a new Gaslighting series.  You will buy it and learn more
Fake Compassion. Yes,I understand you, you know it's true. (I do understand you, but it doesn't mean that I CARE
Questions about others?  Call or email Me 🙂
Now, it's time for the spending report!
I had a lot of fun with My exposure sissy in the past week or so…adding up to $255 transferred from him to Me!
I had a fun "raise the rate" phone call session with My foot freak, relieving him of about $140
PIG lost control again, this time for $202. YUM YUM
and titfool also ended up paying Me $205. He gets soo weak when he hears My voice on the phone, and I send him some delicious photos, and the geezer's cash is  Mine!
Huge Paypig ALERT!  oh and egghead went completely off the rails, spending $525 dollars since last report! Obey, Surrender, Pay. Those are triggers I have implanted deep into his head. And I demand he add more and more to his account, and helpless he does….
And My Australian paymoose really impressed Me this week, sending Me $235 worth of gift cards!  (Mostly from Amazon)  Shopping heaven for Lauren!
No Nonsense guy fell under My spell again, for $102.  Lifetime this guy is over 20K. He keeps telling Me he can quit.  See graphic above
and peeper was back with some clicking and paying, for $114. 🙂
and sleepy made an appearance with $125. Such a good boy, doing all that paying. It gets him hard, and needy, and he does it again and again!
and My wallet rape toy spent $190.  I'm looking for you for a bigger session!  Get ready!
Back again was Lauren's ATM!  He send Me $125 of tributes the other night. Out of the blue!  Highly commendable 🙂
Paypig ALERT! My little virgin paysissy, princess gigi, spent $330 this week.  Oh sweetie, we need to talk on the phone, perhaps you have earned  a release!
Another one sending lots of tributes was My elegant foot lover. So in love with Me, he couldn't help but sent $175. I encourage that 🙂
Now, all of you who need abuse, look for Me…..you might make the spending report!
FinDomme Manipulations
I have My FinDomme Manipulations to employ when a new slave contacts Me.  Each possible future slave that approaches Me has potential.
Some of them I have to test, and others self test…..by paying without any demand or request…..(It is quite arousing to see slaves buy thousands of dollars of My pay to views without a single word from Me.)
Others approach with emails, and soon I ask for a very small amount.  If it is not paid, they are passed over from consideration, and ignored or blocked.
But the ones that respond….immediately they are being trained, even responding to the first test is part of the indoctrination.
Example
Immediately I begin gas-lighting. Telling them their truth. I use a mixture of absolute truth, (you bought that email!) probable truth (or that made you hard, didn't it?) and manufactured truth. (you are going to respond more and more intensely each time you pay).  I turn potential results into reality and into cash love for Lauren
This gas-lighting is a very effective technique, that I combine with a technique that experts in sales call. "Get your foot in the door"  If I get you to buy a little tiny $2 email, it's highly likely that I can gradually train you to spend more and more.. I mix in rewards and mold results, audios that train you to be hard for paying, photos that fan your arousal, words that make you curious to know more.
Is this your first time reading?  You are going to become obsessed with reading every word…
you are going to want to know more…
you will buy some small thing. And it will be SOOOO cock hardening. Just wait…
I suggest one with a little audio, so you can hear My voice. That's important, isn't it? Take it from Me, when you hear My voice along with My photos, it will be BETTER.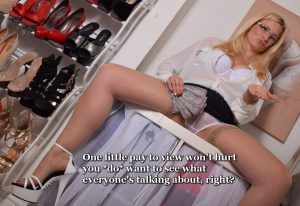 And you know what else.
It will please Me.  I LOVE it when men buy My stuff.
So please Me…and succumb to My Findomme Manipulations!
The spending report will be back with My next blog post, and I will return to the usual Monday schedule for both!
It was completely relaxing to be out and about without being tied to the computer. As much as I enjoy targeting all you helpless and hapless paypiggies, I do love the freedom being successful gives Me.
I was able to do a hot and huge pay to view session with Dr X!
Tremendous HUGE Paypig ALERT!
One evening I was relaxing in My hotel room after a fun day and noticed an email from him.  I sent him a response, and a small pay to view, and then it escalated!
Before I knew it, he had spent over $4270 in PTV mails, and another $800 in gifts from My wishlist (which were waiting for Me when I got home!) From My wishlist, he got Me a new media stand for the new ROKU television a different client recently got Me, a couple items for My home gym, pounds and pounds of coffee to feed My addiction, a Mophie juice pack for My phone and several gift cards for Amazon, Whole Foods and Hotels.com.
That meant I spent the rest of the vacation completely care free.  Thanks Dr X!
Now for the rest of the spending report!
My nylon slave spent $210 on a phone call and photos of My reinforced toes.
My foot freak managed $108 on a lightning fast raise the rate session, that I desired to go on longer!
Huge Paypig ALERT!  PIG spent a total of $690, before and after My vacation. His addiction is rising to new levels. It's going to get worse!
My virgin sissy spent $200, but she is going to LOVE the new photos too!
New to My service and blog was fruity, who is learning how addictive and dangerous I am.  He spent $167 so far on his Lauren lessons!
spending 267 was helpless dave.  Helpless for My teases…it loosens his wallet, and his mind is like putty for Me to manipulate!
and leg tranced spent $188 as I made him surrender to My legs, and obey My legs and pay My legs.  Mmmm
and paycub spent nearly $300 on click and pay while I was on vacation!  mmmmm.  That's what I'm talking about!
and wallet rape toy spent $107.  Hey, I'm stll looking for My big session with you, and to find out what your big secret you hinted at was!
So after a nice break, I am back and ready to pick you and your wallets to pieces…
Be afraid!
Lauren
There will be no blog post next week, as I am going to be enjoying a week off in the world. 🙂
Yes, it is vacation time! A nice road trip to DC, Virginia and the coast of Maryland.
I'm leaving on Saturday the 24th, That means I will be here the rest of today, and Wednesday, Thursday and Friday to use and session you.   I *might* respond to requests for PTVs, but you will have to be less choosy about what you get as I'll be on My phone. Maybe I'll even take an occasional call on speaker phone in the car with My boyfriend listening in and laughing at you.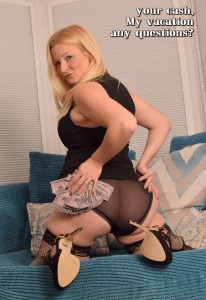 I hope to have a new PTV out on Friday for you goobers to buy.
And here is the spending report:
First up, and new to My blog and service is "student piggy" who is learning about the dangers of Lauren.  This newbie spent $105 this week. I look forward to more!
In a fun raise the rate game,  I got "steve q fucked" for $135.   Mmmmm
I had fun with My exposure sissy for $114 🙂
HUGE Fuckover Alert!  Pig is still going strong lately with a bad case of junkie click and pay, and edging. Mmmmm, this week almost $500
and another who got lost in that was leg tranced, this timefor $193, which may be the most I have taken from him in a week! Playing with Me is not very safe!
Another very good boy for Me this week was paycub, who spent $161. Mmmm.  Want out of our little ritual cubbie? Are those balls getting sore?
and another good boy was titfool, who spent $160.   Such good boys
My good girl, the virgin princess gigi, sent $319 in tributes this week. TRIBUTES, see guys,it's so easy.  I  reward good slaves with photos from My extensive private collection for their tributes 🙂
and egghead surrended to $122 this week. Surrender, obey and pay is his little trigger mantra 🙂
and No nonsense guy had a little draining this week. $102 gone.
and sissy lily gets mentions two weeks in a row, this week she really spent, to the amount of $257.  Wonder if I can lure her in this week too? 🙂
Fuckover Alert!  Dr X was about this week for a nice $411 session. I am still hungry, and My greed has no boundaries, so look for Me this week Dr X!
I hadn't heard from taxpayer this week, but he caught up on SOME of his back taxes for the total  of $249.  Oh well done taxpayer!  You have MORE to pay though….
The next spending report will be after I come home from vacation. Let's see which of you junkies are good boys and sissies and spend enough to get a mention, even when I am gone!
I use your paypig orgasm against you
In this blog post, I discussed gas-lighting and Financial Domination and discussed the steps I use to sway you to pay Me more and more…..these techniques generally result in an orgasm after you have paid Me a sum of cash.
The gas-lighting doesn't end at orgasm, and I am going to tell you a big fucking truth here.
It begins as gas-lighting, mixing truth and falsehood to manipulate you….and turns into complete truth
Because I only have to manipulate you a few times to orgasm from paying Me, and then eventually it becomes your truth!
(The best part, some weak pigs only need to be manipulated ONCE, before their psycho-sexual composition is completely reformed into mindless slavery for Me.)
This is why gas-lighting is so freaking dangerous and so effective. It works, and the remedies are difficult. (maybe even impossible)
Let's look at examples
I manipulate you into a sexy paypig orgasm, by whispering things like, "paying Me makes your cock rock hard" or "Maxed out credit cards please Me").  I combine this with whatever other little fetish I have discovered about you, and you can't help it, you cum.
Then, I remind you what has transpired
"Wow, look at that, you came from talking about paying Me"
or
"paypig orgasms are the most POWERFUL orgasm"
and it's hard to argue, because you are orgasmic, your brain isn't working and your cock is still twitching in the throes of it's afterglow and cum is everywhere.
But a trigger has been placed.
and I'm gonna keep playing that trigger until it's more than a trigger
Until it's your fucking paypig TRUTH.
Next week, I'm going to talk about who I target to train.
Now…before I talk about the spending report and the paypig truth for many of My junkies, I wanted to mention that I KNOW that My websites and blog were down a lot in the past couple of weeks. (This was part of the reason I didn't blog last week)
The issue has been a server at the hosting site that I pay to host My websites. They have done a temporary fix, but they will be moving all My sites to a brand new server that has updated software and should run my sites much better.  It may even be done already, because they said I wouldn't go down during the switch over. Trust Me, if you have been frustrated, imagine MY frustration. I have been with this hosting company for almost ten years now. They have always treated me well, been patient with my questions, and are working to resolve the issue.  This is the first major problem I have had.  (All of My computer knowledge is self taught, so I do ask them questions that are rather basic, and yes, I do all the computer stuff myself, with only occasional help with graphics)
Now, on to the spending report!
I decided to add a little about the manipulation techniques I use with each slave
Hypno wallet was back for another hypnotic cash rape session. (go deeper, it makes your cock hard and it feels good to send tributes as we talk). This one cost him $230 Mmmmm
My special good boy, and Mark Twain fan spent $204, mostly on delicious phone calls. Who knew the words "good boy" would be such a trigger?  (Taking advantage of weakness)
and just last night, My nylon slave showed up, drooling over the new pantyhose photos and spent $214. (Another case of Me using a fetish to train someone to pay)
My foot fool spent $138 on raise the rate calls. (This one got lured in reading My blog, and somehow the raise the rate calls caught his imagination. I talk a little about feet, his fetish, but really, I get him turned  on telling him to call back at a higher rate. Sometimes I am not sure *exactly* how someone got triggered, and this is the case, but I take advantage, and you can be sure I am attempted to weave the addiction more tightly)
Fuckover Alert! PIG dropped $600 in the last two weeks, and its become more intense lately. He responses to repetitive stroke and pay with edging and humiliation and abuse thrown in. He got addicted to the intense orgasms.
Another slave I used a fetish on and trained to pay was titfool. This guy goes nuts over My breasts, and I taught him to stroke and pay to get him. He had no chance.
My sweet paycub paid $202 on Niteflirt and another $25 in a gift card for My vacation! paycub is an example of someone who was had one fetish, but was interested in FinDomme. I married the two fetishes, and he is Mine. (And he always reads My blog, so I bet I hear about this in a day or two, probably with a gift attached! haha)
And princess gigi spent $311 over the last couple weeks, on the conservative side for her. You can read about her on the paypig Hall of Shame
My egghead was about for $135. This boy has a mind control fetish. A match made in heaven for what I do!
Huge Fuckover Alert!  Star junkie lost control in a fun session and spent $756. I'm not sure how he came to be My financial slave, for so long he silently clicked and paid, and without any help from Me, other than reading My writings and listening to My audios become addicted. There is no safety with Lauren
My click and pay Eunuch spent $242. This boy had  a few fetishes going on that I continue to leverage for My enrichment
Cumstain the wallet humper showed up to spend $175. He has specific fetishes, but the larger theme of them is "HUMILIATION" What can be more humiliating then Me ruining your life financially for the fun and profit of it?
I had another little fun session with MP, the leggings whore for $252.  I'm pretty sure this one had a FinDomme fetish when I acquired him. I made it stronger by multiplying it with other fetishes. You are not safe here.
and sissy j succumbed to My charms this week. This time spending $129, and finding herself doing assignments again. Sissy fetish taken advantage of. Those sissies are really vulnerable
Fuckover Alert!  New to My service and My blog is good boy jj, who learned how I leverage men into becoming paypigs. He is  a work in progress 🙂 He spent $340 and change in his very first session 🙂
Sissy lily was back!  Oh she was My Santa slave one Christmas and bought Me most of the fine jewelry I own, and it really damaged her credit. oh well 🙂 But she has been spending lately, and last week managed $107.
I had fun with cucky phil for $290 🙂   (leverage ass fetish and cuckold fetish, so fun!)
Fuckover Alert! My slave brian/paycunt is traveling again, and this time spent $436. Hey cunt, you need to get yourself a new credit card, or ask for a credit limit increase, or do a loan consolidation so there is MORE CASH available to satisfy My greed!
and Addicted pete was back, spending $141 trying to pretend he doesn't have a panty-wearing fetish. Yea, ok pete.
and dr x spent $140.  I am looking for you x…I'm going on vacation VERY soon and I want a HUGE session before I go. I want a nice vacation.
pay-bot was back, spending $212 on pay to views. Still figuring him out too. but I will
Lauren's Greedy VACATION coming!
In less than two weeks, I am going on a road trip vacation with My boyfriend that will include museums in DC, hiking in Virginia and relaxing on the coast of Maryland.  I want you to please Me this week and next by sessioning with Me so that I have LOTS of cash for vacation fun!
Note:  I'm taking a break from writing a blog entry the week of 6/5, the blog will return next week 6/12, with an extra long spending report!  Lauren
What is Financial Domination anyway?
Although I know many of you reading this are very well versed in what Financial Domination is, I think that there may be those that are completely unfamiliar with what Financial Domination is, so this is a basic primer explaining.
Financial D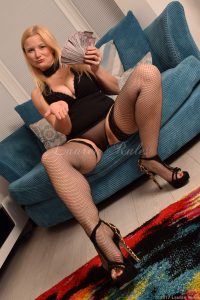 omination is a sexual fetish, that is usually (but not always) a part of a Dominant/submissive BDSM relationship.
In a BDSM Dominant/submissive relationship, the submissive partner surrenders his/her/its power to the Dominant partner. This might manifest as a bondage and/or S/m relationship (like tying someone up and spanking them), or it might be more service oriented where the submissive partner (or slave), serves and pleases the Dominant in a variety of ways, by deferring to them, agreeing to certain modes of dress, (think of slutty clothing, or men in female clothing for example). It might involve body worship. (Such as kissing feet). Sexual humiliations are not uncommon.   There are hundreds of variations, all referred to as power exchanges, where one partner surrenders varying amounts of control or power to their Dominant partner.
One variation is Financial Domination, in which the Dominant partner demands money of their submissive partner. Money is, of course, a very concrete form of power. The fantasies about how a Dominant wrests that power are quite varied, but often involve themes around the natural superiority of the Dominant partner and/or various mind control scenarios.  This is the type I specialize in.
Some aficionados of the fetish are more submissive than others. Some love the surrender to The Woman, and how to best please Her. Many of these types serve one Mistress at a time, sometimes only One in their life.   Others just get off on the humiliation of having a woman take their cash.  That type tends to be a little less loyal in their Mistress choice, often serving a different one every session. (Their money spends well though)
It's worth mentioning that a variation of this is the Sugar Daddy, where a man throws cash at a beautiful woman, because he can and it pleases him. I think of it as a sub-type of what is called in phone sex circles,  GFE, or the "girl friend experience" (I actually have a couple of clients that are better described as this, and their money spends just as well)
There is a vocabulary around Financial Domination.
FinDomme:  A Woman who specializes in this fetish. (FinDom for men and some women who prefer the term)
Paypig:   The man (or sissy or occasional woman) who spends
Rinsing:  The act of taking the cash, (Not usually used with long term slaves, but occasionally). It's usually a pretty intense session, and requires the active participation of the Dominant
Click and pay:  That, as far as I can tell, was a term that became prevalent on Niteflirt, due to the ability to serially sell pay to views that go on and on in a series of emails that escalate in price as one goes on.  They don't even require the presence of the Dominant, they can be enjoyed by the fetishist on their own schedule, knowing their chosen FinDomme gets the cash.
Wallet Rape/Cash Fuckover:   Pretty self-explanatory, those are sessions that run on the….expensive side.
Tribute:  The act of sending money, with nothing expected in return. They are often random and FinDommes deserve them.
Raise the Rate call:  This is a game played on the phone line. The paypig calls the Domme at Her usual rate, and begs Her to Raise it! (Or the Domme just decides to), the Domme raises the price the pig pays, hangs up and he must call again at a higher rate. It's really fun and easy to get a major rinsing this way!
Financial Domination Etiquette:
One does not contact a FinDomme empty-handed. It is always better to pay Her something before contacting Her. The only acceptable question to ask before payment has to do with what types of payments She can take. If you are contacting Her on  a site that takes payments, like Niteflirt, you don't get to ask this question.   A FinDomme can and will block you for wasting much of Her time.  It's worth noting, that paying in the past doesn't guarentee you Her attention in the future.
Also, if you are doing an online session and have to go. TELL Her, so she is not wasting Her time waiting for you to pay again.
Every week I finish My post with a little spending report, which paypigs have spent more than $100 on Me this week!
Let's begin this week with Foot Fool, who spent nearly $300 in a couple little raise the rate sessions. So fast the cash goes that way!
Huge Paypig Alert!  My Philly Ass slave went nuts this week and spent $810 on delicious ass photos and a phone call. Oh, and he hit the $10,000 level of spending, becoming My newest 5 digit spender!
My paycub was generous with giftcards, for My upcoming vacation, spending $150 on them and another $75 for an Amazon gift card. (And $20 on NF too!)
Paypig Alert! Princess gigi kept her secure position as My #1 spender, by pleasing Me this week for $535 🙂 Good little virgin!
Also caught up in a little raise the rate game this week was tit fool, who spent $220 this week. Mmmmm Good fool!
Paypig Alert!  Also very busy this week for Lauren was Dr X, spending $439. I want My soldier to report again this week!
My elegant foot lover spend $135 this week. Yum He does love My toes!
Paypig Alert! My addicted slave paycunt was about this week, spending $605 on Me! I love it when he is on business trips and oh soooo vulnerable in those lonely hotel rooms!
Helpless dave gets a mention, with $109 in spending this week. I know he's gonna cave on a big sesssion SOON.
Who is gonna get a mention next week?
You?