Category —
Extreme Money Guinea Pig Project
I've been so busy since the last blog entry, taking a little time to myself and every moment I'm logged in all of My fans, slaves, sissies and addicts have been lining up to beg for some time with Me and to throw $$ at Me.
I've managed to make a new slideshow that has really inspired a lot of paypig spending!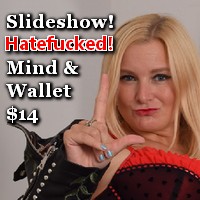 and a new Goody bag with captioned photos around a chastity theme, that has also inspired a bit of spending! I am very skilled at taking your fetish and monetizing it, as so many chastity fetishists discovered the past couple weeks!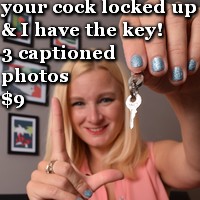 Very much of what I am inspires the losers and pig addicts to crawl to Me to give Me their cash…
But I don't want to give the impression that all of My devoted slaves are like that. I've got a couple of really good clients that are more of a heart to heart connection that doesn't involve Me casting them as a loser! But they show their appreciation of Me with nice tributes and gifts.
And most of you get glimpses of My warm nice self..
but mostly you come for the abuse
for the brainwashing
for the cock control
for the wallet rape that makes you feel shame
you ping My chat and send tributes and emails and call with your soft plantive voices and credit cards knowing that you will get from Me your heart's desire
you click and pay My devastating series, unable to stop sending Me cash, in ever increasing amounts.
to be completely used hard by a woman you adore who has no regard for you or your feelings.
And I have no desire to stop you.
I have no reason to stop you, and every reason to encourage you to spend beyound your means. I have the power, and it is sexy for Me (and profitable)
And if you will not spend, I move on to the next mark. That one will
Speaking of spending….
Back after a long long time was a slave interested in FinDomme, lefty, spending $107 on phone calls. YUM
Paypig Alert! Another returning slave I have dubbed boomarang for always coming back. He celebrated his return by spending $355 on Me!
Paypig Alert! My slave loser gimp, spent $420 on calls and large pay to views, designed to drain his meager savings. The payments will continue to the end!
My pantyhose addict is getting to the point where he can only orgasm by wearing pantyhose while I whisper to him on the phone how addicted he is!  He spent $115 this span on phone calls getting more addicted
Huge Paypig Alert!  My good girl, fagmuffin spend $617 confessing her flaming faggot ways to Me….she's taking a break to catch up on her credit cards, but still managed this $617 BEFORE taking the break since last week! I know she will be back!
And My shopping slave pablo who loves tight European clothing was back for more chatting and phone calls, this time spending $250. Well done pablo!
My good boy who loves stolen moments spend just over $100 to get a mention. I know he's gonna be calling soon for a fun good boy session!
and My boy wayne managed to spend $113 telling Me on phone and chat how much he wanted to be My ass kissing house slave!
HUGE Paypig Alert!  Coming completely unglued in his meager attempts to resist Me is LONG time slave PIG. PIG has been the subject of years of Me testing different Financial Domination techniques on. He has been a Guinea PIG. The years of chipping away at his ego are solidifying. He spent $1050 since last blog entry. He is on his way to being My next $100,000 slave, getting very close to the 90K mark.
Spending $118 was titpig ATM. I sense another big cash blowout soon from him.
Spending another $329  on Me was santa bitch. He did very well, begging for hard abuse, and I may have scared him by being a little TOO demanding.  So I did get a few Christmas presents bought, but I may be without a santa slave, hopefully he will rematerialize in time. Certainly, the rest of you can step up to ask Me if you can help with My shopping, that's appreciated!  I want to buy a computer for someone, so I'm really happy with Amazon gift cards right now, I am half way to having what I need. I mean, I shouldn't have to spend MY money, right?
and tranced by legs, was tranced enough to send Me about $10 in pay mails but $125 in Amazon gift cards. I always LOVE Amazon gift cards (send to laurenamazon@gmail.com) I am saving up a balance to get someone a large gift, so send those cards My way!
HUGE Paypig Alert!  My slave robot eunuch came completely unglued as I hatefucked him, sending him bigger and bigger PTVs, and then squeezing even more out of him by slowly decreasing the PTVS in price (I have SOOO many tricks to use you) When I was done, $1555 that used to belong to him was now MINE!
Flip off idiot fell victim to sending him photos of Me giving him the finger one evening, spending $162 in just a few minutes!
Spending another $111 was flaming pig! I'm looking for you pig!
Sweet sissy marja spent some time in chastity all locked up in her cage for Me….verified by Me and everything and came out of it with $234 less cash. Yum
Quiet gentlemen spent $120 and got himself a blog mention. He is always there spending quietly, and sometimes he crosses the threshold. This was one of those times.
Helpess dave parted with $131 talking with Me in chat. I have My ways!
HUGE Paypig Alert!  I knew this pig had spent a lot, but I was even surprised when I added it all up. Formally called fagpig here on the blog, he will henceforth be known as "paything"   And paything he was, spending $1,345 since last blog report!  Wow!  I LOVE it! He wants Me to be sure I mention that he is a pathetic loser, isn't that funny?
My good boy, helpful one, helpfully spent $225 on paymails and tributes!  I like that kind of help!
Paypig Alert!    The quiet dirtbag was back, clicking and spending his way through $405! I like that kind of quiet spending!  He is REALLY close to the 2k level of spending lifetime
Paypig Alert!  Paybitch terry spent $300 being use by Me, tributing and buying PTV. I still have hopes he gets to 10K of spending by years end!  He's currently at $6500ish, so he better get going!
HUGE Paypig Alert!  I completely got into egghead's mind, as I would send him photo after photo with the Loser sign in it, and he would just keep paying! How much did he spend?   $637!  YUM!
I was happy to see peeper paying again. He spent $140!
And pignic was around, this time spending $144, and I know he is looking forward to see his name on My blog….so mesmerized by Lauren!
and still recovering from a series of brutal fuckovers by Me is paycunt. He's trying to fix his finances, but last night I did $141 worth of damage to them.  Fix it cunt, so I can destroy you again!
HUGE Paypig Alert!   DrX was about again, spoiling Me both on Niteflirt and on Amazon. He spent $1,388 on Niteflirt and another $700 on Amazon, including gift cards, a new fancy Fitbit and a mattress for My best friend's house! (yea, I make My slaves buy My friends stuff they need, haha) He is My second biggest spender on Niteflirt, only fagmuffin spends more, but if you add in Amazon stuff and gift cards, he's probably #1 now. (Wallet rape toy used to have that position, but he went bankrupt, and only pays in tiny squirts now)  He knows it is his life's mission to make Me happy!
Someone is due for a HUGE rinsing, slave steve q fucked spent $108, but it should have been a grand …I'm looking for you sqf
and surprised is doing a bangup job buying the vacation ptv! He spent $108 since last review.
I change the photos almost every day! Keep checking it!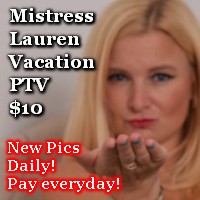 \
ATTENTION.  My birthday is coming up, on November 9th! On November 14th I am going to Disney World for a one week vacation, and what I want for My birthday is for you all to haul out your wallets to spoil Me so I can have a good vacation!
Get ready!
Get your mention for being a good boy to help Me have a good vacation!
Spend $100 between now and the next blog post, and your name will appear! (Amazon spending counts)
The beauty of being a very successful FinDomme is that I have freedom.  I can sit at this computer doing wallet rapes as I desire, or I can go clubbing with My friends or on vacation, or do NOTHING at all, just because I can afford that! There is NOTHING like a FinDomme lifestyle!
And I have the luxury of not logging into Niteflirt because I'm busy doing other stuff.
Summer is like that.   And amongst all the goofing off the past few days was a little serious work.   Moving My office again this week –for the third time in a month, many of My toys know the story of a skylight breaking right over My desk a couple days after I had just moved it! (WTF?) and then having to move My desk/computer again so the contractors  could replace the skylight, and then moving back to where I freaking want My office!     After the final move, happiness; as I set up My new computer that wallet rape toy bought Me!  Finally I have a window!   My temporary setup was in My dressing room, which was too hot and had no window.  No wonder I didn't want to be there!
My old computer was nearly 3 years old, also bought by one of My toys. (lily)  It had started doing unhelpful things and crashing randomly.  But that is why I have toys, to buy Me stuff I need and make My life easier.   I spent the weekend backing up all the stuff I need. (Like all My photos and stuff!) and am still installing what I need on it. So thank you walletrape toy for the new computer, so I can keep cashraping you and the others.
But in between all this leisure and work were fun sessions with My junkies and addicts.
Let's talk about the ones I've done over the last two weeks! (I know you junkies like to see your name in print, or at least read about the biggest Losers of them all!)
Let's start with marla.  This sissy is unemployed and sitting home getting horny. And when she gets horny she spends on Me!   I had her calling for credit line increases and managed to get her to spend over $3100 in the past two weeks. *laughs*   Do I feel guilty for running up her debt when she can't afford it?    Hell no, I don't give a fuck and marla is 6th on My all time spenders list!  I suggest to My broke losers that they jerk off on their credit card bills if they can't afford Me!
Speaking of sissies, princess gigi spent another $734, which may be the smallest amount for 2 weeks in more than a year for her.  So those of you whining when you spend a paltry $100 or so can just shut the hole in your face. *laughs*
and wallet rape toy continues his spending ways as well.  Another $1215 in the past two weeks, plus $125 in gift cards.  Recover toy, because another there is another big fuckover with your name on it.  Delicious!
And I have to mention Loserbeast…one of My favorite Losers I love seeing his name on My transaction list.  And he has stepped it up I have to say!   In the last two weeks he has spent aout $3050 on Me.  Warms My heart!  He was My #1 spender in the last two weeks. Well done beast!
Another junkie, bimbo,  who can't stay away…he deletes his NF account every so often and returns months later with a new screename for a wallet rape.  This time it was more than $645. Delicious!
Also another who takes breaks but comes back with the same name is "button"  this time button spent $145, but $75 of it was in one big email~ YUM
My elegant foot slave spent $185.  Dearest foot lover, I have sooo many more delicious photos for you.  Give in and surrender!
My other foot lover, kane managed $127. Step it up kane, if you want to keep moving up that list!
My no nonsense boy blew through $233.  This silly boy actually had to make a new account because after spending more than $10,000 on Me, (more, I didn't look up the amount for this), he got locked out of his Niteflirt account by someone who thought they were "helping" him resist Me.    Fat load of dripping cum good that did, because he only had to make a new account, which is what he did!
Oh, that reminds Me, that I have a new client. I got him through one of those "therapists" who claim to help clients with FinDomme problems.  She showed him My blog as an example of a "dangerous FinDomme"   Ok, ok I admit it…I *am* dangerous, but instead of being "warned" off Me, that client started spending $$$ on Me.  So much for therapy.  Guys, forget the therapy, just give Me the cash to Me. It doesn't work and you aren't going to be "cured" of Lauren. Never going to happen. Just fucking surrender already!  Of course, if  you *insist* on therapy, just call or write Me and ask for Doctor Lauren.  Doctor Lauren always knows what you need!
Money Guinea Pig has succumbed to his resistance since crossing the $50,000 spending threshold.  Another $381 the past two weeks!  I'm thinking of only letting him jerk off to the chant–100K for Lauren!  100K for Lauren!
And I have a fairly new slave I have put into serious money slave conditioning. I am hopeful.  I call him "wallet drained cum stain"   So far I've exploited him for just $395. It will increase though, as his addiction grows.
and not going away–and renamed again from Fledgling Loser to Wallet Rape Magnet…I have just decided to call Oink.   He's just out of the top ten and I want him back in the top ten.  He broke down and spent $143 on Me….silly boy was actually proud he didn't spend enough for a recent blog entry.  That resolve..is now dissolved!
weak dave spent another $145 including a couple sweet $25 tributes.  Thanks dave!
Egghead was good for $182. Good boy. Still in a post birthday click and pay mode for Lauren!
And some fairly new mark went on a cash spree for $176 and then closed his account.  I bet he comes back. They usually do.
And My new panty slave went nuts over the "cum on the wallet photos" and dropped over $300, mostly in one really hot session.
And Dr X has been paying Me in the last two weeks! It's added up to over $1600. Remember Dr x, it's not YOUR retirement account. It's not your wife's cash either. It's MINE.  Good boy.
And "quiet one" went nuts over My new corset set and dropped over $100. That's what pleases Me!
ATM sucker managed to spend another $150.  I'm on the hunt for you sucker!
My addicted nylon lover who also proclaims his love for ME dropped $465 dollars in one delicious session last night.  I love $. *sighs contentedly*
Will *your* name be in My next blog entry? 🙂
Yes, it's true. This is an actual post.
I realize it has been almost TWO months since I have posted, and it has not been for lack of things to write about or lack of desire.
It's been all about lack of time.  I have been sooo busy, both with My piggies and with some (all good) stuff in My personal life that has been a time sucker that I just can't seem to get to it.  Even as I write this, I have piggies clamoring for attention.  Life is good. The clamor has been so all -encompassing that this post has taken days to write, a sentence at a time!
2014 has been an incredible year so far. I have financially exploited a record ca$h amount from you junkies, fools, losers and addicts, and it shows no sign of letting up, this despite actually being available less time than usual.   This is of course fitting, because why should I *have* all this cash, if I don't get to have fun with it?
What I am doing with your cash:
Really Exciting:  Vacations–another hiking vacation to the Rockies is being planned and I went away to the coast of Maine for several days in June (and got PERFECT weather).    A possible trip to NYC is scheduled for fun and a winter trip to Hawaii.  Some of this you junkies have already paid for and I have one paypig begging to pay for that Hawaii trip!
House renovation:   Yes, I am doing some updates in My home to increase the space for My boyfriend and Me….a dedicated exercise room, a dedicated music room, an art studio and an extra bathroom are being added on.  Later I will be expanding and updating My kitchen and master bath.  (You fools will be paying for that too) Some of these renovations may occasionally make it difficult for Me to be available on the phone (although I might be around for pay mail sessions).  I refuse to shout over construction equipment.
Exciting to Me, perhaps less so for others:  I'm working on prepaying the mortgage with your cash! I plan to retire young in a beautiful fully-paid for home.  Oh, and saving for retirement is happening, even though I'm having lots of fun spending cash.  I just finished paying for My Volvo (three years early).  It's nice to have lots of cash and few bills.  (While the rest of you have NO cash and BIG credit cards bills from clicking and paying for Me!)
There have been lots and lots of huge paypigs and paypig sessions.  Wallet rapetoy has been stellar! Since June 1st, he has spent $17,694 on Niteflirt, $3710 on Amazon, including a new computer for Me, a new bed for the guest room, an air conditioning unit, a musical Yamaha keyboard and $2000 worth of Amazon gift cards. YUM.
Since he has been My slave, in a mere 7 months, wallet rape toy has spent, between Niteflirt and Amazon more than $75,000 on Me.  *This* is what I deserve, and I am thrilled!
Princess gigi gets special mention.  I have her in a sissy fog most of the time, mindlessly paying and tributing as she listens to My voice lull her into chastity and obedience.  She has now become My #1 spender and the past few days her lifetime spending hit the $90,000 mark! Incredible.
Returning to Me after a long hiatus is a slave I will call "panty ass paypig" he loves to serve!  This week he has clicked and paid over $1285.  Welcome back pantyass!
A NEW face has been clicking and paying. ANd he bears watching, in the one week he has been here he has spent over $4700!  All by mindlessly clicking and paying paymails, and he writes Me that he is new to Financial DOmination which is excellent news because that means that *I* can be the one to strip him of his assets and there has been no prior looting and I can train him as I like!   I think I shall call him "fresh meat".  I LOVE extreme wallet rapes with slaves like fresh meat!
Another old slave-I think of him as bimbo– rematerialized with a newer account, and in one hot long session I got him for $600.  He deserved to lose MORE, but I was getting tired. Next time. (and as I finish this the next day, he's starting to pay MORE to Me, so who knows what the total will be)
My slave, "elegant footlover" has been helpless around My bare feet photos and since June 1st has spent $1230+ .   All just to admire My toes!
Last nite, "weak dave" spent about $130, but he's getting special mention because $100 of that came in two beautiful $50 tributes, "just because Lauren"   I liked that. I want to encourage sizable tributes so I am applauding him here!
An occasional paymail buyer "subguyy" dropped out of the sky to go crazy on click and pay for $560 dollars in just a few minutes  WOW!   This is most of his lifetime in six years of being a client.  I don't know where that came from but I LOVED it~
A HUGE MILESTONE was reached by My Guinea Money Pig Slave and he FINALLY hit the $50,000 dollars in spending.  Now on to the second $50,000!
My good girl Marla stepped up to the fashion plate and spent over $600 on Me in July so far. YUM
Doctor x appeared and in a few sessions has dropped over $1,000 ..since late June. Good boy
Honorable mention to a newer slave rick, who spent well over $200 recently.  Also billy rocked his way to over $300, well done!
My cucky asslover appeared again for well over $600, watching for him 🙂
Barefoot lover kane managed to spend about $300, he claims he wants to move up My all time spender list, but he's running in place around 31st place because he will pass a guy in spending, but someone else passes him. If you are serious kane, you gotta up your game!
I'm thinking I might try to do shorter shout out posts more often.  If I can manage to post, I think I will try that…less stressful 🙂
Mistress Lauren
Wow! You guys have responded better than I could ever have imagined to My Fantasy 50K January!
Many of you have written Me that you are proud to be part of this effort, and so many inspired to help make My dreams come true.
My wallet rape dreams that is 🙂
So far,  after eight full days in, the total is at $15, 968.  You can see the widget on the right hand margin of the blog that details the progress–it might be more than listed here by the time you see it.  We are ahead of the pace needed to reach My goals.  However I pretty much had calculated that I would need to be ahead early.  The few days after New Years Day are often powerful wallet ravishment days, and so I expected to be ahead of the curve at this time.
This time the roll call for spending is just ONE week, so the numbers might seem a little lower, but keep in mind its just about half the time of what the last couple of blog entries have been.
walletrape toy was by far My biggest spender. I managed to collar him early one morning for a brutal fuckover adding to another one he did a few days ago.  His one week total?  $3,926.  In less than one month, walletrape toy has spent $13842 on Me!  This reminds Me of the ravishing that Loserbeast took in 2012, but I think walletrape toy may surpass even the beast's destructive spending!
tk has been mentioned before, but usually just barely makes it on the blog.  Not THIS week, he was one of My top spenders at $425 including a $100 PTV.  What a nice surprise!
New to My blog, and new to a big spending spree is a slave I will call mcWho , which was My reaction when I noticed the $75 PTV he bought.  $313 spending!  Keep that up mcWho and your name will make it here again and again!
Also new to My blog is "steve q. fucked" who just kept calling and calling. He even called Me while on an airplane waiting for his plane to depart!  I love having someone sooo addicted they cannot wait to hear My voice.  steve q fucked spent $251 on Me this week.
I've got a someone new to My blog but not My service to mention. He has had many tasty wallet rapes, but never seemed to have one during a time I was blogging about it, until this week.  Coming up with your blog names is sometimes hard and sometimes not. It's harder for the guys that interact less….I like a guy to look at the name and know. That is me that She is speaking of! For the life of Me, I cannot come up with a decent name for this guy, but I'm dubbing him polish ATM and if he recognizes himself, he is hereby ordered to email Me and say…is that me, Ma'am?  polish ATM was good for $213 this week, having gone weak over My "Supreme" set, and lifetime he is approaching the $10,000 spending mark. Yum.
My slave egghead keeps trying to resist, but he was also  good this week for $213
At $212 this week was Fledgling Loser now known as trancetard.  He has spent far to much on Me to be a fledgling anymore, and usually a few trancy emails are lubricating his spending sprees.
No Nonsense college boy was back from a wedding in which he gave the bride and groom an IOU for a gift since he had no cash to purchase one because he gave it all to Me.  He found out his credit card company hiked his credit limit up $200.  Did he go buy a wedding gift?  Fuck no, he spent it on ME.  ($211 this week)
I seemed to have lots of slaves around the $210-215 mark this week.  My Guinea Pig Money slave added another $211 to his lifetime.  I'll announce My goal for him soon–I finally told him what it was. (I made him pay for the email with the amount in it)
Sweet redbird paid and tributed $186 this week as well.
I had a fun session with My sweet sissy becca for $155.  She had an unpleasant lesson of learning what happens when another Domme she doesn't trust as much as Me gets her information too.
As I was composing this blog entry a new slave appeared, I'll call him windy newbie for the time being. $114 in only about five minutes in a quick click and pay flurry! Mmmm a nice start!
My adorer, spent $110, most of it in a $100 tribute that he send when I announced the January fuckover drive, with a nice email in support of My greedy cause!
Also at $110 was newcomer sissym  I hope to see more from her!
My iFool was back for a $107 dollar rape, mostly from a long delicious call.
My good clubslave spent $103 that included a tribute he sent  for the sole purpose of helping Me meet My January fuckover goal! I figure by the next time I post, clubslave will have reached the $2000 lifetime spending milestone, he's soooo close to it!
loser #12 clicked and paid away $94 for Me!
button did $75 more in just 3 emails!
josie clicked and paid for $72 this week. Go ahead and email Me if you notice this, josie. (I like to see who is reading before I point out My blog)
slave solitaire is still trying to escape, begging Me to take him off pay mail lists, but he keeps buying, so why would I?  He spent another $71 this week.
barefootkane did $55. Don't worry, more stuff you want to see is coming!
I am sooo excited to continue the wallet fuckery for January!  You junkies, fans, losers, sissies and wankers have not disappointed. I know you care about MY fantasy…so keep pulling out those wallets!
I can scarcely catch My breath!  Between all of you boys throwing cash at Me to catch and keeping busy with holiday activities, I am out straight!
This past weekend was the biggest haul I have ever ever made in a single weekend–  $13,310 dollars!  I'm still in a happy buzzy daze from it, and it was mostly two different boys, but many contributed to My weekend wallet rape bliss!
I was so happy, I spent most of the day Monday spending some of that money on Christmas shopping and I am trying to decide upon a winter vacation destination 🙂
Top Spenders the past couple of weeks
I'm naming My new spender, who is a quiet dude who doesn't say much and just clicks and pays. (A man after My own heart, he shuts up and pays!), I am calling him  "wallet rape toy"   from here on out.  Well grab your socks.  This gem of a loser piggy spent a total of  $7115 since showing up on Friday. That is a happy amount of cash for his Mistress and he gets top billing this week.  His service was capped by not one but TWO $999 dollar tributes in a row! (that's the maximum amount allowed on Niteflirt for a tribute).  YUM.  I've sold $999 pay mails before, but that might be the first time someone just sent $999 🙂 (TWICE!)    He sent a few $300 ones as well, what a nice weekend!
Any other week but this, another Piggy would get top billing,  I mean, imagine spending $3374 on your Mistress in a single session, but that not being Her best session of the day?   This is the only time I have had two such HUGE rapes in one day. (although I have had other notable double rapes before)  And that was the amount–$3374–that a pay slave I will call "rare whale" spent on Me.  This piggy has spent on Me irregularly for years, but this was a fine session.   He was hypnotized by My round breasts and paid and paid and sent tribute after tribute, and now rare whale has spent nearly $31,000 in the years he has served Me, and is one of My all time top spenders. It had been a very long time since he had served Me, so I was very happy to see all his paid emails in My box.
Here is the best part.  Wallet rape toy and rare whale were clicking and paying through My series at the same time!  I literally could not keep up reading the payment notifications, they were arriving in My box faster than I could read and delete them.   It was a panty creaming event!
Also in the 1k club was princess gigi, dropping $2580 over the past couple weeks.
sissy marla succumbed to a wallet rape double penetration of raise the rate on both pay mails and the phone to a smashing climax of a $25 a minute phone call.  The final tally?  $1308
And greed adorer lost control to the tune of $1206 to also be in the 1K club. (and bring his spending in his short time with Me to almost $3500
Other spenders.
bekka, who coughed up $719 because of My conniving ways.  It was very arousing and profitable to make that sissy squirm with games!
My British sissy-fan of Love in the Time of Cholera and one of My longest-serving slaves dropped a nice even $777 dollars (and is begging for a major wallet rape on Friday) Get ready bitch!
cucky phil drooled over My ass and listened to Me denigrate his wife to the delicious tune of  $664
A new slave, pete the swede, dropped about $560 in his first three days serving Me!
Guinea pig money slave plugged along toward My secret goal for him spending $504
sexy jakey spent $326
brian who returns again and again spent $284 and is about to spend More I Think.
wallet cunt appeared for a (for him) modest $277 session, still with a firm hold as My #1 spender of all time (But cunt you are DUE for a big one)
My paymail clubslave spent $254,  and I know he will be thrilled to make My blog again
button was good for another $210, and yes button I *do* notice, even if I don't email you right away.
$150 from the new heel addict
Loyal peter dropped another $148 in his loyal march
spuds managed $185
my barely legal sissy faggot spent ..$235 …..welcome babyfaggot!
tk is an occasional slave who dropped nearly $131 in a session one night, and is just mere dollars away from hitting the lifetime 2K of spending of Me!
I was sooo busy on Friday actually doing wallet rapes, that I did not finish the new series I have been working on. I probably won't release it this coming weekend, opting for a gentler Christmas themed one. 🙂 It will work very nicely for the weekend before New Years though, and includes a slideshow 🙂
Then for New Years another new series! I'm planning to be with you guys for New Years Eve, it's usually very profitable for Me 🙂
So I am so very excited about all the wallet raping going on. 2013  has shaped up as My biggest year EVER. (I will release final numbers at the beginning of January)  It's getting Me all looking forward to what 2014 brings!
For the first time ever, I have had two 10k weeks in a row. (And this week going to be a pretty healthy amount too!)
I had planned this blog entry earlier, but I everytime I log on, you junkies line up to talk with Me!
My slaves and junkies all came out in full force to celebrate My birthday and enable Me to observe it in style!
Note: These are totals since November 8th, so about 10 days worth of spending!
Highlights:  Shoe Sniff Loser handed Me another $3871 in a series of humiliating training emails over the course of a few days, paying as much as $250 in a single pay mail. Mmmmmmmm.   This Loser has been broken faster than I anticipated–I must be getting particularly dangerous at it!
A fairly new slave,  he-who-serves, has been on My mailing list a LONG time, but this week he caught FIRE!  He was baptized in new debt for $3070.   Any other week, he would have been top spender, but this week….Shoe Sniff Loser beat him out.   He has promised Me his bonus he is getting this week, so I am looking forward to that!   Especially nice, were large emails he paid while I was asleep.  it's nice to wake up to 600 or $700 in the Niteflirt account!
princess gigi, #3 on My all time list, clicked and paid and called and tributed and sat in chastity to the tune of $1002 this week!  Finally after about 2 1/2 months, I let her cum.   That will be it for 2013!  I know in a couple of days, she'll be craving more of Me and My feet. 🙂
wallet cunt and Dr X had better watch out, they have newcomers who are chasing their totals!
A slave who I remember participating on an online Money Slave Game I conducted in 2009, Mr Magoo was a contender for quite a ways through, an early leader.  He was quiet and I didn't hear much from him since then.  Until this week, and WOW, back with a vengeance, spending $594 this week, including a delicious $150 email from My addiction series.
Also, another new slave I think of as Ass Love Too, who spent $582.  Hooked!!
sissy marla, always the good girl, spent $467 on Me this week!
So did a long time paymail club slave that has a name that is code for "horniest" (yea, I figured it out, I'm good!)  ($467)
Dr X did materialize to play My new game (how weak it makes him) and to send birthday tributes.  He added $451 to his second place standing.
We have My Canadian pantyhose lover who turned into a click and pay zombie to the tune of $429 this week
Who else gets blog kudos?
My Guinea Money Pig, a long time slave who is #4 on My all time list.  He never goes totally insane, (I"m working on that), but over the years, he's managed to spend over $45,000, about $50-100 at a time, but about 4-5 times a week.  His spending this week was $345 (Pretty typical for him)  He is lucky? enough to be the subject of most of My addiction and mind control experiments, and he can assure you they are quite effective.  Also, he has the distinction for writing  125 feedbacks in one day on old pay mails he had bought over the last couple months.  That's a one day record!   (You can leave your feedback here)
A slave who comes and goes…hisexy, who spent nearly $400. For some reason I like to be brutal to this little bitch and don't send too many "warm up mails:"  like I ususally do.  He's gone again, but he'll be back.
Brian, who just cannot stay away! This week was about $280–little bitch deletes his account and just makes another one and starts over again. I have NO idea how much he has spent, because when you delete an account, I lose any easy way to tell what a slave spent, but I know its in the $1000s.
Redbird, whose $287 spending included a $150 birthday tribute, the largest spontaneous birthday tribute I got this week! Thank you Redbird!  Redbird has spent nearly $5000 on Me in the last 5 months!
$250 from foot sniffing slave (not to be confused with shoe sniffing slave!)  He just LOVES  My audios, and the entire $250 was for custom audios of Me laughing at him.
Loserbeast reappeared for $191. I don't think he ever fully recovered from the brutal 5 figure financial rape I did to him in August and Sept of last year, but he occasionally splurges for some Lauren fixes.
Also at $191, is an "good egg" that must obey that I acquired around the same time as Loserbeast.  I think its funny that when I added it up they had the same spending.  "egg" was always in the hulking beast's spending shadow.
Honorable Mentions:  Plum who spent $56 this week, but is always always buying small emails over the past months–and always leaving great feedback, and is approaching his $500 dollar all time spending mark.  Even the small spenders get noticed!
My  Philadelphia Ass Admirer, who spent $129 this week, but I want to mention him because he has spent almost $2500 on Me now since he began being mersmerized by My ass about a year ago.
No Nonsense young guy who Spent $134 he didn't have on Me this week., bringing his checking account down to $1.  Find another credit card!
$70 from a newer slave, "wave noise" ….I have high hopes, one of his paid mails was for $50 YUM.
$62 from nova, who is approaching the 3K mark in spending.  He liked the new pantyhose series 🙂
$62 from c—-eb who also like the pantyhose set, and is at about $1400 in total Lauren spending!
$54 from a chastity sissy I own, "j", under a cock control contract with Me…her payments included a $25 tribute designated as a birthday present 🙂  She's closing in on the $500 lifetime spending amount..what a good girl.
$64 from a pay mail clubslave that I mention because he is soooo loyal, buys almost all the paymail club emails I send, and his spending is small but regular and he's up to over $1200 in spending on Me in the last year.  He sent Me a birthday tribute too!
$78 from a "deathwish" slave who discovered playing games with Me is perilous.
$55 from "button boy" he might be able to figure his name out 🙂  He is closing in on $1500 spent. Good boy.
$53 from a regular bare foot loving pervert who should have his useless balls crushed.
Notable feedback.  Of course there was Guinea Money Pig slaves 125 feedback entries (for 250 points omg) which for sheer amount, no one came close.
Ones I enjoyed from various slaves and junkies included:
"WOW ! It is easy to belong to Lauren Rules: fun and addictive is the extreme. I love every minutes of the process she puts me through."
"Mistress is so dangerous one look at her legs and heels and I just melt inside. She has so much control over me, I will be going bankrupt for her"
"The feedback to leave piles up while you are getting used by Mistress Lauren. Must obey Mistress Lauren."
"I beg Mistress Lauren to rape my wallet. I have no need for money. Mistress Lauren knows exactly how to treat cash cows and I am proud to be one of them. I recommend Mistress Lauren for all pay pigs who are seeking a true financial dome to serve."
"Mistress has totally fucked me up. All I think about is how I want to go bankrupt for her. I want to live in poverty so she can have everything and laugh at me"
"Designer Fetish delivery at its best!"
"pushes your orgasms to a higher level so you can't replicate with any one or any thing."
"She can make you feel so amazing and yet disoriented"
"HAPPY BIRTHDAY MISTRESS!! Your talents at turning weak men like me into complete Lauren junkies is extraordinary. Resistance is futile. Your beauty and brilliant femdom mind make all resistance futile."
Thank you to ALL My slaves, sissies and junkies for making My birthday week (and month!) amazing!
Wallets open by Magic
It sure seems like that sometimes!
But the truth is, I am a "master" of weaving men into an addiction.
I confessed to a couple of slaves this week, that to become this powerful at drawing men under My dangerous spell, I studied.
The nature of addiction in general, and sexual addictions in particular.
I also studied the nature of abusive relationships.  How do abusers gain control over their victims, and why is it so difficult for the victim to leave?
I completely understand the dynamics of this, and consciously and intentionally apply the principles that will make it difficult, if not impossible for you to stop paying Me. (until you have no way to to do it) Talk about a mindfuck/mindrape!
Ask Fledgling Slave, who is now 13th on my active all time Spender Loser List, mostly in the last 4-6 weeks.   The only slave I can recall rising more swiftly was Loserbeast, about this time last year.   He is begging Me to stop exploiting him, but still he emails Me several times a day and buys what I send him.   He likes to stroke and pay during our sessions, which of course I encourage with all sorts of games and it makes him go into a "i can't stop clicking and paying" fugue.   I'm not sure he's really responsible for his actions at this point, but I don't  give a fuck, it's fun and profitable.
oh And ask Guinea Pig slave, who I don't blog about often, but he hovers between 3rd and 4th on My all time list, a five figure spender.  When I have a new technique to try, it's Guinea Pig Slave who is usually the one I experiment on  He is hopelessly in love with Me, despite starting out with no interest in Financial Domination whatsoever.  The poor worm can't enjoy cumming without Me anymore.   Isn't that funny?
Ask tPay, who spent thousands this summer on Me, and can't stay away, is just trying to figure out how to pay Me.   He's started scrimping and saving to pay off credit cards faster, but that is a slow route, and I want him to take out the line of credit he already has set up on a rental property he owns. (wouldn't that be sooo much faster to pay off the credit card?)  I think he will cave in, perhaps when he reads this.  Good boy tPay–be an inspiration to those aspiring money slaves out there! Remember your mantra tPay–"Bankruptcy for Lauren"

Now, as I have said before, I have been crazy busy, and haven't had time lately to release many PTVs, but I did manage to pull together this very hypnotic photo set.
Go buy it now
Noobie pig made another appearance last night, and during the course of an erotic wallet rape of $410 dollars, I found out some potentially embarrassing details about him, like he loves being called degrading and humiliating names and the thought of sucking cock and eating cum  just makes his little cock twitch!

I started captioning photos for him and he went nuts over them and the wallet spread wide open (yes I can caption photos for all My junkies for a price, just ask)

Pay Noobie Pig pay!
In other news! Please be sure you read about

The Extreme Money Guinea Pig Project

  I have targeted a regular client of Mine, Red Door Guy for Extreme Money slave training.  I'll be posting regular updates on how much cash he is spending and the mind fucks I'm doing to him. I want to see just HOW addicted I can get him, and how much I can get him to spend and how obsessed one man can become with Me.  Today I ambushed him on yahoo and began sending PTVs with a single photo, making him buy it and then rewarding him with a free photo.  I watched the poor junkie on yahoo with a trembling dick and when he called it couldn't hold back. Only two pathetic minutes, but he had spend $100 dollars, nearly double our usual session.  I will never leave his mailbox empty. Always a PTV temptation to buy.
Who knows, if this is successful, I will be recruiting more pigs for Extreme Money Guinea Pig Training. (At least the ones that can afford it! haha)