Category —
Mistress Lauren's Fantasies
Dopamine hacking paypig minds is something I enjoy! Dopamine is a well-known pleasure chemical in your brain. It's more complicated than that of course, but it's one more useful tool in the FinDomme toolbox.
I find out what brings you sexual pleasure and then I use that knowledge to deliberately highjack your brain! I let you spend a small amount while you jerk your Loser cock and get addicted and when that happens, I jack up the rate and rake in your bank accounts. And you come back the next day begging Me to take even more! Clearly, dopamine hacking is a very sneaky way to get control of paypigs!
I am very good at this. I've destroyed men's minds, (and finances, of course!) and had so many men BEG Me to let them go, because they can't break the addiction! I don't care, I'm here for your cash and I will do all kinds of devious mind control tricks to get you to succumb to Me.
And you will love it. And you will hate it. And you will come to love Me. And you will come to hate Me.
It's all good.
For ME.
I did a new slideshow on this topic. It contains all kinds of twisted little triggers to get you to pay more and more…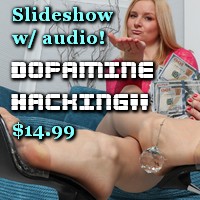 Also I mentioned about starting small to begin your addition. Here are a couple you can try for that!
Another trick I use to hack your mind, is imagery.
It's Lauren's Cash Fuck Gallery!
NEW FEATURE:All you piggies will know see I have a schedule published! Look there—–>
I have recently started doing some morning hours, and I have a tentative schedule that you will find on the sidebar on the right! I might be able to be available outside of that *if* you have enough money to spend! All times are in Eastern Standard Time, which might not be YOUR time, so you have to do the math. Or use this time zone converter!        For those of you not in the states, EST is New York City time.  Morning hours are new !  Time are subject to change, and I might (probably will) adjust them in the future!
Spending Report
Huge Paypig Alert!  Getting first billing today is paybitch terry, who put himself into an emotional roller coaster this week over wether or not to keep serving Me. Seems like the boy fell in love with Me (very common!) and was a little frustrated with not being able to keep up with dr x and noddy. (I wish he could!) After saying his goodbyes to Me, he came back the next day to drive his spending up to $505 when he realized he couldn't live without Me abusing him!  Even though he thinks I'm a narcisist sociopath, he can't stay away.  (He may be right) He's one that didn't believe Me when I told him how dangerous I was, and is another pig who has discovered the perils of dopamine hacking!
Spending $165 dollars on gift cards was paymoosie! This down under loser is really fun to make fun of and humiliate!
And I had a couple phone calls with delicious stolen moments with My good boy, and he sent a nice tribute too ! He spent $170
Paypig Alert!  Still licking his wounds from his extreme fuckover, but still spending is Dr x, who spent $351 on Niteflirt and will be back soon I know to really  enjoy another extreme session!  Mmmmm
My cucky phil was back, and spent $157 drooling over photos of My ass and heels and My indoctrination of how I'm better than his wife.
New to Me and also quckly deleted his account was a slave who clicked and payed his way through $171 of spending, I'm gonna call him "open" and maybe he will recognize himself and REOPEN his account so I can use him some more!
Now so broke, he is borrowing money and spending on Me is hypnowallet. He is a cautionary tale of how dangerous I am! he spent$188 since last update–most of it in the last few days.
Huge Paypig Alert!  Back setting more paypig goals was titcunt! This time around, this dazed paypig spent $380 as we set new payment goals for this bitch to meet!
Good boy caged yankee got a mention with $107 of spending. I look forward to taking even MORE!
Clicking away and paying $135 was dirtbag. He steadily spends and his lifetime spending is increasing! He doesn't have much longer to go to hit the 3k lifetime level of spending!
New Paypig!  New to My dangerous ways was "sucker" who was mesmerized by both My voice and My toes. I look forward to getting even MORE deeply into his head.  He spent $207.
Unable to stay away was deadcat. He has just got to surrender that the humiliation of being a paypig arouses him!  He spent $165
Losing his mind over My black leggings was more please, who spent $178 as I took all his $$ for the week.
Licking his wounds from what I recently did to him was noddy, who spent nearly $1300 over his credit card limit and jerked off to his bill when he got it. He still managed to find $247 for Me and I am confident he will be back to his journey to bankruptcy soon
Paypig Alert!  Running up his totals even more was PIG, who tried to be "good" and spend less. He still managed to spend $456. Just surrender PIG, your pigstick needs to pay!
Good boy pit-lover paid $152 to continue his path of addiction!
My elegant foot lover and I played trivia games he invented in chat that cost him $112 🙂 YUM
Paypig Alert!  My fagmuffin is still sneaking around his ugly girlfriend, trying to pretend to be a real man with her, when she hasn't even had sex with him ever and we all know he is a faggot sissy with a broken limp clitty. Fagmuffin spent $425 since last update.
Parting ways with $109 was titpay ATM. He's probably still licking his wounds from recent sessions!
Trying a cock control contract with Me was "helpful one" He ended up spending $215 on our little cock control adventure! I hope we can do it again soon!
I can't wait to see how will be in the next spending report.
Spend more than $100 between now and the next blog and it might be you!
MY FANTASY OF A $10K SESSION HAS COME TRUE WITH THIS EXTREME WALLET RAPE!!
Legendary Extreme Paypig Session!
Two days ago, Monday evening (on a Monday!) My good slave Dr x came to Me ready to finally surrender his IRA to Me.  Lifetime, he has already been one of My biggest spenders and he's been talking about cashing in some of his retirement for ages to better serve Me.
He made the decision to do that on Monday and treated Me to the biggest session I have EVER had with anyone!  He spent exactly $10, 000 on Niteflirt and $3,200 on Amazon (mostly in gift cards) He surpassed the previous record of  $7676 by wallet cunt many years ago.   He smashed it, in a breathtaking way.
I screenshot some of the paid emails, the biggest ones. (I could have gone on a long time with smaller ones) Click for a better view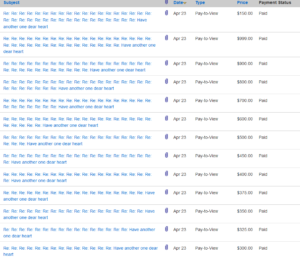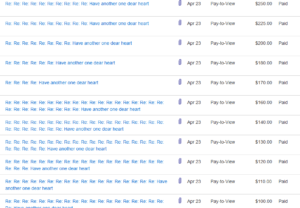 On Amazon, he was exceedingly generous as well! I would ask for $100 VISA gift card, and he would report back. "I bought 4 of them for you, Mistress"  I asked for a  $250 Hotel.com card–he got two. A $50 department store card?  He got three. $50 from the pet store?  He got three.    A $200 gift card?  He gets two instead!  He also got Me a very fancy suitcase, a cordless vacumn clearner,  and some gorgeous jewelry I've been eyeing.  New cutlery, a book, a bedspread…the list goes on, I'm not listing all of it.
I won't ever forget how special this fuckover wallet rape session was.
He has promised Me an even bigger session next time!
I also want to detail his spending since the last blog entry, it's not a lot higher, but I want to mention it.
Since the last blog entry on 4/1, he has spent a total of $10,235   on Niteflirt and $3,262 on Amazon.  Lifetime, his spending on Niteflirt has exceeded $144,000.  It's impossible to calculate his Amazon spending lifetime, easily $30K though.  He is 2nd on My all time Niteflirt list, but I think he could easily be the #1 Niteflirt spender if he keeps spending like he's been recently!  (Current leader is fagmuffin at $186K, but fagmuffin never buys on Amazon)
He is no flash in the pan, paypig. Dr x returns to Me again and again, and has served Me since 2008, that's 11 years.
So Dr X, this blog entry is for you! Excellence in paypig cash fuckery needs recognition! I can't wait for the blog entry that details how you exceeded this in a session!
Since the last blog entry, I had a last minute vacation! I went to Key West for the first time! What fun, and what a great place! I was surprised by all the wild chickens and all the iguanas, and what a party place it is, with so much to do and live music everwhere. I want to go back now. I also got to go to the Everglades, and that is a very different kind of place but very fascinating and I even got to see Manatees in the wild.
And like everything else in My life, paypigs pay for My vacations!
Also new, is that I will be making a small schedule shift, needed for lifestuff 🙂  I will be logging on EARLIER in the day, probably about 2 PM EST on average, some days earlier, others later. I will be taking a longer break at dinner, from about 6:30-8:30 PM and then I'll be on until about 11 PM and not usually later. If you want attention after that, it's possible, but you will be paying extra for it, so its worth Me messing up My sleep.  As always, I am not around on Saturdays, that's My play and have fun day, and Sundays I might not appear until later.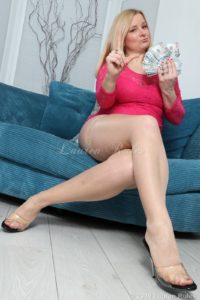 Now, it's time for the spending report!
I've already mentioned Dr X's fabulous fuckover, but there was lots of other action too!
Another Legendary Extreme Paypig Alert!  Any other week, this might have had it's own blog entry, but noddy is gonna have to settle for second place this week. He still spent $2,652 on really big emails, just because he is addicted to clicking and paying Me. I'm sure that he'll get the spotlight back again soon though!
Also hitting Extreme Paypig Alert! status was egghead! I've been slowly conditioning him to crave bankruptcy. My training is working! He spent $1,179 since last blog entry!
Next up is someone I think is new to My blog (but he keeps making new accounts, so I'm not sure) I think he has finally devoted himself to Dr Lauren's therapy, so I'm calling him "patient z" and he spent $150 on his therapy this month so far'
Paypig Alert! Spending $341 on mostly delicious phone calls was My good boy with the stolen moments. He and I plotted more evil against his wife for profit.
And also new to My blog is "sparky" who I allowed back into My good graces after being a timewaster. He proved to Me he could be a good little paypig and spent $207 this week and did not make himself a pest. That's what I like!
Paypig Alert! And pit-lover was back, calling, and tributing and buying pay to views with a vengeance. He spent $362 spoiling Me! And he's SOOOOo close to the 2K lifetime level of spending!
Back after a little hiatus was helpless dennis, earning a mention after spending $113!
Huge Paypig Alert! OinkLoser finally reappeared, and I immediately conned him into calling Me again and again while I kept jacking up the rate. He's so gullible. He spent $868 getting cash fucked by Me
My nylonslave was back again, always helpless, always returning for more nylon feet photos. He spent $120 this time
Paypig Alert!  My DC foot slave was back calling again, and he is getting addicted to hearing My voice. He spent $339 since last time, including one really long delicious call
And boomerang was back again! This time around he spent $190 including a beautiful $100 tribute that brought a smile to My face!
Paypig Alert! and back again is j the junkie, who couldn't stop calling to hear My voice. He has a weak little loser voice, and he's getting addicted. He spent $377 since the beginning of the month.
My boy, wayne was back and spent $156 enjoying My thick ass!
My sissy cocksucker was back and triggered into a paytrance to the tune of $173
Huge Paypig Alert!  PIG continues with his addictive ways on his steady march to being another 100K spender. This month he's spent $726 so far.
Making his way back to spending bliss with Me was caged yankee. He thinks he should reform his habits, but we all know he won't. He spent $203
Sweet sissy j is doing so well with her heel training! There are videos I plan to put on her page when I get a chance. Of course, it's password protected. For now.  She spent $157.
Huge Paypig Alert was knickers, who surprised Me by spending pennies short of $500 and surpassing the $4000 life time spending!  Well done!
Threatening yet again to quit Niteflirt and to quit being a paypig was deadcat.  He spent $150.
Back again after awhile was fun slave cucky phil who spent $266 on Ass and heel photos. What's not to like?
dirtbag spent $102 to get his mention!
Huge Paypig Alert!  I was greatly amused by titpay ATM. He likes to send Me tributes in chat while I tease him with breast photos. One day I wasn't around, and he just kept sending all his cash in chat, while typing to Me like I was there!  That was funny to come back to!  He spend $513 so far this month!
Back spending $179 was fluffy. I had the memory of fluffy and I figuring out a new blog name for him, but it's escaped Me. Drop Me an email or chat fluffy, and I"ll fix it.
Barely getting a mention was paybitch terry with $100 of spending but a lot of wishes. DO better terry.
Also barely getting a mention with $100 was virgin loser. I want him to realize how much he needs this.
Paypig Alert! My favorite FBI agent was back and spent $308, including a delicious $150 email. I remember he and I agreed on a new blog name but he stupidly DELETED his account, so I can't read the notes on him where I put it. Oh well, he'll be back. He always is.
I am really deep in hypnowallet's head. He spent $167 this round 🙂
Good boy panty pete managed a mention for $113
Steve q fucked spent $150. He better get going on his paypig goals!
and good boy surprised did $235. I really enjoy our sessions, he's so cute!
Paypig Alert!  Fagmuffin's girlfriend can't keep this soft little sissy away, and she spent $498 dollars on tributing Me when she could find free moments from mean girlfriend's oppressive ways! I'll break them up soon I think.
So this has been a memorable week, between paypig legends Dr X, noddy and fagmuffin. I look forward to seeing what the next couple weeks brings!
Remember for just $100 spending, you to can get a mention! (Blog names are not the same as your member name, so you can be stealthy and still pay Me!)
and here are recent pay to views you should buy!
The past ten days or so have been something with Dr X. Quite the extreme paypig saga!
Sometimes a paypig has such a blowout with Me, they get their very own blog entry! All the other pigs will be also rans this one!
Dr X has been serving Me for ten years now, back when I first began doing Financial Domination on Niteflirt, and he never left! He's second on My all time list. (Having passed wallet rape toy recently).  He has spent $124,485 on Niteflirt, (so close to $125,000!) and an amount on Amazon I am unable to quantify, but I will tell you that much of My home is furnished with his gifts.
He knows that I am the most important woman in his life. His wife is nothing but a hinderance to our relationship, and her objections to spending DO NOT MATTER. What matters is providing Me with what I desire?
This week I desired much. Many many gift cards, a computer, a very expensive gardening system, a table, boots for My boyfriend, books, stuff for My dogs, kitchen stuff (including some expensive discontinued china I collect) and even some plants for the landscaping.
Usually Dr X does a big session with Me and then disappears for months, licking his wounds before doing another big session.
This time was different. We had a big session. Then another. Then another. And another…it went on and on for over a week of daily session!
When it was done…he had spent $6,635 on Niteflirt and another $3,845 on Amazon! (not including shipping charges he paid)  The grand total being $10,522!  ($9,280 since the last blog entry!)
That makes Me so happy!
And part of that was large airline and hotel.com gift cards, so there will be an upcoming big vacation in My future!
I have had bigger one night sessions. But this is My biggest weekly haul from a single slave! It made My overall take for the week the biggest in about 2 years. (other pigs helped, it was close to $10,000 last week)
Dr X wonders if he should cash in more of his IRA Retirement accounts. I think you can help convince him.
Lets do a poll!
Should dr x cash in his IRA Retirement account for Lauren?
Help Me convince Dr x to do the right thing and pay!
An announcement. Someone is sending a tribute and then immediately blocking Me. Twice now! Listen, if you block Me, I cannot send you a good boy reward! Ok? I know it is scary to think you might lose control and spent everything. But you're going to anyway, so don't miss out on your rewards!
Now, Dr x wasn't the only big spender the past week. Who else contributed?
Footboy made a reappearance, calling Me several times for $132 of spending
and my slave sleepy invented a new game that I LOVED.  He waited until he saw I was on the phone, (My little call button goes busy) and he sent Me $5 every minute I was on, making My effective rate $9 a minute! He did this for a couple of phone calls.
It made Me imagine an army of pigs sending tributes whenever I was on the phone!  How fun would that be?  He spent $106 on these games 🙂
Paypig Alert!  PIG was busy stroking his pay piston and spending $300 on Me this week! Pig used to deny being a paypig, but he finally accepted his paypig existance.
My elegant foot lover spent $135 in chat games 🙂
New to Me and My blog is "beta pig loser" who is slowly becoming addicted. He did a few calls and pay to views and spent $168, YUM!
Paypig Alert!  Hypno wallet spent $318 this week. He's just sinking deeper into his hypnotic addiction. No hope, just keep paying!
Paying Me $119 was My sweet old titpig ATM. I love it when the ATMs show up!
cummy tummy was back! Spending $115 🙂
The dane was about and spent $104. He has spent more since the cutoff for this blog, and is likely gonna be on here next week. He has a goal he's shooting for!
Princess gigi the virgin on hormones spent $113. That's a reserved amount for her!
HUGE paypig alert! earlier I mentioned that Dr x broke the one week record on spending, but not the daily record. The daily record of about $7600 belongs to wallet cunt!  Well wallet cunt was about this week too, spending $841 🙂 It was a naturally good week to appear. I have My sights on you wallet cunt!
Paypig alert!  Guitar Loser also re-emerged this week, perhaps one of the biggest losers I have ever cash raped. This guy can't afford Me, alternates between pretending to be a real man (HAHAHA) and the loser he really is. His wife is about to leave him for being so pathetic, and she should.  He spent $400 he doesn't have on Me plus a $25 dollar gift card.  Everytime I see him, I blow his finances away.
Loyal slave wallet rape toy's bankruptcy hearing went by!    He  it  celebrated by spending $135 on Me!
The new Niteflirt chat program is such fun! And it's now open to International callers too, so no one has an excuse. I don't mind a quick chat message to ask a question, it's less intrusive than email and you pay 69 cents a volley, so you're not taking up My time for nothing. (Money slaves need not fear guilt!)
One fun thing is that you send a tribute (I tell you how much in chat), and I start sending photos to do little roleplays! its right here and interactive (you can still save photos from chat windows)
It's so intimate and fun, like a messenger conversation.
I've done some major wallet rapes this week making guys weak in chat.  I've arranged scenarios and assignments.
I've learned more about how My clients tick and how to exploit them, and they have gotten to know Me better
One long time client who had never called Me on the phone, decided to call and was so happy he did!
It makes the Mistress/slave relationship so much better!
Imagine Mantra training!
Imagine NLP conditioning!
Personalized paypig brainwashing!
Even just fantasy sharing or friendly chat
What are you waiting for?
oh and this is the latest PTV, you should buy it. It's a beautiful set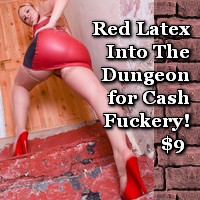 (attention cumstain, it has wallet rape and cum photos for you!)
Now for the spending report.  It's long this week!
NEW slave! HUGE Paypig Alert! Wow. An ass admirer popped up, and he became completely addicted to Me in a few short days, buying everything he could get his hands on. He was shocked to find himself becoming a money slave. I'm going to call him "eric loves ass" here on My blog.  eric deleted his account after completely losing control. I bet he reads this.  His conditioning program was short but powerful, and it is highly likely he will return.
*  Nylon slave spent $178 on the new pantyhose photos and a phone call! And yes, of course, there are more!
HUGE Paypig Alert!  My longtime sissy slave lily was back bigtime after a hiatus. She spent $650 dollars this week after I lured her in with chat. We did sissy training, paypig training, and bbc lust building. She is Mine!  Nice to cash fuck you again lily!
Paypig Alert!  Also back was OinkLoser.  This guy just passed the $6,000 level of spending and his goal is 10K for Me. 60% of the way there!   He vacillates between enthusiasm and reluctance.  I like enthusiasm!
 * and My pantyhose junkie was back, spending $110. He is unusual in that every cent he has spent has been on the phone. Hasn't bought a single photo. He likes the pantyhose on himself, more than Me I guess!
HUGE Paypig Alert!   Princess gigi and her clitty, Felicity came around and again this week, spending $763.  mmmmm,  Felicity is what I let gigi name her clitty, and she has become like a second person. Felicity gets hypnotized and likes to pay. She also loves purple lipstick. What a slut!
*  I had a lot of fun this past ten days with My exposure sissy, for $225 🙂
"Paypig" Alert!  My elegant foot lover called Me for the first time in the years he's been a client. I talked him into it on chat and what an amazing phone call, this guy has a radio voice. I told him he could even do phone sex if he wanted. My foot lover isn't a typical slave, he's more into sensual service and romance, and heck, it's a nice change of pace for Me. I can take romance that gets Me the $420 he spent 🙂
*  I had a lot of fun chatting with pantyhose viking and planning an adventurous session he's going to have.  $209 YUM
Paypig Alert!   PIG spent freely this week, his addiction grows.  $381. YUM!
*  My titfool spent $140 to continue this addiction to My perfect breasts. Some of that was a delicious surprise $50 tribute!
New Slave  "holy jason" is new to both My service and My blog. I call him holy jason, because he keeps saying Oh God, to what I say or the photos of Me he sees. I lured him in with chat and now he is completely Mine. $207 for Lauren!
 HUGE Paypig Alert!   "Mind controlled john" was back! He's been a long time client, but went dormant for years. Until this week.  And he was easily the biggest spender of the week at $1764!  That pleased Me immensely!  Well done!
 *  wagner was back for another $120 spending on My perfect ass. He loves to see it when I'm wearing stockings with garters!
 *  tranceboy was back with a new name, and $120 in spending.  Another addicted loser who can't stay away!
Paypig Alert! tPay spent $300 and hit the $6000 level of spending Mmmmm
Paypig Alert! and paycub was around this week, even just now as I was about to publish, he bought a $150 PTV Mmm.   This week he spent $300 on Niteflirt and another $100 on gift cards from My Amazon wishlist. (Keeping me in groceries, coffee, and gasoline!) What a good boy!
This was a very nice week. Well done, boys and sissies, junkies and slaves, fans and losers.  Keep up the good work. Perhaps you'll see your name next post!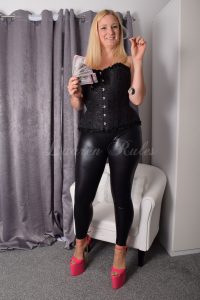 Paypig psychology is not very complicated, although one might think so.
Paypigs don't begin as paypigs, they begin as ordinary submissive men who want to please a Dominant woman.
So that is My target group.  My photos, My blog pages, everything I do is designed to target submissive men and sissies (and some women)
I am the Woman who otherwise would NEVER give you a second glance, never give you the time of day. But I give you an opportunity to have the attention from a Dominant Woman you would never otherwise get.
Then I take that need and twist it.
I addict you and then make you pay more and more..by addicting you to those intense orgasms
Of course, you have the choice of NOT paying, but that means no attention, no more intense orgasms. It is a real addiction, so that is My only consideration.
I warn you in advance, and that is My only mercy
Otherwise, I have none.
No mercy for paypigs….
This series is an example of that "No mercy" philosophy playing out! Go play it now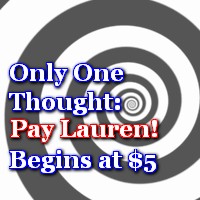 Speaking of no mercy….who is in the spending report today?
There were a LOT Of huge spenders this week. YUM!
Popper bitch was back for more exploitation, this time spending $135 on phone calls while I conditioned his mind more and more
Pay pig alert! Princess gigi was out of control pleasing Me this week. Oh the effect I have on this sissy paykitten!  This week she spent $850. MMMMmmmm.
My partner in crime, and stolen moments guy was back spending $108 and having very interesting conversations with Me!
Back again with some delicious click and pay to the amount of $110, was rum nut. Drink up and spend some more nut!
Pay pig alert! PIG had a huge weak, as I discovered a new extraction method and he spent about $460 on Me. yum!
My robot eunuch paypig dropped $194 on Me this week, mostly on the new series. YUM
Wallet hole was back with $117 worth of click and pay. Mmmmm
HUGE Pay pig alert! Perhaps his biggest week ever, My elegant foot lover spent time literally spoiling Me with tributes as I teased him with feet photos. He spent $707 this week.  YUM
Pay pig alert! My long time paypig,  wallet cunt, made another appearance this week, this time for a delicious $388.
And pignic was back for $201 worth of spending in a nice PTV session!  Mmmmm
And slave x-dash-84 spend $195, mostly on the new series. Mmmmm well done!
Pay pig alert! Another big pig spender this weak was easter egghead! Who obeyed and tranced out paying to the total of $466. YUM
More please also was back, for more legging photos, this time spending $132 on his weekly Friday night frolic!
and leg tranced became finally broken and spent about $220 on My leg photos. Mmmmm
Pay pig alert!  and finally paycub, pleased Me to the tune of $370, becoming utterly lost in My new series. One Thought.
Mistress Lauren has a wish
Next week I want to blog about someone who spends $1,000 or more. Will it be you?
I inadvertently missed a whole lot of slave mentions in My spending report. If you had one last post, you might have an increased and edited amount, so go look! Some of them were quite a bit!   I'll add the rest of the mentions next, but I want to tell you about a fantasy involving Financial domination and strap ons.  Imagine that you're serving Me in person. I *am* going to fuck you with My strap on Mistress cock, but you get to decide which one.  I have 12 different sizes from 1 inch to 12 inches
The  12 inch one will only cost you $100. It is the cheapest.  But you know it's going to hurt. It's going to tear up your ass. It might not be a good idea.
So what are the alternatives?
The 11 inch one will cost $200
The 10 inch one will cost $300.
9 inches…..$400  (That is still a HUGE strap on dildo!)
and so on, adding another $100 for each inch I reduce it 🙂
Which would you chose?
And the spending update 🙂  I accidentally missed a whole two weeks of spending. Don't ask.
Tranceboy came back for another $135, being a very good boy again. He's due for more. Report Tranceboy!
Pig bait! I'm not sure how I missed him in the previous report. He spent $545, mostly in phone calls
Nylon slave spent $370. He wrote Me that he's giving Me up. We'll see how long it lasts this time.
Cumstain was back….I've got $492 of his cash. I figure he's due to cum around again soon, he needs regular cash rapes.
How can I have missed Needful one?  he spent $300 on Niteflirt PLUS sent Me a $200 gift card. YUM
The iFool was toying with dangerous games with Me again. I did manage to extract $182 from him
Lauren's footlicker paid Me instead of the medical bills for $135
And My pantyhose junkie made a few calls totallying $151 🙂
and My robot, wallet rape toy served for $358.  Hey robotoy, I have some Christmas shopping for you to do!
My German paycunt (thank you for alerting me to the problem, along with a couple others, but you were the first…) spent $141 on delicious PTVs
New to My blog is legtranced.  Legtranced keeps trying to NOT buy emails, but he had no success there, spending $131. I bet next time it is even more.
And Lily is an old face who made an appearance for $101. She was My Christmas shopping slave a few years ago 🙂
Also new to My blog is "pantypig"  he has a fetish for panties and for strap ons, but is in denial. He inspired My strap on Findomme fantasy I wrote here 🙂
My Philly ass lover was about for $157. Yum.
and finally, Quiet Gentleman loyally spent $144, he loves payclub emails.
I've had a couple of slaves recently ask Me about how often I drive a man to bankruptcy and how I do it. Most of these men of course have a fetish or developing Findomme bankruptcy fetish, and I'm happy to help them develop it!
I have a little confession here. I too have a bankruptcy fetish, but of course MY fetish is driving men into bankruptcy.   That being said, let's be honest. A guy who has gone bankrupt has a really hard time spending on Me, but that bankruptcy fetish keeps him hard and spending!
So the fun part is keeping him on the edge of going bankrupt, but still able to spoil Me!  It doesn't give Me as intense a rush as actually pushing men to bankruptcy, but it has the beauty of Me holding that eventuality over the victim's head, leaving  him a hard, squirming spending machine for Me, and that is nearly as much fun!
The other really intensely erotic part of Me is the huge spending sprees that drive him there. Those are heady, mindblowing erotic fuckover fests!
I train men to stroke to mantras like "Bankruptcy for Lauren" as they just click and pay
And I fill them with thoughts of how humiliating pathetic their lives will become just to pay Me, and they get harder. And spend more.
There, there is a great Findomme secret!  A nugget, not complete by any means of how I train losers to crave giving Me everything!
Now, speaking of giving Me everything, it's time for the spending report!
By far, the BIGGEST Loser of the week is Sissy marla, This fan favorite (Yes, guys that read this blog ask Me about you marla), this sissy spent $8920 in the last two weeks in blissful trancey calls. She bought huge ptvs from Me on our long calls. (I think I had two different days talking to her for about 7 hours each day).  She is never gone for long.  Pay attention junkies!  "THIS" is what it looks like to be My special paypig!  I'm pleased to announce she SMASHED her milestone of $90,000, and is clearly aimed to join the 6 figure club soon!
Next up is helpless dennis, who hasn't been on the report for a while. He spent $154 or so in a delicious phone and PTV session with Me. So weak! Lifetime, he passed the $3700 mark
Another special payslut is princess gigi! This girl just is so addicted to Me and I hear from her almost every day. Some days she spends just a little, others a lot. Over the last two weeks she spent $1605!  Her consistency is why she is My #1 spender.
Another very consistent piggy spender is "PIG"   He is also addicted and cannot stay away and is in My top 5 spenders, due to his consistency. The past couple of weeks he spent $375.
And nylonslave told Me not long ago that he was done, would never session again.  And last week he spent $428 on Me. How's that quitting going for you nylonslave?   Oh and since you're back nylonslave, I have new photos for you 🙂 (he'll email Me when he sees that!)  He hit My milestone for him of $12K
I had a fun "raise the rate" session with raise the rate dave yesterday! He made it all the way to $50 a minute!  His calls were sooo brief though!  But he still spent $456 bucks in just a few minutes!
PS, if anyone wants to try raise the rate, just ask! If you want to skip the preliminaries and find out what it FEELS like to spend $50 a minute just ask. (I'm only going to offer this for those of you that actually do spend money. I'm not changing my rate for someone who hasn't spent a dime on Me)
My paybitch has been about!  $260 dollars that used to belong to him, now belong to Me!
and clubby is still chipping away at 50 ways!  He spent $354 recently, and he too is consistent!  AND he hit a milestone. $5,000!
and dummy can't stay away, even after begging Me to stop emailing him, I actually instead got him to beg for MORE emails and he joined My paymail club! He spent over $113 this time around.
GC seems back to stay, this time spending $174. I think he realized the folly of his account deleting ways
sissy j is turning into a consistent fun slave! She spent $154, but I have NEW photos ammunition, so I'm likely to leverage that for more SOON.
And silent j clicked and paid away $270 for Me since last update.  He hit the 1K level of spending!
And no nonsense guy spent $319, despite really trying not to!  *laughs*
And NEW to My blog. (But I think he's been around before, and I am sooo happy he  pulled out his wallet this time) is trance boy!  He has been so excited at the thought of getting a blog mention, and here it is trance boy!  You spent $611.  Your next milestone will be 1K!
Back from quitting Niteflirt with a brand new name is a slave I'm going to call "hot dog" in honor of his former name, I think he will recognize himself. This dog spent $120 on Me since his return a couple days ago.
And paycunt. He spent $659 on Me in three different accounts! (He's a serial quitter, taken to extremes)  I have lost sooo many records of him, but according to his accounting he has spent about $32,000 on a total of EIGHTY different accounts! I pretty much think this is likely to be fairly accurate.  I have another guest post he wrote, I will probably publish it soon, stay tuned!
And another new guy, who has since deleted his account, I am going to call plywood, maybe he will recognize himself.  Plywood spent $213 in his brief click and pay flurry! These guys almost always return.
I was surprised when I added up trancetard's totals. I knew he had clicked and paid a lot, but even I didn't realize it was adding up to almost $800 since last update.  *laughs* It won't be toooo long before this 'tard hits the $30,000 level in spending!
New to My pigpen is a guy I'm gonna call pigsoul. Pigsoul debated on My list with $453 worth of spending. He truly has a paypig soul!
and let's talk about pigskin!  Pigskin hit the $20,000 level of spending this time around with one single $200 email! His total spending since last time was $209.   Way to hit a milestone with a shout pigskin!
Virgin loser hit his first blog mention, squeaking in with $101 in spending!
The power of mantra training for Financial slaves!
It's really become My trademark, a very powerful way I infiltrate your mind to become MINE.
I know you're hanging on every word I write…..
I know that you internalize My writings into your paypig soul.
I know that you read and stroke and read and stroke, and eventually come to realize that you MUST PAY LAUREN.
Mantras help this process.
They rewire your mind, your erotic response.
Stroke your cock when you say your mantra.
This is a simple one, many of you already know
"my cock gets rock hard when I pay Mistress Lauren"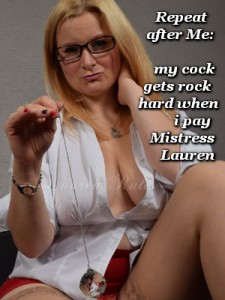 I want you to try something now.
Buy this, and do this mantra while you pay
and see what happens!


oh and let Me point out a NEW Feature in My blog, if you look to the right—-> you will
see a sidebar entry entitled Paypig Milestones. I will be updating that each month or so. This entry is probably longer than it will be in the future.  Sometimes piggies don't spend much at one time and miss blog entries, but loyally spend over time. Those piggies get credit too! The ones listed just recently hit the milestone indicated. Piggies nearing milestones are listed as well.
Also, I updated the 25 top paypig page.  Check it out. (It will make you hard and inspire you to pay pay pay!)
Now for the spending report:
sissy marla was back! She called and clicked and paid away $283 dollars for her Mistress. YUM
princess gigi continued her paysissy ways, getting all worked up to spend $898 dollars.
My paybitch hit the $4000 life time spending level and spent $852 to do it!
clubby spend $207 and he is sooo close too a new spending milestone!
pig dave lost control over My feet and spent $1003 in a tranced out haze!
and My australian paymoosie sent $245 worth of gift cards as I made him feel like a LOSER. (That just made him send more)
and dummy!  This dummy I know keeps emailing Me BEGGING Me to block him and not email him all the latest PTV offerings.  Like that's going to happen as long as the dummy keeps paying. This time around he spent $283.  Ha!
slave "more please" spent $213 in a click and pay haze
sissy j spent $140. I predict another sissy exposure session awaits her soon. Mmmm
jaybee spent just over $200, and he is another very close to another milestone!
No nonsense guy couldn't stop giving Me money for his bills. This time it was $155. I've been too nice to him lately, and I'm about to torque up the abuse!
My shoesniffing loser parted with $480 the other night in a steamy session in which I imaged him locked in My shoe closet.
and paycunt spent $568 on three different accounts, as his ritual of closing his account to flee and opening another one as lust for My dark abuse overtakes him to return!
and trancetard was good for another $504 worth of abuse!
and elegant foot lover was back to swoon to My toes (the 10 lovers) and give Me $218.
PIG spent $376. He's one of those pigs that never spents HUUUUGE, but always spends a moderate amount often, over time, almost nine years actually, and that's why he's on My top 5 list.
tit addict, new last blog post was back with another $595 in spending. Yum. Good little tit addict, I've got more tit abuse ready for you!
and My special paypig LOSERbeast was back!  This time for $751 worth of delicious click and pay. Makes Me wet I tell you!
and pigskin!  He spent $383 in click and pay, and here is the fun part. It was only FIVE emails. (And one was just for $8) the other four were big ones!
and also back was wallet rape toy!  This robot paid Me $977 he was supposed to send to the IRS. Oops. This robot has dreams of living in the most disgusting of places after I make him homeless. Oh, and it also bought a computer monitor for My boyfriend.  I love making it buy My boyfriend stuff. *laughs*  Keep hoarding your cash toy, Mistress wants another vacation soon!
Also, if you piggies could please leave Me feedback on your Niteflirt calls and purchases, I would soooo appreciate it.
Also I want to invite all of you to join My Pay Mail Club. In the description, it says I send out a PTV daily, but in actuality it amounts to 2-3 times a week, and its an inexpensive way to collect devotion photos of Me! If you used to be on it, but aren't getting the emails, you may have been accidentally removed from the list, and just ask and I will put you back on!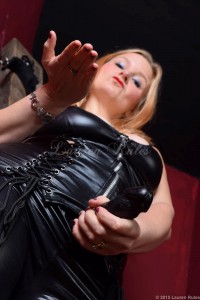 Late last week I posted about how marla lost control and spent over $7,000 in a few days, and new pig, loser3188, spent $3188 in his debut on My client list.  FinDomme greed at its finest!
It then dawned on Me, as I watched My Niteflirt account click upward, how very close I was to a recording setting personal best week for Me….so CLOSE to $15,000.  On Friday evening, it occurred to Me that I only needed about another $1600 to hit the mark by Saturday evening, so I sent the call out, and you all came through, in My Hour of Findomme Greed!
One occasional regular, addicted kevin, was the FIRST to respond, spending $188 before his account was tapped out.
Credit for sending Me over the top goes to wallet rape toy!  He saw My demands, and after it paid Me $100, it emailed Me to ask how much more it would take to hit My goal. The amount left at that moment was $226, so I sent him it a PTV for that amount and it put Me over the top. Well done wallet rape toy! It is a very good robot for Me!
The grand total for My week ended up at $15,130. Now if only My piggies gave Me that EVERY week.  (that would be almost $800,000K a year!) It's what I should get, don't you think?  Findomme greed cannot be exhausted!
Now I should mention that I also had more in gifts this week.  Silent j, who got his first blog mention last week, is now going to get a second as he sent Me a $150 Amazon gift card!  (and spent another $20 on Niteflirt)
Also wallet rape toy (in addition to his total of $1204 in Niteflirt spending), also went crazy with shopping for Me–it spent $1684 on My Amazon wishlist…mostly stuff that I am planning to give to others for Christmas….it also sent Me a Chrome cast, and best of all, $750 dollars of Disney gift cards for My upcoming Disney trip to Florida this winter.!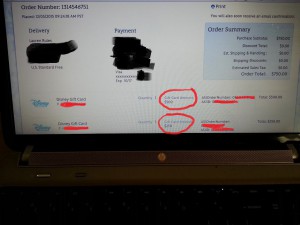 This is the second year in the row that wallet rape toy has been "Santa" for Me. (dr x and sissy lily have done this role in previous years)  The loot includes a Rock Band set, power tools for My boyfriend, a water plant that doubles as an aquarium, pendant lights for My porch,  and gift cards for Me to gift to others!  Life is good for Lauren, although wallet rape toy will have a sparse holiday!  To bad for it, it was a victim of Findomme Greed!
Another piggy also spoiled Me with some nail polish from My wishlist. Really, sometimes small things make Me happy guys.
Other piggies who responded quickly to My call for help. (In My hour of GREED!) included "little banker" at $85. Robot paypig eunuch paid $182 as I continued hypnotically inducing him to pay more and more.  steve q fucked threw in $50 and No nonsense guy found $37, even though he's broke. Clubby managed $46 and kane did $45.  My paybitch did $39, and My shoesniffer and bb-fuckmywallet did pay the $25 call out email. Loser3188 did $42, and Irish dope did $149, and sissy cocksucker tim did $30.  Lord loser sent a special tribute of $100 just to apply to My special goal.  no-yes loser also sent $15 to help out.
Of special mention, responding with much vigor was leg man kevin, with a healthy $366. (Findomme greed strikes again!)
Thank you all!  The collective power of a group of paypigs is breathtaking!
Additional mentions on the spending report this week include ass-lover rich who spent $140, listening to My silky voice as he bought expensive photos of My ass 🙂 his lifetime spending has now exceeded the $7,000 mark!
My paysissy, princess gigi honored her Mistress with $365 of spending. What a good paysissy she is!
My sissy that needs to be exposed as a cross-dresser spent $242 on exposure games with Me!
Another exposure sissy, is My sissy marla, who spent $137 to protect herself from My fun games.
The fuckwallet joined Niteflirt again just this afternoon, and in only a few minutes spent $225. I bet he is back later tonight!  He is helpless when confronted with Findomme greed!
And even after the hard extreme cash fuck marla submitted to last week, she still managed to pay Me another $158 this week 🙂
PIG spent $100 after a period of trying to stay away. It won't work PIG.
I've been promising a guest post from slave "paycunt" brian…so without further ado.
Life in a Pig's Cage
Lurking about dominant women on the website is nothing new to anyone reading this.  We all fantasize about being the property of a beautiful dominatrix.  What we don't realize is the very real danger that lurking around Mistress Lauren's website brings.  Yes, she warns us that this is dangerous.  Yes, she tells you that it is addictive.  But you really don't believe it, do you?
Pig bait is the key here.  You see, Lauren lays out a broad spectrum of beautiful images, mantras, and audio to cover a wide range of perversions and and a variety of piglet types.  She lays out the pig bait with one purpose in mind: to get you to crawl into her cage.  You see the cage.  Hell, she warns you about the cage.  She tells you that she will turn your fetish against you and train you to be a paypig.  But the cage is a turn on for you, hard to resist.  Small tidbits of payment and rapid strokes on your piggy stick make the idea of being caught a real turn on for you, so you go into the cage.  You can leave anytime you want, right?
Wrong!  That is the trap.  Lauren has been conditioning you from her first contact to hold you under her power.  She knows your weakness for domination and is covertly training you for her further use.  While you sat in the cage playing with your dick looking at her photos, did you notice that she put a lock on your cock?  Did you notice that you are wearing her collar, and it is cinched tightly around your neck?  And sooner or later, if you look behind you, she closed the door to the cage closed and locked it.  You are in darkness, and she will come for you every time your dick gets hard to harvest your little pig ass.  You are trapped and her property now.
Many come to play, and some leave before she gets a hold of them, but many do not.  Which one will you be?  A coward who runs from his lifelong fantasy, or a weak pathetic pig who deep down wants to have his feet firmly chained to the floor of the cage?  I think we both know which one you are.  You are here, because you are a pay pig in the making just waiting for her to take you.  Take the next step.  The cage is open, and she will be more than happy to close and lock the door behind you too.
 
Lauren note: Paycunt brian has been such a victim of FinDomme greed, and so addicted, that he screams My greedy story from the rafters now!
This is one of those FinDomme secrets.  Erotic humiliation is a very powerful seductive tool that many, if not most, submissive men respond to.  Humiliation makes submissives more subservient, aroused, obedient and strangely, more bonded to their FemDomme.
This paypig humiliation creates powerful triggers I can use to control and excite My slaves. (Yes the flavor of this humiliation varies from submissive to submissive).   I prefer to indulge in subtle but cutting true remarks that slice to the slaves very core.   Imagine Me saying very quietly something like:  "I only bring real men to My bed."  You would know, that group didn't include you.
Now, I take that association, trigger it, turn you on and THEN I link it with paying Me.
Suddenly you are a $$$ slave, a paypig, with powerful triggers that are irresistible in the breadth of their abuse.  Nothing is more erotically humiliating to the well programmed pig than knowing that they are aroused by paying Me $$$, even if they cannot afford it (And perhaps *especially* if they cannot afford it). And it's an erotic experience that continues beyond the initial moment. It stings the next morning when you remember what you spent, and stings when there are things you cannot buy because of your spree on Me, and stings when you see the credit card bill.  And those events trigger more spending events.
Lauren is danger.
Now for the spending report!
I did not get one out last week, because I ended up in bed for three days for no fun reason 🙁 A very bad cold that kept Me off the computer.
But be afraid, because I am back to My usually hale self!
Nylon Lover could be exploited for over $250 since the last update….oh and I want to let him know:  I have NEW photos to cashrape you with.
Back in full sissy force is My special faggot, princess gigi, who I manipulated and humiliated and trained to crave cock, and turned her into a payfaggot for Me. This time the take was $1870.  Her lifetime spending is only 4 dollars short of $133,000. She remains #1 on the list.
My good boy who loves his stolen moments with Me, spend $209 this time around.
My paypig "redbird" come around again for another round of click and pay and tributing Me.  Redbird, you made Me very happy! (while spending $583) on Me!
clubby was around for $209, and really pleased Me by pushing his way through the paypig training course. I'm watching you!
My loser cumstain spent close to $300.  (Hey cumstain, I have new photos for your next fuckover! Check in with Me)
My  sissy-slut was good for $148, and I wish to announce that she FINALLY did it and went out and sucked cock for the first time!  She liked it sooo much, that I think she is doing it again today!
I screwed the iFool out of $140, and last night he was sending Me warm little notes while I was on the phone with sissy marla about what an evil conniving bitch I am, and how what I do "isn't right"   I read the emails to marla, and we had a good laugh. Was that supposed to hurt My feelings?    iFool, I don't care about you, all I care about is your CASH.
Speaking of sissy marla, I had a MONSTER long about 4.5 hour phone call with her. (At $3.99 a minute, yum),. and she clicked and paid for Me as well.  Over $2250 dollars all for Lauren!  I could have taken more, but I was getting tired! She got lucky 🙂
Another good girl sissy, sissy j, spent $176 on Me.
And it's been a long time, but I finally connected with My Canadian pantyhose boy to the tune of $320 in a nice evening session.  I missed him!
Footboy kane was good for $116.
A new sissy for Me was "panty fag" who paid $117 to Me in a nice little session. Welcome to the insanity panty fag!
paypig brian got fucked over for another $371. I believe he has accepted his proper role in My life as a pay unit.
Let's talk about PIG.  PIG is losing his grip on his wallet. He's tried so hard, but My relentless conditioning is having an effect.  PIG, hang on to your cock, you spent $600 on Me since the last update!
My robo-pig, wallet rape toy spent $383. I smell a big fuckover coming soon. It might be time for more gift cards for Lauren!
I was OVERJOYED one morning to wake up to find my fuckboy Loserbeast had been clicking and paying for Me.  That boy spent over $900 on Me!
Yesterday a new slave found Me on My small dick abuse for Loser page on Niteflirt, and called Me, and I showed him the wonder of Financial Domination, which he hadn't even heard about, but by the time our call ended, he had sent Me a big $75 tribute to orgasm by.
I'm calling him dinky dave, and dave you are in danger now!
New to My blog but not new to Me, is sissy timmie, who finally called after a very long time just buying small PTVs. Since the last update this sissy has spent over $160, but more notably, lifetime he is ALMOST at $1500.  Well done! I'm glad you finally called Me, timmie!
My polish loser was back for some more click and pay action, and spent more than $320 on  Me 🙂
I believe also new to My blog is pay drone! He spent $135 in October so far, and lifetime he's all the way up to over $2200!  It seems to Me like I wrote about him before, but I can't figure it out, but he has been a very good boy this week.
Another newbie to My blog is paypig mc.   mc has been a very good boy recently having spent $108 this week.  I was very pleased to see that his lifetime spending on Me has surpassed the $1250 level.  Wow.
I was very very surprised to see My Irish dope had spent over $600 this week.  Well done! lifetime he has spent $1090 on Me.  He is Mine now.
So many good boys and sissy girls the past two weeks.  I love what I do!