Category —
paypig goals
2019 is the Year of Paypig Goals!
So many of you have asked Me to help them set goals for spending, I decided that it would be amazing to open that up to all off you and create a special Paypig Goal page with little progress bars!
See it here!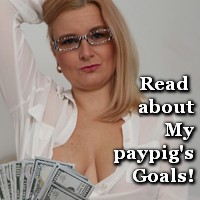 The goals all you junkies are dreaming up are amazing. Some of you want to meet a spending goal in a certain time frame, others are aiming at a lifetime goal. Some are aiming to do an extreme session. One is locked in chastity until his goal is completed!
You too can have a spending goal and have your blog name published with your goal (I will make up a name so no one can link it to your account)
You can have more than one goal, and we can plan new goals after you complete an old one. It's fun! Once you complete it, you get a completed progress bar in the Completed Goals section to commemerate your achievement! For some of you, it will be the most notable thing you ever do!
I wanted to show you all the recent stuff I have released!
And now it's time for the spending report!
Paypig Alert AND set a Goal!  My good boy hypnowallet couldn't stop paying and we had a delicious long call with lots of tributing, and he made a spending goal for 2019!  He spent $400 since the last report!
Huge Paypig Alert! The senator was back and spend over $1,000 clicking and paying while on the phone with Me!
New Slave, Huge paypig Alert AND set a Goal!  A smitten loser that I am calling greek virgin spent $663 on his first few days sessioning with Me. Typical greek can't handle money, but he must be extra pathetic as a virgin! His goal is to hit the $1K level of spending
A fun client I formerly called shopper, but might change the blog name to cheerleader, did some delightful chat and phone calls with Me to the amount of $148. Lifetime spending is really close to $1K!
Set a Goal!  Caged Yankee made a goal of spending $2,000 and spent $160 before he did that!
I did more plotting with my good boy who loves stolen moments, and he spent $172 this time around!
Huge Paypig Alert and set a goal! Despite  being laid up and absent for a few days, PIG still managed to spent $721 and make a goal to hit 100K lifetime spending. It took PIG a long time to become a paypig, and even longer to admit it. He knows it's true now.
New Slave and Huge Paypig Alert!  This guy showed up one night, curious and claiming not to be a paypig, but in about three days spent $853 on Me, getting more and more intense as we went on. I'm going to call him dead cat, because that's what curiosity does to cats.  He deleted his account, but time will tell if dead cat rescurrects to spend another day!
Set a Goal!  Solataire spent $108 and made a goal to spent $500 by the end of March!
My extreme paypig (in training) is still back, spending $265 this round
Set a Goal!  Irish dope spent $136 and set a goal of reaching the 10K level of spending (currently over 9K)
Huge Paypig Alert, Set a Goal!  Knickers has gone crazy with a deepening addiction. He is even taking out new credit just to spend on Me. It's sooo fun! He's spent $838 since last update and has New goals of hitting the $10 level of spending, which will require more than $4K more!
Set a Goal!  Loser steve q fucked spend $143 and set a goal to spend $1075 to reach the 10K level of spending!
My elegant foot lover spoiled Me yet again for $172 with fun and games!
New Slave!  A rare female money slave appeared, this one a college student from a conservative family in need of humiliation.  I am calling her "horny slut" She closed her account, like so many do, but I bet she will be back!
Set a Goal!  titpay atm spent $150 and set a goal of completing a $500 session with Me this year!
and slave surprised couldn't help but returning again and again for more worship photos and spent $234
Huge Paypig Alert! Set a Goal!  Complete a Goal!  My slave, FBI man spent $712 dollars and set a few goals, once which he completed!  One goal was to pay a three digit email, and that got checked off fast! He also pledged to do a $1000 session (we have planned this!) and another session where he spends his whole paycheck! (I understand that will be about $2500, I like paypigs with paychecks like that)  He also wants to spent $5K in 6 months, and I honestly don't think it will take that long!
Eunuch paypig spent $164.  I think he should set a paypig goal Myself….what do you say pig?
Huge Paypig Alert!  Egghead spent $668 in mindless pay to view sessions obeying My instructions. We briefly talked about him setting a goal, we need to do that!
Enjoying more of My black leggings photos was "more please" spending $267. He's in big trouble!
New to the Blog!  Is a guy who clicked and paid $245 with not much encouragement! I'm calling him, "just another ATM"  I hope to see more withdrawals into My account soon!
and panty pete was back for another $145!
Huge Paypig Alert and Paypig Goals Set!  Dr X made Me very happy the past couple of weeks! He spent $522 on Niteflirt and another  $447 on Amazon. He has goals of 10K of Niteflirt spending this year and $5K on Amazon!  YUM
fagmuffin has been a little quiet lately, but still spent $119
Currently bankrupt but still paying, wallet rape toy managed $237. I miss the 4 digit sessions, but that's what happens when a FinDomme drives you into bankruptcy!
Also setting goals, but not meeting the $100 threshold for blog mention are no yes loser, clubby, janice and caged yankee. I'm sure you will be reading more about them soon!
January 8, 2019 No Comments