Category —
paypig goals
My paypig noddy is going to require a new category because he's gone above legendary.
Uber Legendary Mention!
This blog entry was going to be about triggers, both conscious and unconscious, and how I apply them to the psyche of a beta male to turn him into a craven loser who only exists to obey and pay.
But one of the victims of My approach upended My plans, and no one is happier about it then I am!
Drone noddy surpassed everything, biggest session ever, previously set last year by Dr X (read here about that session!)
The loser broke that by a few hundred, and that one session was $13,967, just short of 14K.  By the time I was done, his credit cards were destroyed, maxed out. I really want to do this again with it sometime, so noddy, I direct it to consolidate those loans into one lower monthly payment. Then after paying off all its credit cards, it can do it again!
BUT that wasn't the only session we had since the last blog post. There were several and the total he it spent is absolutely stunning.
Its fuckover total since the last blog post is a jaw-dropping
$16,941! 

It's a sum of fucking beauty!
I should also mention that he blew past both the $40K and 50K lifetime spending amounts on Me, currently lifetime of $57,530.  This is in just over two years. (less than 25 months even) Stunning! Only wallet rape toy spent as much as fast.
Here is a photo of it!  (It includes SEVEN $999 pay to views, the biggest possible on Niteflirt)
Click it for better view!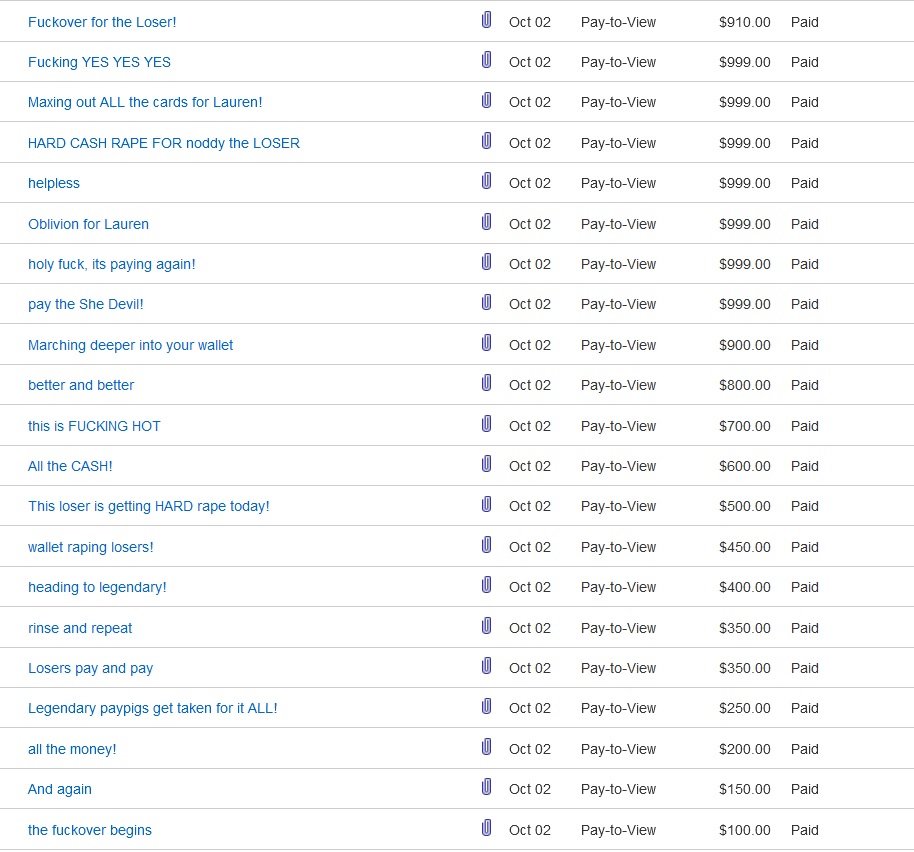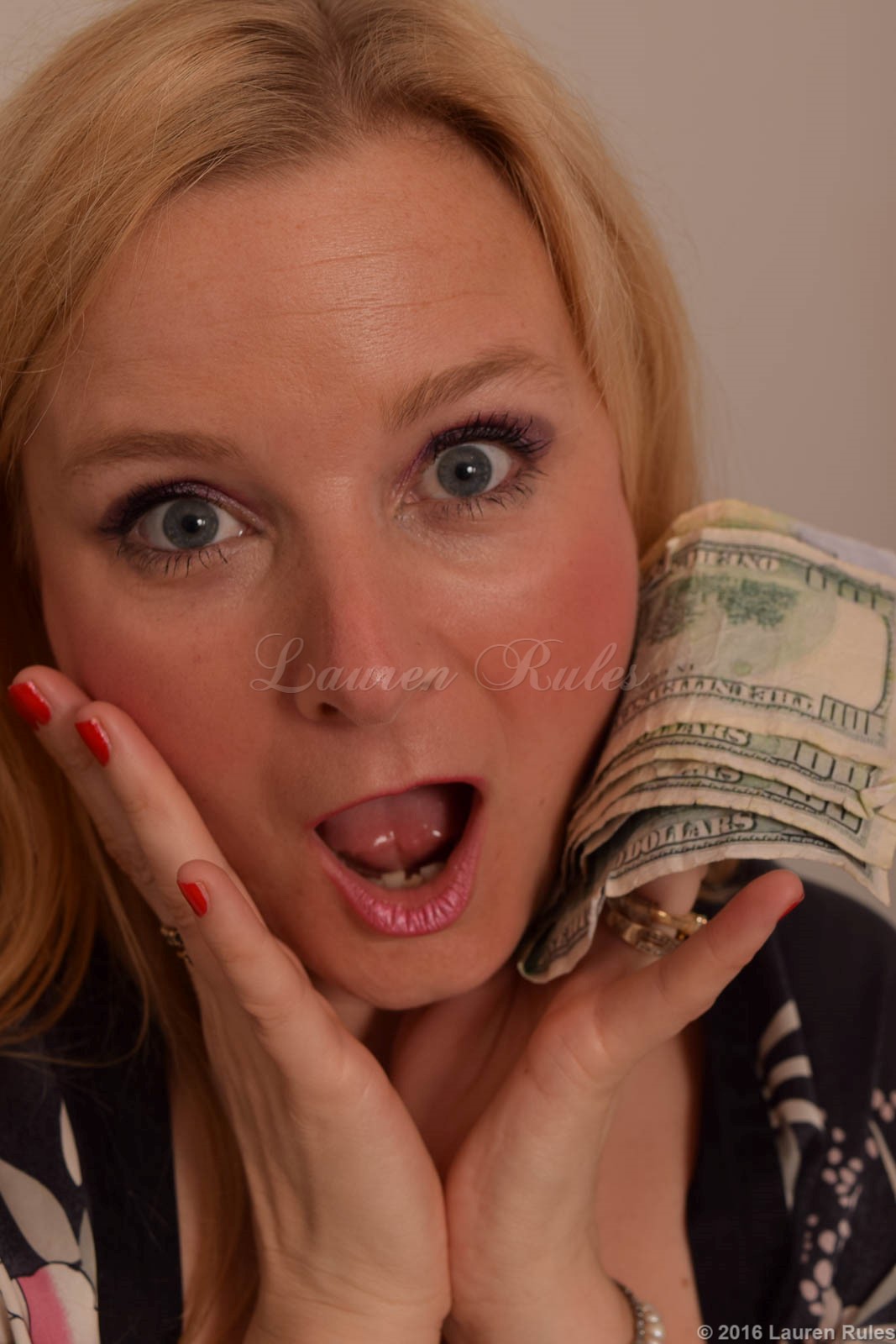 I'm still deciding what to do with the cash influx into My account. I will likely save some of it for a future vacation, (when we're allowed to leave the freaking country again!) or throw some at the mortgage. And a new treadmill to get Me through the winter seems likely.  These are FinDomme Problems! (And you think My life is so easy!)
Another amazing sum is the total spending since the last report (a mere 3 weeks ago) of $30,313.  If I raped you pigs ALL the time for that amount, it would amount to 1/2 million a year.  Which, seems fitting.
It made Me curious though, and despite the banner last three weeks, My cash fuckings have been down a little in 2020, especially during the shutdowns, as pig income declined and opportunies for them to session as well (Nosy families hovering around).  However, I have the total I have fucked men over since I began dipping My toe into FinDomme in 2007.  It is over $2.8 MILLION dollars on Niteflirt alone.  I suspect sometime next year I'll surpass $3 Million, but maybe you buffoons can get Me there faster!  This doesn't include income from gifts and other sites I won't mention, so it really probably already has passed the $3M mark.
Now I'm so excited and aroused it's hard to finish the Fuckover report, but you guys are expecting it.
The Fuckover Report!
noddy got its own mention about, no one came close to that whale of a session!  (I am willing to help anyone top that!)
There is plenty to talk about though!
Legendary Paypig Alert!  Any other week, this sissy would have had top billing again, but her hypno-spending of  $2852 is nothing to sneeze at. It's so easy to trigger her and CLICK she just can't stop
Extreme Paypig Alert!  I think this is j the junkie's biggest mention ever! He has just been going crazy on click and pay like a good boy, and sending big tributes frequenly in chat. I was proud of him for hitting the $5K lifetime level of spending, and now he's also got an Extreme alert  Well done j!
Extreme Paypig Alert!  This alerts are commonplace for bambi (formerly known as princess gigi and fagmuffin).  She's been with Me for years and is the only pig I have who has exceeded the $200K lifetime level of spending. (The rest of you: GOALS)  She's getting more girly, on estrogen and her life has completely transformed since she met Me. She can only think about paying Me. Her clit (used to be a cock, can you believe it?) is LIFELESS.  She spent $1091 since the last blog report
My good boy irish dope got another mention, spending $107
Paypig Alert!  My sweet addict boomer kept clicking and paying and calling until he had spent $410!
More please also managed a mention, this time for $115
Huge Paypig Alert!  I think this is helpless dennis's first Huge alert! His addiction to My breasts and voice is reeling out of control, and I am taking FULL advantage!  He spent $672
My boi wayne managed a mention, spending $120 dreaming about My thick ass.
Huge Paypig Alert!  Okie dokie, steve q fucked came back for yet ANOTHER huge rinsing, this time for $646  Delicious!
I had a fun session with My elegant foot lover and he spent $140
Huge Paypig Alert!   Clicking and paying again, returning with weak abandon was knickers.  This weak addict spent $619
My slave tPay squeaked in with $105. He's due for a BIG fuckover!
Huge Paypig Alert!  This guy just CANNOT STOP CLICKING AND PAYING!  Like SO many, button is addicted! He spent $398
and weak4legs couldn't stop spending, I got $106 of his cash and he a blog mention!
New Slave!  New to My world is faggy, a little sissy who spent $220 finding out that I am dangerous!
Getting a mention with $119 is Lauren's bootlicker.  He doesn't generally get big mentions, but he is loyal!
Paypig Alert!  The guy I just call My niteflirt client seems to have stayed on one account for a while. Outstanding! Maybe he and I will have to brainstorm a different blog name for him.  He spent $335 this time around! Nice!
Good sissy caged yankee kept looking for Me, such a good girl girl, she spent $215
New Slave and Blog Mention:  New slave that I'm calling s'more is getting his first mention, for spending $150 finding out about the dangers of Mistress Lauren!
My good boy quiet gentleman spent $107 for his mention.
Huge Paypig Alert!  My special good boy tom kept calling for FinDomme therapy, and I just kept making him pay higher and higher rates! He spent $675! He'll get to bankruptcy eventually!
My good boy goat, who I always enjoy, was back clicking and paying $270.  So close to a paypig mention! (That threshold is $300)
Huge Paypig Alert! PIG continued his addicted spending ways. I think it would have been even more, because we missed each other a few times, but it did total $785.  That puts his lifetime spending at $116,390.  He's catching up to wallet rape toy for lifetime. He's been with Me since 2007, so it took a few years!
My hypnosissy cocksucker tim and I had a couple of nice sessions, and I sent him into lala land and he spent $145
Paypig Alert!  Loser addict sniffer couldn't stay away again and spent $338!  This is habit-forming!
My titpay ATM has been licking his wounds from fuckovers during the last couple reports, but managed to pull together enough cash to get a mention for $100.  Good boy
Now, let's see what the next blog post brings.
Perhaps you will have an extreme or legendary mention.
Or maybe you will be the one to bump noddy out of the top
October 5, 2020 4 Comments
I have great news!  I tried the beta program My computer programmer wrote for Me last night to calculate piggy spending and it works great!  (that's how the numbers were calculated in this post) That means I will be doing more frequent spending reports and more blog entries. I'm so excited about that.
It still needs to get transferred onto My own laptop to be used, and the programmer wants to tweek a couple of things, but it's ready.
That means I can thrill paypigs and motivate them to spend MORE cash AND have more time on My plate to actually write blog posts that get you losers pulling out your wallets.
[alex_poll id="18″]
Now, let's do the FUCKOVER report! It's six weeks worth, so it's LONG.
I'm gonna begin with My boy wayne, who just cannot help himself. He kept telling Me he was trying to save money for Christmas but just kept tributing Me. He loves My curvy body.\
Extreme Paypig Alert!   Princess gigi tried to quit again, as she tried to patch things up with her girlfriend, who knows all about Me, and doesn't think I'm good for her. Of course, I'm not the one trying to make her deny her sissy nature. Miss gigi knows she is a sissy who belongs on estrogen and in panties for the rest of her life. She spent $1,808 despite taking a ten day break. Imagine how much it would have been without that break? There is a reason this girl is My lifetime #1 spender.   $196.478 Lifetime, I realize she will hit $200K this year, probably before summer.
Extreme Paypig Alert!  Another slave getting an extreme mention (again) is noddy.  He managed to hide for a while, but one night he succumbed to My maneuvers and ended up paying Me $1634.  That kind of spending is the only way you losers can give Me the shivers!
My good boy who loves stolen moments called several times for delightfully evil conversations. He spent $248
Huge Paypig Alert!  Going completely nuts on click and pay and occasional calls recently is boomer. I think I have really fanned a dangerous addiction in this slave, and he just keeps coming around, and he spent $582!
New to My blog is sniffer, who kept calling and calling and ended up spending $122.
Extreme Paypig Alert!   Another extreme alert for PIG. He's getting more and more out of control.  Recently,  he finally hit the 100K lifetime spending mark, and he's already up to $105K plus!  I LOVE that I as time goes on he has less and less control and needs to pay more and more! He spent $1729 since last review!
Paypig Alert!  Helpless dennis can't get hard anymore without hearing My voice.  What does that mean?  Lots of calls and paymail purchases, He spent $330!
Trying so hard to "cure" his FinDomme addiction is My special good boy, who called Dr Lauren several times, spending $201.
Huge Paypig Alert!  I think this might be goat's first Huge mention, he went really crazy clicking and paying things for Me! He spent $834!  YUM!
Paypig Alert!  j the junkie couldn't help himself as his addiction spiraled dangerously recently. He spent $355. YUM.
Another one who keeps calling is target.  He is another who just can't get enough of My mesmerizing voice, and he spent $228 this time around.
Paypig Alert!  My sissy, caged yankee can't stay away and she spent $325 since last spending report! YUM!
My leg addict kept trying to quit Me but instead spent $241. I don't really think he wants to quit.
Quietly spending $147 was peeper.  Surrender more deeply peeper!
Paypig Alert! Dr x pleased Me with spending and gift cards totaling $340. I have a feeling he is ripe for a Legendary Fuckover
Huge Paypig Alert!  Helpless dave stayed helpless and sent Me $530 in tributes and click and pay!
Another slave who kept spending was piglette. This loser handed Me $161 and won't be stopping anytime soon.
Extreme Paypig Alert!  Sissy bambi kept coming in a drunken haze, again and again.  How much did the bitch spend?   $1625.  Nice! (For Me)  Silly bimbo
My nylon slave is another who keeps popping back in. He spent $170
Huge Paypig Alert!  Oink Loser10K finally hit 10K. Now on to 20k! I see he has deleted his account, but we ALL KNOW he will be back!  Hey Loser, you spent $703!
My Australian paymoosie spent $165 on Me, mostly in gift cards, which I love. YUM.
I was really pleased to see Loserbeast get a mention for spending exactly $200.  Will 2020 be the year Loserbeast loses control and ravages his bank accounts for Lauren?
New Slave and Huge Paypig Alert!  Clicking and paying his way through My pay to views, "mindless" discovered why I am so dangerous.  He just missed an "extreme paypig" mention by $15. He spent $985.  Mindblowing!  I want to see more of that mindless!
dusty, aka jenny was back, clicking and paying and calling. This sissy spent $220 since last spending report. Nice!
Huge Paypig Alert!  Just missing an "extreme paypig alert" was titpay ATM! This robot paypig is so programmed to pay the tits, that I just have to withdraw from him just like he was an ATM. I empted this ATM of $975 since last blog entry!
The slave I think of as "finally quit" still hasn't.  I think he finally gave up on his delusion that he had stopped this, and is thinking of himself as a loserpig, which he is.  He spent $271.  🙂
New to My blog is "bewildered" who managed a mention at $158! Well done!
Paypig Alert!  And hoping he will recognize himself,  he's made so many accounts I dont even know his original member name. (When you delete your account, I lose your member name and notes that include the blog name).  This "client" spent $333 on two different accounts.  Good boy!
Back doing some spending was the Dane. He spent $198. I would love to see more of that!
My elegant foot lover pleased Me with $227
Huge Paypig Alert!  Egghead surrendered and paid again and again. Mind controlled, he can't help himself! He spent $540
dirtbag weakened and managed to get a paypig mention at $103.
Another deleted account that I can't recall who it belongs to (he changes his member name a lot too), was elric, who spent $255. Help Me out elric, who are you?
Paypig Alert! And also with a deleted account is candyballs, who reappeared to identify himself to Me!  He spent $358.  Now I remember who he is on the blog!
My good girl sissy j spent $233 and send lots of fun photos that I can tease her with on her special password protected page 🙂
Spending $180 was paybitch terry. I have My eyes on more of his cash.
Huge Paypig Alert! Back again is a paypig named dave, whose original blog name is also lost in deleted accounts.  Maybe he remembers and can let Me know.  He paid his way up to $703!  YUM.
Lauren's footlicker managed a mention with $112 of spending
And I am finishing up this fuckover report with a
Legendary Paypig Achievement!
My good boy sunshine came through once again, this time for $2,290 in spending, on Niteflirt, gift cards and gifts (My favorite is the new fitbit to replace the one that died) I LOVE seeing this boy's name come up in chat or email. He's smitten and I love it!  Well done sunshine!  (PS I'm due to hear from you!)
Now, will you make the next Fuckover report?
It takes $100 to make it
$300 gets you a  Paypig Alert Mention
$500 gets you a Huge Paypig Alert Mention
$1000 gets you an Extreme Paypig Alert Mention
$2000 gets you a Legendary Paypig Mention!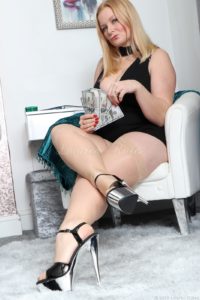 January 15, 2020 No Comments
2019 is the Year of Paypig Goals!
So many of you have asked Me to help them set goals for spending, I decided that it would be amazing to open that up to all off you and create a special Paypig Goal page with little progress bars!
See it here!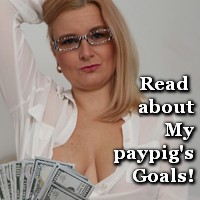 The goals all you junkies are dreaming up are amazing. Some of you want to meet a spending goal in a certain time frame, others are aiming at a lifetime goal. Some are aiming to do an extreme session. One is locked in chastity until his goal is completed!
You too can have a spending goal and have your blog name published with your goal (I will make up a name so no one can link it to your account)
You can have more than one goal, and we can plan new goals after you complete an old one. It's fun! Once you complete it, you get a completed progress bar in the Completed Goals section to commemerate your achievement! For some of you, it will be the most notable thing you ever do!
I wanted to show you all the recent stuff I have released!
And now it's time for the spending report!
Paypig Alert AND set a Goal!  My good boy hypnowallet couldn't stop paying and we had a delicious long call with lots of tributing, and he made a spending goal for 2019!  He spent $400 since the last report!
Huge Paypig Alert! The senator was back and spend over $1,000 clicking and paying while on the phone with Me!
New Slave, Huge paypig Alert AND set a Goal!  A smitten loser that I am calling greek virgin spent $663 on his first few days sessioning with Me. Typical greek can't handle money, but he must be extra pathetic as a virgin! His goal is to hit the $1K level of spending
A fun client I formerly called shopper, but might change the blog name to cheerleader, did some delightful chat and phone calls with Me to the amount of $148. Lifetime spending is really close to $1K!
Set a Goal!  Caged Yankee made a goal of spending $2,000 and spent $160 before he did that!
I did more plotting with my good boy who loves stolen moments, and he spent $172 this time around!
Huge Paypig Alert and set a goal! Despite  being laid up and absent for a few days, PIG still managed to spent $721 and make a goal to hit 100K lifetime spending. It took PIG a long time to become a paypig, and even longer to admit it. He knows it's true now.
New Slave and Huge Paypig Alert!  This guy showed up one night, curious and claiming not to be a paypig, but in about three days spent $853 on Me, getting more and more intense as we went on. I'm going to call him dead cat, because that's what curiosity does to cats.  He deleted his account, but time will tell if dead cat rescurrects to spend another day!
Set a Goal!  Solataire spent $108 and made a goal to spent $500 by the end of March!
My extreme paypig (in training) is still back, spending $265 this round
Set a Goal!  Irish dope spent $136 and set a goal of reaching the 10K level of spending (currently over 9K)
Huge Paypig Alert, Set a Goal!  Knickers has gone crazy with a deepening addiction. He is even taking out new credit just to spend on Me. It's sooo fun! He's spent $838 since last update and has New goals of hitting the $10 level of spending, which will require more than $4K more!
Set a Goal!  Loser steve q fucked spend $143 and set a goal to spend $1075 to reach the 10K level of spending!
My elegant foot lover spoiled Me yet again for $172 with fun and games!
New Slave!  A rare female money slave appeared, this one a college student from a conservative family in need of humiliation.  I am calling her "horny slut" She closed her account, like so many do, but I bet she will be back!
Set a Goal!  titpay atm spent $150 and set a goal of completing a $500 session with Me this year!
and slave surprised couldn't help but returning again and again for more worship photos and spent $234
Huge Paypig Alert! Set a Goal!  Complete a Goal!  My slave, FBI man spent $712 dollars and set a few goals, once which he completed!  One goal was to pay a three digit email, and that got checked off fast! He also pledged to do a $1000 session (we have planned this!) and another session where he spends his whole paycheck! (I understand that will be about $2500, I like paypigs with paychecks like that)  He also wants to spent $5K in 6 months, and I honestly don't think it will take that long!
Eunuch paypig spent $164.  I think he should set a paypig goal Myself….what do you say pig?
Huge Paypig Alert!  Egghead spent $668 in mindless pay to view sessions obeying My instructions. We briefly talked about him setting a goal, we need to do that!
Enjoying more of My black leggings photos was "more please" spending $267. He's in big trouble!
New to the Blog!  Is a guy who clicked and paid $245 with not much encouragement! I'm calling him, "just another ATM"  I hope to see more withdrawals into My account soon!
and panty pete was back for another $145!
Huge Paypig Alert and Paypig Goals Set!  Dr X made Me very happy the past couple of weeks! He spent $522 on Niteflirt and another  $447 on Amazon. He has goals of 10K of Niteflirt spending this year and $5K on Amazon!  YUM
fagmuffin has been a little quiet lately, but still spent $119
Currently bankrupt but still paying, wallet rape toy managed $237. I miss the 4 digit sessions, but that's what happens when a FinDomme drives you into bankruptcy!
Also setting goals, but not meeting the $100 threshold for blog mention are no yes loser, clubby, janice and caged yankee. I'm sure you will be reading more about them soon!
January 8, 2019 No Comments