Category —
vacation
I am full of news, and all the upcoming stuff until the end of the year!
First of all, the Paypig World Cup was an amazing fun success!
Although it wasn't won by an actual paypig, but an admirer of Mine that likes to spoil Me. But either way it meant $$$ for Me, and that's never a bad thing!
Full results here! (And it's a spending report for the event)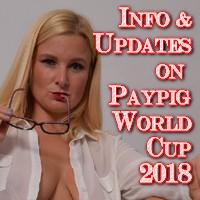 The second fun thing is that usually about this time of year, I start talking about finding a "santa slave" The slave that will do all My Christmas shopping and buy all the gifts for My family and friends. One read about past santa slave exploits, and stepped forward to offer, so this slave, "santa bitch" has already started My lengthy list. His next task is to cough up the cash to buy someone on My list a new laptop.  All ready he's bought Me many gifts,and many more to come!  Let's see if this bitch follows through on his promises, or if he is a completely worthless Loser.
The next news I wanted to tell all you guys about is that in November, just after My birthday, I'm going to Disney World for a week. I have this childish soft spot for Disney, with a grown up twist. I'm staying in a nice resort on site, and you guys need to pay for it. I've been available far too much lately so you losers can pay Me to stroke your cocks, I need a vacation, and part of being a good paypig is surrendering yourself to paying for My leisure time!
Oh and that brings Me to My upcoming birthday! It's November 9th (Put it on your calendar!) And I want $$$ for My birthday to pay for that vacation, and to have spending money on the vacation!
To help you guys out, but not flood mailboxes with emails from Me, I devised this little button, and I'm going to try to change the photos everyday from now until My vacation! I will put the date on the subject line, so you can verify it's new photos, and you can tithe Me $10 every day and enjoy new photos! And of course, you can pay MORE or in different ways. But you pigs and Losers will be helping Me have a great time!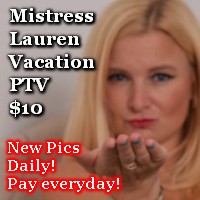 Now  time for the spending report!
Huge Paypig Alert! First mention is going to go to santa bitch, who was upset he missed the Paypig World Cup and has been trying to make it up to Me since. He has agreed to submit to all the abuse I dish out in addition to paying! (what fun!) So far, his spending on pay to views, calls, and presents is just over $900.  He's juggling trying to figure out how to pay for the laptop I'm demanding of him. His problem! He agreed to be fucking santa slave.
My good boy, nylon slave spent $140. Still more delicious photos he hasn't seen!
I had a delicious $130 dollar phone call plotting deviousness with My good boy who loves his stolen moments with Me!
And more please surrendered to the black leggings (which I have MORE of, haha), spending $235 in just a few minutes!
Huge Paypig Alert!  PIG is completely out of control with spending. He is an addicted pay machine for Me! He spent $623 paying Me since last blog!
And still spending briskly is dirtbag, this time for $147!
Huge Paypig Alert! Titpay ATM went nuts on Me once night, including calling for 3 minutes at $50 a minute!  He has spent $535 since last blog entry!
And helpless dave gets a mention for his $124 of spending
Paypig Alert!  My irish dope was such a good boy this week! He may have had his biggest week every, spending $395 just pleasing Me for a pat on the head. Amazing!
egghead cannot break free. He tries, but then he surrenders a little and before he knows it, he's dropped $152 in a short time.
Barely earning a mention was sissymarja, who spent$128 to manage a mention. Still licking her wounds from paypig world cup, she did manage to get herself locked up in chastity. Getting freed, took most of that $128 bucks!  And now she is locked up again!
sissy j gets  mention, not because she met the $100 threshold, she didn't but she DID pass the $10,000 in spending and six years serving Me. Well done! I need to lock her up again soon.
Paypig Alert!  paybitch terry the exposed lost control again. He spent $372 since the World cup. Completely addicted and I will probably bankrupt him before the year is out
Spending $213 since the paypig world cup, was helpful one. He just keeps coming back for more and more!
Huge Paypig Alert!  Weak betamale bert was back with $530 dollars of spending. He tries to stay away. He tries blocking Me, hoping I'll block him back. Nope, I am patient, and eventually he gives in and spends a crazy amount of cash. Good boy!
Dr X managed a mention with exactly $100 of spending. Dr X, we have a wallet rape date coming up. SOON.
Pay drone was back, spending $226 in a mindless click and pay session! Well done!
Also squeaking out a mention was kane, with $104 in spending
and after trying to avoid My effects, needful one was back, this time for $214. Delicious!
Also squeaking in a mention, was gutter dweller, his for $109
and after a long hiatus, the slave I call "because Lauren says" was back with a vengeance, paying $211 in a single hot session!
And the fagmuffin previously known as princess gigi spent $281, as she learned that the reason her relationship with her ugly-faced girlfriend ended was because her tiny clitty only stiffens for cock, and in fact, squirts for it. That's all. Otherwise, it stays soft and helpless in her panties, where it belongs.
Not in this spending report? Spend $100 before I blog again, and you will be in the next one!
Here are some recent PTVs to start with!
You got to the end of the post! Enjoy the gallery!
September 28, 2018 1 Comment
I've been sitting here trying to brainstorm a good blog topic, and all I could think about was wishing I was on vacation.
The point of My blog is to highlight MY thoughts and desires, and what I want is a vacation.  So piggies, this summer I want to go out west again.  Not sure exactly where, but possibly either the Northwest (Seattle/Vancouver area) or Yellowstone. I'm an outdoor girl, I'm the type that likes to hike/bike and adventure during the day, and in the evening dine in gourmet restaurants and get spa treatments.
So it's time for piggies to cough up cash for Me. I have airline gift cards already, but I want Hotels.com giftcards so that I can stay in luxury surroundings as befits a Goddess. OH and cash is nice too
Think about this. You are slaving the hot summer away as a wage slave (to Lauren). You sacrifice like a good and loyal pig so that I can have fun! Buy this and help send Me! (Remember, this is extra in addition to what you usually spend!  Indulge Me!) Everyone who contributes to this vacation fund is going to get a mention in the "vacation mention" located on the left margin of this blog post! (either by buying this PTV or sending a Hotels.com giftcard). Oh, and I am mentioning the amount too!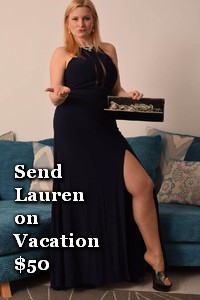 Now on to the spending report!
By far the biggest spender this time around is marla! She is closing in on being a 100K spender, and now the only question is if she or Dr X will hit it first. Dr X is closer, but marla has been tearing up her bank account and Dr x is dragging his feet. Maybe this will light a fire under him.
Marla spent- (hang on to your cock for this)-$4163 this time around, a combination of fat PTVs and raise the rate calls.  I love sessioning this bitch.
Another sissy I like to session is princess gigi. This time around she spent $1436 despite a declaration to cut back on spending on Me. (The whine I hear from so many). I suggested begging her bank for a credit limit increase.
New to My blog is a gent who did a few calls and fell under My spell. "lil bird" spent about $104 on Me, and I know there will be more!
Also new to My blog and phone adventures is a guy I'm calling "silly sam" for now. He spent $125 since the last update, mostly on two phone calls. Yum.
iPay was back! He tried and failed (AGAIN) to stay away, and this time he was extorted for $234.
PIG is steadily closing in on the $70,000 milestone, and this time around he spent $443.  It's beginning to dawn on him that he is an extreme PIG.
and virgin loser was back and spending even more on Me. This time he sent Me $134. It's not like a virgin has anything better to do with his cash.
silent j continued his spoiling of Me, with $138, the bulk of that in one delicious $100 PTV.  Those three digit payments give Me the shivers!
And back with a fury was helpess dave, this time dropping $530 as he stared with glassy eyes at photos of My perfect feet and opened his wallet again and again in a helpless pay trance. It tickles Me to see a pig click and pay in a fog!
and back was bob pig slave, who spent $138 before canceling his account again. He shows up every few months to binge pay Me.
and clubby managed $119 despite being on vacation. He planned and spent both before and after he left, and lo and behold, he managed a mention!
Another big spender that I hadn't seen in a while was rare whale. This time whale went through quite a bit of My new Brainwashed Hypno pig series and tributed some bonus cash to Me. That is always so nice to see!
My robot eunuch was clicking and paying while I wasn't around one evening and spent $176. It would have easily have been double that if I had been about and egging him on!
And cumstain fuckwallet signed back on to Niteflirt so I could cashrape him for $225.  There is MORE from that set cumstain!
My sissy j found out the true meaning of exploitation one evening, in a delicious but short pricey session resulting in her paying $200. Since last update, she has spent $323, and she sent Me this delicious email
Mistress Lauren's sessions are absolutely wild.   I wanted it. It happened one night.
I loved it.
It hurt and she knew it. I asked for it, and she did it.

I was exposed on her website for a short period of time.

A descending cost based on time of exposure.   I got totally terrified and opted for the shortest period which cost the most.  
I think I will suffer the humiliation and fear of a longer period the next time that Mistress Lauren offers me the choice.
Now I know that Mistress Lauren owns me.  That is a nice feeling.
Of course, she might do something else other than posting me as a sissy with pics and on her website.   That is her choice.   Now, I belong to her and she can do with me as she wishes.
When I get a PTV, it might contain commands that I must follow.  I never know.  The anticipation is so very absorbing that I can not wait to open the PTV.
FYI,  there is a spot on her blog, on her website, where I have been presented to the viewing public as the sissy that I am, with pics in delicious embarrassing exposure.

It is totally humiliating and horrifyingly delicious to see yourself presented there.   I had to wait a period of time before I could choose the first, and most expensive option, to get my photo removed.  Wish I had waited longer and endured the fear more.
I survived.
I thing the next time I will wait longer.  I loved it.
I will beg to do it again.   It was a fabulous evening.
I am sissy j
I love being used by Lauren

If you want to be exposed you will have to ask.
(Note from Lauren. Fun huh?)
In other news, My shoesniffer squeaked in for a blog entry for $102 spending. That sniffer is due for a real fuckover SOON.
and My ass sniffing cucky phil spent $157 in a nice session. I bet he was dreaming about licking some other guys cum off My ass as he paid Me.
and My irish dope managed another $108. Hey dope! I'm watching for you.
and frequent guest blog writer, paycunt coughed up another $612 in his march towards bankruptcy for Lauren!
He's deleted his account (AGAIN) and I'm waiting to hear from him, which is only a matter of time!
and My sissy marla played exposure games with Me and I ended up $357 richer! THat was FUN
and pig dave spent $349 before deleting his account trying to escape. Everyone reading this knows he will be back
and tk was back, this time spending $197, mostly in just two huge ptvs!
and lastly, My robot wallet rape toy spent $279 since last update.  Hey robot, I want another vacation as noted in this blog. Get on it!
Perhaps you too will see your name, on this list, or the milestones list, or in the vacation contribution list.
Get on it!
April 28, 2016 No Comments