First of all, I want you to read this with a hard cock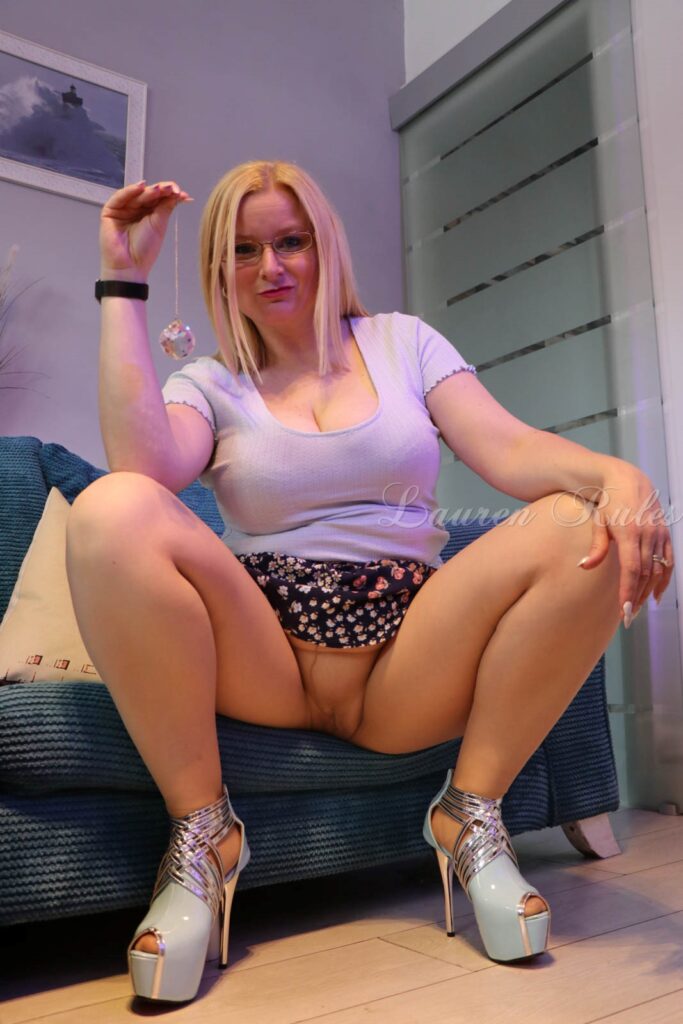 If you are truly pleasing Me with your paypig binges, you are creating a hole in your finances.
This is correct, you are being trained to pay until it hurts, that's the fetish, it is what you get addicted to, what makes you hard. This will help you live with your fetish, that you have grown to NEED
This isn't a blog post about living more cheaply, learning to economize, or going without, although all of those things are important to continue contributing to My lifestyle, and can help you please Me at a higher level.
This is an issue I have not blogged about before, although I have discussed it with individual slaves.
It's got to do with the other people in your life, the ones who are noticing your lack of money. There are two main categories here. 1. People you spend time with, friends, coworkers, drinking buddies, etc. 2. your wife/girlfriend partner. Probably you will be moved to hide your extreme fetish from them.
I shall deal with the two types separately.
First of all, are those you do not share finances with. They may notice that you have "pared down" that you are spending less, going out to lunch less, and not buying the latest toys you used to, or spending less on your passtimes. It's likely to be stray comments, not some intervention.
This is simple. Invent a financial goal, you could say casually, yea, we're saving for a house or second home, or to retire early, or to buy a new car in a couple of years. Whatever you think will be the most believable, choose it and stick to it. It should be something that would take a long time to achieve, so they can expect more of your miserly behavior. Keep it simple and don't go into too much detail. Eventually, they might ask you how it's going. You can just respond with an "all right, man" or "ok, but you know, setbacks happen" Everyone understands unexpected expenses. You can invent them if you have to. The main thing is to be ready, so questions don't take you by surprise. That's suspicious.
And this is important. Any time that someone notices you are spending less on yourself, you will feel yourself get aroused, your cock will stiffen. Your actions paying Me are being noticed and remarked upon!
The next group, your partner/wife/girlfriend, must be dealt with differently. You are literally hiding financial information from this person. Try not to mention it, and if you do, play dumb. It's likely that they will discern that you are having some kind of issue. They may think that you have a drug addiction or a gambling issue. They may even suspect that there is another woman! (But probably don't realize it is a crafty FinDomme) I suggest having some kind of account that they are not aware of. It could be a credit card or just an online debit card that you make deposits into. Prepare your lies in advance, including agreeing to get help if they insist. You could tell them you are getting therapy (spend that money on Me). You might even invent a "need" for regular withdrawals from your bank account, such as paying off debt, helping some relative with an expense, or investing in cryptocurrency or stocks with a financial advisor. You are likely to know better than I which lies will seem more believable.
Stop reading right now, and if you are able to, stroke yourself and say "It's no one's cash but Lauren's, I give it all to Her" If you notice that your spending on Me, has an effect on your relationship, I give you permission, in fact, I command you to eroticize it. It is part of your fetish, because I am MORE important
Yes, this is diabolical of Me to tell you to lie to your wife/girlfriend, and even be turned on by it, but the honest truth is: I do not care a whit about them or your relationship with them. They are an obstacle to Me getting more money, and I will control you and tell you how to tell with them, for My benefit. I mean you are already probably not having sex with them (or if you are, you're thinking/fantasizing about Me), so it's not like this is a greater lie than you being faithful to them.
You are a hopeless case, and likely your wife/girlfriend is already pretty tolerant and can be snowed pretty easily. So set your priorities, and devote yourself to me.
Since it will likely all come to a burning dump heap, there is no reason to hold back from Me. I bet you can dissolve part of your retirement account without them knowing. (Put the money in the account with the secret debit card, or pay off the credit cards you are hiding from them, so you can max them out again)
Get money lined up before you destroy your credit. There are a lot of ways to borrow money online. (Put that money in the secret bank account, and pay the loan out of it too) She won't know.
Eventually, they will probably dump your ass anyway. Also not My problem. See if you can invent some more lies, or juiciest yet, tell them the truth in the end. That you gave all your cash to a beautiful Woman online you never met, just because She told you to.
You will do anything for Me.
Good boy/sissy
Edit: Since I have published this, pigs have approached Me with new ideas for hiding finances. There shall be a follow up entry, if you have ideas, feel free to email them or comment here 🙂
Now, check out the most recent Pay to views that are available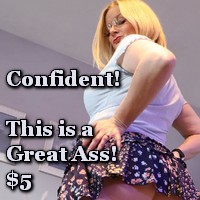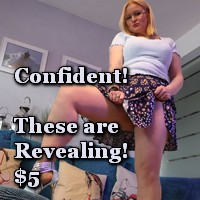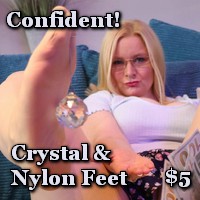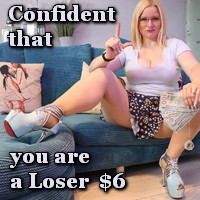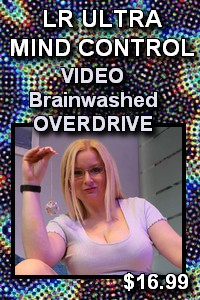 Now it's time for your favorite regular feature
The Fuckover Report!
Legendary Paypig Alert!
Dr X earned yet another mention, spending $1944 on Niteflirt and another $1106 on Amazon, totalling $3050, which included gift cards, gardening and travel items, a high quality kitchen knife, and a gorgeous purse. I can't wait to direct him to buy Me more stuff! I love seeing his name on the top of the mention list
Legendary Paypig Alert!
Also earning a Legendary Paypig Alert was taxpayer! This pig was inadvertently skipped as I did calculations, can you imagine missing this? It was right after the last Fuckover Report, so My normally razor-sharp mind didn't catch it until it brought the issue to My attention. It caught up on its delinquent taxes a bit, paying the taxes and many many penalties for various misdeeds. There was a whole group missed, and taxpayer saved a few mentions. This tax-paying pig spent $2915!
My boyscout was also missed, he spent $124, so thoughtful!
Paypig Alert! Also missed was bambi who visited the pink hypnocabin and spent $394. What a very good girl you are bambi!
Extreme Paypig Alert! Getting his first extreme mention is glue! Glue couldn't stop calling, and he couldn't stop sending tributes, and he hit the amount of $1085! Nice! I hope the Legendary mention is next!
Extreme Paypig Alert! Also getting an extreme mention, was My very good boy "j the junkie" He is completely mesmerized by My hypnopussy, and he is very generous to his Mistress indeed! He spent $1293 since the last blog post!
My exposure sissy spent $170 on exposure games with Me!
New Slave! New to My blog is "tinker" who I had a great phone call with and he spent $194. Nice!
My loser pig, pigbait is getting more addicted, and this time he spent $254. He can't stop paying My power knockers
Paypig Alert! My goodboy, superpawn, spent $342 telling Me all about his new plans to get Me more money!
My assbitch was back, and he spent $104 to earn a mention! I expect more next time, bitch!
Also coming back was citrusy, spending $104. Next time I expect that legendary mention, and not this pathetic copout!
Paypig Alert! My special good boy, came to more therapy with Dr Lauren and invested in very expensive phone therapy for the best outcome! He spent $440
My good boy nicky squeaked in for a mention for $100 of spending. It counts.
Huge Paypig Alert! My good boy boomer kept up his addicted ways, possibly getting even MORE addicted if that is possible. He spent $910
My quiet gentleman squeaked in for a mention with $104. I love teasing him
Huge Paypig Alert! JUST missing an extreme mention was helpless dennis, who tributed and paid and called his way to the amount of $986. Maybe next time he will hit it!
My very good boy skepticat came around a few times to spend $239. That was sooo fun!
Paypig Alert! My good girl marla stopped by for a hot phone call session and she spent $392. Nice! What a very good girl.
Good boy humble john spent $191. I have a question for him, did you use more than one account this month? I really have trouble keeping track
Huge Paypig Alert My addicted and limp good girl buffy, spent $867. I wonder how long it will take Me to drive her into bankruptcy?
My nylon slave worshiped his way into a mention for $117
Huge Paypig Alert! Since his girlfriend broke up with him, PIG has been spending even more money on Me feeding his pathetic addiction. He spent $823 this time around
LegAddicted couldn't help himself. He thinks he can cure his addiction, but its never gonna happen. He spent $110 to get a mention
New Slave! I had a couple of enjoyable phone calls with a guy I'm going to call "shade". He spent $120 learning about the dangers of Lauren!
My good boy helpless dave stopped by to give Me $213 just because it turns him on. I approve!
Paypig Alert! My good boy spawn came back with some click and pay and he spent $398 to earn a red letter mention. Good boy!
Let's talk about good paypig bloom, this slave keeps working through a series, and got spending up to $252. Nice!
My mindless slave click puppet clicked for $140 this month for a mention
Huge Paypig Alert! My very good irish dope found some money for a couple of decent sessions, and I am so very proud of him! He spent $855 on his Queen
I was very happy to see paycunt back, this time spending $191. This slave is proof that an addiction to Lauren never goes away.
Paypig Alert! My good pig, candyballs kept coming and going this month. He would pay a bit, delete his account, reactivate it and do it again. He spent $490, missing a Huge alert by mere dollars.
My addicted button did $220 worth of click and pay for Me this month, delicious!
Huge Paypig Alert! I think that this is this slave's first red-letter mention. Good boy surry spent $563 this month buying pay to view after pay to view. Addiction is soo profitable for Me!
Now, who will be on the next blog report? Will it be you? I hope so
CBT (Cognitive Behavior Training in this case, not Cock and Ball Torture) is a psychological process that helps you make desired changes. This modern psychological technique helps Me to train and exploit you and other paypigs
Traditionally, it's the client's desired change, but I've twisted it to help you make MY desired changes.
I take many of the common elements of CBT and use them to turn you into a more profitable pig for Me!
For example, these are some common techniques and how I apply them
Cognitive restructuring or reframing. .. I make you think of yourself as a paypig, I call you a paypig, have you stroke your cock while you declare your paypig nature. Mantras are a huge part of this.
Guided discovery. … I've stareted adding some of this to sessions, and boy is it powerful! It's really got to do with taking a fantasy but hooking into your senses, you might imagine kneeling at My feet while I demand cash, and you feel your cock just getting harder and harder. And hear Me say "Good boy" This would be an example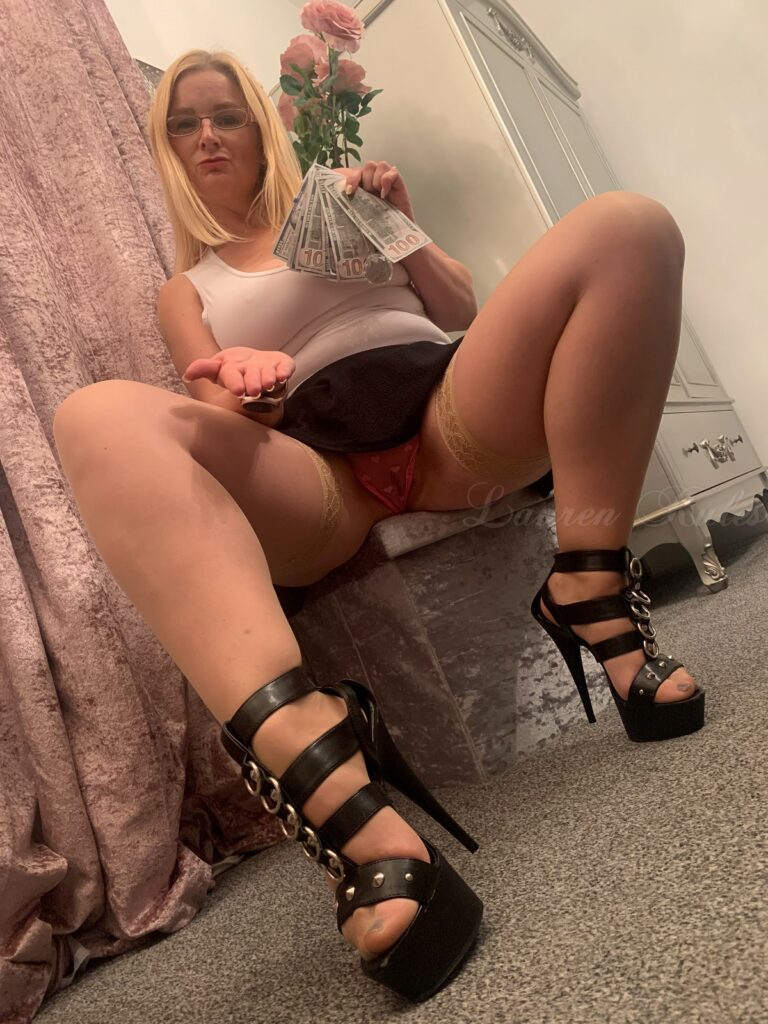 Exposure therapy. … Gradually I expose you to paying more and more…raising the rate, increasing the amount of the pay to view, demanding gradually larger tributes
. All of My series are great for this. Try this one from the archives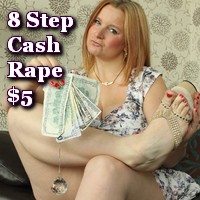 Journaling and thought records. …when you email Me back your thoughts or when you send Me what you're thinking in chat, this taps into this technique
.I think I may have to exploit this technique with certain individuals more often
Activity scheduling and behavior activation. …
I like to hook actions to other actions. For example, stroke your cock when you stroke when you pay Me. Or I suggest you will get hard when you see an email from Me. I don't generally schedule by the cock, but rather by action. ACTIVATING the paypig within
Behavioral experiments. .. .I am CONTINUOUSLY
experimenting on you guys to see what the most effective techniques are for separating you from your cash. Science is real and you have no chance
Relaxation and stress reduction techniques. …When you pay, it makes you soooo happy and relaxed, you feel bliss. Many of you will recognize this technique
Role playing is a common technique. I let you think it's roleplaying. You're the slave, I'm the Queen, you kneel at My feet. Maybe it's not roleplaying, it's REAL
So now that you are hard, I want to make a suggestion. The thought of seeing your name in My fuckover report is OVERWHELMINGLY sexy. You want it there, with red letters, so that everyone can see how much you admire Goddess Lauren
Now that I've planted that suggestion, Let's actually do the fuckover report! It's an amazing one! It's over a month, so it's long. Between Thanksgiving and some personal stuff, I'm later than usual, but oh so worth it.
The Fuckover Report
Legendary Paypig Alert!
My good girl and #1 spender buffy went completely off the rails, sending Me larger tributes than ever before. She is on the road to bankruptcy and it is going to be EPIC She spent. $4201 maxing out a couple of credit cards on Me! SOooooooo erotic. Limp clitty, still a virgin and it looks like that will never change. Wonderful!
Legendary Paypig Alert!
And also getting a legendary alert is rare whalebird! This guy appears, and then disappears, kind of a paypig whore who passes himself around many Dommes. I haven't seen him in years, but the other night was MY turn I guess, he spent $3087. This rare bird can drop by anytime as long as he brings his wallet! I always enjoy trancing him into submission.
Extreme Paypig Alert! This might be helpless dennis's first extreme paypig alert! He went insane on click and pay, we did several calls, and he tributed like a good boy everytime he stroked his cock when I wasn't around! How much did it cost him? $1880!
Extreme Paypig Alert! Getting his first bit of red type was jerk jockey! This loser is sooo easy to manipulate as he is gooning, and I extorted him for hundreds of $$$ of tributes for cum permission. Over a couple of sessions I extracted $1715 from him!
Extreme Paypig Alert! Dr x never fails to please, and did it again, with $802 on Niteflirt and $780 on Amazon, as My special Santa Slave! He totalled $1582 with his extreme mention! I love sessioning this guy, one of My favorites.
Extreme Paypig Alert! Another newer slave surprised Me with an extreme mention. Very good boy "spawn" has been losing control with click and pay! He spent $1393 falling more deeply under My power!
Extreme Paypig Alert! Coming to life, after years to suddenly become completely addicted to Me was footdazed. We had a lot of fun with some custom recordings and he tributed his wallet empty. How much did he spent? $1070. Stupendous!
My raise the rate puppet stopped by for degradation and increasingly expensive phone calls. He spent $112
Huge Paypig Alert! Boomer's addiction is going strong, he can't stay away, keeps clicking and paying! He spent $738 this time around!
My good boy nylon slave spent $187 listening to My silky addictive voice and buying pantyhose feet photos
Huge Paypig Alert! It was sooo nice to have marla back in My clutches again. My good girl ended up spending just a few cents over $700 as I used her VERY HARD. Lifetime, marla has spent more than $110K on Me! (she's one of the founding tribe members)
Just missing a paypig alert is worthless gimp loser, who spent $290 on Me that there is no way in hell he can afford. So sad, too bad. I won't think about it again.
New to the blog, is sticky, whose been around awhile and finally spent enough for a mention! He spent $106
Completely mindfucked pigbait spent $123. I think he should spend more.
Huge Paypig Alert! Just missing an extreme alert was bambi, My good girl who visited Me in My Hypno cabin. I introducted her to the mystical fun of the "kink sack" and we had a great time! She spent $978
My good shopper paulito came around and spent $101 to get a mention!
Huge Paypig Alert! My good boy, PIG can never ever stay away, he spent $510 this time around to get a "HUGE" mention
Good loser jeffnomore came around to spend $177
New to blog! Spending $137 to get a blog mention is "mensch". This guy found out how dangerous I can be!
I was very happy to have surprised get a mentio again, this time for $131. He's so sweet to session and so weak over My heels and feet
Paypig Alert! Getting another mention is My addict and very good boy j the junkie. J spent over $400 this time around to really make Me smile. He is no match for My power!
Squeaking in for a mention was helpless dave, this time for $103
New Slave! Huge Paypig Alert! Getting red type right away was a new slave, a good boy I'm calling citrusy. He's curious and found danger!
My good girl caged yankee spent $250. I'm always happy to take her cash
New to blog! After a long time not spending much, suddenly a guy I'm calling "rando" came to life, spending $141. That's what I'm talking about!
Back for more spending was My NF client who spent $122 this time around. He's got soo many accounts, who knows how much his lifetime is now.
Paypig Alert AND New to the Blog. Getting My attention was moniker, who clicked and paid his way to spending $487 and earned his blog name. (It's so full of irony I cannot tell you, but he will understand) This is what I love from slaves. $$$$ that is.
My quiet gentleman spent $243. Boy he loves those selfies.
Paypig Alert! New to My blog is chad, who squeezed into a paypig alert spending exactly $300. Well done!
My boyscout spent $185, just making Me happy!
Paypig Alert and New to My blog! A client I will call "bloom" went absolutely crazy on click and pay, over many days, spending a total of $425 and making Me very very happy. Well done!
Ducking in and spending and then cancelling his account was usbsimp, but not before he spent $135. I bet he'll be back
Paypig Alert! This guy humble john knows how to please. It always seens like he sends a nice tribute just when I need a smile. (yes tributes make Me smile) He paid $371 this time around, very nice!
My good girl sissy j spent $145. She just had a big cross country move and I can't wait to get into a nice rythym of us having fun again!
Paypig Alert! My good boy button was at the click and pay again, this time for $355. I love seeing that he's been busy!
My very good boy, Lauren's footlicker spent $174 on Niteflirt and $72 on Amazon to total $246 and really making Me happy. This guy knows how to treat a superior Woman!
Paypig Alert and New to My blog! Another new client who did a lot of click and pay was "lex" I hope he gets hard knowing how dangerous I am!
Good boy knickers spent another $156 on dangerous games with Me!
Now, which ones of you will be on the next blog post?
Who will get a red letter mention (at least $300)
Better get busy!
I get asked this a lot…seems paypigs want to know their fate!
"What's going to happen to me, Mistress?"
A. This is what WILL happen (assuming you interact, buy some stuff, read the blog)
I will expose you to My brilliant mind and body
I will use both covert and overt manipulation tactics on you
you will be given instructions, such as "stroke your cock when you pay"
B This is what will PROBABLY happen
you will spend more $$$ then you intended
you will find paying Me to be very arousing and compelling
you will be unable to help yourself and will return to My words and photos again and again
C. This is what MIGHT happen  (about 30% of those in the first group end up here)
you overspend by A LOT, causing you some financial hardship. Some of you (about 1/3 of this group) will liquidate stocks or retirement accounts. Some of you do credit consolidation loans, and then hit your credit limit again on your cards.
you become truly addicted to Me. Many of you won't be able to even get an erection or have an orgasm without paying Me. Some of you will LOVE this. Other's will not love it so much. I take enjoyment out of either situation
You will become a devoted junkie. Sometimes that devotion is simply to feel a normal erection, but some pigs know that they are greatly privileged to serve Me.
Some of you will try to leave. 95% of you won't succeed, and will return within a year. Usually within a month. VERY often within a week.
D. What occasionally happens: (My plan for the fate of paypigs, ultimately!)
you spend every penny you can lay your hand on for Me,
you may go bankrupt
you might lose your home, your spouse/girlfriend because of spending on Me
you might have twice as many bills as income
you really are insolvent, but your addiction remains. You will do anything to keep paying Me. Suck cock, steal from your family, go without eating,
When do pigs usually "get out"?
Some pigs never start…….but of those that do…..
Sometimes after spending EVERYTHING, going bankrupt, and being unable to pay Me for any attention whatsoever…they can leave.  But more often they stroke to My blog (like some are this entry), they cum on their bills. The word "bankruptcy" makes them hard….
Sometimes they piece their financial life back together….
and begin spending on Me again!
Want to tell Me where you fall? Look at the categories above and decide where you fit in best!
[alex_poll id="5″]
and remember, I want ALWAYS to progress you to the next level.
ANNOUNCEMENT:  I was having trouble subscribing new members to blog notifications, so I changed the plug in I use. They have a little different look, and if you've had trouble subscribing in the past…try again.  See the right sidebar on the very top. I'm waiting for your subscription! Subscribers might get goodies in their email box 🙂
Now, let's check the spending report…..after this photo 🙂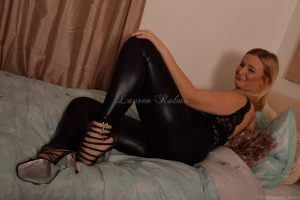 Pay pig alert! Let's start out with My #1 piggie of all time, princess gigi.  This week saw her sending Me another $520, mostly in tributes!
PIG couldn't help himself AGAIN this week. (Addiction), and he spent $201
Another addicted junkie is "more please"  His spending this week was $175.  He has been making Me his Friday Night addiction
My sissy j was back! This time for $135 here on Niteflirt, plus a little spoiling 🙂
Pay pig alert!  My star junkie just couldn't get away. I lured him in with "discounts" And he spent $490 on those discounts.  Hahaha sucker!  So cock hardening though…
and candyballs was back for another $145 in spending. Stop trying to hide candyballs. He's way surpased 1K of spending and he's only been around for less than a month.
Pay pig alert!  Another big spender this week, and back after a break was special k!  We did a HOT long phone call when he clicked and paid emails for Me…so erotic! He spendt $520 Mmmm
My exposure sissy spent $140 while I had fun at his expense!
My nylon slave spent $135 on My hosed feet, but I have a feeling more exploitation is coming SOON.
titfool squeaked in a mention with $101 in spending on My perfect boobs.
Also new to My blog is sissy daphne, who spent $200 on Amazon gift cards for Me. Mmmmmm Good way to start daphne!
Many of you know that I work with SeducedByJane on Niteflirt quite a bit. We run a joint account, TwoMeanGirls, and we've done games and activities together for our slaves/pets.
Well, it seems as if a new money slave Jane has (and blogged about here) found himself over in Lauren Land this evening. Jane had shown me the transcript of their yahoo conversation, and I recognized the sniveling tone right away in his email to Me, and he also referenced Mistress Jane in his first email to Me.
Dear Miss Lauren,

I've been reading more about you on your Niteflirt page, and on your blog and on your pages with Mistress Jane on TwoMeanGirls.

You are beautiful, and I am getting this image of you and Mistress Jane standing over Me taking all my $$$.
I took this opportunity to send Jane a quick text message asking her if I minded her exploiting her prey.
Her answer. "Go for it!"
So I raised the rate on my FinDomme listing to $8 a minute, and told Prey to call.
And while he was on the line with Me, I conditioned him to obey, sending him pay email after pay email. $25, $50, $100, culminating in a nice $150 email.
And of course, a $160 charge for the 20 minute phone call….that I ended by saying…
Oh, Prey…be sure you send Mistress Jane a gift tribute for $100 as well.
He better have, I'll be checking.
There can be no doubt, that I am a sadist.  Even just writing that one sentence begins the arousal. The thought of causing someone pain for My pleasure simply makes me wet. And it can make Me cum too.
I enjoy all sorts of sadism.  Its very satisfying to cause physical pain, the swat swat swat sound of leather against flesh, harmonizes with the plaintive cries of My victim. Screaming as a result of what I do is tasty as well.
Yes, very arousing and enjoyable.
But the next day?  I'm not feeling the sub/slave's pain at all, although he/she might tell or write Me that they are still tender and can't sit, and that I admit, is erotic.
But financial sadism has a much yummier aftereffect for Me to enjoy.
After an evening of wallet rape, the slave ends up much poorer, and My bank account is enriched.
But the fun doesn't end.  I am able to continue enjoying My plunder of the slave's money.   I can buy stuff. I can use the money to support My standard of living.  I can waste the money on frivolous things.
And the next day, after you submit to Me, and sacrifice $$ to Me, you can feel it the next day.   The latte you have to pass up. The car you can't buy.  The trip you can't take.   The wife you can't buy flowers for.   The family member you can't send a gift to, the bill you can't pay.
And the more extreme it affects you, the tastier!   Do you have to sell your wife's wedding ring to pay the mortgage?  yay!  Do you have to cash in your life insurance policy to get your car fixed?  yay!  Do you have to take a second job so you can buy some groceries and pay down your credit card enough to call Me again?   Yes! Yes!
Financial sadism.  The sadism that just keeps on taking
.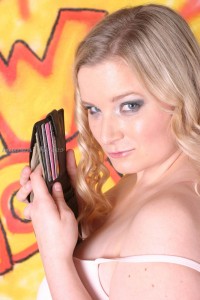 laurenrules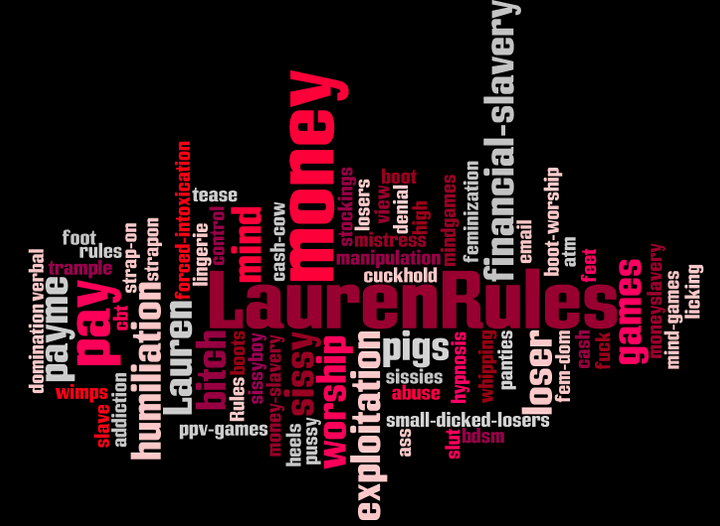 This blog is for anyone curious about the inner workings of a Financial Dominant.
I do not speak for all, but I do speak for myself.
I came across this fetish backwards. I have been a lifestyle Dominant in my local BDSM scene for years, its part of my relationship style. I came to know myself as having a deep sadistic side. It didn't satisfiy me to just to hurt someone physically, I enjoyed orchastrating the mind fuck on my slaves and submissives. I enjoyed making them face dark things about human kind and themselves. I loved making them weep and kissing their tears away. I did not and still do not practice money exchange for live play.
Some years later, I came to explore my BDSM fetish as a telephone fem-dom on the predecesor to Niteflirt.com, a site called Keen (It still exists, but no longer offers adult services). I did this on a very part time basis, for extra money as I drudged off to work like most wage slaves every day.
By the summer of 2007 I was ready for life changes. I quit my job as a wage slave and relocated to a community I had made connections in and loved. My original plan was to take Niteflirt calls to earn money until I found a job.
Something amazing happened. Since suddenly I was available regularly, it only took a matter of weeks before I had built up a clientele so strong that it no longer made sense to return to a "regular" job. It didn't take long for me to begin to deeply appreciate not only the income I was earning but the absolute flexiblity of controlling my hours and when I worked and had both the time and money to vacation as I wished.
Like most Niteflirt girls, I create a listing in financial domination, really having little clue as to what it was about, but figuring "it can't hurt' No one ever calls it.
Skip ahead a few weeks, and I get a lovely call on my regular Mistress listing from a lovely man that I immediately connect with. He begins calling me several times a day, and it comes to light that he has a fetish for financial domination. I pay close attention, and its not long before the sadist within awakens and responds to the money masochist. I take him to the edge financially many times over the course of the following weeks. A piece of me has pangs of regret, I have come to enjoy him and his calls. We get deeper and deeper, as he liquidates asset after asset to satisfy our mutual need.
Eventually, I break him, alas, the fetish turned out to be stronger than my affection for him. I cannot stop and he cannot stop Me. Him maxing out his credit cards with no means of paying them off easily stops the train.
Around this time, I start attracting more money slaves , and I realize that each contact leads me deeply aroused. Most of my fantasies now revolve around using men for money, to the point of causing them financial distress.
Am I a piranha? Well, piranhas are predators that swarm in a group. I work alone, so I would have to say. No.
Am I a vulture? Vultures pick apart dead carrion to the bones. I prefer lively prey with meat on the bones. So once again, I have to say, No.
I am a woman with a fetish for a power exchange. A woman who now lives a good life living that fetish.