I have had a lot of fun this year, I did a very witchy photo shoot and video, that you can get here if you haven't already!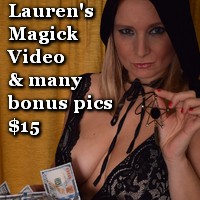 This is a very trancy video, with My crystal…and the light gleams from it just right…
and until 11/1, I will be putting more photos from that set, Sorcery, on this vacation PTV!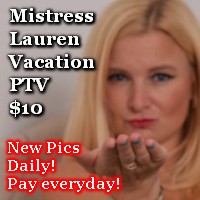 \
IMPORTANT DATES
November 9th is a day of Lauren Worship. It's My birthday! I made it easy for you to send Me $25 and give you some photos from a set I'll be releasing later this week, so you get a sneak peek. Get this, then find a way to spoil Me more.
A few days after My birthday, I'm going to Disney World for a week, so if you want to please Me, and serve Me like an addicted paypig, you will buy this!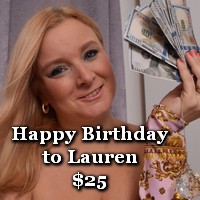 And now we have the spending report!
New slave!  New to Me is "target", so called because I am conditioning him to become addicted to Me. He spent $180, mostly on the telephone, listening to My silky voice condition his to paying Me!
I was so happy to hear again from marla, who spent $138 on a very nice session on the phone. I think she would like to spend more, but is recovering from the major financial fuckover I did with her last year! I AM danger!
Huge Paypig Alert!  OinkLoser was back! I had one of the most enjoyable raise the rate games I have ever done. He had expressed a desire to be "tricked" into the game, so I did so by sending him a free minute, then after talking a few minutes, I would offer him another to "save him money" but he would have to call back!  Of course each time, the rate was higher! He also had some pay to view fun, and ended up spending $635 on his march to spending 10K on Me!
Gimp Loser was back for another phone call and another huge email. I keep slowly increasing the amount of the email I make him pay, and its well into 3 digits! I swear I'm gonna bankrupt this loser before he's done with the world! He spent $193 this time around.
Huge Paypig Alert!  Fagmuffin (formerly known as princess gigi) got even more submissive to Me. She tried a reconcilliation with her ugly ex girlfriend, but that failed. The ex is a gold digger. Well, so am I, but I'm honest about My motives!  Anyway. The tiny clitty wouldn't stiffen, fagmuffin couldn't perform like a real man, and the ex fell asleep! While she was sleeping, fagmuffin called Me and I got her all squirmy with talk of making her suck cock, and lo and behold, a stiffy and a squirt!  Not a real man, a fagggot obviously.  Fagmuffin is back on the hormones, her ass is getting round and fat and she spent $875 on me since last report, despite trying to cut back!
My good boy with the stolen moments spent $180 on Me as we plotted together how to take his wife's money and get it to Me where it belongs!
My exposure sissy was back for MORE exposure, spending $158 so I could help let the whole world know she is a sissy crossdresser!
Huge Paypig Alert!  My long time slave PIG has achieved a more profound level of addiction. Chatting on the chat program has made him more vulnerable to My predations. He spent $780 since last blog entry, and twice he paid two and three times My normal rates for sessions outside My normal hours. He is fucked!  He is close to $90 lifetime spending on Me!
Reading about his Huge Paypig Alert last blog was enough to inspire Robot paypig Eunuch to spend another $180 on Me. His finances need to recover from the brutal beatdown they took at My hands this October!
And Dangle jim was back, spending $120 on My new blackstocking photos!
My sissy lily spent $110.  She is slowly recovering her credit after I completely destroyed it a few years ago. I am encouraging her to improve it, so she can get more credit extended to her. I plan to completely destroy it again, once it is worth it!
Huge Paypig Alert!  I think this is the first time Irish dope got a huge paypig alert. I took so much for him, I doubt he can pay his rent (Not MY problem, haha)  He spent close to $700 in chat and tributes on Me. Chatting with Me is dangerous!
Another one addicted to chat and tribute (I encourage good boy behavoir with photos!) is flaming pig. He had been trying to be good, but one little message to him in chat, and boom,. I had him back, spending $240 deepening his addiction to Me!
Click and pay slave dirtbag spent $114 on his obsession
Paypig Alert!  I had this sissy in chastity for part of the time, requiring her to pay Me a certain amount before I released her. Since the last blog entry, sissy marja has spent $280 on her need for My control!
And slave pay thing couldn't stay away even after a huge fuckover, spending another $207 on chat and tributes. He always falls into My traps!
My elegant foot lover spoiled Me with another $125 recently. His birthday is the day after Mine, so I know he won't forget it!
And daredevil spent $125 on Me since last entry as well! I'm going all Wonder Woman on his wallet!
Huge Paypig Alert! I think that paybitch Terry has come to the realization that is going to give Me EVERYTHING. That process continues at a brisk pace as he spent $935 more as an offering to his OWNER!
and egghead managed to keep his spending under $200!   Hahah, he spent $199 since last blog entry!
Huge Paypig Alert! Dr X was pleasing Me again, with $240 dollars of Niteflirt spending and over $500 on My wishlist, including gift cards and a new Fitbit that wasn't supposed to be released until November 12th, but I see that they moved the date up a week! So I'm hoping to have it for My vacation! His spending totals over $740! Well done!
And slave suprised has been doing such a good job buying My vacation pay to view. He's spent $120 since last update!
and finally, but not leastly is titpig ATM who sent Me $160 in tributes one evening out of the blue, including a $100 one. So addicted!
I'll be doing one more blog and spending report before My big vacation. I want it to be HUGE with stories of how all you slaves are spending for Me to have a wonderful vacation! So load up your accounts and start spending!
Remember
Pay Lauren
October 30, 2018 No Comments