If I am successful at manipulating you into giving Me (much) cash, it's because I have successfully managed to install us on the opposite sides of the same coin!
That coin represents the Mistress and Her slave participating in a mutual fetish (in this case, financial domination). Both are needed, but get different things out of it. In this case, you provide the coin, and I get the coin! 🙂
If you're reading this, I already know something about you. You are either already a paypig, or you are intensely curious about being one. Of course, not every paypig is the same…but My goal is to install you on your respective side, and in the beginning I will be finding out how to get you there.
What makes you weak in the knees?
What makes you hard?
What makes your mind spin?
What are your paypig triggers?
What is it about ME that you find arousing?
What is it about YOU that makes being a paypig a possibility?
I find your triggers, and I pull them again and again, watching your wallet empty,
sometimes I craft new triggers! The more triggers, the more effective the cash rampage!
Some (Many) of you are so needful of the financial Domination that you offer up your weaknesses to Me for My play amusement.
When you approach Me for the first time, you will find that I do know what I'm doing. I find out stuff. I use it against you.  And I know that makes you and most paypigs rock hard. (And it gets Me all revved up too
Now take a poll. I don't know what YOUR answer is, but feel free to ping Me on Niteflirt and tell Me 🙂
[alex_poll id="4″]
Now it's time for the spending report
Hypnowallet and I had a fun little $117 session. Every session should be at least that, don't you think?
Reactivating his Niteflirt account and spending $285 on Me was Nylonlover. My nylon feet, his week mind…no way to stop Me
Pay pig alert! Back with a whoosh was iFool!  We had an arousing "raise the rate" session with a little consensual coercion, and the iFool spent $718. The final call was a rousing 10 minutes at $50 a minute! I LOVE $50 a minute calls. You should all try at least one.
It will make your cock hard!
Mmmm Princess gigi spent $255 this week, but released in her panties without MY permission. More training needed! Shame! I have confidence in her though!
My elegant barefoot lover spent $170. I have so much more to show you lover!
Pay pig alert! My eunuch robot paypig spent $595 in mindless click and pay for Me. He completed the new Queen Lauren series, and I kept sending for his spending paytrance pleasure!
More please was another that fell prey to the Queen Lauren series, to the tune of $225! I pretty much know that every Friday I'll be able to take his cash with My shiny black leggings!
Another Queen Lauren victim was My paybitch, his debt came out to $215 🙂
And candy balls was back with $115. (And I know he kept looking for this blog post, I bet thinking about seeing his name here again got him all excited!)  AND candyballs hit the 1K level of spending!  Well done!
Helpless dave squeezed by with a mention with $105 of click and pay. Mmm
also squeaking in for a mention was wallet rape toy at $105 as well.
My exposure sissy submitted to exposure games for $104 🙂 Also squeezing in for the mention!
Helpess for another week was PIG. This time I got him to spent $321 and maneuvered him leaving lots of feedback (Is yours caught up?)
This was the Lauren, Queen of Greed series that had many of your heads spinning and your cock hard…
check it out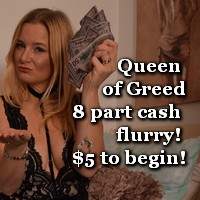 And get going on your blog mention for next week!
Lauren
March 28, 2017 No Comments
New PPV offerings!
The Pain Game!
This is for those of you who really like pain, the masochists…follow the directions now 🙂


New photo sets!
New deadly Ass pics! (I know you want to worship it!)

Unique perspective of a slave set!



and coming very soon!!
A whole set of feminization/sissy assignments and a forced feminization story! If you email me and beg pretty, I'll sell you an advance version. *giggle*
And on just a personal note, I've been so busy getting new stuff ready for you guys, doing the work preparing the games, having photo shoots, setting up locations for shoots, buying shot clothing, working and emailing with the web designer for my site (coming very soon, its going to be fucking gorgeous), and setting up this blog and filling it, I am in need.
It's time to rejuvenate my dominant energies. Its time to twist my control around you. Its time to fill myself with that raw power I gain from using you. It is time to be a predator.
I need to feed.
August 15, 2008 No Comments
You have to buy this on Niteflirt.  So if you're not on it, go join.
If you are not already on NF….you should join from this link….you will get three free minutes to call me as well,  click here

And after you join…you can play this Mindfuck Game that I designed for weak men.
That would be you. I'm not ordinary, I find many ways to exploit men. Sometimes I do it through automated means, which I think it hilarious.
I set the game out like a trap.  And submissive men just wander in and set it off…
Don't believe me? Go see.

August 14, 2008 No Comments