There can be no doubt, that I am a sadist.  Even just writing that one sentence begins the arousal. The thought of causing someone pain for My pleasure simply makes me wet. And it can make Me cum too.
I enjoy all sorts of sadism.  Its very satisfying to cause physical pain, the swat swat swat sound of leather against flesh, harmonizes with the plaintive cries of My victim. Screaming as a result of what I do is tasty as well.
Yes, very arousing and enjoyable.
But the next day?  I'm not feeling the sub/slave's pain at all, although he/she might tell or write Me that they are still tender and can't sit, and that I admit, is erotic.
But financial sadism has a much yummier aftereffect for Me to enjoy.
After an evening of wallet rape, the slave ends up much poorer, and My bank account is enriched.
But the fun doesn't end.  I am able to continue enjoying My plunder of the slave's money.   I can buy stuff. I can use the money to support My standard of living.  I can waste the money on frivolous things.
And the next day, after you submit to Me, and sacrifice $$ to Me, you can feel it the next day.   The latte you have to pass up. The car you can't buy.  The trip you can't take.   The wife you can't buy flowers for.   The family member you can't send a gift to, the bill you can't pay.
And the more extreme it affects you, the tastier!   Do you have to sell your wife's wedding ring to pay the mortgage?  yay!  Do you have to cash in your life insurance policy to get your car fixed?  yay!  Do you have to take a second job so you can buy some groceries and pay down your credit card enough to call Me again?   Yes! Yes!
Financial sadism.  The sadism that just keeps on taking
.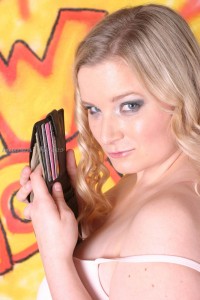 laurenrules

October 19, 2009 1 Comment
I've been pushing myself every day getting my webpage running, getting this blog going and polishing my listings at www.niteflirt.com/lauren+rules
My newest listing? I got rid of the ignore listing and changed it into a small dick humiliation line. I had fun yesterday doing all the graphics, and now I am tormenting men on a small penis humiliation site another pso turned me on to. I never knew how amusing it could be to just send random insulting comments to men.
http://www.ratemysmallpenis.com/
Just to remind you that I am more than just another financial dominatrix. Sometimes its just plain fun to viciously cause emotional wounds.
August 8, 2008 No Comments