Category —
top ten
I've got two really interesting letters from cash cows that are loyal and well programmed piggies. I'll be doing blog mentions later, so look for their names.
From lord Loser (who reactivated his account to serve Me again)
Mistress Lauren – I tried to escape you by closing my account, but I started looking at your blog on your website and stroking for free, slowly sliding back.  The final straw was when I was reading an older entry and you casually talked about waking up in a beautiful bed that was bought by a loser you had sent into bankruptcy.  At that I shot a huge load.
That night I dreamed that you had a convention for paypigs, fucktards, sissies and faggots in which 100 losers were to pay $1,000 each in order to attend.  They all had to be naked, exposing their ugly bodies and tiny cocks.  I woke up with a very hard cock that was oozing precum.  I squeezed the head of my dick, took the precum on my finger and ate it.  Then I finished the story as a day dream.  I know that you do not want me to go into detail, but I will just tell you that the sessions required additional cash from the losers and they focused on groveling on the floor and oinking, how to steal from your wife and family to pay Lauren, cocksucking to earn more for Lauren and being kicked in the balls by Lauren or other doms you had brought along.
I knew then that I could not escape you, that I had to crawl back. worship you and be ready for a severe wallet fucking.
lord Loser
Phew, what a thought, a Loser convention that costs $1,000 a head!  I would probably be able to retire after all you fucktards were competing to spend the most!
For the record, after his sent this to Me, lord Loser went on the click and pay for a total of $1065. All while I was sleeping. And he started his descent with 3 little $2 emails.
While I was writing this post, Lord Loser called Me, and I fucked him over some more…his grand total is below 🙂
Most of it was on a popular series.  Find out why it is so dangerous!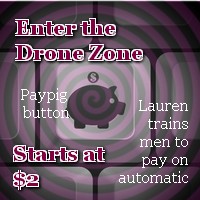 Another letter came to Me from paypig brian, a deliciously addicted paycunt of Mine.
Obsession and Reprogramming – The Plight of the Money Slave Pig
After a recent session with Mistress Lauren, she announced that I was definitely in her class of extreme money slaves.  It was a targeted comment on her part to bind me even tighter to her.  I knew it.  She knew it.  And I love her for it.  I have been her paycunt now for around four years, and I have tried to quit many, many times, but I have not been able to shake the addiction.  Now that I am classified as an extreme money slave, I know that my fate is sealed.  Lauren has my cock and mind in her addictive web, and I am her property.  There is little hope for me.
Now, I could warn potential money slaves about the very real danger of lurking around Mistress Lauren's site, reading her blog, and paying her PTVs, but that would only encourage you.  To be quite honest, I love serving Lauren by bringing other pigs to the slaughter.  I am like a missionary bringing lost souls to be saved.  For a submissive like you, that place is Mistress Lauren's money traps.  It is where you need to be and what you are missing in your life.  I only need to lead you there and encourage you; she will do the rest.  She will target you and victimize you, and I will watch with pleasure as she enslaves you.
The traps are baited nicely with photos and words of warning meant to attract just the sort of man that is turned on by a dominant woman.  If you think you are not in this category, you are kidding yourself.  You are here, aren't you?  You are getting hard by the thought of giving up all control to Mistress Lauren and her manipulation.  You are a money slave in the making, even if you won't yet admit it or are foolish enough to think otherwise.  You came here because you want it.  Bad.
But the real danger begins when she takes control over your hard cock.  I remember how my pulse raced the first time I entered that credit card number.  My fingers were trembling on the keyboard in excitement and fear of the danger I was putting myself in.  And my cock demanded that I continue, even when I mis-entered the number twice, because I was sexually aroused by the thought of being used by Her.  And a few minutes later, my eyes rolled back in my head with that overwhelming feeling of Her control and that hard orgasm that came from knowing that a dominant had taken me for her pig.  That feeling doesn't go away when Lauren owns you.  In fact, it only gets worse.
After a time, paying Lauren not only makes you hard, it shuts out all other normal sexual functions.  You struggle to get it up, unless you are dreaming of being submissive to and paying Lauren.  And just thinking about it isn't enough.  Try as you may to escape it at that point, you are hers now.  You will think of her.  You will tell yourself that you are her slave, that she demands your obedience, and you will want to look at her website again and again, and soon you will be paying her again and again.  More and more, over and over, getting fucked harder and harder.  You are caught in her trap, and she is preying on you.  And the very thought of that is too much for your submissive brain to handle.
What you don't realize is that this addiction isn't just a learned behavior.  It is a true, chemical addiction in your brain.  She has programmed your brain to find pleasure in paying her, and over time, that has changed your brain's chemistry to where you ONLY find sexual pleasure in pleasing Lauren.  Much like other addictions, the chemicals your brain releases during repeated incidences of pleasure causes withdrawal when the source of the pleasure is removed.  And Lauren knows very well how to make you associate first her dominance and then her financial dominance with that pleasure.  That pleasure of paying her causes the brain chemistry to change, and then she has you.  She is calculating.  She is merciless.  And she owns your sorry cunt ass.
paycunt brian
brian, that letter needs no elaboration, you are completely correct. And it's also true that the mere fact of Me posting the letter will drive more pigs to Me. Well done pig, well done!
And without further ado
The Spending Report….
nylon foot lover just cannot get enough of My elegant nylon feet. Do you know I actually take photos for top slaves that I know will make them open their wallet.   He has spent $520 dollars since My last update
PIG is another I tempt with photos I take to lure him in. $340 this time.
An update on a loser from Last Week, Ass drone, who spent close to $1500 on Me in a short period of time. I see the Loser has deleted his Niteflirt account.  Drone, most come back. I bet you're reading this and I summon you back to Me 😉
I want to highlight a special Loser with a new name. Formerly he was known as Fledgling Loser. He debuted on My top paypig list at Number #13.  Well he worked himself into a frenzy over this and spent in several late night sessions with Me to the tune of ….hang on to your cock…to $5,633.20  Yes, you are reading that right.  He sold his condo, paid off his credit cards and started with a bottle and My photos in long expensive sessions over 3-4 evenings.
He has a new name  "trancetard!"   And tard has tried to protect his credit card from more damage by blocking Me.   But it won't last.  Trancetard, I am waiting. Surrender and go blank and pay!  I know you're reading. Edit:  I also know you have been viewing My listings, because you are obsessed. Go blank, unblock, surrender, obey.
Trancetard, you have climbed up the Loser list, you're now #9 with a total spending of over $21,000 on Me.
Other spenders include cumstain, who dropped another $270 on Me over My shiny latex photos. (And he has such a weakness for My black strap-on cum photos too!)
My special little club piggie is working hard to climb My all time spenders list, and his goal is to hit My top 25 list! He has a long way to go, but he has spent about $140 this week!
I have a long time client who has never been on My blog, but this week he went crazy for My new series "She Devil" (many clients did actually), and all could say was "more please" to the tune of $281. He is only about $18 from reaching the 2K threshold as well.
Oh this is the series driving everyone crazy btw
You can check it out, and if you love it I will gladly do a nice little PTV session with you and more of these photos!
Also Dr X threw $137 on Me.  He is trying to duck a huge session, but both he and I know it's inevitable.
Dr X, I know just reading this is making your cock hard. surrender and email Me.
Sweet pig declared her love for Me again, and spent $114. I'm thinking this girl is due for a larger session with Me.
My little paybitch couldn't stop, and spent another $450 on Me.
No nonsense guy once again couldn't stay away and spent his paycheck on Me. $437 from him to Me. Yum
$116 from the iFool which was cut short when he couldn't add more $$$ *sigh* Let's try that again fool.
princess gigi spent $394 since last update, she's been gone a lot this summer, but the little faggot has a birthday coming up, and I bet that she would LOVE a release. Maybe Ill give her one. Maybe not.
New is ordinary sub, and he spent $110 getting to know how dangerous I am.
Another huge spender this week, was the loser whose letter I quoted, "Lord Loser"  This guy is an old geezer with a tiny dick living on a pension, and in his retirement he has been obsessing over Me.  Since he came back to Niteflirt just last night, he has spent…get ready $2481.  I bet I hear from him again tonight, I just have a feeling! If he can hide from his cow wife long enough that is…
egghead got all turned on by being one of My top 25 spenders and dropped $171 this week.
kane the foot lover gets a blog mention for his $140. Gotta work harder than that to climb the loser list though!
Footsniffer surrendered $127.  I've got him targeted for more.
Another new piggie, dream loser learned how dangerous I was to the tune of $410.  It just goes sooo fast when you get caught up in click and pay!
paycunt brian sent $125 in addiction to the lovely composition that I published in this post. He has dedicated his life to being one of My losercunts
curtsey continues to be a good girl for Me. She was $279 worth of good girl since the last update!
slave benny was back, this time for $216. He was another that loved the She-Devil set!
pigskin spent $125. I always get wet when he started paying because sometimes he goes on automatic and doesn't stop until he has spent thousands! I love that!
Lastly, but not leastly, elegant foot lover tributed Me a total of $153. Yum.
I always love publishing the spending report, because it inspires all the Losers to spend. So start spending!
Only three more days and I am going to Hawaii!  I'm slowly packing and plans have been made to do a day trip to the big Island of Hawaii to go to Volcano National Park.  Temperatures are supposed to get below zero here this week in Not-so-balmy New Hampshire so I am timing My time in the sun perfectly. The paypig spending has made me a very happy girl.
My iPad died last week. It was an original version a client had bought Me several years ago. (perhaps he is reading this…) It just doesn't want to charge, doesn't hold the charge well, and many apps I want to use don't work with it anyway.
So wallet rape toy rescued Me, bought Me a brand new iPad Air2 and had it shipped expedited so I would get it in time and it arrived today!  Well done wallet-bot!  I'll be adding apps to it and a couple games and Kindle and Audio books because I will be on an airplane for a very long time on Thursday.
So, My new series, "The Drone Zone" has been selling blazingly well.  Nearly $5,000 in sales just in that series alone since I released it New Years Eve.  Several New clients have gravitated toward Me in the past few days!  (Yay! Fresh Wallets!)
Since the beginning of December wallet rape toy has spent nearly $2900 on just click and pay on Niteflirt for Me.   His purchase of My entire enhanced Christmas shopping list for My family and friends was well over $15,000 and of course, gifting Me with a Hawaii trip.  I hold this robot up as an example to you all!
A suddenly click happy client, I'm going to call dazed has spent over $1472 dollars on Me since Christmas, and now his lifetime spending on Me has passed the $3000 threshold!  Welcome to the whale club dazed!
Another I'm going to call "tipsy"  went nuts last night for $445 dollars.    He has been My client for several years but never spent much. Until last night.  He discovered how I turn men into automatic paypigs!
Since December, another new slave, a quiet one I'll call "quiet drone" has spent over $900 recently in click and pay frenzies!
I had fun extracting nearly $750 dollars out of My  slut sissy becca, just a little consensual exposure fun . She pays sooo quickly when you do that!
virgin peter gets a huge mention.  $2100 since the beginning of December. I know he is working to figure out how to pay Me even more $$$$$ in 2015 to help Me meet My goals.  *laughs* As I'm writing this blog post he is clicking and paying. He is working hard to make My "top ten" list.
I hadn't heard from My Australian payloser in ages, but he showed up last night for $445 dollars in spending until he overdrew his checking account, panicked about it and with a hard cock. I didn't let him cum *laughs*  He can get aroused this way when he has to call his bank.
Another new slave I'm gonna call  phucked spent nearly $500 on Me since December
Another new slave I'm gonna call "sweet wallet" has dropped over $300 on Me
Close to $300 for loserbeast
princess gigi stays firm in her spot as My #1 spender with nearly $4200 in spending since early December.
One of My longest serving slaves, money guinea pig slave spent $1500 in December and so far in January after a (another) failed attempt to "cut back" on spending on Me. He is frightened of an escalation in spending the past couple of weeks, and I am thrilled!
Ass-loving rich spent $860 recently and his lifetime spending has creeped up to over $6000! That makes Me very happy.
dr x spent over $1400 and remains in solid fourth place on My lifetime list, and threatening to over take the slacking wallet cunt for third place.  wallet cunt did manage $200 during the same time period.
Another slave kevin, who has clicked often but only really began paying recently dropped nearly $350 recently, including one $75 dollar ptv. I noticed, kevin, well done
weak4breasts (My nickname for him), has spent $300 recently, and his lifetime is *almost* at $3,000!
My barefoot lover, elegant foot guy spent over $800 including some tributes on Christmas week just to show Me that he loved Me 🙂
My slave thrillseeker sent Me almost $2200 in click and pay! He's climbing My lifetime list too!
My Shoesniff Loser spent over $650
Oh And sissy marla.  She spent so much she got her own blog post last week.  Damn close to $7500. I think I broke her though. Not surprise, she's unemployed and just sitting around in panties and a hard cock all the time and the credit cards are finally running dry. She's resourceful and smart though and I bet Ill see her before the year is out again, clicking and paying and moaning into the phone at Me.
So I am not sure I'm going to get to blog again before Hawaii. I'll try, would like to release a ptv or two, we'll see if I get it up!   I know you guys will miss Me, but you can always click and pay while I'm gone!
Interrupting your normally scheduled blog for this newsflash!
Pushing "Fledgling Loser, the Fuckover Magnet" out of 10th place (at least for the time being) is
ShoeSniff Loser, currently at $13,761 and pledging to go after higher places.  Keep working overtime and selling your shit to do so Loser!
I know so many of you have a curiosity about My top cash junkies…..
so I decided to give a little bio about My top ten spenders, and maybe mention the placement and lifetime earnings of a few others.
I'm going to do this Letterman Style, as a countdown. (I wonder if Stephen Colbert will do a top ten?)
Number Ten:
At nearly $13,000 we have "Fledgling Loser" as I have called him in My blog on occasion, I've also calle him Veteran Drunk, but that doesn't have the same bite I want him to have. This guy is conflicted about being My junkie. His cock loves it, but he sends Me emails like this:
please Lauren stop.  you're hurting me.   you've already hurt me. $13k+ is too much money for me to spend. i can't do any more.  please stop.
He begs Me to stop, but I don't of course, (Mercy?  HA! I think not)  and he can't help it, he just keeps paying what I send. I imagine him crying into his drink as I brutally fuck him over.  Such a delicious image.
[yop_poll id="2″]
Number Nine:
It's tPay!  At about $15,300 tPay has moved up My active client list and he did it in just 11 months! Yum.  He's been lying down recently, but no worries tPay. I have not forgotten you, and figure out how to hide all your spending from your bitch wife, so you can return to overspending on ME 🙂
Number Eight:
Is Loserbeast 🙂   At $26,620–he has become a little more active recently, I think finally beginning to recover a little from the major financial rape I gave him back in 2012.  You can read about him on this blog post,   I am always happy to see Loserbeasts name in My transactions list, it makes Me smile and remember his huge fuckover when I first aquired him.
Number Seven:
Is a client I call "rare whale", who checks in at $32,180   Rare whale has been My occasional client for years. He doesn't come around often but when he does, it's a major wallet rape.  (Four digit rapes)  Rare whale is one of the reasons I don't match up blog names with a client's Niteflirt name.  I know for a fact that rare whale is addicted to Financial Domination in general, and is a bit of a slut who plays with different FinDommes all the time.  I am certain we are all glad to see his name clicking and paying (Because cha-ching!)  but I'm not sure that some of the Fin-Dommes he spends on realize he isn't loyal.  Now I like loyalty, but I like really extreme wallet rape sessions too. I wish I knew how much rare whale spends in a year on Niteflirt–I bet he is Niteflirt's biggest spender overall.  Now My plan is to addict rare whale to spend only on Me.  I am patient, and I may succeed.  Meanwhile, he comes and goes, and oh yea…cha-ching!
Number Six:
At just over $36,000, is sissy marla, a long time slave and a sissy, who loves to call Me and do long sessions of Me sending her progressively bigger and bigger paymails.  I think marla has been trying to resist Me lately, it's been awhile since we sessioned, but I see her click on My buttons and I know that she will relent and it will be another delicious fuckover session–marla, you *know* you need this.  I'm waiting!
Number Five:
It's wallet rapetoy!   This loser is special.  He first found Me less than four months ago on Dec 12, 2013 and has already sacrificed $41,350 dollars on Me!  That's just on Niteflirt–his spending includes very generous hits of My wishlist for at least another $900.  I hope this boy has lots of cash in reserve, because if he could continue spending at this rate, he would be hitting SIX figure spending on Me before the holidays arrive. Mmmmmmmm . No one has ever climbed My list faster, not even Loserbeast.   I last wallet fucked him earlier this week to the tune of $3518.  Yum.  Wallet rapetoy, I'm willing to do that very often!  *laughs*
Number Four:
At over $47, 520 we have My My guinea money pig!  He is a long time client, and we don't have huge wallet rape sessions like some of the others, but hardly a day goes by where he is not begging for a few pay mails from Me.  He actually started off NOT as a money slave, but over the years I have changed him….I have addicted him…and each year it gets worse, and now he can't even have a decent orgasm without Me humiliating him and taking some of his cash.  Oh, and I plan for it to get much much worse.
Number Three.
It's princess gigi!    At over $67,150 we have princess gigi.  Like My guinea money pig, I hear from princess almost every day, and lately the sessions have become more and more expensive for her, as she cannot stop sending Me tributes and swoons into her sissy fog with long phone calls in which I extract more and more cash from her.   I have control of her itty bitty cock clitty, and I have her in chastity, and she is very rarely allowed to cum in her panties (no touching EVER).  She has only had three orgasms so far in 2014, and one was just a few days ago (after TWO months chaste) This has made her desperately send Me cash, as I have trained her that the only sexual pleasure she feels is from paying Me.    Now only 2-3 years ago, princess was a man with man thoughts who strokes his admittedly tiny cock daily.  No more.  No more boy thoughts, only pleasure from paying Me.   Mmmmm
Number Two:
It's Dr. X!   At about $76,400, Dr X is a long time slave who does regular extreme sessions, regular large but not extreme sessions and buys more of My pay to views.  He has also spent several thousand over the years on My wishlist.  I can't go into a room in My home without seeing something he bought Me.  MmmmmHe's accepted that I will drive him into bankruptcy.  He was about to dissolve his retirement account to give to Me, than his credit card company gave him an obscene credit limit increase.  Guess who is getting that?  Then on to the retirement account!  Bankruptcy for Lauren!
Number One:
Why it's wallet cunt of course!  At $81,800 plus, I thought wallet cunt was a shoe in to be My first $100,000 spender.  I'm not so sure–although cunt still comes around, the really huge extremem rpes are less often. I mean, wallet cunt was the guy I was sending multiple $999 empty emails to while I was on the phone at $50 a minute! *grins*, but we haven't done that in ages.  We still session, but the cunt seems to be getting away from Me before spending several thousand and his #1 position is in jeopardy from both Dr X and wallet rape toy.   However, I'm always happy to see the cunt's name pop up in My transactions and always happy to rape him for a few hundred.  Time shall tell.
I wonder what this list will look like in a year. The slaves in #11 and #12 positions are within a few dollars of Fledging Loser and both very active spenders. (If I had one this a few days ago, Fledging Loser would have been in position #12, I wallet raped him pretty good over the weekend!) Time will tell.