Category —
Church of Lauren
A blog post from Goddess Lauren of the Church of Lauren
Announcements
I'm taking some Me time next week from Jan 17-23rd. I haven't had a vacation in about a year and a half, and I am not going anywhere, (who is?) but I need a break. I MIGHT be on a little bit if I get bored, but no promises
The Church Rolls are here, listing membership and which Pigs have completed certain sacraments.
The first sacrament is: The First Celebration!.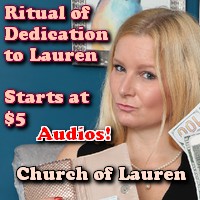 Now, let's talk about the Paypig Stages of Poverty!
Baseline: This is the state you are in BEFORE you begin serving Me. It will vary from pig to pig of course, some of you will be flush with cash, and others will already be on the verge of homelessness. Because of differences in where your baseline is, the stages I outline may not entirely describe you, but it does describe a progression and it's the progression and the mental state that accompanies that progression that is important.
Stage One: The target begins to spend money. It's an amount that's hardly missed, pocket change. For some pigs this might be $5. For others $200 is nothing. What matters here is that the training has commenced. The conditioning has begun. The target is introduced to the cult, experiences an erotic thrill in the act of paying Me.
Stage Two
The target starts getting hooked. The adrenaline rushes, dopamine floods experienced while paying Me start becoming habitual. This stage may not happen right away, it might take months or years of being in stage one. Sometimes it happens in minutes. Often stress triggers the launch into a new stage.
The amount of cash spent is slightly over what a casual observer would think was reasonable. Compare it to this. You used to buy an occasional scratch or lottery ticket, maybe once a week. (Maybe you were spending $1 a week, or $20 a week, but it was controlled) Now you're buying 3 a day. You might be choosing lottery tickets over going to the movie. Now you're choosing Lauren instead of lottery tickets.
The target still thinks he is in control of his spending and can stop whenever he wants.
Meanwhile, he's getting addicted
Stage Three
The spending increases. The pig is noticing the effects. The credit card bills are slowly growing. He finds he's cutting back on luxuries. It's not uncommon at this stage to binge on Paying Me, and then cut back for a month or so to pay down the credit card. Then repeat. Two sacrifices are made. The first is paying Me, the second is not paying Me, and SUFFERING because of the withdrawal of the Lauren addiction. The suffering is both from the absence of Me, but feeling as if he is failing Me by NOT spending. Some pigs try to revert to stage two at this point, but it doesn't last. Very rarely a pig breaks away, but only less than 5% of them. I enjoy watching the stuggle, knowing I will win
Stage Four
This usually happens after a stage 3 pig fails to stay away. Binges begin, far beyond what the pig can afford. Credit cards start to build up. The pig stops spending on other things, because he doesn't have the money. It's unsustainable, and I milk it for all the cash I can take. This is as far as some pigs every go, maxing out a card, and going cold turkey for a while so they can enjoy another mind numbing erotic pay binge for their Goddess!
Stage Five
Most pigs don't get here. Some do. This is real trouble. As in, can't pay the rent, can't pay the electric bill, overdrawn on the bank accounts, draining the retirement account. Selling the business for Lauren. Taking out a loan the pig can't afford to give to Me!
It leads to bankruptcy, loss of relations and devastation. It is stunningly beautiful to know I have destroyed a pig, (and I have taken many here)
But there is a certain freedom too, once you arrive here, there is no place else to go. No way to please. You can only spend your life trying to put it together enough to do it all again for Me!
I will be showing you the pigs who spent on Me, but I also want to show you the recent pay to views, including a beautiful one for your First Celebration in the Church of Lauren!
Next is time for the Fuckover Report!
Huge Paypig Alert! First is sniffer. This loser cannot stay away. He clicks and pays, tributes and does delicious raise the rate calls. Since the last blog entry he spent $512.
My good boy oinkloser spent $260. I want to push him into a higher session soon! 
New Slave!  I had a couple good phone calls with a new slave I'm calling "chert" He spent $151 learning all about My dangerous ways!
My good sissygirl titcunt spent $175. Always sooo fun with her!
Paypig Alert!  Good boy boomer continued his spending ways, this time dropping a total of $450.  Delicious!
Back with a new account was yeboevals, this time around spending $265.  He really never had a chance
Paypig Alert! Also unable to stay way, calling and buying photos of My Goddess breasts, was helpess dennis, who surrendered $349 to Me. Good boy!
My extreme paypig noddy is still licking wounds from huge fuckovers. He did manage to throw $229 My way. I hope he's getting his house into enough order for Me to take 4 figures or even 5 again soon!
Paypig Alert! My good boy nylonslave worshipped his Goddess and her perfect nylon covered feet, going deeper into his Practice of Cult member in the Church of Lauren!  He spent $488
Paypig Alert! My slave "j the junkie" kept losing his mind over Me, spending $345 on his addiction to Me!

Extreme Paypig Alert!  Gone off the rails to worship his Goddess is the guy I call Niteflirt client. He's a perfect example of a slave that has slipped into Stage 4, as I describe, he's never spent this much, but he has surrendered! He spent $1308!
Huge Paypig Alert! I was thrilled to use My good girl, sissy marla again, it's been sooooo long, but she slipped back under My power again!  This sissy spent $928. I can't wait to do it again!
Huge Paypig Alert!  Another pig that came back with a vengeance was special k.  This guy slips in and out of My orbit, each time he gets a brutal fuckover! This time was for $868
A long time slave I recently re-named "superpawn" managed a couple of phone calls between traveling and spent $131.
Extreme Paypig Alert!  Earning yet another extreme alert, just spending in a quickening frenzy is PIG. A target for years, fluctuating between stages 3 and 4.  Lately, it's definitely been stage 4! He spent $1390 since last blog entry!
After a long hiatus, jaybee returned and spent $132 one evening!
Paypig Alert!  Sissy caged yankee kept coming around, although our timing wasn't always the best, this sissy spent $390 on Me since the last post!
My good boy nicpig was back, spending $156 pleasing Me!
Huge Paypig Alert!  My new slave, assbitch was back with a vengeance, spending $635. It used to be his cash. I lured it away, with My spectacular backside, he just followed!
My good boy, hosiery slut was very generous as of late, spending and tributing $295. What a good boy! Just missed a paypig alert too!
Huge Paypig Alert. My good girl bambi, lost her mind several times with Me, as I triggered her again and again! She spent $740!
And spending $178 was pigbait. He keeps trying to get away, but it is FUTILE.
Paypig Alert! Getting his first alert in quite a while was My good boy quiet gentleman, who found himself once again, unable to stop his spending! He spent $345 since the last blog entry!
My sissy cocksucker returned for more hypnofun in chat, and he spent $288 as I put him into trance again and again! When he reads this he will message Me, I order it!
Huge Paypig Alert!  Click and pay slave button was about again, out of control and he spent $681.  I LOVE it!
Sending Me a regular tribute was helpess dave, who spent $118 on Me since last post. I think it's time to nail that pig down for more!
Extreme Paypig Alert!  My good buffy, AKA princess gigi, continued with her steady spending ways, this time for $1258. Her "girlfriend" that I call cow is back, but poor buffy has a broken tiny clitty and never gets hard anymore.  
A pig that I have dubbed miss snout FINALLY gets a mention, having spent $116. I know miss snout has been looking forward to seeing PROOF that she spent more than $100.  Next up?  I want miss snount to spend $300 and get a paypig alert!
Extreme Paypig Alert!  My titpay atm went all the way through the First Celebration series, joined My church and spent on other days and ended up with a total of $1150!  This is what cult membership looks like!
Unable to help himself was weak for legs. Something clicked and I tranced him with imagery of fondling his brainstem and he spent $206 YUM.
New to blog and HUGE paypig Alert Spending enough to do his First Celebration was the professor, not new to Me, but suddenly spending like a mad scientist! He and I had many cerebral conversations about joining My cult, which I so very much enjoy! He spent $642 learning about My dangers!
Lauren's footlicker was a very good boy for Me, and he spent $153 pleasing Me!
Huge Paypig Alert! My sweet girl sissy j was SUCH a good girl for Me, she has been going through the first celebration, and joined My church. She spent $523
My good boy peeper returned to please Me with $178,  I love watching him click and pay when he is on a tear!
January 12, 2021 No Comments