There can be no doubt, that I am a sadist.  Even just writing that one sentence begins the arousal. The thought of causing someone pain for My pleasure simply makes me wet. And it can make Me cum too.
I enjoy all sorts of sadism.  Its very satisfying to cause physical pain, the swat swat swat sound of leather against flesh, harmonizes with the plaintive cries of My victim. Screaming as a result of what I do is tasty as well.
Yes, very arousing and enjoyable.
But the next day?  I'm not feeling the sub/slave's pain at all, although he/she might tell or write Me that they are still tender and can't sit, and that I admit, is erotic.
But financial sadism has a much yummier aftereffect for Me to enjoy.
After an evening of wallet rape, the slave ends up much poorer, and My bank account is enriched.
But the fun doesn't end.  I am able to continue enjoying My plunder of the slave's money.   I can buy stuff. I can use the money to support My standard of living.  I can waste the money on frivolous things.
And the next day, after you submit to Me, and sacrifice $$ to Me, you can feel it the next day.   The latte you have to pass up. The car you can't buy.  The trip you can't take.   The wife you can't buy flowers for.   The family member you can't send a gift to, the bill you can't pay.
And the more extreme it affects you, the tastier!   Do you have to sell your wife's wedding ring to pay the mortgage?  yay!  Do you have to cash in your life insurance policy to get your car fixed?  yay!  Do you have to take a second job so you can buy some groceries and pay down your credit card enough to call Me again?   Yes! Yes!
Financial sadism.  The sadism that just keeps on taking
.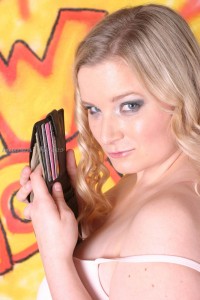 laurenrules

October 19, 2009 1 Comment
New PPV offerings!
The Pain Game!
This is for those of you who really like pain, the masochists…follow the directions now 🙂


New photo sets!
New deadly Ass pics! (I know you want to worship it!)

Unique perspective of a slave set!



and coming very soon!!
A whole set of feminization/sissy assignments and a forced feminization story! If you email me and beg pretty, I'll sell you an advance version. *giggle*
And on just a personal note, I've been so busy getting new stuff ready for you guys, doing the work preparing the games, having photo shoots, setting up locations for shoots, buying shot clothing, working and emailing with the web designer for my site (coming very soon, its going to be fucking gorgeous), and setting up this blog and filling it, I am in need.
It's time to rejuvenate my dominant energies. Its time to twist my control around you. Its time to fill myself with that raw power I gain from using you. It is time to be a predator.
I need to feed.
August 15, 2008 No Comments
This blog is for anyone curious about the inner workings of a Financial Dominant.
I do not speak for all, but I do speak for myself.
I came across this fetish backwards. I have been a lifestyle Dominant in my local BDSM scene for years, its part of my relationship style. I came to know myself as having a deep sadistic side. It didn't satisfiy me to just to hurt someone physically, I enjoyed orchastrating the mind fuck on my slaves and submissives. I enjoyed making them face dark things about human kind and themselves. I loved making them weep and kissing their tears away. I did not and still do not practice money exchange for live play.
Some years later, I came to explore my BDSM fetish as a telephone fem-dom on the predecesor to Niteflirt.com, a site called Keen (It still exists, but no longer offers adult services). I did this on a very part time basis, for extra money as I drudged off to work like most wage slaves every day.
By the summer of 2007 I was ready for life changes. I quit my job as a wage slave and relocated to a community I had made connections in and loved. My original plan was to take Niteflirt calls to earn money until I found a job.
Something amazing happened. Since suddenly I was available regularly, it only took a matter of weeks before I had built up a clientele so strong that it no longer made sense to return to a "regular" job. It didn't take long for me to begin to deeply appreciate not only the income I was earning but the absolute flexiblity of controlling my hours and when I worked and had both the time and money to vacation as I wished.
Like most Niteflirt girls, I create a listing in financial domination, really having little clue as to what it was about, but figuring "it can't hurt' No one ever calls it.
Skip ahead a few weeks, and I get a lovely call on my regular Mistress listing from a lovely man that I immediately connect with. He begins calling me several times a day, and it comes to light that he has a fetish for financial domination. I pay close attention, and its not long before the sadist within awakens and responds to the money masochist. I take him to the edge financially many times over the course of the following weeks. A piece of me has pangs of regret, I have come to enjoy him and his calls. We get deeper and deeper, as he liquidates asset after asset to satisfy our mutual need.
Eventually, I break him, alas, the fetish turned out to be stronger than my affection for him. I cannot stop and he cannot stop Me. Him maxing out his credit cards with no means of paying them off easily stops the train.
Around this time, I start attracting more money slaves , and I realize that each contact leads me deeply aroused. Most of my fantasies now revolve around using men for money, to the point of causing them financial distress.
Am I a piranha? Well, piranhas are predators that swarm in a group. I work alone, so I would have to say. No.
Am I a vulture? Vultures pick apart dead carrion to the bones. I prefer lively prey with meat on the bones. So once again, I have to say, No.
I am a woman with a fetish for a power exchange. A woman who now lives a good life living that fetish.
August 5, 2008 1 Comment