Lauren Rules' Top 25 Niteflirt Paypigs plus honorable mentions-UPDATED 7/23/2021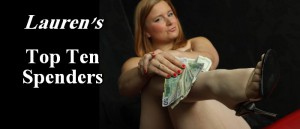 Updated 5/16/21– Lifetime Spending Amounts
NOTE:  This is based on ACTIVE Niteflirt accounts as of 5/16/21.  If you have deactivated one or more accounts, you might not be on this list even though you spent a lot of money. I cannot see account details on deactivated accounts, Niteflirt doesn't allow Me to access it. So activate your accounts, we'll add it up and put you in the mentions.
Also, if you serially delete accounts, I cannot piece that together.
It makes me sad to not recognize slaves who have spent a lot. I mention those as it comes up. (If you think you deserve recognition, say something!)
#1.  princess gigi, now known as buffy at  $217,788
Update:
More than six years later, this sissy is still with Me and still spending, another $75K toward My happiness.
This sissy has been taking estrogen for a couple of years and it has rendered her clitty completely limp and inert. She now has an on again off again "girlfriend" I call "cow" that has tried her pathetic best to "save" her from Me. She's tried sex with the sissy, but since poor buffy is now completely flaccid, she no longer responds. So I've managed to wreck this attempt at a real relationship.
The only sex she has now is "paysex", a sexual excitement of the mind only that results in a kind of mental "mind orgasm" that is achievable only by paying more and more cash to Me! I have shaped and formed her for this.
The years have estrogen have also caused her nipples to get puffy and her ass to get fluffy.  Her addiction continues with almost daily tributing.
3/13/15
This slave went from a normal guy with a weakness for nylon soled feet who stroked himself to orgasm several times a day to a clit-controlled sissy who is only allowed to get hard in specific circumstances and only allowed to cum under very rare circumstances. Now she is beginning to crave cock too.  All under My guidance, training and programming.  This slave never thought it could happen to her, but she is happy being controlled by Me. She sends frequent tributes and calls for long erotic calls in which I use My voice to more deeply trance her to My use.
My Goals for princess gigi: I want to increase her feminization and have her wear more makeup on a daily basis
Also I want to get her spending to the $150,000 level.
Update: 3/4/16 Princess gigi is being allowed to cum more often, but it is always to My hosed feet, and I'm training her to be a paysissy on automatic now. She sees a photo of My hosed feet, gets a horny clitty and sends money.  Rarely I allow her a released, but usually it's a ruined orgasm!
#2 Dr X

Update
Six years later, and Dr X is still with Me!  His lifetime spending on Niteflirt has now nearly $169,340    And that's just on Niteflirt, he is also very generous with Amazon gifts, and although I have no easy way to track it, it easily exceeds several tens of thousands more.
He did My second biggest session ever! (Detailed here, it was the biggest to date, it's since been exceeded), and it was My first 5 figure session!
He's has taken a little breather to lick his wounds, but recently he has been making noise again. A big fuckover is coming, I feel it in My bones!
Goal:  Are you ready for this dr x?  I want a session of 20K between Niteflirt and Amazon. Get ready for it!
3/ 5/16
Dr X
One of My long term piggies, Dr X has been unable to stay away from Me. He has spent $99,253 dollars on Me on Niteflirt, in numerous drunken click and pay sessions where I abuse him.  Additionally, he has done many an Amazon wishlist buying spree for Me.
One year, Dr X was My Christmas shopping slave, buying most of the gifts I gave to My friends and family. That is a special way to serve!
My Goals for Dr X
I want him to hit the $100,000 level of spending
I want him to completely cash in his retirement account and spend it on Me
Update 3/4/16, Dr x is sooooo close to the 100K level!
#3 PIG
8/18/22
In the past two years, PIG has moved from the #6 to the #3 position, as his addition continues to slowly grow. The amounts he spends on a nearly daily basis continue to grow. He continues to help Me enhance his addiction and we invent new addictive twists and games continually.
His spending has reached $131792 and he has overttaken wallet rape toy for the #3 spot, and I will am so pleased to see it!  Longer term, I want him to hit the $150K level of spending AND I want him to experience a 4 digit session. He's never done that, and I think he deserve the rush!
 3/5/16

Pig is one of My longest serving slaves, and in his long, slow slide into serving Me he has spent $66,886. He is an addicted mess, constantly alternating between telling Me things to enhance his addiction. (Contributing to his own demise), and exclaiming his amazement that he is this addicted, and psychoanalyzing himself and his addiction in a futile search for a cure.
My goals for PIG. I have longer term goals but these are interim ones
I want him to hit the $75,000 spending level AND
I want him to sell his APPLE stock and give Me the money
Update 3/5/16  Since the last update, PIG has spent another $5k plus on Me!
#4 wallet rape toy
Update 08/18/22
$123,580
A few years ago, wallet rape toy went bankrupt. I found it online, it is true. He lost his home and is under court supervision for his finances!
Did that stop him?  No, although it has slowed him down. He comes around regularly, and I use him, although the really hard fuckovers seem to be a thing of the past. (A pig has to have credit cards to effectively run them up!)  I have changed his life forever and his little cock gets hard every day with the proof of what I did to him.
From the archives 3/5/16 at $107,437
I'll say right up front that this robot pig's off-Niteflirt spending on Me probably makes  his its spending overall exceed gigi's.  It has purchased tens of thousands of gifts for Me on Amazon and sent more gift cards than I can even remember.  I'm going to guess that overall, it has spent about $150,000 or more.
This paypig robot's demise was swift and brutal.  Its programming began in December 2013, so this has been incredibly rapid!  It has dug itself into such deep financial shit it cries in its closet at night, but yet, it still pays and pays. It still spends thousands on gift cards and PTVs every month.
Last Christmas, he was My shopping pig, buying all the gifts I gave to others for Christmas, and I showed My friends and family with thousands of dollars of gifts, all courtesy of My pig robot.
Good robot pig.
Goals for wallet rape toy:  I want it to continue surprising Me with gift cards, and I want it to send Me an additional $1000 a month just as mad money.
I want to see it reach the $125,000 Niteflirt level soon
Update:  3/5/16 Wallet rape toy paid for My Florida vacation, what a good little payrobot! Its spending is not as frenetic as previously, (due to the debt created serving Me), but it is still a good robot
#5 sissymarla
7/23/21
marla is currently at $113,809. We need to get you going again marla!  I think you could get to #4
Update 5/17/21
Marla has fallen back down to #5 as PIG has picked up his spending.  She isn't spending as briskly as before as My damage to her finances has taken a toll. But occasionally she comes by and we have a good session. Keep that up marla!
Her spending is at $113,520 as she is the last in the "six figure club"
I look forward to doing some more big sessions with her, especially raise the rate!
Update 3/5/16.  This is a standings change. Last time I updated was in July, and sissy marla has moved up to the #4 spot! I think I may have actually driven her into bankruptcy, after several 4 figure cash rapes!
she is at $84,217. I do not even know how this bitch can keep paying Me, as she is unemployed, but she manages. I figure she has stupid credit card companies extending her credit, because eventually she will end up going bankrupt for Me.
My goals for marla
I want to see marla hit the $75,000 100,000 level of spending if possible
and I would like to be the one to drive her into bankruptcy!
#6  wallet cunt
Update 7/22/2021
wallet cunt has an active account again! He didn't change position, but his spending is updated at $89,785.  Hey cunt, you could get to 100K you know…
5/17/2021 update
I actually do not know where on the list wallet cunt is, because his account is not active right now (I can't see inactive accounts)  He has spent more since returning from overseas, but how much? I cannot say.  Hey wallet cunt, reactivate your account!  He is at least $83K lifetime and probably more
Formerly My #1 piggie, we have wallet cunt at $82,971 lifetime.  I have a great memory of wallet cunt being on the phone with Me at $50 a minute and then buying four empty $999 PTVs in a matter of about five minutes. For the evening, the spree was somewhere around $7,000.  Sadly, wallet cunt now lives in a country that cannot access Niteflirt, and he cannot buy My PTVs anymore.   He can manage to call Me on his work phone though, so we occasionally get nice long profitable calls.
My goals for wallet cunt.
1. That he starts buying Me stuff on My wishlist, since he can't buy PTVS
2. More calls, I can raise the rate to $50 a minute while he buys Me stuff on My wishlist.
Make it so, wallet cunt!
#7 is noddy
I decided to put him in the top 25, even though he's inactive, as I have other inactive slaves. He's spent over $59,550 over about 3 year period. He's welcome back for fuckovers at anytime. I would love him to move UP the list. He's done some 5 figure fuckover sessions with Me!
#8 is bambi
07/21/2021 update.  Spending for buffy is up to $54,897
5/17/2021 Update:  Things have changed.  I like this piggy a lot better as a sissy, she's fun and a party girl and loves being tranced into doing naughty things! She has a new name and I LOVE it! We've had a lot more fun over the years, and she's vaulted up to #7 on the list!  She's spend $53, 850 wow!
Update 5/6/16
Fledgling Loser has moved all the way from #13 up to #9! His spending is at $26,800, which represents $11,000 in the last nine months!
Fledgling Loser just gets some wine, and complains that I'm a bitch, and then I cash rape him. He's too much a loser to get a girlfriend or anything, so his life is pissing away his cash on Me!
#9 is loserbeast
Update 7/23/21
Let's get cracking loserbeast, you are just at $43,882
Update 5/17/20221
Loserbeast has been more quiet as of late, but still occasionally appears to click and pay. I love it when I see him going crazy.  His spending has creeped up to $43850, and I would still like him to hit the 50k level!  Let's make it happen Loserbeast!
3/6/16
At $36,943 Loserbeast is one of My favorites. A sweet Loser who loves to politely click and pay. He fell hard for Me in his early months with Me. I would wake up to hundreds of dollars in My account from his click-fests.  Lately he has been spending again, and I would LOVE to see him rise in My top ten list.
My goal for Loser beast:
To get him to the $50,000 spending level AND to get him higher on the Top Ten list
Update:3/5/16  Loserbeast has climbed to the #7 spot!
#10  is egghead
7/23/21
eggy? Hello?  Lauren to eggy!
5/17/21
Update! Egghead has climbed to #8 after not being in the top ten! He's been regular and at times spends a few hundred. He sometimes goes quiet, but when he returns it feels My heart with payjoy!
His lifetime is $41,825.  My plan is to push him to $50K over the next couple of years. It will be a great pleasure for Me to do so!
3/6/16
At $17,075, egghead is currently #13 on the list. He came along at about the same time as Loserbeast, and in the beginning was spending nearly as much $$$, and My bank account was singing in joy.  Egghead has slowed down a bit, but he still comes around, needing to obey, needing to be controlled.
Rare whale is one of the biggest whores on Niteflirt, a client of many many hypnodommes, and he gets around. I don't see him daily like many of My other addicts, but when he comes around I fuck him hard. He has spent over $36,000 with Me.
#11 is rare whale

Rare whale is one of the biggest whores on Niteflirt, a client of many many hypnodommes, and he gets around. I don't see him daily like many of My other addicts, but when he comes around I fuck him hard. He has spent  $37,250 with Me. He has dropped down on the spending list.
My goals for rare whale.
To have him get more addicted to Me, so his sessions are more frequent. Even once a month.
To get him to the $50,000 spending level.
#12 is My boyscout (formerly elegant foot lover)
7/23/21 update
We've had some fun in the past couple months and boyscout is up to $34758
update 5/17/21
This is the only spender in My top ten I cannot classify as a paypig. We don't have that kind of relationship. He is much more like a sugar daddy, and I would never think of treating him like most of my clients. Yes, he's addicted, but its because we really enjoy each other, and we play lots of trivia games and teasing games in chat. Boyscout is in a class all by himself!  His spending has reached the $33,400 level and I cherish every moment with him!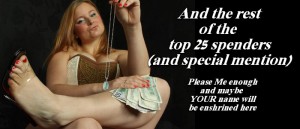 This pig gets weak when I use My perfect breasts to lure him into being My on demand ATM
He's spent $28,840 so far (so close to 30K
#13 is My exposure slut becca

Update 7/23/21 No change, beccas's gone dark again
After a break, we reconnected recently, she's spent over $28,110 to get the #12 spot!
#14 is My nylon slave

7/23/21 Update: Nylon slave is up to $25,714, well done!
This devotee is a loyal member of The Church of Lauren and enjoys worshiping, especially My nylon feet!  He has spent $25,090 since our first encounter!
# 15 is steve q fucked.  This pig was able to help Me reconstruct some spending he had on 2 other accounts, and I was able to document one. There is another much older account lost to history.   I was able to place him at $25,207, jumping him up to spot #13. I want him to be another 100K slave, and he can do it.
#16 is My shoe sniffing cuck! 
He's been quiet as of late, I'm looking forward to getting him to the $25K level. He is at $24,777, so close!
#17 is pigskin
He's is dormant and at $21,048
#18 is My exposure sissy!  (not to be confused with My exposure slut)
7/23/21  aT $19,993 OMG SO CLOSE
This sissy has spent $19,750.  Sooo close to 20K~
#19 is irish dope
Update 7/23/21 Dope gains a spot, and climbs to spending of $19,562~
Hey dope, you hit this high up on the list!  Spending is $18,310.  Let's get you to 20K~!
#20 is cucky phil.
7/23/21 update
He is dormant, and I can't see his spending
5/17/21
Always a joy to session, addicted to My ass and he has spent $18,410.
#21 is Lauren's paybitch
now, this is one of those guys who I KNOW had another account and spent more. How much more?  No way to say, but on this account he has spent $17,900.  I've broken this guy's heart because he fell in love with Me, completely and I love his money. *laughs* So sad, too bad.  I will still happily talk with him and take his cash anytime.
#22 is helpless dave
Update 7/23/21
His account is dorment right now, but I know he's spent more than this, and is probably higher on the list…..
Update 5/17/21
He shows up. I tease him. He goes into a pay fugue and can't stop tributing. So fun! He's spent $16,766 lifetime.
#23 is sunshine
Update 7/23/21
Account dormant
This good boy has spend about $16,400 pleasing Me.
#24 is Canadian pantyhose lover
With spending at $15,550  This sweet guy doesn't come around often, but when he does, he spends a lot hypnotically buying photos of My hosed feet
#25 is quiet gentleman
Update 7/23/21
his spending is at $15,124. So close to #23
This guy has been with Me for years, just falling deeper and deeper. He's spent $14,775 to date
Other Pigs of Note:
paypig brian:  brian would probably be on My top ten *if* either of us had any idea of how much he had spent, as brian keeps canceling his account and opening new ones.
My Goals for brian.
I want a $1,000 session. Make it happen brian..
Goal 2: To have him write another guest post for Me, they are so articulate!
Pig 2 of note is slave lily. I have no idea how much lily has spent on Me–she has canceled some Niteflirt accounts, but I know that I drove her into bankruptcy, and she maxed out all her cards on Me, and sent Me tons and tons of gifts. I have thousands of dollars of fine jewelry because of lily.  One year, she was My Christmas shopping slave, buying most of the things I gave to other people. 🙂
Oh, and I turned her from a guy into a cocksucking gay sissy 🙂
Goal for lily: I would LOVE another shopping spree with you lily, we haven't had one for a long time!
pig #3 of note
tPay. Another slave who has done multiple 4 digit sessions and keeps leaving and returning with new accounts. Even the active account he has is over $13,530 and he is #26 with that account alone!
pig #5 of note
boomer.  This guy has several accounts, runs them up to four figures, deletes it and starts again. His spending is considerable, even though I don't know what it is.
If you think you deserve to be in special mentions because of deleted accounts, message Me and we can discuss it.
I plan to be better about updating this!
Want to know your current spending level?  Email Me to ask, and I'll sell that information to you in a nice little PTV (Or if you call, I'll just tell you!) Note: If you have canceled accounts on Niteflirt, that information is lost to Me.