Category —
atm
Wow! It's been a whole month since I posted!  I know how much you guys drool over these posts…so let's have some FinDomme poll fun!
But first, I want to announce that I won Niteflirt's contest of most Valentine's Goody Bags sold!  Thank you to all who purchased them! I'm $300 richer just from the prize, never mind the $ you all spent!
I want more information on what type of wardrobe and content make My clients swoon! I know what some of you like, but I want a more global idea…so ..answer the polls
What is your favorite thing to buy from Goddess Lauren?
What is your favorite footwear to see Me wear?
Also..you guys have been going nuts making your Paypig goals!  Its fun to see the bars go up. I've been putting a lot of time into updating them…(which might have something to do with less posting….)
Paypigs who have reached their goals since last post include:
marja sissy stayed in chastity until she spent $250-COMPLETED 1/25/19

eunuch robot paypig will have a $500 session! Completed 1/25/19 

Irish Dope spent $685 in 2019 to reach the 10K level of lifetime spending -completed 1/29/19
Most of the piggies who meet a goal set a new one!
What's your goal?
I have found that setting goals for My pigs is very effective in keeping them motivated to please Me. It appeals to some competitive streak that even beta pigs have. But most beta males lack the ability to compete with real men, so this is perhaps the only thing they can be good at!
I'm happy to help!
Let's take a brief interlude for photos!
Now, we have a really long spending report to do.
Spending reports are getting more difficult. They take hours to compile. This was was particularly tedious. The only reason I do them is because you guys love them so much…..and then you spend again! So it's work for Me, but it's just another manipulation!
Note:  If you really think you have spent $100 or more since last session and you are NOT on this report, message Me and I will take a look. This one was so tedious to do, I may have made a mistake.So who has been spending?
Paypig Alert!First mention goes to sissy j, who was such a good girl during the Valentine's Day contest and the rest of the month! The little sissy spend $296 on her owner during this time! So good!
Poor oink loser will have to start his paypig goal of $150 a week for 10 consecutive weeks over 🙁 But in the last month he *has* spent $170
Huge Paypig Alert! 
Weak loser deadcat was back, unable to stop, spending $735 chatting and tributing and buying stuff. This loser thinks blocking Me will stop his paying, but he will message Me after he reads this, because he knows the humiliation makes him hard.
My good boy, no yes loser pleased Me spending $156, especially on the Goody bags to help Me win the contest!
Huge Paypig Alert! 
I'm even surprised how much eggy spent on his therapy with Dr Lauren. $869!! Wow, he's devoted to his Dr Lauren therapy! I must applaud this tenacity!
Good slave, solitaire was back, spending $118 and helping with the Goody bag goals!
Extreme Paypig Alert! 
Dr X was a good boy, working toward his lofty paypig goals, spending $531 on Niteflirt and $691 on Amazon (including a Playstion4 !)  Well done!
paybitch terry was back, spending $200, mostly on a nice phone call! I think he missed the ass video with Me wearing black leggings though. He would have loved it
Paypig Alert! 
Back for a really nice spending spree was bashful sissygirl who spent $346!
And a nice call and click and pay session with jeffnomore. He really can't stay away, and loves being tranced to go gamble at the casino and strip clubs!
Paypig Alert!
  Loser dirtbag lost control this month and spent $318. I always like seeing his name come up in paid transactions!
My good girl shopper spent $242, mostly just chatting in fun back and forth girl talk!
Huge Paypig Alert! 
Still weak and losing control is PIG, who spent $866 in the last month stroking his hard pigstick for Me!
steve q fucked added to his spending totals, dropping $166 on calls and pay to views
Huge Paypig Alert! 
My sissy marja kept coming back again and again, losing control and spending $550 on Me this month! Nice!
My good boy that loves his stolen moments with Me spent $248
New Paypig and Paypig Alert!
  New arrival FeetFem clicked and paid through Dr Lauren's therapy session, spending $408 on Dr Lauren's therapy!  Mmmmm
Paypig Alert!
Another big spender was hypnowallet! He parted with $463 of his cash, just for Me!
My greek virgin couldn't stay away, and I squeezed $242 out of him in chat and tribute! Nice!
Paypig Alert! 
Nylon lover lost his mind over My nylon feet again, this time spending $309.  He can no longer deny his addiction!
New Paypig and Paypig Alert!
  New to the blog is "noddy" who clicked and paid his way very quietly to a $453 amount. I just watched him spend and spend, and he did it all by himself!
My good boy grunter spent another $290
Paypig Alert!
Extreme paypig in training was back again for chat and tribute! It is a dangerous combination for this leg lover! He spent $452
My good little paymoose sent Me $225 of Amazon gift cards over two nights. I got to buy a virtual gaming headset for My new Playstation!
Huge Paypig Alert! 
Fagmuffin tried to stay away. Her on again/off again girlfriend is insisting on it.  And no panties. But fagmuffin spent $710 AND wore panties for Me.
New Paypig!  "addicted ATM" started off his service to Me by spending $239. Delicious! I hope it's the beginning of something very expensive for you!
My paypig wallet rape toy spent $234 on Me instead of going to his sexual addiction therapy.
Paypig Alert! 
Titpig ATM called, tributed and chatted away $325 dollars. Lauren keeps him poor and empty!
Huge Paypig Alert! 
My good boy eggy entered therapy and spent $842 on Dr Lauren trying to find a cure!
My good boy, surprised, spent $156 as he marched closer to his paypig goals
Extreme Paypig Alert! 
My eunuch paypig went absolutely crazy one night, and over that night and another spent $1001, WOW!  hey eunuch pig, plan on that 4 digit session soon!
Good boy, feathered pig was back spending $143. I think he is trying to avoid Me know, but we all know the futility in that!
Paypig Alert!
  Irish Dope lost control and spent $437 on chat and tributes! So many bois lost down that rabbithole!
I was thrilled to see cucky phil back!  He spent $137.  I have soo many more ass photos for him, message Me!
Paypig Alert!  Caged forever paid $427 between chat and tributes. What a sweet sissy!
And back was sexy dave/jenna!  She spent $154 in the first session we had in well over a year! I was glad to see her.
New Paypig! 
Squeezing in for his first mention on My blog is "curly" who spent exactly $100 and qualified for his mention!
Paypig Alert! 
My special good boy tom was back spending $370 in a click and pay frenzy! Yay!
Also back for more abuse was paycunt, spending $146 this time. He is way overdue for a huge fuckover and he knows it!
New Paypig!
  New click and pay piggie, "storm" began his service by paying Me $140! Yay!
I have had a lot of fun this year, I did a very witchy photo shoot and video, that you can get here if you haven't already!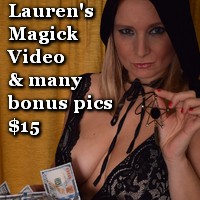 This is a very trancy video, with My crystal…and the light gleams from it just right…
and until 11/1, I will be putting more photos from that set, Sorcery, on this vacation PTV!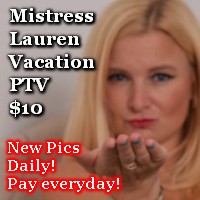 \
IMPORTANT DATES
November 9th is a day of Lauren Worship. It's My birthday! I made it easy for you to send Me $25 and give you some photos from a set I'll be releasing later this week, so you get a sneak peek. Get this, then find a way to spoil Me more.
A few days after My birthday, I'm going to Disney World for a week, so if you want to please Me, and serve Me like an addicted paypig, you will buy this!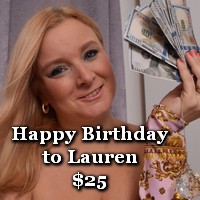 And now we have the spending report!
New slave!  New to Me is "target", so called because I am conditioning him to become addicted to Me. He spent $180, mostly on the telephone, listening to My silky voice condition his to paying Me!
I was so happy to hear again from marla, who spent $138 on a very nice session on the phone. I think she would like to spend more, but is recovering from the major financial fuckover I did with her last year! I AM danger!
Huge Paypig Alert!  OinkLoser was back! I had one of the most enjoyable raise the rate games I have ever done. He had expressed a desire to be "tricked" into the game, so I did so by sending him a free minute, then after talking a few minutes, I would offer him another to "save him money" but he would have to call back!  Of course each time, the rate was higher! He also had some pay to view fun, and ended up spending $635 on his march to spending 10K on Me!
Gimp Loser was back for another phone call and another huge email. I keep slowly increasing the amount of the email I make him pay, and its well into 3 digits! I swear I'm gonna bankrupt this loser before he's done with the world! He spent $193 this time around.
Huge Paypig Alert!  Fagmuffin (formerly known as princess gigi) got even more submissive to Me. She tried a reconcilliation with her ugly ex girlfriend, but that failed. The ex is a gold digger. Well, so am I, but I'm honest about My motives!  Anyway. The tiny clitty wouldn't stiffen, fagmuffin couldn't perform like a real man, and the ex fell asleep! While she was sleeping, fagmuffin called Me and I got her all squirmy with talk of making her suck cock, and lo and behold, a stiffy and a squirt!  Not a real man, a fagggot obviously.  Fagmuffin is back on the hormones, her ass is getting round and fat and she spent $875 on me since last report, despite trying to cut back!
My good boy with the stolen moments spent $180 on Me as we plotted together how to take his wife's money and get it to Me where it belongs!
My exposure sissy was back for MORE exposure, spending $158 so I could help let the whole world know she is a sissy crossdresser!
Huge Paypig Alert!  My long time slave PIG has achieved a more profound level of addiction. Chatting on the chat program has made him more vulnerable to My predations. He spent $780 since last blog entry, and twice he paid two and three times My normal rates for sessions outside My normal hours. He is fucked!  He is close to $90 lifetime spending on Me!
Reading about his Huge Paypig Alert last blog was enough to inspire Robot paypig Eunuch to spend another $180 on Me. His finances need to recover from the brutal beatdown they took at My hands this October!
And Dangle jim was back, spending $120 on My new blackstocking photos!
My sissy lily spent $110.  She is slowly recovering her credit after I completely destroyed it a few years ago. I am encouraging her to improve it, so she can get more credit extended to her. I plan to completely destroy it again, once it is worth it!
Huge Paypig Alert!  I think this is the first time Irish dope got a huge paypig alert. I took so much for him, I doubt he can pay his rent (Not MY problem, haha)  He spent close to $700 in chat and tributes on Me. Chatting with Me is dangerous!
Another one addicted to chat and tribute (I encourage good boy behavoir with photos!) is flaming pig. He had been trying to be good, but one little message to him in chat, and boom,. I had him back, spending $240 deepening his addiction to Me!
Click and pay slave dirtbag spent $114 on his obsession
Paypig Alert!  I had this sissy in chastity for part of the time, requiring her to pay Me a certain amount before I released her. Since the last blog entry, sissy marja has spent $280 on her need for My control!
And slave pay thing couldn't stay away even after a huge fuckover, spending another $207 on chat and tributes. He always falls into My traps!
My elegant foot lover spoiled Me with another $125 recently. His birthday is the day after Mine, so I know he won't forget it!
And daredevil spent $125 on Me since last entry as well! I'm going all Wonder Woman on his wallet!
Huge Paypig Alert! I think that paybitch Terry has come to the realization that is going to give Me EVERYTHING. That process continues at a brisk pace as he spent $935 more as an offering to his OWNER!
and egghead managed to keep his spending under $200!   Hahah, he spent $199 since last blog entry!
Huge Paypig Alert! Dr X was pleasing Me again, with $240 dollars of Niteflirt spending and over $500 on My wishlist, including gift cards and a new Fitbit that wasn't supposed to be released until November 12th, but I see that they moved the date up a week! So I'm hoping to have it for My vacation! His spending totals over $740! Well done!
And slave suprised has been doing such a good job buying My vacation pay to view. He's spent $120 since last update!
and finally, but not leastly is titpig ATM who sent Me $160 in tributes one evening out of the blue, including a $100 one. So addicted!
I'll be doing one more blog and spending report before My big vacation. I want it to be HUGE with stories of how all you slaves are spending for Me to have a wonderful vacation! So load up your accounts and start spending!
Remember
Pay Lauren
One of the perks of being a Findomme is that My whole life is financed by My Slaves.  You addicted junkies pay all My bills, and foot the bill for all My fun!
My slave wallet rape toy was a good robot, and has paid for another vacation, so tomorrow night I will be on My way to Florida for a few days to get out of the cold.  No worries losers! I will be back on Tuesday the 2nd for more fuckover fun, and you can keep busy with My new PTVs
Pay Triggers is a very deadly series, each level has an audio. If you miss Me, you can hear My voice directing you to pay more and more!  How fun
Now for a quick spending report!
Debuting this week on My spending report is "Joe the fool" who called an clicked and paid away $359 for his new addictive Mistress.  Fool, get ready to spend more!
My precious princess gigi was a very horny paysissy and send Me a total of $1252 in calls and tributes.  For her troubles, I let her have a ruined orgasm. Poor thing was still horny afterwards…awwww, but she's in chastity until I feel as if she has earned another orgasm! Maybe I wont ruin it next time!
Also getting their first blog mention today is addicted bloke, a fella from England (I think?) who has spent over $283, mostly in one half coherent phone call. (I think he may have just gotten home from the pub!)
One of My exposure sissies spend almost $120 for Me to exposure her on My webpage, and then I made her pay Me another $20 to take it down. She gets off lucky compared to My sissy slut becca….who I fucked over for $889 since the last update, by playing games to see how quickly she could buy increasing expensive PTVs I was sending her with time limits 🙂 Such fun!
A guy I identified as FF who spent last week and then deleted his account came back to spend another $100 on Me. And then deleted his account again!
HA!
And a HUGE session with pig dave, his biggest yet!  This one was for $2800, and it was HOT…..I love huge sessions like this! Funny thing was it was a quiet evening for Me…and then dave showed up, buying emails as big as $600 for Me!
Who amongst you has the cajones for a $600 ptv?
and another one new to My blog I'm identifying by initials c.l. (Must stand for clearly loser, right?)   c.l. paid $109 getting lost in click and pay for Me!
New last week, autopay was at it again! Getting another mention and paying $265, oh good little paypig for Lauren!
My polish atm was back for $109 since last update…and lifetime he is wayyy over 6 grand spending on Me!
clubby continued his spending ways, spending $235, still trying to make it through 50 ways!  Maybe he'll get a couple levels of that done while I'm on vacation! (hint, hint)
and I think new to My blog is solitaire.  This loner/loser has spent nearly $2,000 lifetime and sends Me emails begging Me to stop sending him PTVs, but he buys lots of what I send in marketing emails.  Why would I stop?  It's not like I'm NICE or anything!   So this week, he spent about $112
egghead got triggered into spending $242 since last update!
My robot paypig eunuch was back, hypnotized into spending nearly $300 since last update
(Boy that pay trigger series has been dangerous to many!)
Another new guy triggered by this series was soda sub. He spent $209 dollars YUM
My paypig..'more please" was back, still mesmerized by My black leggings photos…mindless begging for more and more until he spent another $369 very recently…lifetime he is at close to $2500!
and sissy j earned her blog mention with barely $100 of spending
I am happy being owned by Her, not knowing what will come when.  The first "do it or get punished" assignment was a bit shocking.  It took me a few minutes to realize that Mistress Lauren was not only serious but that I felt compelled to cooperate

It took me an afternoon and a whole sleepless night to understand that I was exactly where I wanted to be: owned by a beautiful woman who knew that she was in control.  From that point on I had fun, a little expensive but fun.  Mistress Lauren indicates that I will be doing things that I never thought of before.
Now I belong to Mistress Lauren.  Obedience is not optional.  Mistress Lauren can make me do anything she wants whenever she wants. I love it!

I have seen what Mistress Lauren has waiting for me should I fail.   I do not want to experience that.  I had to pay extra to find out what the first penalty would look like.
I was enamored!

Ass Love II was back for more…this cuck spent a whooping $579, getting mesmerized by My new ass series…..he can't stay away!
sexy jake was back!  I found out he was a secret pantywearing sissy, and he spent nearly $300 on a little cash rape one evening!
Irish dope was back, desperately clicking and paying to earn another blog entry, and happily he WAY surpassed the $100 I require….by about 300 bucks!  He spent over $400 dollars.  I'm going to break this pig, I know.
paycunt managed another $271 and he sent another slave letter, which I will publish another time…what a good boy!
Dr x showed up for $157.  I smell another big cash rape coming his way SOON. (Get ready dr x!)
And quiet gentleman spent EXACTLY $100, and qualified, and was a good boy in other ways too!
and trancetard materialized for another $161 fuckover. That boy cannot stay away, he gets a little alcohol in it, and it's good bye credit card limit.
My shy roleplayer paid $209 in a click and pay flurry this week (Pay triggers strike again), but lifetime he's nearly at $2500 now!
and tPay was back!  Begging for more cash rape, and this time rolled over and gave ME $1753  wow!  Well done tPay!  (Proving that he's a weak loser yet again)
Mr Magoo was back for $356!  I love seeing him lose control again, and this is the most in quite a while.  Good boy!
and a blast from the past was wallet cunt. Still in the top 5, he used to be My number one spender, and did a session with Me one time of about $6000 in 20 minutes,  This week it was just $105, but I'm always happy to take his cash.
Of course you didn't expect this information for FREE did you? *laughs*
I made a nice little PTV for you to buy that knowledge, I know you are gonna wank over it.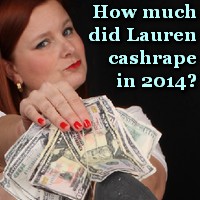 Some of My Most Profitable paybots
were
wallet rape toy (vauliting all the way to #2 on My all time list in just a year!)
princess gigi
marla
money guinea pig slave
dr x
loserbeast
My sissy slut becca
Shoesniff Loser
virgin peter
thrillseeker
elegant foot lover
redbird
freshmeat
and philly boy
no nonsense guy
and
fledging Loser
Many others spent hundreds, but these were the most prolific spenders!
I even surprised Myself with the ferocity I was able to exert over My paybots!
Now you can help Me to My 2015 Goals.
Some of the series that I have that are particularly effective at turning men into paypigs for Me include: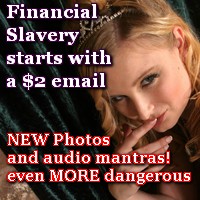 Yes, it's true. This is an actual post.
I realize it has been almost TWO months since I have posted, and it has not been for lack of things to write about or lack of desire.
It's been all about lack of time.  I have been sooo busy, both with My piggies and with some (all good) stuff in My personal life that has been a time sucker that I just can't seem to get to it.  Even as I write this, I have piggies clamoring for attention.  Life is good. The clamor has been so all -encompassing that this post has taken days to write, a sentence at a time!
2014 has been an incredible year so far. I have financially exploited a record ca$h amount from you junkies, fools, losers and addicts, and it shows no sign of letting up, this despite actually being available less time than usual.   This is of course fitting, because why should I *have* all this cash, if I don't get to have fun with it?
What I am doing with your cash:
Really Exciting:  Vacations–another hiking vacation to the Rockies is being planned and I went away to the coast of Maine for several days in June (and got PERFECT weather).    A possible trip to NYC is scheduled for fun and a winter trip to Hawaii.  Some of this you junkies have already paid for and I have one paypig begging to pay for that Hawaii trip!
House renovation:   Yes, I am doing some updates in My home to increase the space for My boyfriend and Me….a dedicated exercise room, a dedicated music room, an art studio and an extra bathroom are being added on.  Later I will be expanding and updating My kitchen and master bath.  (You fools will be paying for that too) Some of these renovations may occasionally make it difficult for Me to be available on the phone (although I might be around for pay mail sessions).  I refuse to shout over construction equipment.
Exciting to Me, perhaps less so for others:  I'm working on prepaying the mortgage with your cash! I plan to retire young in a beautiful fully-paid for home.  Oh, and saving for retirement is happening, even though I'm having lots of fun spending cash.  I just finished paying for My Volvo (three years early).  It's nice to have lots of cash and few bills.  (While the rest of you have NO cash and BIG credit cards bills from clicking and paying for Me!)
There have been lots and lots of huge paypigs and paypig sessions.  Wallet rapetoy has been stellar! Since June 1st, he has spent $17,694 on Niteflirt, $3710 on Amazon, including a new computer for Me, a new bed for the guest room, an air conditioning unit, a musical Yamaha keyboard and $2000 worth of Amazon gift cards. YUM.
Since he has been My slave, in a mere 7 months, wallet rape toy has spent, between Niteflirt and Amazon more than $75,000 on Me.  *This* is what I deserve, and I am thrilled!
Princess gigi gets special mention.  I have her in a sissy fog most of the time, mindlessly paying and tributing as she listens to My voice lull her into chastity and obedience.  She has now become My #1 spender and the past few days her lifetime spending hit the $90,000 mark! Incredible.
Returning to Me after a long hiatus is a slave I will call "panty ass paypig" he loves to serve!  This week he has clicked and paid over $1285.  Welcome back pantyass!
A NEW face has been clicking and paying. ANd he bears watching, in the one week he has been here he has spent over $4700!  All by mindlessly clicking and paying paymails, and he writes Me that he is new to Financial DOmination which is excellent news because that means that *I* can be the one to strip him of his assets and there has been no prior looting and I can train him as I like!   I think I shall call him "fresh meat".  I LOVE extreme wallet rapes with slaves like fresh meat!
Another old slave-I think of him as bimbo– rematerialized with a newer account, and in one hot long session I got him for $600.  He deserved to lose MORE, but I was getting tired. Next time. (and as I finish this the next day, he's starting to pay MORE to Me, so who knows what the total will be)
My slave, "elegant footlover" has been helpless around My bare feet photos and since June 1st has spent $1230+ .   All just to admire My toes!
Last nite, "weak dave" spent about $130, but he's getting special mention because $100 of that came in two beautiful $50 tributes, "just because Lauren"   I liked that. I want to encourage sizable tributes so I am applauding him here!
An occasional paymail buyer "subguyy" dropped out of the sky to go crazy on click and pay for $560 dollars in just a few minutes  WOW!   This is most of his lifetime in six years of being a client.  I don't know where that came from but I LOVED it~
A HUGE MILESTONE was reached by My Guinea Money Pig Slave and he FINALLY hit the $50,000 dollars in spending.  Now on to the second $50,000!
My good girl Marla stepped up to the fashion plate and spent over $600 on Me in July so far. YUM
Doctor x appeared and in a few sessions has dropped over $1,000 ..since late June. Good boy
Honorable mention to a newer slave rick, who spent well over $200 recently.  Also billy rocked his way to over $300, well done!
My cucky asslover appeared again for well over $600, watching for him 🙂
Barefoot lover kane managed to spend about $300, he claims he wants to move up My all time spender list, but he's running in place around 31st place because he will pass a guy in spending, but someone else passes him. If you are serious kane, you gotta up your game!
I'm thinking I might try to do shorter shout out posts more often.  If I can manage to post, I think I will try that…less stressful 🙂
Mistress Lauren
I posted here about the "10 Day Extreme Wallet Rape of Loserbeast"
After 10 days and $12,530 dollars I did not expect the fuckery to continue this fervently.
And he tried to slow down for a few days.
And failed!
In the week since that post, he has spent another $5,618!
So this has become a 17 day fuckover for $18,148, over $1000 a day average!
I now seem to have developed "Loserbeast Radar"  Its very eerie, but I will wake up in the middle of the night to see that he is in the middle of a spending rampage, or that he has emailed Me, or that he is simply clicking Pay to View buttons (and its laughingly simple to get him to start buying them)
He is addicted.  I will get every last cent.   Loserbeast wrote Me that I deserved it all, and you know what?  He's right.
And I want to take a minute here to recognize ANOTHER slave that has emerged, and become a little lost in the swirl around Loserbeast's wallet rapes.   I'm going to call him  Losershadow, because he always seems to show up when I'm wallet raping Loserbeast….
Anyway, since shadow first found Me on August 8, he has spent $2767 dollars himself–and he was a major contributor in the 10K fantasy week.
Actually, come to think about it, between Loserbeast and shadow, and the rest of the junkies, every week since has been 10K or more.  
This can continue guys, it makes Me very happy.
I know when I'm at the bottom of their wallets, some other Loser will take their place.
*laughs*
I have sooo many posts to do, I've been so busy.
Last week was My 10K fantasy week, and totaled, 11,700, as I posted.
Here are some statstics I meant to post and didnt
Some statistics. 
63  participated.
The AVERAGE spending for each participant was an amazing $185.71 cents.
The HIGHEST Spender was the slave I call "wallet cunt" who spend a mind numbing $4,250 in only thirty minutes! (If I made that rate hourly, in a year of 40 hour weeks I would have earned close to 18 million dollars!)
The LOWEST Spenders were several of you that only spent $2

You're probably thinking…well that "wallet cunt" guy skewed the average.  I grant you that, so I calculated eliminating his contribution and participation and STILL it averaged $120 plus a person.
So if you just spent $2, seriously you should go buy something right now to atone!  *laughs*
And *this* week, has been nearly as good, even without wallet cunt.
I've made another 8K, without any advertising or promotion. 
Many of you spent hundreds on Me, a couple of new ones deserve special mention.
Loserbeast dropped about 3K on me so far, including a delicious $1500 rape this morning.  I cannot wait to see how far I can push him.
And a new one BusyBoy, I call him that because he just loves to click and pay and can't stop. So far he has clicked and paid about $1400 into My coffers. Mmmm
And there are others. Jewelry Slave popped her sissy head up to drop a few hundred, and a new guy from Bulgaria did the same.
And some bimbo keeps coming back for more and more abuse, even though I'm always tricking him to pay for empty email and won't fucking give him more than a few sort words without charging him for the honor.
Someday you guys will give Me time to spend your cash, instead of just collecting it! *laughs*
Yes, you're reading the title correctly.  One of My clients, who I am going to refer to in my postings from this point on as
The virgin
went crazy over My new Cash Abuse Photos. (Check them out for only $5, but be careful where it leads!!)

I began sending more and more and more emails, each progressively larger….all the way up to a $500 dollar email. Those photos of the black dildo raping and abusing cash just made him lose all control!  And I was just as excited, I LOVE extreme financial domination scenes..MY FAVORITE.



I was about to send him a $999 email (He had opened one for Me the previous Sunday), and then I remembered a fantasy I  blogged about a couple of months in this post.  There were two fantasies in that post, the second one was a Niteflirt one in which I made a slave call Me on the $50 line and open $1000 dollar emails (in reality $999 is the highest you can make them).
So I jacked my rates and and made
The virgin
call Me at $50 a minute….then I started sending him $999 dollar emails…and he opened THREE in the six minutes we were on the phone.  Cha-ching!   So $300 for the phone call and $3000 for the email.   In SIX minutes!
All total it was a $5000 rape for
The virgin…

If you count his Sunday raping, it was about a $7000 dollar rape over 4 days 🙂
And yes….I came…about three times, one for each thousand dollar email, and it was amazing 🙂 *sigh*
(File this under, how to hear Lauren cum on the phone)
I released a photo set last night, and I have been off the wall with wallet rapes every since!
This is the apparently dangerous photo set

The men buying it are weakening, just looking at the delicious point of view photos contained within.  I know what to say, how to look at you, how to seduce you into a paying frenzy.
And My life is better for it. I woke up this morning in My big house paid for by Wallet rape escapades.  The bed (and my whole bedroom set actually) was paid for by a guy I forced into bankruptcy.  The sheets were a gift from Dr. X. (100o thread count, Mmmmmm).  I turned on the TV that came from Jewelry slave…and went downstairs and brewed coffee.  The coffee maker came from My sissy slut, the coffee from My satin lover S with the weakness for silky things.
I turned on My Ipad (also from satin lover S) and contemplated My day over a steaming cup of coffee.
Tonight I'll be going out.  I'm wearing a dress I got with a gift certificate from Wallet Willy, and jewelry that came from Jewlery slave, perhaps the pearl necklace.  Shoes from coffee boy…and Il'l get into the car I paid for Myself.  Wait…what's wrong with this picture?    I need a new car! *laughs*
I might take some photos of My friends (thanks for the nice camera Dr X), or a video (Thanks satin lover S)

yes, 2011 is the year of a beautiful new car for Lauren.   What do you guys suggest?  (Of course, how expensive it is depends on how much you guys cough up!, I don't want a car payment) Later I will go home and watch movies on the Blu Ray that jewelry slave got Me, before I go to sleep, I'll read on My Kindle (thanks Dr X)

I do love My life!  Want to see your name on My list of stuff bought?  Go to My wishlist!


Just for you Lauren junkies…
I know how you all fantasize with your cock in your hand, stroking as you envision a strong woman like Me…TAKING all your cash in a wild money rape.
Buy and watch this animated story–at your own risk. Your cock will probably get sooo hard you'll end up calling or emailing Me and maxing out a card or two.  Don't wait around for any apology either.