Category —
The Religion of Lauren
Lauren is your Goddess
The Religion is Me of course
I embrace all ways of luring men into deep addiction to Me.
Nothing is really off limits (except for things I find distasteful or are prohibited on Niteflirt- because My money and joy is more important than your tiny erection)
Lately I've been playing with religious devotions. Religion can be a powerful tool to brainwash the weak minded or desperate into a situation where they are controlled.
My mantras become prayers, rituals, sacraments.
Let's try a few!
Now some of you are repulsed by the thought of Me creating religious devotions around your servitude to Me. (I'm actually amused by this). I want you to consider why this is. It's because you ALREADY have preexisting religious programming that is controlling your life. Some church or other religious institute is trying to control their access to you for your money and to retain power. Part of their indoctrination is to instill horror if anyone else attempts to do the same thing! I see through it.
Other of you have the programming but also your mind is screaming to be free of it! This can help. (Of course, you'll be transferring that programming to Me)
But My programming is very sexual in nature. Erotic. Instead of being told NOT to masturbate, I direct you to stroke (although I certainly will control the circumstances of that, but submissive types LOVE that)
So I tempt you into the religion of Lauren. I invite you to serve Me.
I invite you to take Lauren into your heart with a rock hard cock, primed to show your devotion with your wallet! I'm aiming to release a pay to view series to educate and guide you in your devotionals!
Announcements:
I have been working on My pay to view store. It's really tedious and time consuming. Any type of content creation, like blogging, webpages, making photos, videos, audios and pay to views, are all time consuming and require concentration without many interruptions. When I am available to take calls and chats, it's just about impossible.
Will all that in mind, I'm going to be taking more time not logged in/ taking calls/being available to clients. The updated schedule is on the right sidebar.
Also, because the store is down, I made some extra Niteflirt listings to put pay to views on. If you go to My Niteflirt profile you can see 3 listings devoted entirely to pay to views. (you have to press the little purple arrow on the right side to see all of them)
Here are some new pay to views, so deliciously dangerous as always!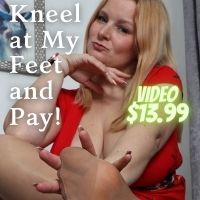 And the time has come for the famous Fuckover Report!
Which pigs lost control? And for how much?
Are you there?
The Fuckover Report
I just want to say that this report is notable for having EIGHT Extreme Paypig Alerts. Yes, EIGHT different slaves all spent more than $1000 on Me since the last blog. I think this might be a record!
Paypig Alert! First up is sniffer! This pig could NOT stay away and between pay to views and raise the rate calls he ended up spending $401 dollars. Delicious!
My good boy who loves stolen moments managed a few phone calls, spending $183 on his Goddess.
Extreme Paypig Alert! I believe this is the first time this piggy has slipped into an Extreme mention, but it is unsurprising, as he hs been calling Dr. Lauren for his "special" therapy sessions that are designed to thrust him into Medical Bankruptcy for Dr Lauren! He spent $1187 since the last post! Good boy! (So devoted to his therapy!)
Back again was dangle dude, who fell again for My pantyhose and crystal. He spent $127 this time around!
Extreme Paypig Alert! Another Extreme Paypig Alert was from boomer! This guy is addicted to the good feeling he gets from click and pay! A few phone calls help cement the addiction more firmly, and he returns again and again. Helpless and Hard. He spent $1125!
I was really happy to see the dane back and spending again. We had some fun and he spent $275. It was really good to use him again!
Paypig Alert! Calling a few times since the last blog entry was helpless dennis. It's My perfect breasts that have him so captivated and powerless against Me. He spent $345 since the last post!
Back for a round of servitude was irish dope. He spent $153 in a fun chat/tribute session!
Paypig Alert! Another very busy slave was My nylon slave, who has been studying his Lauren devotions and opening his heart to Me lately. He devoted $340 to Me since the last blog post
My good paymoosie from Down Under was back, and he sent Me $200 in gift cards over the course of a couple of sessions. NICE.
Extreme Paypig Alert! And yet another extreme paypig alert goes to j the junkie, I think it's his first extreme alert! I have been pushing him harder as of late, and he has responded wonderfully, by sending increasingly bigger and fatter tributes! So juicy! He spent $1370 since the last post!
Just barely squeaking in a mention of just pennies over a hundred was My sissy cocksucker, who spent $100 and a few cents
New Slave! New to My blog, after years of lurking was a guy I'm calling "rapper" . He bought a few pay to views, we did some chat and a couple of nice phone calls. A good start! He spent $205.
My elegant food lover pleased Me with some tributes and chat and spent $158
Extreme Paypig Alert! And yet another extreme alert! This time by My they guy I just call, niteflirt client. He spends, deletes his account, spends, deletes his account. This time around he spent $1593! I also think it might be his first Extreme mention! Right now his account is deleted, but he will be back. He always returns.
Also squeaking in a mention was My titpay ATM who spent $100. He's due for a fuckover!
New Slave! New to Me is another slave I'm calling "ass bitch" This newbie went crazy on goody bags, and we had a couple of nice phone calls as well. He spent $173
Back with some more mindless click and pay was dirtbag! I always like seeing him in My transactions. He spent $233 since the last post.
Huge Paypig Alert! My good boy oinkloser was very busy spending and paying his Goddess. He's on his way to new spending milestones, I just know! He spent $585
Lately, My good boy, Lauren's footlicker has been upping his game and spending more! I have noticed! He's way past the 5K lifetime spending amount, and since the last blog entry, he has spent $191. Well done!
Extreme Paypig Alert! Having yet another Extreme spending alert was noddy, again so soon after his uber-legendary record setting session of $13,967, AND the biggest blog mention ever of $16,941 (A sum of fucking beauty). I expected him to be quiet after I raped his credit cards so brutally not so very long ago, but he coughed up enough for a nice session of $1138. YUM.
My good girl sissy j has been busy, we've been having a TON of fun and playing games. She has spent $184 since the last blog, although I imagine that will be increasing soon for reasons she knows about!
Extreme Paypig Alert! The Extreme mentions keep on coming! PIG kept losing control, stroking and paying and falling every more deeply under My thrall. He can't stop, we both know it. He spent $1252 since the last post!
First time mention! Not exactly new, but never having spent enough to get a mention was a guy I'm gonna call "cadet" He finally clicked and paid enough to spend $106 and qualify for this entry! I look forward to lots more in the future!
Paypig Alert! My good girl jenna, the caged yankee couldn't stop buying the PTVs I sent her. She spent $357
New Slave and Huge Paypig Alert! Getting to know how dangerous I am through pay to views and chat/tribute was My new slave "shuffler" He may be surprised to learn he spent $775 on his dangerous introduction to My devious ways!
Paypig Alert! Back for more is rolo! He keeps creating and deleting accounts. This time around he spent $426. He'll be back, he always is!
Paypig Alert! Another guy that keeps coming back and spending and spending and spending is knickers. He's weak, keeps clicking and paying. He spent $437 since the last blog post
Extreme Paypig Alert! yes another extreme alert, not surprisingly from buffy (AKA princess gigi/fagmuffin). This sissy's addiction is complete. Now I'm working on cock craving with her again. She knows that she is in peril. She spent $1351 since the last blog post!
Extreme Paypig Alert! Another extreme sissy I have is bambi! (not to be confused with buffy!) bambi is a mind controlled bimbo and I have dissolved enough of her mind to cause an iq drop. We have lots of fun and I like sending her coded messages that make her tribute without realizing it! Trigger heaven! She spent $1512 dollars since the last blog post!
Paypig Alert! My good boy button kept clicking and paying over the course of the month and spent $347. YUM
Paypig Alert! Back on the blog for the first time in a long time is Loserbeast! An oldtime favorite of Mine! it felt so good to use him again and he spent $381. Very nice, Loserbeast!
November 30, 2020 No Comments