Category —
beta male
The Mystery of FinDomme Secrets!
Being a Financial Domme is complicated and mysterious…right?  So many of you wonder what FinDomme secrets exist that addict beta males to paying them?
Secrets that can destroy a man's life!
There is mystery, there will always be mystery. Some of the mystery I do not quite understand Myself, as it dwells in the hidden parts of men's psyche, deep in the primitive brain. There are a few things I believe to be true.    I believe that primitive, ancient men wanted to mate with the very best Woman, and would go to great lengths in order to impress Her, convince Her that he is worthy, show Her he will care for Her, do ANYTHING for Her protection and comfort.
I do believe these are hardwired into male brains. Cultural conditioning has tried to short circuit it, to suppress female power, to fear female power to convince men that they are in charge (laughable!). They have sadly, had some success. This is why some men will fight tooth in nail on any attempt to tear down that conditioning, (witness the recent uproar over the Gillette advertisement)
Some of use have learned how to use techniques to bypass that conditioning on some vulnerable men. Some of us push to take it to the furthest extreme possible!
FinDomme Secret Revealed!  Mantras!
This is why I have found mantras so useful!  They shortcircuit the conditioning and speak to the primitive submissive male dwelling in the DNA, and bring it to the surface!.  I do this deliberately, and it works again and again.
The best part is, the mantra method is largely self training. I make the program, do recordings, and you and your submissive primative brain, respond to it. Sex is a visceral instinct, so tying that into sexual arousal helps Me chip right to the center of your existance.  Think of it as your sexistance, your authentic true self.
I spoke of self training, and I'm going to show you an example. It will cost you $12 to experience the example, starting with the first $2 pay to view
First listen to this!
Next, do this little paypig exercise!  Be careful, it might be dangerous (you've been warned)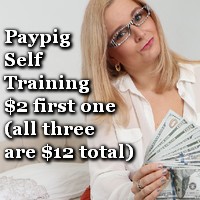 Now, you might find yourself in the next spending report after that!
You might want to start with the recent pay to views!
Oh perhaps you will find yourself asking to do a paypig goal! Read about them, paypigs are spending like crazy just to please Me meeting the goals we set!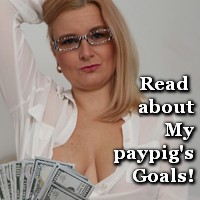 And of course that leads Me to the Spending Report
Goals Met since last blog entry!
FBI Man bought a 3 digit pay to view
grunter reached the 10K level of spending
hypnowallet reached the 10K level of spending
titpig ATM did a $500 session!
Those spending $100 or more since last post include:
Paypig Alert! So happy to see Loserbeast clicking and paying! He spent $290. I challenge him to set a paypig goal!
Oinkloser added to his goal amounts by spending $224
HUGE Paypig Alert!  I was overjoyed to see My devoted owned slave terry paybitch pay Me $1040 in a mindless pay flurry! It was erotic to see him sending more and more cash, in a tribute as large as $200. YUM.  Hey bitch, I took some more leggings photos for you.
My good boy who loves stolen moments squeaked into a mention with $100 spent exactly!
New Goal set!  Veryhard4Lauren set a goal and spent $104 since last blog post!
My extreme paypig is trying really hard to self reform, but he keeps coming back and paying! This time $145
New Slave!  Pervy "chairsniffer" clicked and paid and perved his way to $145 spending!
Sissy slave knickers worked toward her goal by spending $150
HUGE Paypig Alert! (And new goal set!)  My addicted slave, hypnowallet went crazy meeting his goal of 10K, met it in a way so smashing, I set a new goal for him! And he can't stop spending, blew though $780 since the last blog entry!
My elegant foot lover swung by for our fun trivia games and to spoil Me. He spent $265. YUM
HUGE Paypig Alert! And making good progress on his goals is PIG. PIG has lost complete control, after many years of just dancing around the edges. I predict dire things for his wallet. He spent $935 since last report!
My good boy grunter has a new name, spent $250 since last post AND hit a paypig goal of 10K lifetime spending!
OMG SO MUCH SPENDING!
HUGE Paypig Alert!  Spending $505 and making his goal of $500 in one session was titpay ATM. So proud of him! What will the next goal be?
Ramping up spending recently was "just another atm" who spent $112 since last post
Back for more was wagner, spending $137 drooling over My photos
HUGE Paypig Alert!  Back again after closing his account, was deadcat.  Now deadcat has a heavy humiliation fetish, that problably started with eating out a smelly hooker. I've really leveraged this, and now the loser is buying BLANK pay to views. I do not want to tell you how close he came to buying a $999 pay to view. If only! he clicked paid and was $2 short due to chatting we had been doing! Arggg! Oh well. I have hopes for the figure, meanwhile I'm still milking this cashcow! Regardless, he spent $585
Working toward his goal was gutter dweller, who clicked and paid $199 away!
Paypig Alert! Irish dope worked towards his goals and spent $410 to do so! Good boy! This piggie is so sweet and a lovely slave to abuse!
Working her way through her goal, which will unlock her from chastity is marja sissy who spent $165 this time around.
Back with a new account was giftcard rabbit who spent $103. I see more giftcard buying in his future!
Paypig Alert! Eunuch robot pig spent $300 and set a couple paypig goals!
I had more sissy fun with sissy j, abusing her for $128!
Paypig Alert!  Sleepy is back full tilt, with a couple paypig goals! I'm so proud that he has spent $320 on Niteflirt and another $80 on Amazon!
Good boy surprised spent $146 and then set a goal like a good boy!
Huge Paypig Alert!  My loyal slave paycunt spent $537 and set a goal for a $1,000 session! So hot!
You can get your own SECRET BLOG NAME and be one of My paypigs, and set a goal or not. Just spent $100 before I blog again!
I've been so busy since the last blog entry, taking a little time to myself and every moment I'm logged in all of My fans, slaves, sissies and addicts have been lining up to beg for some time with Me and to throw $$ at Me.
I've managed to make a new slideshow that has really inspired a lot of paypig spending!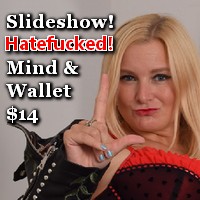 and a new Goody bag with captioned photos around a chastity theme, that has also inspired a bit of spending! I am very skilled at taking your fetish and monetizing it, as so many chastity fetishists discovered the past couple weeks!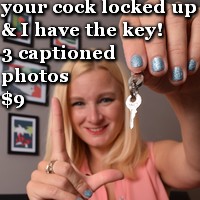 Very much of what I am inspires the losers and pig addicts to crawl to Me to give Me their cash…
But I don't want to give the impression that all of My devoted slaves are like that. I've got a couple of really good clients that are more of a heart to heart connection that doesn't involve Me casting them as a loser! But they show their appreciation of Me with nice tributes and gifts.
And most of you get glimpses of My warm nice self..
but mostly you come for the abuse
for the brainwashing
for the cock control
for the wallet rape that makes you feel shame
you ping My chat and send tributes and emails and call with your soft plantive voices and credit cards knowing that you will get from Me your heart's desire
you click and pay My devastating series, unable to stop sending Me cash, in ever increasing amounts.
to be completely used hard by a woman you adore who has no regard for you or your feelings.
And I have no desire to stop you.
I have no reason to stop you, and every reason to encourage you to spend beyound your means. I have the power, and it is sexy for Me (and profitable)
And if you will not spend, I move on to the next mark. That one will
Speaking of spending….
Back after a long long time was a slave interested in FinDomme, lefty, spending $107 on phone calls. YUM
Paypig Alert! Another returning slave I have dubbed boomarang for always coming back. He celebrated his return by spending $355 on Me!
Paypig Alert! My slave loser gimp, spent $420 on calls and large pay to views, designed to drain his meager savings. The payments will continue to the end!
My pantyhose addict is getting to the point where he can only orgasm by wearing pantyhose while I whisper to him on the phone how addicted he is!  He spent $115 this span on phone calls getting more addicted
Huge Paypig Alert!  My good girl, fagmuffin spend $617 confessing her flaming faggot ways to Me….she's taking a break to catch up on her credit cards, but still managed this $617 BEFORE taking the break since last week! I know she will be back!
And My shopping slave pablo who loves tight European clothing was back for more chatting and phone calls, this time spending $250. Well done pablo!
My good boy who loves stolen moments spend just over $100 to get a mention. I know he's gonna be calling soon for a fun good boy session!
and My boy wayne managed to spend $113 telling Me on phone and chat how much he wanted to be My ass kissing house slave!
HUGE Paypig Alert!  Coming completely unglued in his meager attempts to resist Me is LONG time slave PIG. PIG has been the subject of years of Me testing different Financial Domination techniques on. He has been a Guinea PIG. The years of chipping away at his ego are solidifying. He spent $1050 since last blog entry. He is on his way to being My next $100,000 slave, getting very close to the 90K mark.
Spending $118 was titpig ATM. I sense another big cash blowout soon from him.
Spending another $329  on Me was santa bitch. He did very well, begging for hard abuse, and I may have scared him by being a little TOO demanding.  So I did get a few Christmas presents bought, but I may be without a santa slave, hopefully he will rematerialize in time. Certainly, the rest of you can step up to ask Me if you can help with My shopping, that's appreciated!  I want to buy a computer for someone, so I'm really happy with Amazon gift cards right now, I am half way to having what I need. I mean, I shouldn't have to spend MY money, right?
and tranced by legs, was tranced enough to send Me about $10 in pay mails but $125 in Amazon gift cards. I always LOVE Amazon gift cards (send to laurenamazon@gmail.com) I am saving up a balance to get someone a large gift, so send those cards My way!
HUGE Paypig Alert!  My slave robot eunuch came completely unglued as I hatefucked him, sending him bigger and bigger PTVs, and then squeezing even more out of him by slowly decreasing the PTVS in price (I have SOOO many tricks to use you) When I was done, $1555 that used to belong to him was now MINE!
Flip off idiot fell victim to sending him photos of Me giving him the finger one evening, spending $162 in just a few minutes!
Spending another $111 was flaming pig! I'm looking for you pig!
Sweet sissy marja spent some time in chastity all locked up in her cage for Me….verified by Me and everything and came out of it with $234 less cash. Yum
Quiet gentlemen spent $120 and got himself a blog mention. He is always there spending quietly, and sometimes he crosses the threshold. This was one of those times.
Helpess dave parted with $131 talking with Me in chat. I have My ways!
HUGE Paypig Alert!  I knew this pig had spent a lot, but I was even surprised when I added it all up. Formally called fagpig here on the blog, he will henceforth be known as "paything"   And paything he was, spending $1,345 since last blog report!  Wow!  I LOVE it! He wants Me to be sure I mention that he is a pathetic loser, isn't that funny?
My good boy, helpful one, helpfully spent $225 on paymails and tributes!  I like that kind of help!
Paypig Alert!    The quiet dirtbag was back, clicking and spending his way through $405! I like that kind of quiet spending!  He is REALLY close to the 2k level of spending lifetime
Paypig Alert!  Paybitch terry spent $300 being use by Me, tributing and buying PTV. I still have hopes he gets to 10K of spending by years end!  He's currently at $6500ish, so he better get going!
HUGE Paypig Alert!  I completely got into egghead's mind, as I would send him photo after photo with the Loser sign in it, and he would just keep paying! How much did he spend?   $637!  YUM!
I was happy to see peeper paying again. He spent $140!
And pignic was around, this time spending $144, and I know he is looking forward to see his name on My blog….so mesmerized by Lauren!
and still recovering from a series of brutal fuckovers by Me is paycunt. He's trying to fix his finances, but last night I did $141 worth of damage to them.  Fix it cunt, so I can destroy you again!
HUGE Paypig Alert!   DrX was about again, spoiling Me both on Niteflirt and on Amazon. He spent $1,388 on Niteflirt and another $700 on Amazon, including gift cards, a new fancy Fitbit and a mattress for My best friend's house! (yea, I make My slaves buy My friends stuff they need, haha) He is My second biggest spender on Niteflirt, only fagmuffin spends more, but if you add in Amazon stuff and gift cards, he's probably #1 now. (Wallet rape toy used to have that position, but he went bankrupt, and only pays in tiny squirts now)  He knows it is his life's mission to make Me happy!
Someone is due for a HUGE rinsing, slave steve q fucked spent $108, but it should have been a grand …I'm looking for you sqf
and surprised is doing a bangup job buying the vacation ptv! He spent $108 since last review.
I change the photos almost every day! Keep checking it!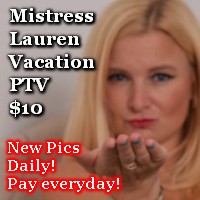 \
ATTENTION.  My birthday is coming up, on November 9th! On November 14th I am going to Disney World for a one week vacation, and what I want for My birthday is for you all to haul out your wallets to spoil Me so I can have a good vacation!
Get ready!
Get your mention for being a good boy to help Me have a good vacation!
Spend $100 between now and the next blog post, and your name will appear! (Amazon spending counts)
I get this question a lot.
How much should I pay you each session Mistress? Each month? What goals do i set to pay you?
For every wallet rape toy, and Dr x paying Me thousands there are easily a hundred of you paying a lot less.
Not all who buy something of Mine will end up being My paypig.
I lay traps, and do My manipulations and some escape.
Others I send away, because they have more desire to talk to Me than desire (or ability) to pay Me. I'm busy enough talking with the guys who actually DO pay Me.
So, how much do you pay Me?
Here is My step by step guide for YOU to figure it out. (Don't ask Me to do it, I don't care to)
Steps to preparing to be My paypig.  Option ONE:  Run of the mill paypig option
Do a budget. Pare it down where you can.  Remember that if you are paying Me on credit card, your monthly bill might go up each month, work that in.
Identify a discretionary amount.
Decide on the amount you will spend per session with Me, divide that into your discretionary amount and that will tell you how many sessions you can affort with Me. Note: The more you spent per session, the more you will enjoy it. I won't give you much attention for a small amout. You wont get ANY for a tiny amount.
Evaluate your choice by noting if its fitting into your lifestyle without notice, or if it is making you go without things you normally enjoy. NOTE: you SHOULD be paying enough to feel it. If you don't feel it. Pay MORE!
You might set goals. Pay a $100 pay to view sometime, Finish a PTV series. Pay $2,000 in a year.
Option TWO (My favorite!)  The EXTREME paypig option
Apply for credit cards NOW before you start maxing them out.
Begin spending huge amouts on Me fast and furiously
Liquidate assets to keep paying Me! (sell shit, cash in your retirement)
Assuming that you are spending 100s and thousands, you WILL get more attention than the losers that choose Option ONE.
Set lofty goals.  Spend $5,000 in one session. Max out a credit card in one evening. You will love it.
Here are some recent pay to views that you might have missed! Go get them now!
Now it's time for the spending report: It's a  long one because I had a vacation, and as soon as I came back, you guys all mobbed Me! Busy is good, but it makes it harder to blog!
PayPig Alert! Let's start it off with My pathetic junkie, gimp loser.  This one legged wonder spent $492, through calls and now emails. My brutal plan is to separate him from all his money so it doesn't go to waste when he finally keels over.
Huge Paypig Alert!  My paybitch terry is back, playing blackmail games with Me, and paying Me just $15 shy of $1,000 since last blog entry. Nice! He's going to be unable to stop, I know it!
the iFool played with danger with Me the past couple weeks, but he got lucky, coming out of it only $135 poor. Hey iFool, I wont be fucking around next time
PayPig Alert!  I was so pleased to see a long time slave who never left but was spending tiny amounts finally have a session where she spent. Marla was back, My addicted sissy paypig, and she spent $304.  This is a sissy I have caused over $100,000 of financial damage to over the years. I'm not done with you yet marla!
My addicted pantyhose slave was back with some hypnotic phone calls. His $135 is now Mine!
Huge PayPig Alert!  My titpay ATM returned again and again, spending nearly $630 since last blog entry! He really can only stroke and pay now….calling to listen to My voice, in steamy raise the rate sessions!
My special good boy and I had some stolen moments, and although he's been quite the world traveler lately, (Japan! England!) he still managed to spend $219 on Me.
My exposure sissy and I had fun with exposure games and she paid Me $260
Huge PayPig Alert!  PIG keeps getting more addicted.  He didn't think it was possible, but I did. He spent $730 since last blog entry!
Paypig Alert! Right after I re-named him, Extreme paypig disappeared. But I knew he would come back and he did, spending nearly $400 to begin training anew!
New slave! "newman" managed to squeak in with a mention with $107 of spending.
Huge PayPig Alert! and back and spending $1031 was hopelessly addicted flaming pig!  He tried to stay away. He failed of course
My long time slave irish dope stopped by to do a $200 session he claimed was part of his rent money. Too bad! Save more for Me next time dope!
Huge PayPig Alert and princess gigi, is the one who has a Dominant "girlfriend" trying to save him from Me. How's it going?  $943 since last blog!
and back spending more is the cute little maybe sissy "shopper" who spent $113 on chat with Me
My quiet gentlemen discovered the dangers and FUN of chatting and spent $203 in his first blog mention in a while!
Huge PayPig Alert and helpless dave kept finding his way to Me since the last blog, spending $575. YUM. I love that he is so HELPLESS to My temptations!
Another to squeak into a mention, was elegant foot lover with $102
Huge PayPig Alert!   Dr X can never stay away, and he pleased Me with lots of pay to views to the amount of $1013 AND about $250 on Amazon in gift cards and items. Dr X, that blanket is the softest thing, and I appreciated the computer accessories I needed. Good boy!
New to My blog and service is "mind fucked" who has a penchant for breasts and tight latex clothing. He's in trouble. He spent $221 since he joined Niteflirt on Me!
and also squeaking in for a mention is taxpig with spending of about $105. Hey pig, you OWE taxes. And a new month has passed. No more hiding. Cough it up!
Paypig Alert!  Peeper was back with some click and pay! I do like seeing his name come up as a wallet rape volunteer! This time he spent $307! He has spent more than $2500 on Me lifetime now!
My former extreme paypig, and now bankrupt loser, wallet rape toy, managed to scrape $161 together to send Me since last mention. See, there is still serving after bankruptcy!
New Slave! Another newbie to Me is "feathered pig" who spent $195 learning about the dangers of Mistress Lauren
Huge PayPig Alert!  My secret agent returned! He spent $641 just since My last blog! He can't stop spending, an he will get hard and horny reading his name here along with the other piggies!
Hypnovictim was back again, spending $119. I am on the lookout for you victim!
Another New slave!  I love new slaves and had a few this week!  This one, freshmeat spent $138 falling slowly under My power! Can't wait until next time!
and it's nice to see Loserbeast get a mention for his $115 🙂
Paypig Alert! "more please" was back and spending $270 on pay to views. I enjoy draining his wallet!
Huge Paypig Alert!  Humble sub was back for some rip-off victimization!  He gave Me nearly $600 and didn't get too much in return! So sad!
and steve q fucked stopped by for a rinsing of $165. I think he will need a bigger one soon
New slave AND Huge Paypig Alert!  I've named My new fan of My pay to views Helpful loser, for finding some dead links for Me,. and also paying a LOT of Money (best of all!)  He spent $559 popping his cherry to My manipulations!  A welcome addition!
and I had loads of fun with assignments and tortures for sissy j. She spent $159. I probably should make her pay more, but she's sweet.
Now, work hard so you can get a blog mention next week
And I reward you with another gallery
Pay the ass! Let it inspire you to pay!
Paypig psychology is not very complicated, although one might think so.
Paypigs don't begin as paypigs, they begin as ordinary submissive men who want to please a Dominant woman.
So that is My target group.  My photos, My blog pages, everything I do is designed to target submissive men and sissies (and some women)
I am the Woman who otherwise would NEVER give you a second glance, never give you the time of day. But I give you an opportunity to have the attention from a Dominant Woman you would never otherwise get.
Then I take that need and twist it.
I addict you and then make you pay more and more..by addicting you to those intense orgasms
Of course, you have the choice of NOT paying, but that means no attention, no more intense orgasms. It is a real addiction, so that is My only consideration.
I warn you in advance, and that is My only mercy
Otherwise, I have none.
No mercy for paypigs….
This series is an example of that "No mercy" philosophy playing out! Go play it now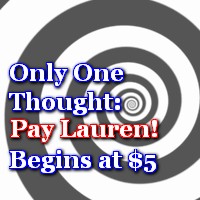 Speaking of no mercy….who is in the spending report today?
There were a LOT Of huge spenders this week. YUM!
Popper bitch was back for more exploitation, this time spending $135 on phone calls while I conditioned his mind more and more
Pay pig alert! Princess gigi was out of control pleasing Me this week. Oh the effect I have on this sissy paykitten!  This week she spent $850. MMMMmmmm.
My partner in crime, and stolen moments guy was back spending $108 and having very interesting conversations with Me!
Back again with some delicious click and pay to the amount of $110, was rum nut. Drink up and spend some more nut!
Pay pig alert! PIG had a huge weak, as I discovered a new extraction method and he spent about $460 on Me. yum!
My robot eunuch paypig dropped $194 on Me this week, mostly on the new series. YUM
Wallet hole was back with $117 worth of click and pay. Mmmmm
HUGE Pay pig alert! Perhaps his biggest week ever, My elegant foot lover spent time literally spoiling Me with tributes as I teased him with feet photos. He spent $707 this week.  YUM
Pay pig alert! My long time paypig,  wallet cunt, made another appearance this week, this time for a delicious $388.
And pignic was back for $201 worth of spending in a nice PTV session!  Mmmmm
And slave x-dash-84 spend $195, mostly on the new series. Mmmmm well done!
Pay pig alert! Another big pig spender this weak was easter egghead! Who obeyed and tranced out paying to the total of $466. YUM
More please also was back, for more legging photos, this time spending $132 on his weekly Friday night frolic!
and leg tranced became finally broken and spent about $220 on My leg photos. Mmmmm
Pay pig alert!  and finally paycub, pleased Me to the tune of $370, becoming utterly lost in My new series. One Thought.
Mistress Lauren has a wish
Next week I want to blog about someone who spends $1,000 or more. Will it be you?
I use all kinds of rewards for My piggies. I think of them as financial domination lures.
Photos. Hard Cocks. Good boys. Orgasms. My Voice.
But a very powerful one for many piggies is recognition. Sometimes from Me, and sometimes from being publicly recognized. (often here on this very blog)
Every piggy, no matter how pathetic likes to know when I have noticed him/it.
Pigs are social animals. They like to see other pigs serve Me well, it helps make up for the inevitable inadequacy you all have when you realize My greed is greater than your bank account!
Pigs often get competitive with each other.   Even though you might know you are a beta male loser, compared to the real alpha men I prefer to partner with, you all still want to think that you're the BEST beta male loser.  It's really kind of funny if you think about it.  All of you know you can't be a winner, so you're out to prove you are a bigger and better loser somehow! That you spend more, degrade yourself more, get laughed at more than the other drooling losers.
Many of you want to know how you compare! Tell you what, if you email Me on Niteflirt, and ask, I will send you a PTV email telling you what you have spent on Me so far, and if you are in the top 300 spenders and where.  If you are not in the top 300 spenders, I'll tell you how far off you are from being one.  It will cost you $14, since I have to research it,  but I'll through in some photos for you 🙂   I am laughing, because you know you want to know!
And I always want My piggies to do more, strive for more. By the way, speaking of piggies and spending, I've updated the Pay Pig Milestones list on the right sidebar here on the blog! ——–>  Check it out!
And now for the spending report!
My Australian paymoosie was back! Gift carding Me $200 in misc gift cards from Amazon and My wishlist! It's the middle of a hot Australian summer, but his bank account was even hotter, burning a hole in his internet. All for Lauren.
I had a very erotic session with hypnowallet. This guy just gets more and more addicted.  When he calls Me, I use My silky voice and bring him deeper and deeper under My FinDomme influence and he starts tributing!  This session cost him $175. Yum.
My princess gigi was back on the spending report this week, losing herself in $204 worth of spending. And an unauthorized release that will cost her dearly!
And more exposure games with My exposure sissy! Don't let him fool you, knowing a page with photos of him being exposed as a sissy gets him hard in his pantyhose! He spent $185 this week.
Pay pig alert! After a hiatus of trying to avoid Me, pig bob was back with a brand spanking new account, and $685 delicious dollars of spending on Me! I think I need to inflict even more damage!
My elegant foot lover continued to burn through My bare feet photos for another $113 in spending this week!
and My paycub continued being a loyal good boy, sending Me $105 he had saved up. He also got Me 2 different $50 gift cards from My wishlist. What a good cubbie!
and back again was My poet. He comes for a short time and leaves again. This time was notable, because he bought a large $200 PTV for the erotic thrill of it. 🙂 The biggest ever for him. And his total spending was $274. I'll be watching for you My poet!
and back again was sexy jake! I might need to change his name, because he confessed his feminization fantasies to Me, and I have him wearing panties and sucking dildos!  My jake spent $334 this week igniting his need for girlification!
Oinkloser was spending again, this time $135 in his grand quest to hit the 10K level of spending! (Long way to go!)
Pay pig alert! My philly ass lover was back with one of our biggest sessions that I remember, going nuts over photos of My shapely ass, and spending $455. YUM
Also back for more click and pay spending was button!  I love to wake up and see he has been spending! He did a cash flurry of $147 this week!
I am always on the search for paypigs. I look for beta males to fill that role.
I have an Alpha male in My life.  My boyfriend satisfies Me only as a real man can. I do not rule him, he does not rule Me.
Cooperatively, we enjoy the fruits of our labors. Sexually, we are completely outstanding for each other.
Both of us enjoy exploiting beta males. (A couple of you have had the pleasure of talking to him on the phone, not a common occurrence,  he's got better things to do than exploit beta bitches, and I enjoy it sooo much. (And am so good at it!)
There are two kinds of males reading this right now. Most of you are beta males attracted to a superior woman like it is your god-given duty (and isn't it?)
A few of you think you are Alpha males trying to look for hints on how I do this.  Here's a hint. If you don't know how to do it, you aren't an alpha male and you should just surrender to Me now.
Most beta males are sexually inadequate, with tiny cocks, and many of them are virgins, or almost virgins, who bed an occasional woman who then learns the truth. A few of you managed to marry some sorry assed woman who thought she wanted a nice guy, and have generally figured out that she has to take care of you. Truly pathetic.
Some beta males actually have a pretty decent sized cock. But that cock is a waste with a beta male brain. (on the other hand, alpha males don't have tiny cocks)
Pretty much, if you are reading this, you are a target. You are inferior, you deserve to pay a Woman like Me to simply exist.  This blog arouses you doesn't it? (I know it does, or you wouldn't be here)  Because your mind is weak, and you are sexually frustrated, you are REALLY easy to train and manipulate. And the fact that you are means that you don't deserve good things.  You are not a breeder, you are a slave.  Probably My slave.
It's time to serve Loser. It's time to pay. If you haven't joined Niteflirt, its time
Now, I have updated the paypig spending Milestone widget, so check it out on the right sidebar.  The next time I update it, It will be much shorter, because I'm planning to do it monthly.
Don't see your name?  Work harder.
I'm working on a project I want to tell you guys about. The Paypig Hall of Shame, and I'm hoping to reveal it in about a month, and then slowly add to it. Top paypigs will be featured, and you can read all about how I give attention to beta males 🙂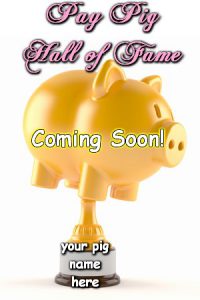 Now it's time for the spending report! Now you guys are going to have to be on point to make it, because you only have a week to hit the $100 level for a mention! (because I *am* going to keep up with it)
First up is cockboi.  New to Me last week, he kept spending and spending, this time for $124.  I noticed that he deleted his Niteflirt account, in another deluded attempt to stay away from Me. I know he is reading, his cock is already hard,  and hey, cuckboi, it's soooo easy to restore your account.  Click this link to message support, and they will have you up and running in no time!
We know beta males are compelled to serve.  Obey and do so! 🙂
and My number one piggie, princess gigi spent $305 on Me. That's a slow week for her *laughs*
I had another fun session with faggot cocksucker!  He spent $300 on the phone with Me one night, buying PTVs as we went along AND hit the $5,000 level of spending at the same time!
Pay pig alert After his big cash fuck last week, Dr x couldn't let go. He spent another $413 on Me. Hey dr x, I'm putting more stuff on the wish list for another amazon spree!
New to My blog is a pig I'm going to call "beta male bert"  This guy tries to block Me to keep Me from emailing temptations, but he ends up unblocking and clicking and paying! This time around he spent $151 or so mostly on My new Mindless Pay Loser series 🙂
And nylon lover spent $195 this week on photos of My panty-hosed feet. Hey nylon lover, I DO have more for you, ping Me! I want to run  up your spending total even more!
Pay pig alert! wallet hole returned for more click and pay abuse, this time spending $633. That's very arousing!  Soon he will hit the 2k level of spending, and so quickly!
new slave peeper was also clicking and paying for Me, spending $263 in this woody induced spending sprees!
Formerly known on the blog as GC, but no known as oink loser 10000, this piggy spent $334 in a click and pay session with Me, just to please Me. I see he too has deleted his account.  Again.  And I know he will be back.  Again.
Pay pig alert! paycunt brian was back again, and on a trip for work, he emailed Me for attention. I gave him attention and it cost him $560 bucks. *laughs*  Hey cunt, I have some more of those towel photos you are nuts about. I'll be hearing from him. Right now he has no account, but he has deleted and made a new account at least 75 times.  So stop trying to run. There is no running from Lauren.
and also new to My blog this week is a long time client, but until this week, he had not spent much at one time. I am going to call him "spear stroker"  Well this week, he was tempted by one of My series and didn't stop until he had paid Me $185.  YUM. Well done spear stroker!
Look for the spending updates every week with a blog entry!  (I'm shooting for Mondays!)
You too could have your name here! (I invent a blog name, don't worry about your member name being spread about)
I'm waiting for you